Quick Navigation
Whether you're a history buff or just looking to explore the United States, the Oregon Trail is a quintessential road trip. Weaving through the Midwest, West and Pacific Northwest, this route takes you to gorgeous landmarks, historical sites and some of the top travel destinations in the country.
Since it spans seven states, an Oregon Trail road trip calls for some preparation. We'll cover everything you need to know about traveling the Oregon Trail, including what to see and where to go.
Facts and History of the Oregon Trail
The Oregon Trail covers about 2,000 miles of land from Missouri to Oregon. Along this and other trails to California and the Pacific Northwest, about 500,000 emigrants traveled west during the 1800s. Lewis and Clark were a big part of establishing the Trail, but traders, trappers and missionaries helped it boom. Thousands of pioneers would travel at the same time, especially when the California Gold Rush hit.
The trip typically took five or six months but could last as long as a year! That meant travelers had to leave early in the spring if they wanted to get to Oregon before winter. The Trail held many other threats in addition to the weather. The classic computer game had a few things right — pioneers often died from diseases like dysentery, cholera or smallpox, as well as accidents from crossing the dangerous terrain.
By the end of the century, the Trail lost popularity thanks to railroad travel. The dangerous cross-country trek could now be completed in just a week. Still, the Oregon Trail has remained a historical staple of U.S. history, packed with sites, scenery and educational experiences.
Where Does the Oregon Trail Start?
The Oregon Trail officially starts in Independence, Missouri, just south of Kansas City. Beginning at the Truman Courthouse, pioneers would pack up their wagons with supplies and start their journeys west.
Some road trippers like to start an Oregon Trail route in Cape Cod, Massachusetts. You can drive through some eastern states to see historic cities like Boston and Chicago and the gorgeous Niagara Falls. You can even check out colonial sites like Plymouth Rock and Paul Revere's path before joining the traditional route in the Midwest.
Where Does the Oregon Trail End?
Unsurprisingly, the Oregon Trail ends in Oregon City, Oregon. Specifically, it leads to the End of the Oregon Trail Interpretive Center, where you can immerse yourself in exhibits, activities and shows to learn more about the Trail. This endpoint isn't far from Portland and Vancouver if you want to explore some exciting cities after the trip.
How to Find and Stay on the Oregon Trail

Over time, the original trail path has become inaccessible due to private ownership, development, farmland and crossing military or American Indian tribal reservations. When you follow the modern version of the Oregon Trail, you'll mostly follow nicely paved U.S. highways and a scenic byway or two. Many maps are available, and GPS can help you stay on track. We recommend downloading any maps for offline use in case you lose signal in the wide-open plains of the Midwest or over mountain passes in the West.
The Best Time of Year to Drive the Oregon Trail
Winter travel might not be as treacherous as it used to be, but we still recommend taking the Oregon Trail in the spring, summer or fall. You'll have an easier time on the roads, and you can see the natural beauty of the landscape, like waterfalls and greenery. Plus, some attractions are only open in the summer months.
How Long Should You Take to Drive the Oregon Trail?
You'll want to give yourself at least two weeks to see everything the Trail has to offer. If you're interested in some detours and excursions, add some extra time. Three or four weeks may be more appropriate.
How to Prepare for Your Oregon Trail Road Trip
You'll have significantly more opportunities to refuel and stock up on supplies than the pioneers, but you'll still need to prepare for the journey. You might go long stretches without seeing a gas station or rest stop. Thankfully, modern tools provide many resources to plan your stops and stay safe.
Here are some tasks to include on your road trip checklist for the Oregon Trail:
Performing maintenance on your RV or car
Planning out your stops, including gas, food and accommodations
Sharing your route and staying in touch with friends and family for safety
Stocking emergency gear in your vehicle, like a first aid kit and flashlight
Getting car or RV roadside assistance
The Most Popular Attractions Along the Oregon Trail
From history and natural beauty to good eats and museums, you can make many interesting stops on the Oregon Trail. Plus, it runs right next to some must-see sights that are well worth a few short detours.
Museums
Since the Trail is such a historical setting, it's no surprise that there are several museums along the route. You can learn about American history in immersive environments. Here are some of the museums you can visit on the Oregon Trail:
National Frontier Trails Museum in Independence, Missouri: This museum is directly across from the original trails. It has exhibits, artifacts and original documents.
The National Oregon/California Trail Center in Montpelier, Idaho: This museum offers a unique experience through a reenactment of a covered wagon journey. Go back in time to visit shops, spend time in an encampment, and hear reenactors tell their stories.
The National Historic Oregon Trail Interpretive Center in Baker City, Oregon: The National Historic Oregon Trail Interpretive Center has beautiful vistas of the trail route, detailed exhibits, remnants of the Flagstaff Gold Mine and ruts carved by the wagons. This is one of the largest sites you can visit.
Tamástslikt Cultural Institute in Pendleton, Ohio: At this institute, you can learn about the history of western expansion from the perspectives of the American Indians who lived on the land.
If you take the extended route from New York, you can also stop at the car-focused Studebaker National Museum in Indiana, the Rock and Roll Hall of Fame in Ohio, the Art Institute of Chicago, the National Women's Hall of Fame in New York and the National Baseball Hall of Fame and Museum in New York.
Landmarks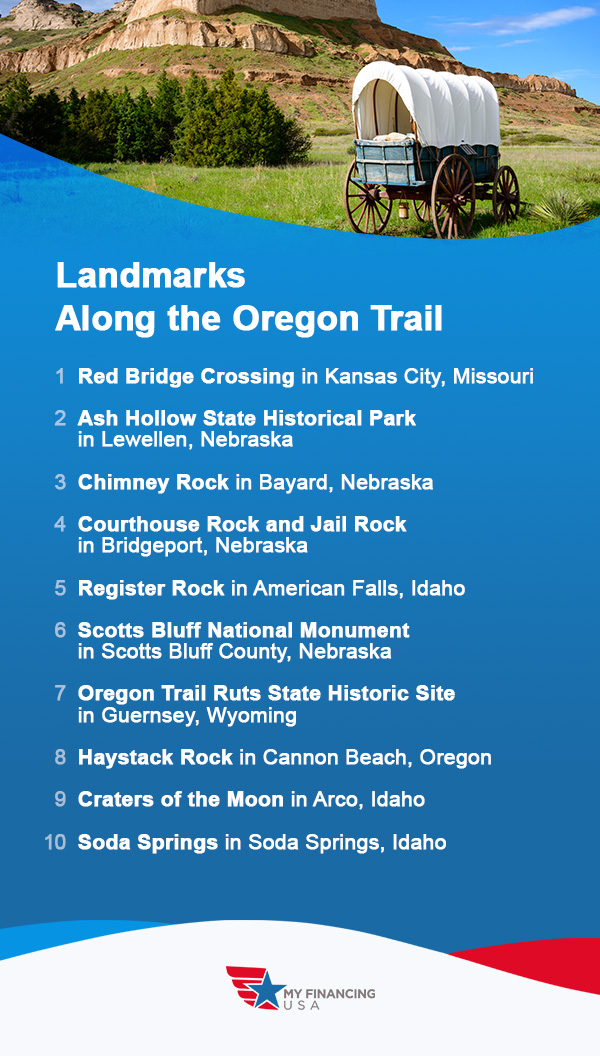 Pioneers relied on landmarks to guide them in the right direction as they traveled west. You can stop and see landmarks like:
Red Bridge Crossing in Kansas City, Missouri: The Blue River was the first crossing encountered by travelers. While they often had the arduous task of floating their wagons across the river, you can head over it easily on a quaint red bridge.
Ash Hollow State Historical Park in Lewellen, Nebraska: A popular stop for travelers, Ash Hollow has many wagon ruts you can visit, alongside pioneer graves and a visitor center.
Chimney Rock in Bayard, Nebraska: This rock breaks up the flat landscape of the plains and can be seen for miles. It told pioneers they were on the right track.
Courthouse Rock and Jail Rock in Bridgeport, Nebraska: Not too far away, you can see these other iconic rocks in western Nebraska.
Register Rock in American Falls, Idaho: Visit this rock to see the spot where emigrants would carve their names.
Scotts Bluff National Monument in Scotts Bluff County, Nebraska: Another huge rock, Scotts Bluff was a central landmark on the Oregon and California Trails.
Oregon Trail Ruts State Historic Site in Guernsey, Wyoming: Here, you can see some of the deepest ruts along the Oregon-California Trail.
Haystack Rock in Cannon Beach, Oregon: Just past the end of the Trail is Cannon Beach, where you can find a huge rock jutting out of the shoreline — a gorgeous beacon for the end of the journey.
Craters of the Moon in Arco, Idaho: You can't miss this otherworldly landscape covered in unique black lava rocks.
Soda Springs in Soda Springs, Idaho: Stop by to see some geysers and bubbling pools at these hot springs.
For those taking an extended route from the east coast, be sure to stop at Mount Rushmore in South Dakota, Niagara Falls in New York, Plymouth Rock in Massachusetts, the Field of Dreams in Iowa and the Sergeant Floyd Monument in Iowa.
State Parks, Forts and Campsites
Parks, campsites and forts are plentiful on this route. As you follow the Oregon Trail, you can visit:
Three Island Crossing State Park in Ferry, Idaho: A critical crossroads of the journey, Three Island Crossing was where travelers would choose whether to take the safer route south of the Snake River or the faster but more challenging route across it. Now, you can stay at a comfortable campground with electricity and water, cabins, a picnic area, historical events, disc golf and fishing.
Fort Kearny in Kearney, Nebraska: Fort Kearny was the first fort built to protect Oregon Trail travelers. Now, you can see exhibits and reconstructed buildings.
Fort Laramie National Historic Site in Fort Laramie, Wyoming: This fort was another popular stop for pioneers, created initially as a fur trading post. The U.S. Army eventually bought the fort as a military post. Now, you can see restored structures and learn about the fort's rich history.
Farewell Bend State Recreation Area in Baker County, Oregon: On the banks of the Snake River sits Farewell Bend, named for the point where pioneers would bid farewell to the river. It is now a fully-fledged campsite with modern facilities, trails, fishing, a boat ramp and volleyball and basketball courts.
Alcove Spring in Kansas: Just south of Marysville, Kansas, sits Alcove Spring, a popular spot for pioneers traveling west, including the infamous Donner Party. One of these party members even carved the name Alcove Spring into the rock, although it is mostly worn away by now. It is a picturesque area with a spring that falls over a rock ledge into a pool.
Yellowstone National Park in Wyoming, Montana and Idaho: If you're willing to stray from the beaten path, you can head up to Yellowstone to see geysers, hot springs, waterfalls and wildlife.
Agate Fossil Beds in Sioux County, Nebraska: Get your paleontology fix with a short detour up to the Agate Fossil Beds, which boasts plenty of fossils and a huge monument.
The Best Places to Eat Along the Oregon Trail
Thankfully, your trip on the Oregon Trail will involve much tastier meals than the original pioneers had. Here are some gastronomic highlights of the route:
Clinton's Soda Fountain in Independence, Missouri: Start your trip by enjoying some sweets at an old-timey soda fountain in the same location where a young Harry Truman worked.
Full Sail Brewing Co. in Hood River, Oregon: Take I-84 on your way to Portland and stop off at Full Sail Brewing Co. to watch kite surfers on the water while you enjoy a pint and some great food.
Tippecanoe Place-Studebaker Grill in South Bend, Indiana: Housed in the historic Tippecanoe Place mansion, this restaurant offers classy dining and wine with an ambiance that perfectly fits a modern Oregon Trail road trip.
Ogallala Front Street in Ogallala, Nebraska: Want to feel like you stepped into the Wild West? Stop at Ogallala Front Street, the proclaimed "Cowboy Capital." This replica of an old Western town has stores, a museum, a saloon and an immersive steakhouse.
Once you get to Oregon City, your options are nearly endless. You could keep the historic ambiance going at the Stone Cliff Inn, which claims to embody the "true spirit of the Oregon story" with a gorgeous landscape and a log-cabin feel. Or you could go for something a little less American, like the Italian cuisine at Bugatti's Oregon City or Vietnamese and Thai dishes from Pho Thi.
A Sample Route for an Oregon Trail Road Trip

Now that you know what options the Trail offers, you get to put it all together. We thought we'd make that job a little easier with a blueprint for an Oregon Trail road trip. This route follows the map provided by the National Park Service.
Before you start your journey, spend some time in Independence stocking up on any supplies you might need, exploring the museum and grabbing a bite to eat. Then hop on the highway and head southwest until you reach Minor Park, where you can stop off and see Red Bridge Crossing. From here, you'll drive for a while before you reach your next destination, so get comfortable.
As you head up toward the Nebraska-Kansas border, stop off and see Alcove Spring. Approaching I-80 in Nebraska, you'll reach Fort Kearny. Follow I-80 west until you hit Ogallala. Grab a bite to eat and immerse yourself in the Wild West. When you're ready to hit the road again, you won't have a long drive until you reach Ash Hollow.
Approaching the Nebraska-Wyoming border, you'll pass by Courthouse Rock, Jail Rock and Chimney Rock. Not far past that is Scotts Bluff National Monument. The Agate Fossil Beds are a short excursion away from this point. Once you're back on the Trail, you'll hit Fort Laramie in Wyoming, followed by Register Rock.
For a one-of-a-kind landscape, take a short excursion here to the Craters of the Moon National Preserve before hopping back on the Trail. At the bend of the North Platte River, you'll run into Guernsey and the Oregon Trail Ruts State Historic Site. Spend some time in the pioneers' shoes before buckling up for another long stretch. If you want to detour to Yellowstone, now's the time.
Next, you'll cross into Idaho and reach the National Oregon/California Trail Center. Before making your way to Snake River, visit any springs you'd like to see, like the Soda Springs. Here, you'll hit Massacre Rocks State Park and Register Rock. Stop by the Shoshone Falls for a gorgeous view before moving toward the Oregon border and Three Island Crossing. Be sure to stop and wave goodbye to Snake River at Farewell Bend. As you head north, you'll pass by the Tamástslikt Cultural Center.
Finally, start on the home stretch along Hood River until you reach Oregon City and the End of the Oregon Trail Interpretive Center. Congrats! At this point, you'll have traveled the same route thousands of pioneers did almost 200 years ago. But your trip was a lot more fun.
Take the Ultimate Oregon Trail Road Trip

The Oregon Trail is an amazing way to experience U.S. history. Get your fill of all-American road tripping, historic sites, education and some of the beautiful landscapes that sent the pioneers westward. But the trip isn't without its modern challenges. If you're traveling by car, you'll need to arrange accommodations. A fantastic option is to go by RV and take advantage of the incredible campsites along this route.
Here at My Financing USA, we make it easy to get an RV by finding the best RV loan rates and terms, even if you've had credit issues in the past. Learn more about our quick process that protects your credit score, and apply online for an RV loan. We'd love to help you make an Oregon Trail road trip possible!
---
Additional Resources on Road Trips:
---