Quick Navigation
The Pacific Coast Highway in California offers some of the most scenic and memorable views in all of America. From clifftops to beach coves to forests, you'll see a plethora of landscapes when traveling down the coast.
Whether you want to see the natural marvels or dine at historic restaurants, there are endless activities to keep you busy along the way. Explore our complete guide for your Pacific Coast Highway road trip.
Facts About the Pacific Coast Highway
The Pacific Coast Highway (PCH), also referred to as California State Route 1 and Highway 1, is a historic roadway in America. Its construction began in 1934 and was headed by a railroad executive named Samuel Hill. The building process took years to complete.
Today the PCH is the second longest state highway in America, beat only by the Montana Highway 200. Unsurprisingly, the PCH is the longest route in California. It features over 655 miles of scenic coastal roads.
As you travel the Pacific Coast Highway, you'll see a variety of landscapes, ranging from tall forests to elaborate urban cities to beachy coves. There is nothing quite like a PCH road trip.
Where Does the Pacific Coast Highway Start?
The northernmost point of the PCH is located in Leggett, California, in Mendocino County. This is where U.S. Route 101 and California Route 1 meet.
Leggett has some of the largest trees on Earth and is known for Smithe Redwoods State Natural Reserve. If you begin your travels here, you'll experience gorgeous wooded landscapes and may even be able to drive through the Chandelier tree at Underwood Park.
The beginning of the Pacific Coast Highway is about four hours north of San Francisco.
Where Does the Pacific Coast Highway End?
The opposite end of California Route 1 is in Dana Point, California, about an hour and a half drive north of the Mexican border.
Dana Point is a gorgeous Orange Country city known for its dolphin and whale-watching cruises. One of the perks of the highway concluding here is that travelers can end their road trip at one of the most stunning beaches in the state.

California Route 1 meets Interstate 5, which spans the entire coast of the U.S., from Canada to Mexico.
When Is the Best Time of Year to Drive the Pacific Coast Highway?
You can enjoy the gorgeous drive down the California coast any time of year and experience great weather. That said, the best time for a road trip is in the spring and early summer.
While Southern California is dry and sunny for most of the year, the weather is less stable in the northern portions of the state. Northern California gets a lot of rain from December through February. This can complicate your travels and cause dangerous foggy conditions. Spring is the perfect time for the drive because it is right before California's summer tourist season and after the rainy period.
We suggest driving from north to south on your Pacific Coast Highway road trip because you will have better ocean views on your adventure, and you can end your drive at a beautiful Orange County beach.
How Long Does It Take to Road Trip Pacific Coast Highway?
If you were to drive down the entire PCH without stopping, it would take about 10 hours to complete. However, you probably don't want to drive non-stop and miss out on all the fun.
Instead, you are going to want to stop at landmarks and popular restaurants, so plan on taking at least three days for the trip. We suggest taking even more time and driving down the coast over six or seven days. This will give you enough time for sightseeing and adventuring through the many towns you'll pass through. Plus, the extra time will shorten how many hours you'll spend driving each day.
How to Prepare for Your Pacific Coast Highway Road Trip
Check out these tips to prepare and make the most of your trip:
Give Yourself Some Extra Time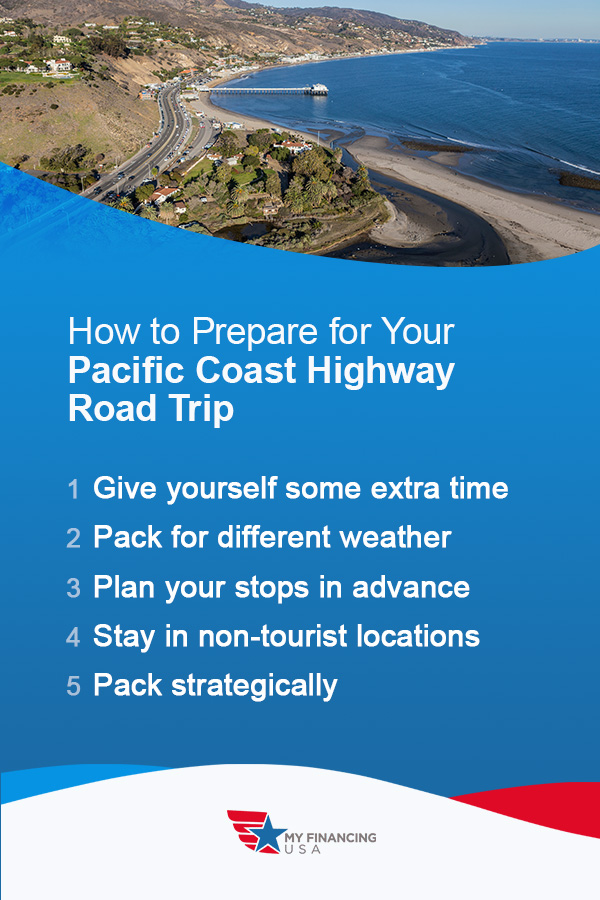 When planning your PCH road trip, give yourself some extra time between stops. Remember that your adventure is about sightseeing and visiting new places, not how quickly you can make it to your next destination. Take your time exploring the landscape, and don't rush.
Pack for Different Weather
The Pacific Coast Highway stretches across many different small climates, so you should be prepared for all kinds of weather conditions.
Pack clothing items for a range of temperatures from chilly to hot. Northern California gets considerably more precipitation than Southern California, so be prepared for wet and foggy weather as well.
Plan Your Stops in Advance
Save yourself a lot of stress and anxiety by planning your stops ahead of time. Being spontaneous and finding a place to stay as you go can feel adventurous, but it is not recommended.
Schedule where you want to stop, and the approximate time you'll get there. We suggest driving less than three hours per day.
Stay in Non-Tourist Locations
Instead of staying in hot spots like Los Angeles, find campgrounds or places to stay in less popular areas. You can save money and avoid sitting in some traffic this way.
The PCH has many small beach towns you can stay in where you can enjoy the local scene.
Pack Strategically
Going on a road trip means living out of your luggage and bags. Ensure you pack strategically for easy access to the clothes and items you'll need frequently.
If you need internet access throughout your trip, consider packing a mobile Wi-Fi hotspot device you can connect to.
Where to Camp on Pacific Coast Highway Road Trip
When searching for someplace to camp along the PCH, check out the California State Parks website, where you can learn more about each site and make reservations.
Explore the following locations for camping out on your upcoming road trip:
Francis Beach Campground
Francis Beach Campground is located in Half Moon Bay, California. You can stay on one of 52 individual campsites and enjoy a few amenities like a water-filling station and electrical hookups.
This beach town is just about 40 minutes south of San Francisco and has plenty of places to grab a bite to eat.
Kirk Creek Campground
The Kirk Creek Campground in Big Sur, California is a scenic spot that overlooks the ocean. Each site is spacious and features a grill and campfire ring.
Some of the activities you can do at this location include hiking and wildlife viewing.
Malibu Beach RV Park
The Malibu Beach RV Park is right off the Pacific Coast Highway in Malibu, California. You can enjoy impeccable water views and a wide variety of amenities, including:
Self-service washers and dryers
Heated showers
Propane service
Horseshoe pits
Children's play area
Hiking trails
Dog walking area
Bolsa Chica Campground
If you're looking to stay in the northern region of Orange County, consider the Bolsa Chicas Campground. This site is located in Huntington Beach, California, and is right off the Pacific Coast Highway.
The grounds include concessions and dump stations. You can also find electrical and water hookups.
Moro Campground
You can stay overnight at Crystal Cove State Park's Moro Campground in Laguna Beach, California. Those who enjoy hiking can tackle the nine-mile Crystal Cove hike if they've got a few hours to spare. If you want to head over to the beach, it is about a 10-minute walk.
Doheny State Beach Campground
The Doheny State Beach Campground would likely be your final destination as this site is located in Dana Point, California where the PCH ends.
You can enjoy ocean views and direct access to the water. Amenities include:
Restrooms
Piped water
Hot showers
Bike rentals
The Most Popular Attractions Along Pacific Coast Highway

Explore some of the most popular attractions along California's coast, including:
Point Reyes National Seashore: Point Reyes is a protected stretch of beach in Marin County, California. It is home to over 1,500 species of wildlife and a range of landscapes, including shorelines and pine forests.
Golden Gate Bridge: San Francisco's Golden Gate Bridge is a must-see for road trip adventurers. The historic bridge was built in 1933 and has remained a symbol of America since. It was once the longest suspension bridge in the world.
Santa Monica Pier: As you venture down the coast, be sure to make a stop at the Santa Monica Pier. It features a small picturesque amusement park and an area for sport fishing. With so much to explore and see, you'll want to put this pier on top of your road trip to-do list.
Big Sur: Every PCH road trip should make a pit stop at Big Sur. This stretch of undeveloped coastline is breathtaking. As you make your way south, you'll cross the famous Bixby Creek Bridge known for being an architectural marvel between the canyons.
Piedras Blancas: Located along the Pacific in San Simeon, California, Piedras Blancas has a lot to offer for those road tripping down the PCH. You can tour the historic lighthouse and enjoy watching thousands of elephant seals pile up on the shoreline.
Hearst Castle: Just a few miles south of Piedras Blancas is the historic Hearst Castle. Now a museum, this European-inspired hilltop mansion will amaze and impress you. Once belonging to publisher William Randolf Hearst, the castle is a very unique sight.
Dana Point: As the dolphin and whale watching capital of the world, Dana Point is a very special beach in Orange County, California. This stop will likely be at the conclusion of your travels as the PCH ends nearby.
The Best Places to Eat Along the Pacific Coast Highway
The PCH has a plethora of amazing restaurants and markets. Check out our picks for the best places to grab a bite to eat on your next road trip:
Sample Route for Pacific Coast Highway Road Trip
Remember that everyone has different preferences. Choose stops and overnight stays that are interesting and fun for you and your travel companions. Your idea of the perfect trip could be vastly different from someone else's, so it is important to do what works for you.
Here's an outline for a Pacific Coast Highway road trip itinerary:
Day one: Start in Leggett, California. Drive to Point Reyes and stay overnight.
Day two: Explore San Francisco. See the Golden Gate Bridge and drive to Half Moon Bay. Head to Big Sur and stay overnight.
Day three: Drive to Pismo Beach. Explore and stay over.
Day four: Begin the day driving to Malibu. Do some sightseeing and camp overnight.
Day five: Travel to Los Angeles and explore the city for the day. Drive to Huntington Beach and stay the night.
Day six: On your last day, head down to Laguna Beach to explore. Then drive to Dana Point, where your road trip will come to an end.
Take the Ultimate Pacific Coast Highway Road Trip

A recreational vehicle could transform your Pacific Coast Highway road trip. You can drive in comfort and rest easy knowing you can easily camp out at one of the dozens of campgrounds along the California coastline.
If you are looking for RV financing, turn to My Financing USA. We make the process pain-free and walk you through every step. You can get feedback from our team in just 72 hours.
Are you ready to kickstart your road trip adventures? Apply for financing today or contact us online with your questions!
---
Additional Resources on Road Trips:
---