Quick Navigation:
No matter where your travels take you during your Pacific Northwest road trip, you can find delicious and satisfying food at local restaurants. From wood-fired oven pizzas to seafood galore, there's something for everyone. And since most of these restaurants are in central locations near major attractions, it's easy to explore many different spots. It's no wonder why almost a third of Americans want to explore the Northwest. Let's start the adventure by learning more about the best road trip restaurants in the Northwest.
The 5 Best Restaurants in Idaho
Idaho is known for its incredible outdoors and mountain scenery, but it's also home to some of the best restaurants in the country. Let's look at the best restaurants in Idaho.
1. Elevation 486 in Twin Falls
Elevation 486 in Twin Falls offers dining with the most breathtakingly beautiful views. The one-of-a-kind restaurant is perched 486 feet above the Snake River Canyon on the canyon's south wall. While the views may draw you in, the food is what keeps people coming back. Elevation 486 delivers typical pub food with a contemporary twist and a variety of beverages and cocktails.
2. Pioneer Saloon in Ketchum
The Pioneer Saloon is an Idaho landmark and popular restaurant. This western-themed restaurant in Idaho boasts the friendliest and coziest ambiance and some seriously outstanding eats. The prime rib and steaks are enormous, and the seafood is fresh and perfectly cooked.
During your visit, be sure to look at the wall decor — Pioneer Saloon was a favorite restaurant of author Ernest Hemingway, and some of his possessions are on display.
3. The Wylder in Boise

The Wylder in downtown Boise specializes in handmade pizza and uses a 50-plus-year-old sourdough starter for their pizza dough. Dig into delectable pizzas like the Honey Badger pizza topped with savory Italian sausage, caramelized onions, ricotta and spicy honey. Or, perhaps you prefer the Bronco pie with its salumi, burrata and pickled Fresno chiles.
The Wylder Hospitality Group also operates a bakery in the city's North End and provides coffee, sandwiches and salads at the Roosevelt Market in the city's East End.
4. Bacon in Boise
If you like bacon, we've got the restaurant for you. As its name suggests, Bacon is a restaurant specializing in bacon dishes. The Southern-inspired cuisine, owned and managed by father and son John and Gibson Berryhill, includes more than five varieties of house-cured bacon. With delights like mac and cheese with tomatoes, mushrooms and — you guessed it — bacon, Bacon's menu has garnered more than a few TV spots.
5. Fork in Boise
The Fork is a sibling restaurant of Alavita, also housed in the Boise City National Bank building. Fork offers a selection of locally produced food guaranteed to suit everyone. Tacos, burgers, asparagus fries, buttermilk fried chicken and waffles and a weekend special of slow-roasted prime rib make up the diverse menu at Fork.
The 5 Best Restaurants in Oregon
Oregon has a lot to offer road trippers, from charming coastal towns to the cosmopolitan cities of the Portland metropolitan area. Next, we'll explore some of the best restaurants in Oregon. Whether you're looking for a romantic dinner or a hearty meal after a day of hiking, these restaurants will have something for you!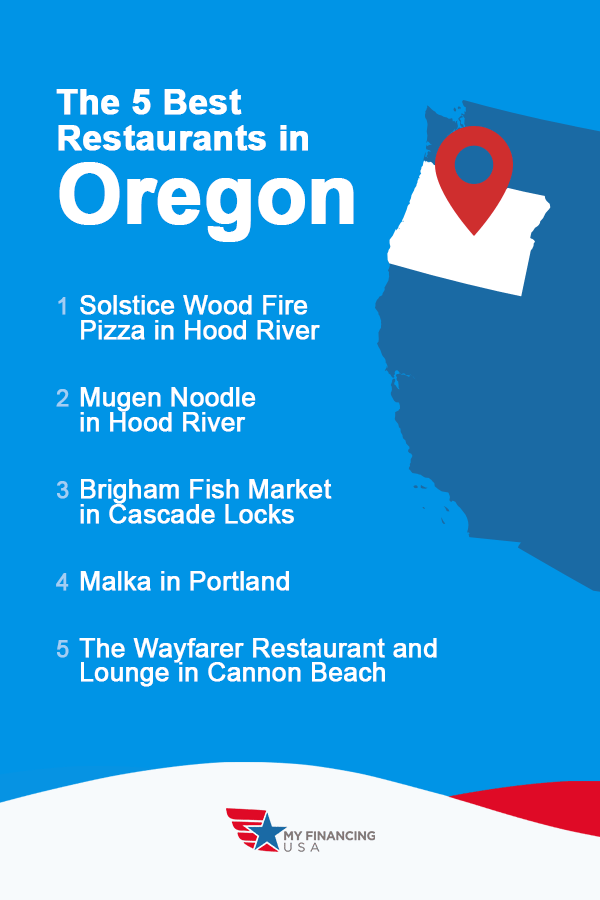 1. Solstice Wood Fire Pizza in Hood River
Solstice Wood Fire Pizza is a popular destination with a beautiful view of the Columbia River. Locals and road trippers visit this Waterfront Park restaurant for wood-fired pizzas topped with Oregon- and Washington-grown vegetables. Their Country Girl pizza combines Gorge-grown cherries with three types of cheese, chorizo and herbs prepared in-house.
Local products and seasonal availability are the core of their equally famous house pies. Some pies feature toppings like cremini mushrooms, pear and your choice of mozzarella or goat cheese. If the line at the riverfront dining room is too long for your taste, head to their food truck and get a slice or an entire pie to eat by the river.
2. Mugen Noodle in Hood River
In 2018, Michael J. Phillips and Panuwat Prasertyotin established Tigard's first Mugen Noodle Bar. The couple continued to Hood River, a favorite of theirs — they enjoyed it there so much that they opened a second shop in the Gorge town, only a few streets away from the Mount Hood Railroad.
The Mugen Noodle restaurant in Hood River is a local favorite that offers several ramen varieties ranging from black garlic with pig bellies to braised ducks. Take a seat on the terrace and enjoy a thick ramen with a broth that has been simmering for at least half a day before being served.
3. Brigham Fish Market in Cascade Locks
Visiting the Columbia River Gorge or Cascade Locks Marine Park? Make a lunch stop at the Brigham Fish Market. Kim Brigham Campbell, a member of the Confederated Tribes of the Umatilla Indian Reservation, owns this restaurant.
Brigham Campbell and her family capture virtually all the fish sold at the market, including sockeye, steelhead and sturgeon caught in the Columbia River. They make chowder, quesadillas, dip and fish and chips with the local fresh-caught fish.
The salmon-chowder-smothered ciabatta bread, topped with melty cheddar cheese and green onions, is a particular highlight. In late winter, the sturgeon fish and chips, a rare delicacy, is a must-order. Eat them all on picnic tables beside the Bridge of the Gods.
4. Malka in Portland
There is much to do in Portland — visit the Crater Lake National Park, the Portland Art Museum and the Malka restaurant. This Southeast Division house-turned-restaurant houses trinkets and art from across the world. Jessie Aron and Colin McArthur established an exotic environment where they prepare interesting, maximalist foods that rotate frequently.
One visit could include mushroomy potato sourdough toast with herbed chevre and miso creamed greens. The next might consist of sandwiches on brown-butter-nutty Hawaiian buns with sticky tamarind ribs and avocado salad. Regardless of when you visit, you'll get a sense of old Portland charm with wonderfully unique flavors on each visit.
5. The Wayfarer Restaurant and Lounge in Cannon Beach
You must visit the Wayfarer Restaurant and Lounge in the Surfsand Resort on your way to see the Haystack Rock in Cannon Beach. This American seafood restaurant offers stunning Pacific Ocean views that highlight its fundamental coastal seafood heritage. Every meal, whether from land or sea, is crafted using high-quality, locally sourced and seasonally appropriate ingredients.
The vistas alone make Wayfarer Restaurant one of the best Cannon Beach restaurants. When combined with fantastic cuisine and service, the nearby eateries cannot compete. Choose the delicious pan-fried Northwest razor clams, served with a house-made tartar sauce, crispy garlic potatoes and seasonal veggies.
The 5 Best Restaurants in Washington
Washington is a beautiful state with many excellent restaurants to choose from. Whether you're looking for a casual diner or a more upscale establishment, there's sure to be a restaurant that suits your taste. Check out these amazing restaurants in Washington.
1. Los Hernández Tamales in Union Gap
After becoming a recipient of the James Beard Classics Award in 2018, this Union Gap legend finally received national acclaim. Felipe Hernandez's friendly, unpretentious shop, which has exclusively served tamales since 1990, is a worthy stop for its eponymous specialties, including the legendary asparagus and pepper jack cheese tamales. The Los Hernández Tamales restaurant serves hot and ready-to-eat food on the premises, but there are also some frozen choices for eating at home.
2. Cafe Campagne in Seattle
Chef Daisley Gordon's long-running Pike Place Market marvel is well-known for its adherence to authentic Parisian gastronomy in a warmly lighted dining area. If you choose to eat at Cafe Campagne, begin your meal with escargot or calamari. Select the white bean stew with lamb and duck confit for an entrée, followed by a decadent chocolate cognac mousse. Lunch and weekend brunch menus include house-made croissants and a famous quiche with Comté cheese, which may also be ordered to go.
3. The Pink Door in Seattle

After visiting the Space Needle, end your day with a unique Italian dining experience. Tucked away in Post Alley is The Pink Door, an Italian restaurant in a former violin shop whose pink tint emulates the tiles in Florence's Duomo. The Pink Door's dim lighting creates an intimate atmosphere, making it ideal for a date or supper.
The Pink Door's pasta is unbeatable. Dishes like lasagna and pappardelle al ragù bolognese shine on the menu. After an afternoon of shopping at Pike Place, consider visiting Gelatiamo for a scoop of gelato to round off the Italian dining experience.
4. Barhop Brewing & Artisan Pizza in Port Angeles
If you're visiting the Olympic National Park, stop by Barhop Brewing & Artisan Pizza. Barhop embodies the finest of Port Angeles' no-nonsense vibe. They offer incredible homemade pizzas with sourdough crust from a well-worn, warehouse-like facility near the waterfront. Pizza and a pint of beer are all you need to order to understand why Barhop Brewing & Artisan Pizza become a local favorite.
5. Nourish in Sequim
Located on an herb farm just outside Sequim, Nourish is a rustic idyll that seems both classic and modern. They make burgers, salads, grilled meats, seafood and several vegetarian alternatives using locally sourced, gluten-free, organic products. Of course, wandering the grounds before or after dinner is part of the experience.
Bonus: The 5 Best Restaurants in British Columbia
Roadtripping across U.S. borders? British Columbia is a beautiful province with loads of restaurant choices. From family-friendly diners to upscale restaurants with world-class cuisine, there's something for everyone. Here are some of the best restaurants in British Columbia.
1. Dolar Shop in Richmond
Richmond's hot-pot scene is thriving, and this Chinese import is one of the best. Unlike other restaurants, the Dolar Shop serves individual hot pots with the option of a split bowl holding two broths, as opposed to a vast, communal pot.
The quality of the broths sets Dolar apart from the competition, whether it's pig leg bone, Szechuan hot and spicy, mushroom or tomato and oxtail. The hot pot ingredients are excellent, and you can always depend on a refreshing ice cream cone at the end of your meal.
2. Botanist in Vancouver
The Botanist restaurant at the Fairmont Pacific Rim has been constantly busy since it opened in April 2017. Its Champagne lounge is brimming with superb alternatives, and the wine list includes various rare terroir-driven selections from British Columbia and beyond.
Stop for cocktails at the Lab, where drinks arrive with dramatic drifts of dry ice and other high-concept presentations. Next, plunge into chef Hector Laguna's stunningly attractive food, airy plates with whisper-light but flavor-dense foams crafted with locally sourced treats.
3. Vij's in Vancouver
Celebrity chef Vikram Vij appeared as an investor on the reality program Dragon's Den for prospective entrepreneurs and has created a nationwide line of packed gourmet frozen curries. Vij has established a fine-dining Indian restaurant called Vij's, with chef Meeru Dhalwala, where you can feast on ambrosial curries made with local vegetables, hand-ground spices, wines and creative drinks.
The line for a table once included former Prime Minister Pierre Trudeau or Harrison Ford, but now you can make a reservation and bypass the line.
4. Wild Blue in Whistler
Wild Blue opened in Whistler in 2022, metaphorically and literally. It's a high-end, 150-seat Pacific Northwest fish establishment with turquoise velvet chairs and a solid local restaurant ambiance.
Its chef, Alex Chen, takes inspiration from French and Italian coastal cuisine and uses local ingredients to build chilled and intricate seafood towers and other dishes. Snap peas with sea forest kelp and Provencal fish soup are among the tasty appetizers. Main courses include Dungeness crab spaghettini, salmon with summer squash, chanterelle mushrooms and halibut T-bone.
5. Sky Bistro in the Canadian Rockies
The Sky Bistro is a one-of-a-kind dining experience in Banff National Park, including a ride on the Banff Gondola. Starting at the base of Sulphur Mountain, you take the gondola up to the peak, where you can have a multilevel interpretive experience that includes a theater, a Parks Canada ecology display, gift stores, a rooftop observation platform and the boardwalk journey to Sanson Peak. Spend time wandering before dining at Sky Bistro, which overlooks the surrounding mountain peaks.
Enjoy their seasonal dishes like elk bolognese and foraged mushroom porridge with a carefully chosen beverage menu of Canadian wines, local beers and specialty cocktails made with local spirits. During colder months, when the sun sets earlier, you can experience a Rocky Mountain sunset from the top of Sulphur Mountain via the restaurant's floor-to-ceiling windows.
Plan Your Pacific Northwest Road Trip Today

From road trip packing lists and road trip budgeting to planning solo road trips, you can trust My Financing USA to help guide you. Road-tripping in an RV is an excellent way to visit and discover some of the best places in the country.
If you're looking for a new RV, My Financing USA will help you find the best RV loans. We'll promptly approve and link you with the finest lenders for your budget and requirements so that you can be on the road as soon as possible. Fill out our RV financing online application, and our staff will contact you to start the financing process! 
---
Additional Resources on Road Trips:
---