Gas station snacks and fast food may seem like the most convenient options when you're traveling, but with some creativity and a little planning, you can pack healthy food items and eat just like you're at home. The best road trip snack ideas are for foods that are easily stored, affordable and nutritious. With filling meals, you will stay alert on the road and have energy for the fun ahead.
If you want to avoid colorful shelves lined with candies and sweets on your way to the restroom, check out our list of good road trip food ideas that stay away from that sodium and high fructose corn syrup. Check out our 30 easy road trip snack ideas to keep your family feeling full and refreshed.
Healthy Breakfast Ideas for Road Trips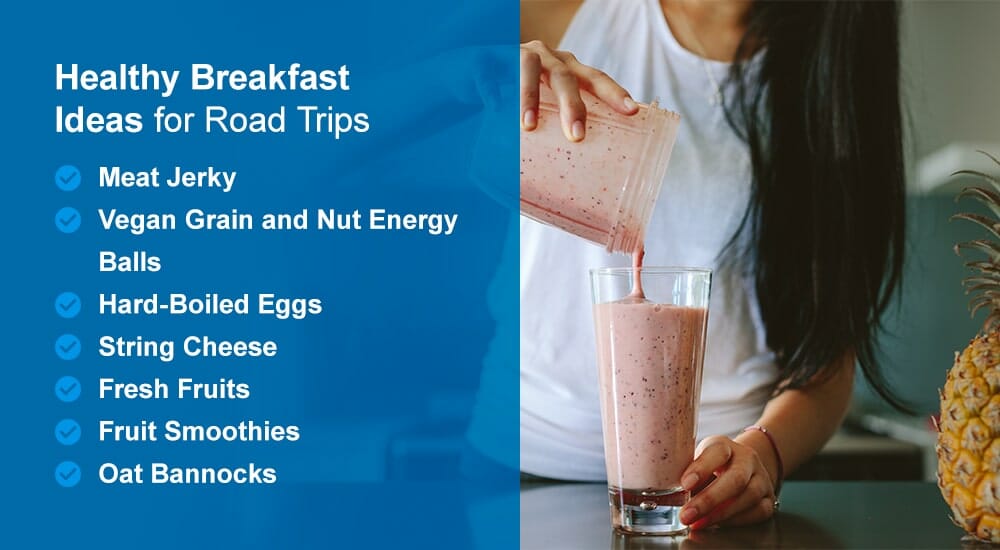 Breakfast might seem skippable, especially when you have a long journey ahead of you, but there's a reason it's considered the most important meal of the day. Eating breakfast jumpstarts your metabolism and regulates your appetite. Try these road trip breakfast ideas to make sure you and your passengers are getting the nutrition you need:
1. Meat Jerky
You can find several brands of beef jerky wherever travelers frequent, whether you're at a truck stop, gas station or convenience store. Meat is the primary source of protein in many diets, so it's best to stock up on some you can eat without cooking.
Several beef jerkies are high in sodium and preservatives, meaning they are still a great source of protein but less healthy than they could be. Check the labels for sodium content, and select jerky with the lowest. If you shop around at stores with more of a variety, you might discover healthier alternatives like organic beef or turkey jerky. If you're lucky, you might even find seasonal deer jerky at a locally-sourced supermarket.
2. Vegan Grain and Nut Energy Balls
These no-bake, bite-sized breakfast balls are less messy than instant oatmeal, and they are a great source of protein. Mix your favorite nut butter with some rolled oats and a combination of your desired trail mix ingredients — like chopped nuts, dried fruit, ground flaxseed and unsweetened shredded coconut. For added energy, sprinkle some protein powder into the blend. Chill the mixture in the refrigerator for a few hours, and roll it into balls once it's easy to mold.
3. Hard-Boiled Eggs
Eggs are another healthy source of protein, and hard-boiling makes them compact. Hard-boiled eggs are tasty without reheating, and you can munch on them without using a fork or spoon.
4. String Cheese
Stocking string cheese will help you get your morning dose of dairy in a mess-free tube. It's often bought for school lunches because it takes up little space. The kids will love it, too.
5. Fresh Fruits
Having a whole apple or banana with your breakfast will help you get off to a good start. Many fruits can be left out over the course of the day if you want to save them for later. For a long road trip, food ideas like keeping fruits wrapped up or in cold storage will keep you eating healthy. The following fruits will continue to ripen when left out:
Mangoes
Cantaloupe
Kiwi
Peaches
Apricots
Nectarines
Plums
Bananas
Plantains
Pears
Avocados
6. Fruit Smoothies
You can find fruit smoothies at many grocery stores, but making your own means less time checking labels for corn syrup and artificial flavorings. You can also make smoothie flavors that are hard to find in stores with a few simple ingredients. Blend up your favorite fruits with some ice cubes and milk. Use almond or coconut milk to make dairy-free smoothies, and mix in some protein powder for an energy boost. Some delicious fruit smoothie combinations to try include:
Strawberry and banana
Blueberry and apricot
Cooked pumpkin and butternut squash
Kiwi, pineapple and mango
Dragon fruit and goji berry
Banana and mango
7. Oat Bannocks
Instead of grabbing a donut or a cinnamon roll on your way out, bake some bannock bread the night before you leave, and cut it into hearty, scone-shaped slices for your trip. You can make bannocks from mostly oat ingredients, a healthy source of carbs full of minerals and antioxidants. Reducing the amount of sugar in the recipe will result in more of a savory flavor.
The baking process is like making shortbread. Mix rolled oats with oat flour and baking powder, then add the butter and oat milk as a substitute for the water until a dough forms. Depending on your tastes, you can mix in fresh berries or apple slices, too, or you can add spices like cinnamon, ginger and pumpkin pie spice. Pre-cut the bannock bread dough, and bake it in the oven for about 30 minutes. Bannocks are thick in consistency like dinner rolls and taste great paired with spreads.
Easy Lunch Ideas for Road Trips
Making stops for lunch slows you down and costs more money than preparing your own food. If you have a cooler or, even better, an RV with a refrigerator, you can pack perishable ingredients for healthy meals. Certain non-perishable items you can find in dollar stores also make great travel foods. Whether you're looking for ideas for skipping those fast-food restaurants once noon rolls around or picnic lunch ideas for road trips, this list should come in handy:
8. Cold Cut Sandwiches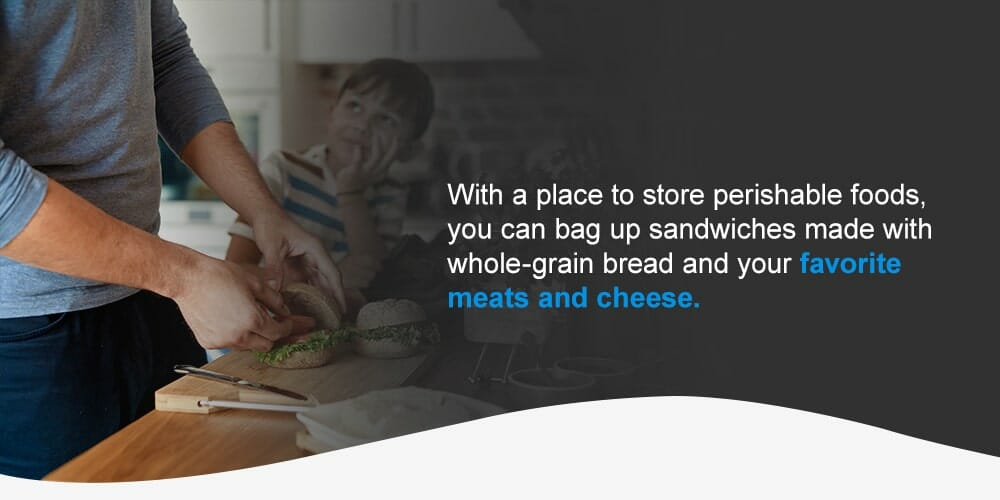 With a place to store perishable foods, you can bag up sandwiches made with whole-grain bread and your favorite meats and cheese. Top them with fresh lettuce, tomatoes and pickles for a well-balanced meal. Instead of grabbing a burger or fried chicken sandwich full of saturated fat, have your own sandwiches for lunch. Eating your cold cut sandwiches while they're inside zip-close bags will help keep any messes contained, just like how the wrapping around a burger catches oozing condiments and vegetable shavings.
9. Peanut Butter and Banana Sandwiches
Look for peanut butter without added sugar and oil. Add slices of fresh banana to your spread for a delicious sandwich that offers a great balance of nutrients, good fat and protein. Bananas are soft enough to cut with a plastic knife or butter knife, so you can even prepare these sandwiches on the trip using a banana leftover from breakfast.
10. Pocket Sandwiches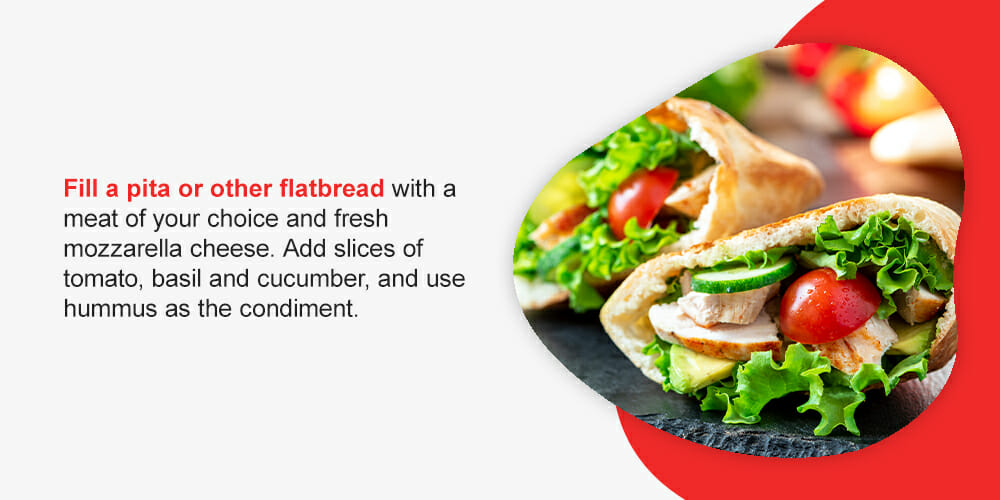 Fill a pita or other flatbread with a meat of your choice and fresh mozzarella cheese. Add slices of tomato, basil and cucumber, and use hummus as the condiment. Pita bread also makes for a great tuna salad sandwich.
11. Simple Tortillas
Wrap cold foods like pepperoni, olives and cream cheese inside a tortilla shell to have a filling meal with little preparation. Get creative with your other favorites, like deli meats or veggies.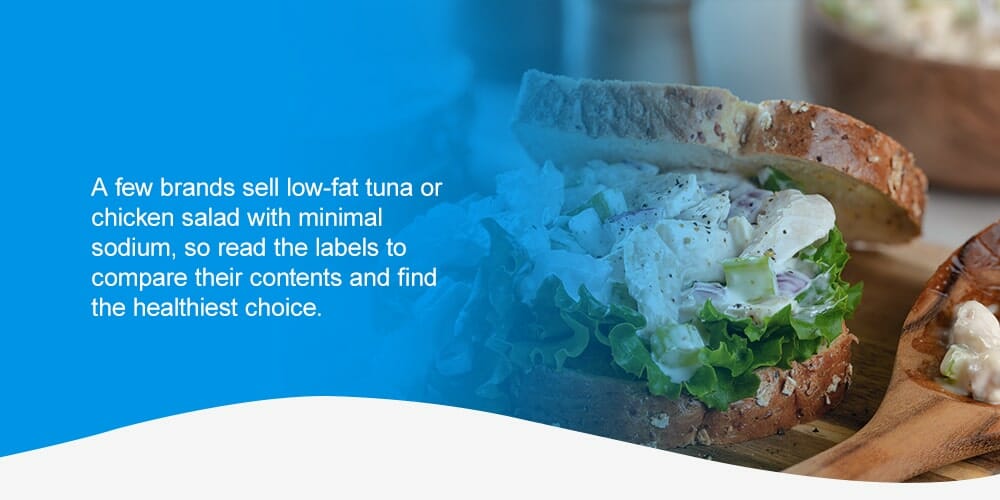 12. Boxed Tuna or Chicken Salad
You might have seen pre-mixed tuna salad kits at your local convenience store. These boxes are the best nonperishable travel foods you can get, with long shelf-lives and low calories. They contain a balance of protein, grains, vitamins and minerals, and they are delicious. A few brands sell low-fat tuna or chicken salad with minimal sodium, so read the labels to compare their contents and find the healthiest choice.
Each box comes with a small packet of crackers and an application spoon. Depending on the brand, the crackers might even be whole-grain.
13. Cold Pizza
Save slices of pizza for later without reheating them. If you're going with a frozen pizza, bake it and refrigerate it first. Sprinkle extra veggies over the top before baking for added flavor and a healthy kick. Pizza is actually very good when chilled, and some people who try it grow to like it better than hot pizza.
14. Fresh Veggies and Dipping Guacamole
Remember to get your fill of vegetables with your lunch. Instead of eating guacamole with chips or crackers, slice up fresh veggies for dipping, or look for mini pre-made vegetable trays at your grocery store. Fresh guacamole tastes good with sliced bell peppers, broccoli, celery and carrots, and it's healthier than ranch dip.
You can make your own guacamole to prepare for the trip ahead by blending ripe avocados with sliced onions, tomatoes and cilantro. Season with a dab of lime juice and a dash of garlic and salt. To add a spicy kick, grind in slices of jalapeno pepper.
15. Hand-Tossed Salads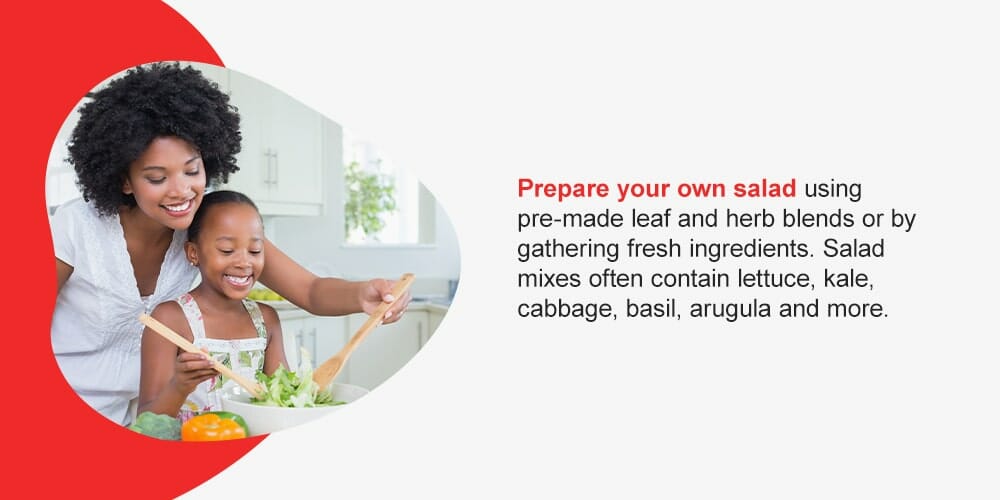 Prepare your own salad using pre-made leaf and herb blends or by gathering fresh ingredients. Salad mixes often contain lettuce, kale, cabbage, basil, arugula and more. When you have gathered the leafy portion, add colorful ingredients like cherry tomatoes, carrot shavings, cucumbers, water chestnuts, bell pepper slices, fresh mushrooms, black olives and anything else you would enjoy.
You can also add white meat from a rotisserie chicken for the protein. Get creative mixing up your own salads for the road and store them in Mason jars or Tupperware. Bring disposable forks to munch on it for lunch.
16. Slices of Fruit With Greek Yogurt
When selecting your yogurt, check for fat-free products with live, active cultures for the healthiest choice. Also look out for added sugars, dyes and cookie crumble mixes.
A handful of berries make a great topping for plain Greek yogurt. Fruit has natural sugars that will sweeten the yogurt, but you can also add some honey. Take a bag of mixed blueberries, blackberries, strawberries and raspberries with you, and sprinkle your favorites into your yogurt cup. Yogurt is great as a side dish with your lunch or breakfast.
17. Ham and Cream Cheese Wheels
Making ham wheels is quick and easy. Just spoon some low-fat cream cheese onto slices of ham, roll them up and slice them into bite-sized pieces.
Snack Ideas for Long Road Trips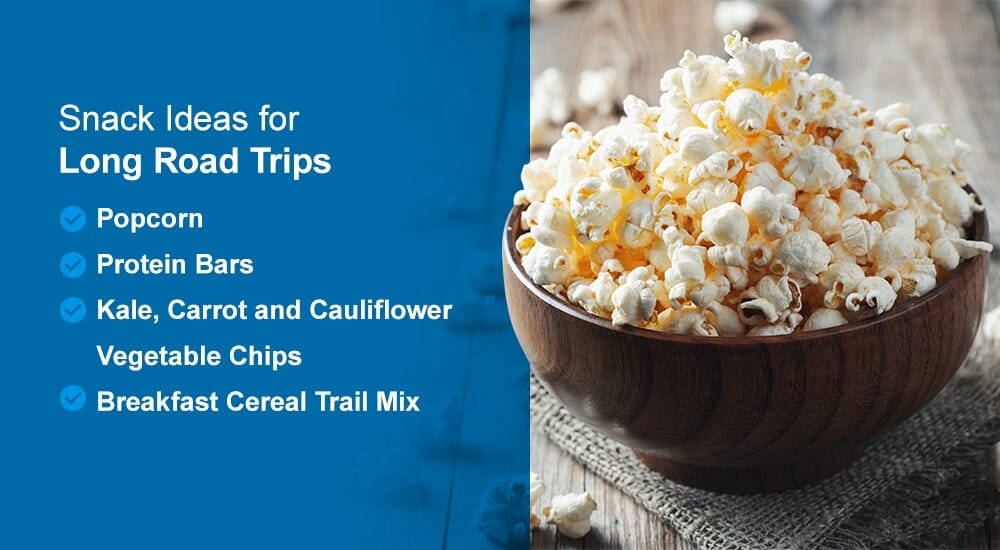 When you're driving a long enough distance, you might want to eat because you're bored. Grabbing a candy bar or a handful of chocolate-coated peanuts becomes a temptation every time you stop for gas. Stay healthy and full by bringing plenty of snacks low in sugar in addition to eating your regular meals throughout the day. Check out these ideas for snacks for road trips to munch on between meals:
18. Popcorn
On a list of healthy snack foods, popcorn probably comes as a surprise. Popcorn is actually a great source of fiber and complex carbohydrates, but it's also filling and lacks important vitamins and minerals. The popcorn that comes in microwavable pouches is also loaded with saturated fat in the form of butter and sweeteners. Select healthy popcorn brands, always checking the label for unnecessary chemical agents.
You can pop especially healthy corn on your own. Just heat some olive oil in a skillet and add some uncooked corn kernels with a light sprinkling of sea salt. Cover the skillet and watch as the kernels open up into delicious, healthy popcorn.
19. Protein Bars
Many protein bars are designed to eat with a workout, so they are loaded with carbs and sugar. Choose a protein bar low in sugar and sodium and with few preservatives. You're going to be sitting in your vehicle instead of running a mile. Look for natural ingredients like whole nuts, and stay away from the sweetened chocolate and icing.
20. Kale, Carrot and Cauliflower Vegetable Chips
A potato is a type of vegetable, too, but most packages of potato chips are loaded with salty seasonings. Look for bags of other types of dehydrated veggies, checking the labels to make sure their sodium and sugar contents are low. You can even bake your own veggie chips in the oven so you know exactly what ingredients are in your snacks.
21. Breakfast Cereal Trail Mix
A list of food ideas to take on a road trip would be incomplete without trail mix, a favorite camping and travel food. Making your own trail mix with a blend of quality breakfast cereals and a few other ingredients is easy, and you can avoid all of that candy.
Pick a fortified cereal or two to start with, and add your own custom blend of cranberries, raisins, walnuts, shell-less sunflower seeds, granola and dark chocolate chips. When eaten in moderation, dark chocolate is generally a healthy alternative to the extra sweet milk chocolate candy pieces in many trail mixes. The best thing about making your own trail mix is that it will only contain what you and your family likes to eat.
Snack Ideas for Family Road Trips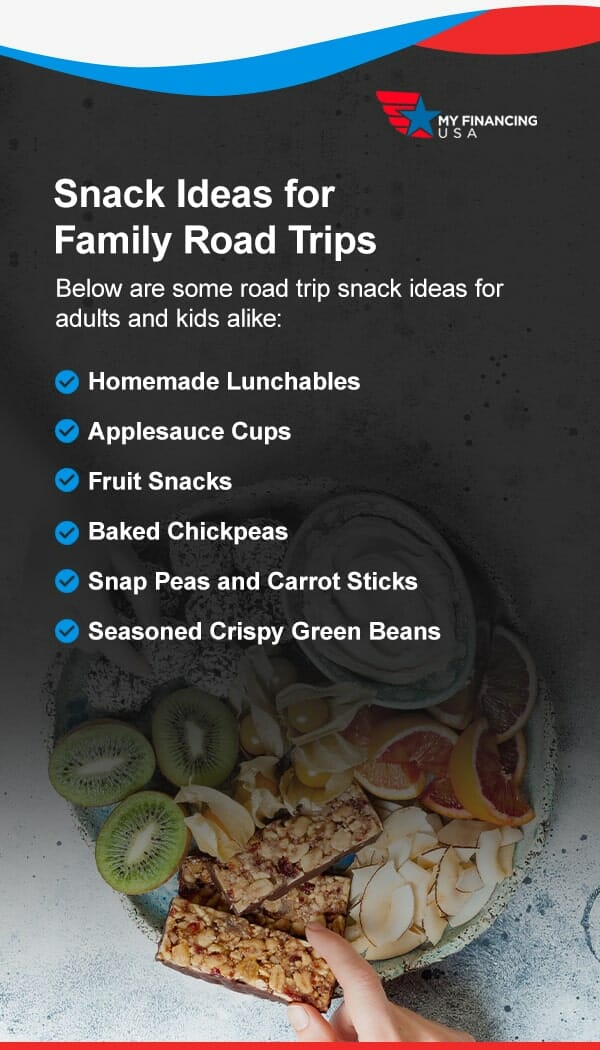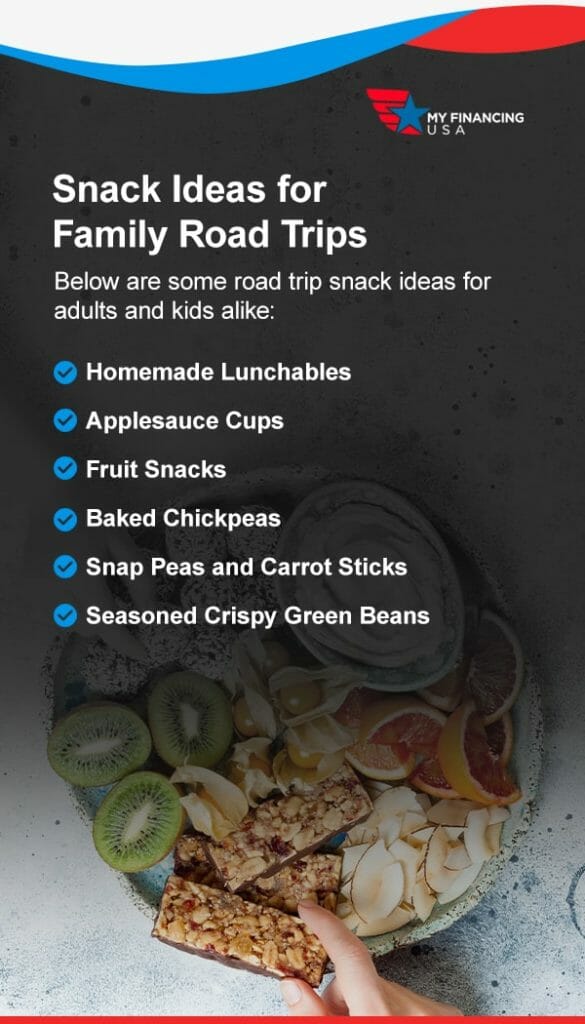 Need some road trip snack ideas for kids? Want to make sure you give them plenty of healthy road trip snack ideas? The best foods to bring for kids are tasty to eat while still packing the daily required nutrition. Below are some road trip snack ideas for adults and kids alike:
22. Homemade Lunchables
Kids love eating Lunchables, but if you're concerned with the nutritional contents, try making your own using simple, filling ingredients. Buy whole-grain crackers to use as the base, and slice up provolone, pepper jack and cheddar cheeses for stacking. Pre-cook sausage patties to add protein.
23. Applesauce Cups
With less sugar than most puddings and plenty of fiber, applesauce makes a comforting snack between meal times. Sprinkle in some cinnamon and top with sliced apples for an extra special treat. Just make sure you choose an applesauce brand made with real fruit instead of artificial flavors and sweeteners.
24. Fruit Snacks
Do your kids get cravings for candy? Fruit snack gummies made with real fruit are a sweet replacement, and they are packed with the same vitamins that you get from eating whole fruits.
Check the labels to make sure they are just sweet enough without overloading your family on high fructose corn syrup. Fruit snacks marketed to be healthy are generally the best choice. You might be surprised to read that they have such high nutritional value. On the other hand, lots of fruit snacks are made exactly like gummy candies, so always check the labels.
25. Baked Chickpeas
Chickpeas are crunchy when cooked and make a nutritious replacement for potato chips. Spicy baked chickpeas are good when mixed into hummus or used to dress a pita sandwich.
To make your own, drain your can of chickpeas and pat them dry before you scatter them on the cookie sheet. You can then toss them in olive oil with salt and spices like cumin, garlic powder, chili powder and cayenne pepper. Bake them in the oven for about 30 minutes at a high temperature, and store them in Tupperware after they cool.
26. Snap Peas and Carrot Sticks
If your kids prefer carbs over veggies, give them some freshly washed snap peas and carrots sticks. Snap peas are fun to crunch and taste delicious when raw, and carrots are a favorite for kids. You can serve them with a cup of ranch dip or hummus.
27. Seasoned Crispy Green Beans
Do you have trouble getting your family to eat green beans? One way to turn ordinary, fresh green beans into an irresistibly tasty snack is by seasoning them the way you would meat and frying them to a crisp in a skillet with olive oil.
Use garlic powder, onion powder, cumin, sea salt, pepper and a hint of nutmeg or paprika to add flavor to the green beans. You can also try poultry or barbeque seasoning. The cooked green beans will pop with flavor. You can also coat them with egg and bread crumbs before frying to add a crunchy shell.
Road Trip Drink Ideas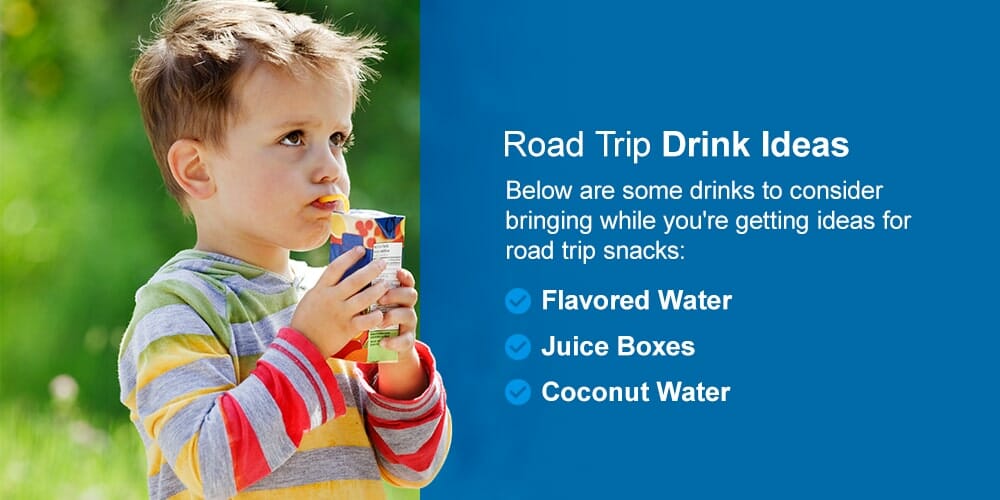 Sometimes a refreshing drink is all you need. If you feel like eating when you've already had a meal, try opening a drink instead. You should stay hydrated on a long car ride, even if you spend most of your time out of the elements. Below are some drinks to consider bringing while you're getting ideas for road trip snacks:
28. Flavored Water
Water with a hint of flavor added and some carbonation can satisfy your cravings for a bubbly soda without all of that caffeine and sugar. You can find many flavors in stores with a fruity twist for every palate. If you have kids who prefer sodas over water, try getting them to drink this instead.
29. Juice Boxes
Some fruit juices are made with artificial ingredients, so look out for healthy brands. Naturally made grape, apple and orange juices will help you and your kids make sure you get enough servings of fruit throughout the day.
30. Coconut Water
In addition to being nice and refreshing, coconut water contains vitamins and electrolytes. If you're going to stop to do some hiking or other recreational activities on your trip, coconut water will help you keep your energy up.
Go on a Road Trip With an RV Loan From My Financing USA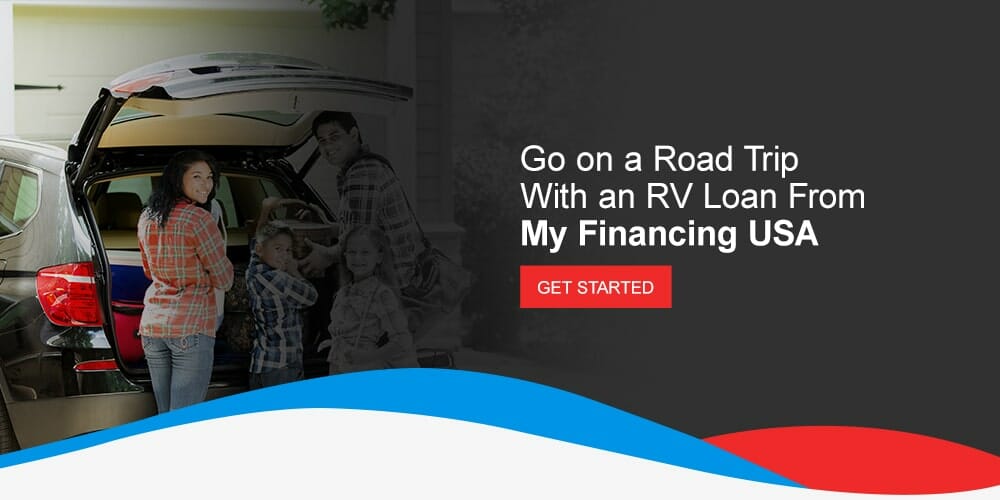 An RV is a good investment for traveling — one of the many advantages being that you can easily store your perishable snacks and fresh lunches. While you're looking for food ideas for a road trip, buying an RV will help you save money by giving you the ability to stock perishables and eat healthy meals while you're away from home.
My Financing USA connects you with lenders who will help you afford the RV of your dreams, whether your credit is good or bad. Find an RV loan that will work with your finances. Learn more about our RV loans or apply for an RV loan today.
---
Additional Resources on Road Trips:
---