Quick Navigation
Taking a road trip can be an epic adventure, even before you get to your destination. Knowing how to pack for a road trip can be overwhelming, but this ultimate road trip packing list will get you ready to travel without worrying about forgetting anything.
Vehicle Essentials
Your car needs to be in tip-top shape to haul you, your group and your luggage to your destination. Here are some general items to pack in your vehicle before heading out on your trip:
Driver's license: All the driving you're doing puts you at higher risk of being pulled over, so you should have your license on hand just in case.
Car registration and insurance: These things are essential to always have in your car in case you get pulled over or should there be an accident.
Car manual: Having your car manual handy is important in case a minor issue pops up with your car that you need to fix. It's also helpful if your car is giving you a warning light you're unfamiliar with.
Spare tire: Have a spare tire, as well as all the tools you would need to change a flat tire, in your car. Your car will likely have a special compartment for these things to save space.
Water-resistant flashlight: Having a water-resistant flashlight will help you stay safe should car trouble happen at night or in the rain.
Roadside assistance: Have a roadside assistance plan set up before you head out on your trip. Whatever roadside service company you choose, have their number saved so you can access them quickly in an emergency.
You should also have some maintenance supplies handy in case of an emergency or for general maintenance your car may need:
Coolant: Antifreeze or coolant helps keep your car's engine running at an optimal temperature, which helps keep it running smoothly.
Oil: Have some extra oil in your car in case you need to change or add oil to your engine.
Wiper fluid: Though wiper fluid is not essential to your car's ability to run, it can make driving much easier and safer if you can get unwanted things off your windshield.
Extra gas: Bringing along extra gas will give you peace of mind should you encounter a long stretch of road without a gas station right when you need it. Planning gas stops for your road trip can also help ease any stress.
Personal Essentials
Packing for yourself can seem daunting, especially when you're going on a long trip. Here's a list of basic clothes you should consider packing, which you can adjust based on your specific destination:
Shirts: Choose some tops that are breathable and neutral, solid colors. This allows you to wear the shirts with multiple outfits and makes them perfect for when you're sitting in the car for long periods.
Pants: For the car, you'll want to pack pants that are comfortable and stretchy. Whether you choose sweatpants, leggings or shorts, choose options you'll be comfortable wearing to and from your destination so you don't have to pack many other pairs. The other bottoms you'll need will depend on what sort of adventures you and your group are getting into when you get to your destination. Long pants will be good for hiking in grassy areas, for instance.
Socks and underwear: Remember to bring plenty of spare pairs of these items, especially if you aren't going to have access to laundry services throughout your trip.
Jackets: At the least, you should be sure to pack a rain jacket. If you're headed somewhere that could be cool, pack a heavier jacket for warmth, as well. You should bring a sweatshirt along no matter where you're going so you have something in case you find yourself somewhere cold. Light, layering pieces will give you more outfit flexibility, ideal if you're going through all different climates on your adventure.

Hat: Bringing a hat along on your trip will provide a number of benefits. You can use it to protect your face from the sun, keep you warm or simply cover up some messy hair after a long day on the road. Consider the weather when you pack this item. Sunny days and warm temperatures may call for a baseball cap, while snowy or cold climates mean a beanie or winter hat will be the right choice.
Shoes: Shoes are likely the bulkiest thing you have to pack, so the key is to pack as few as possible. If you can and if it's not too uncomfortable, wear your bulkiest shoes during your drive. This leaves you more space to pack the other shoes you want to bring along. 
Sunglasses: Protecting your eyes is very important, especially when you're driving during the day. Wearing sunglasses will help you see the road better and keep you comfortable on your drive. 
Depending on the length of your road trip, you may want to have extra clothes in a bag you have with you in your car. The same goes for toiletries. Here are some of the toiletries you should be sure to pack for your next road trip:
Shower items: Unless you're staying at a hotel, you should pack all the things you would need for a shower including shampoo, conditioner and body wash.
Toothbrush: Be sure to bring a toothbrush and toothpaste on your trip. This may be one to have in the bag in your car so you can easily access it during your drive.
Haircare: Have all your normal hair care products packed up in their original containers or transfer them to travel-size containers if you need more space. Be sure to also pack a hairbrush, hair ties, bobby pins and other styling needs.
Skincare: Pack up your makeup and skincare products as minimally as you can. If you're going on a trip with lots of adventure, you may be able to leave the makeup behind, which will save you space.
Medicine: Bring along any medication you normally take or need every once in a while. This could include allergy, nausea or cold medicines in case you get sick. Remember to pack prescriptions, too.
Stain remover: You never know when a stain could strike, especially when eating on the road. Having a stain stick handy will prevent a headache in the event of a spill.
Food
If you're planning on cooking on your road trip or when you reach your destination, here is a list of things you will need to cook your meals:
Camp stove: You may need a camp stove and a propane tank to power it so you can cook and heat up your meals. With a camping stove and the right ingredients, you can cook pancakes, eggs, soup and all kinds of other meals.

Pots and skillets: Know what meals you will be cooking ahead of time so you know exactly what kind of pots and pans you will need.
Reusable dishes: Have one set of dishes and utensils for each member of your group. This will save space by keeping you from transporting stacks of disposable utensils.
Cooler: Investing in a cooler that can keep food cold for several days is worth your money for a trip where you will not have access to a kitchen. It will greatly increase the variety of food you can eat.
Water: Bring cases of bottled water or gallon jugs. Be sure to consider the fact that you will need water for cooking as well as just drinking.
Miscellaneous: Some other tools you will need for cooking include paper towels, a potholder, aluminum foil and perhaps reusable containers or sandwich bags for leftovers.
When it comes to the food itself, here are some perfect road trip snacks that will keep you and your crew satisfied for the long drive:
Fruits and veggies: Pack fruits and veggies that are ready to eat as is, like baby carrots, apples, oranges, grapes and other options that don't need cut.
Granola bars: Granola bars are a great source of protein, making them the perfect healthy and easy snack for your trip. They also come in so many varieties that everyone in your crew will be able to find one they like.
Chips: Taking chips, popcorn or pretzels will help when those cravings for something salty hit.
Trail mix: Trail mix is a healthier alternative when you're feeling snacky, and it comes in a wide variety of options.
Juice: Juice is a good option for a road trip when you're looking for something other than water, but it still provides some health benefits.
Ask your crew for snack suggestions so everyone is happy and full during the long drive.
Technology and Entertainment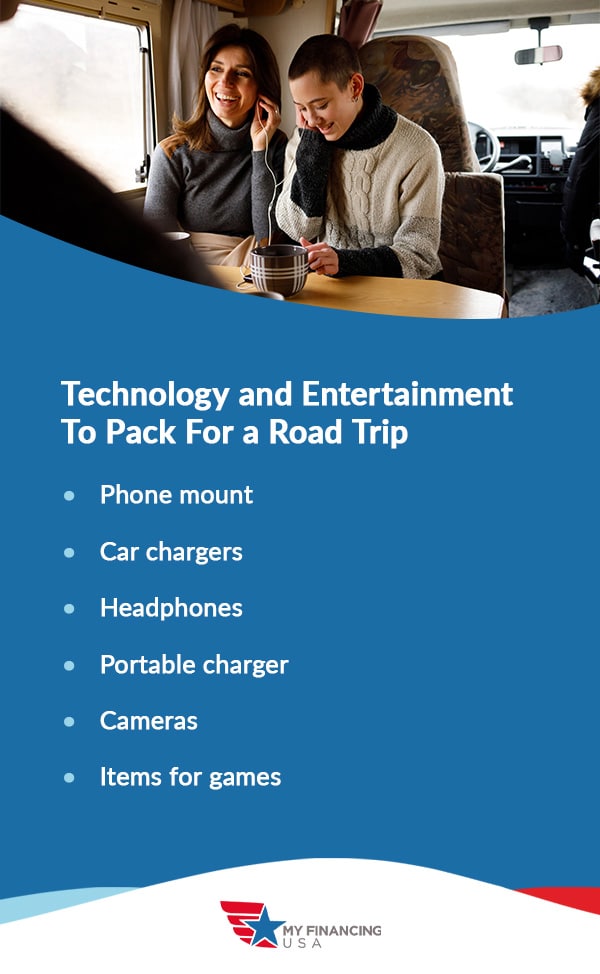 Keeping your group entertained during a long road trip is essential to make time go by quick. Here is a packing list for all the things you need to do just that:
Phone mount: Having a phone mount by the steering wheel will keep the driver safer when using the phone for navigation, as they can see it without needing to reach down and grab it.
Car chargers: Make sure you have chargers for everyone's phones. If you only have one port, you can purchase a charger that has multiple USB inputs so you can still charge different phones at once.
Headphones: Remind everyone to pack their personal headphones so they can watch movies or listen to music on their own. It's a good idea to pack an extra set in the car, as well.
Portable charger: A battery pack will come in handy in the car or when you get to your destination.
Cameras: If anyone in your group has a camera, you don't want to forget it and all the gear that goes with it. It could be fun for you all to get a disposable camera or a Polaroid for a unique way to document your adventure.
Items for games: If you're planning on playing road trip games, bring what you'll need to play them. You might need a pen and pad of paper or a deck of cards.
Safety
You should stock your car with a couple of things you likely won't need but are important to have in case of an emergency:
First aid kit: Having a first aid kit in your car will give you peace of mind in case something happens. This is especially helpful if the adventure you're going on will take you into some treacherous terrain.
Roadside emergency kit: We've gone through all the things you should have in your car to ensure your vehicle is prepared for an emergency, but you should make sure the people inside your car are prepared, as well. Having a roadside emergency kit will cover some of your bases, with battery booster cables, a whistle, a rain poncho, a window breaker and other necessities.
Paper map: If you get lost somewhere where there is no cell service, or something happens to your cell phone, you will need a backup plan. Having a paper map can ensure you will always be able to find your way in case something happens.
Comfort
Road trips can be a blast, but at times you may just want to rest. Here are some things to pack so you can be comfortable while riding as a passenger:
Travel pillow: Though you don't want to take up a ton of space with a normal sized pillow, packing a travel pillow will make it easier to sleep and keep you comfortable while you are a passenger on the road trip.
Blanket: Bring a blanket so you can bundle up if the air conditioning makes you chilly. Having a blanket also makes it easier and more comfortable to sleep.
Window shade: Having a window shade can make long stretches of the drive in the sun much more bearable.
Miscellaneous Items
Here are a couple of other things to have on hand on your road trip:
Plastic bags: Having plastic bags handy is a great way to keep the car clean, as they are a great place to put trash from snacks. They are also great for wet clothes if it rains or you find yourself on a water adventure earlier than you expected.
Cash: Have some spare cash and change handy in case you need to pay for cash-only parking or you drive through tolls.
Umbrella: Your rain jacket is likely packed away in your luggage, so having an umbrella in the front of your car will save you from getting soaked if you have to get out of the vehicle while it's raining.
Pack All the Essentials for Your Road Trip in an RV

Got a long packing list and aren't sure everything will fit in your car? An RV may be the solution! If you're thinking of getting a camper or motorhome, we can help with financing. Services from My Financing USA offer several benefits:
Nationwide low rates: We take the time to find you the best boat and RV loan rates around the country.
Protect your credit: We strive to reduce inquiries as much as possible. We also only send you one matching lender at a time.
Fast, easy approval process: We make it easy to sign and submit documents. You will hear back in as few as 48 to 72 hours.
If you're ready to hit the road, apply for an RV loan today!
---
Additional Resources on Road Trips:
---