When you start preparing for your Midwest road trip, book your hotels or ensure your RV is adventure-ready by following some safety tips. You might also plan gas stops, gather all the best road trip game ideas and figure out how to take your furry friends RVing with you. In all your planning, remember to plot out your restaurant stops. After all, half the fun of a road trip is trying out local foods!
A road trip in the Midwest is sure to satisfy even the pickiest foodie. From Ohio to Colorado, you'll find urban eateries and rural diners that give you and your group the perfect taste of the Midwest. Check out these road trip restaurants in the Midwest that will have you coming back for more.
Quick Navigation
1. Wall Drug: Wall, South Dakota
If you're looking for a restaurant that can turn your pit stop into an afternoon of activities, swing by Wall Drug. Wall Drug started as a drug store in 1931. The owners began attracting travelers by offering free ice water, and the rest is history. Now the restaurant offers all-day breakfast, lunch and dinner options, plus a kids' menu and ice cream parlor.
Visitors can enjoy a buffalo burger, old-time shakes, hot beef sandwiches and much more. After a five-cent cup of coffee and a delicious homemade donut, you're good to go. Then you can stretch your legs in the Western Art Gallery and the Backyard, where kids can get a picture with a T.rex or splash around in the Train Station Water Show.
2. Steer-In: Indianapolis, Indiana
Going through Indiana and looking for a quick bite to eat before hitting the road again? The Steer-In drive-in is a piece of historical Indianapolis with classic eats. Steer-In has been around since 1960 and racked up several awards for having some of the best food around. You can drive in or dine inside to enjoy Steer-In's retro diner feel.
Famous for the Twin Steer signature burger with Steer-In sauce and its fresh coconut cream pies, Steer-In also offers all-day breakfast. From fresh-made pizza to fish and chips, there's something for everyone.
3. Traverse City Whiskey Co.: Traverse City, Michigan
Small-batch whiskey from Traverse City Whiskey Co. is a great way to warm up by the campfire when visiting the Great Lakes State. Located in downtown Traverse City, Traverse City Whiskey Co. instills the adventurous heart of "up North" Michigan into every bottle of whiskey. Visit the Stillhouse for a relaxing evening at the cocktail bar, where you can sample craft cocktails made from locally-sourced ingredients.
The company's signature whiskeys range from straight bourbon to a whiskey infused with Michigan apples. Buy a bottle to take the good times home, and remember your jar of premium Michigan cocktail cherries.
4. Hamburg Inn No. 2: Iowa City, Iowa
Where can you stop for a half-pound hamburger and maybe get a glimpse of the next president of the United States? Your best shot is at Hamburg Inn No. 2. Former presidents Ronald Raegan, Bill Clinton and Barack Obama, plus a host of other politicians, have all eaten here on the campaign trail. They have a good reason — Hamburg Inn No. 2 is one of the most popular diners in Iowa City.
Hamburg Inn No. 2 has a wide range of diner items on the menu, including light lunches and hearty dinners. If you're trying to make up your mind, you can't go wrong with their classic Iowa breakfast or homemade Reuben sandwich. Hamburg Inn No. 2 is best known for its pie shakes, which blend a whole piece of pie into a milkshake.
5. Bin 707 Foodbar: Grand Junction, Colorado
For more refined fare, check out Bin 707 Foodbar while driving through Grand Junction. This restaurant serves seasonal Colorado cuisine for the refined palate. With sophisticated flavors and an impressive selection of wines, ciders and cocktails, Bin 707 Foodbar is the perfect splurge for an elegant dinner at any point on your Midwest adventure.
Located in Colorado's fertile Grand Valley, Bin 707 Foodbar sustainably sources its ingredients from local, Colorado and domestic sources. Try the famous Bin Burger topped with beehive white cheddar or be adventurous with elk tartare, then end with a slice of lemon verbena panna cotta pie with blood orange sauce.
6. Blue Springs Cafe: Highland, Illinois

This homestyle cafe right off Interstate 70 is an excellent option for either dining in or carrying out. At Blue Springs Cafe, you can enjoy family-sized dinners with a range of side dishes. The cafe has a down-home feel and outdoor space for travelers to walk around before getting back on the road.
Blue Springs Cafe is famous for its baked chicken and walleye fillet. Try the apple butter on your rolls and grab a slice of their famous foot-high pies for the road.
7. Payne's Restaurant: Gas City, Indiana
You might not expect to find such high-quality British food off I-69. Yet locals and visitors rave about Payne's Restaurant, a hidden treasure in Gas City, Indiana. This restaurant serves British cuisine and a fun experience in an eclectic environment. If you're looking for a taste of London, Payne's Restaurant is one of the best road trip restaurants in the Midwest.
You can find everything from beef stew and Yorkshire pudding to fresh salads and sandwiches at Payne's Restaurant. You can also try a range of traditional Indian food like spiced vegetable dahl and British chicken curry. The restaurant supports local arts and culture, so you might be able to catch a live band on your visit.
8. Zombie Burger + Drink Lab: Des Moines, Iowa
Feeling experimental for your next Midwest road trip meal? Take your taste buds on an adventure at Zombie Burger + Drink Lab. This inventive eatery offers gourmet burgers, shakes and more in a self-styled "post-apocalyptic chic" setting. The whole family will love the wild burger combos and playful atmosphere.
One of the most famous options at Zombie Burger + Drink Lab is the Walking Ched burger, served on a bun made from deep-fried macaroni and cheese. The menu features other twists on Midwestern favorites, like the zombie poutine. A popular dessert choice is a cereal shake, which visitors over 21 can get spiked.
9. Joe's Kansas City Bar-B-Que: Kansas City, Kansas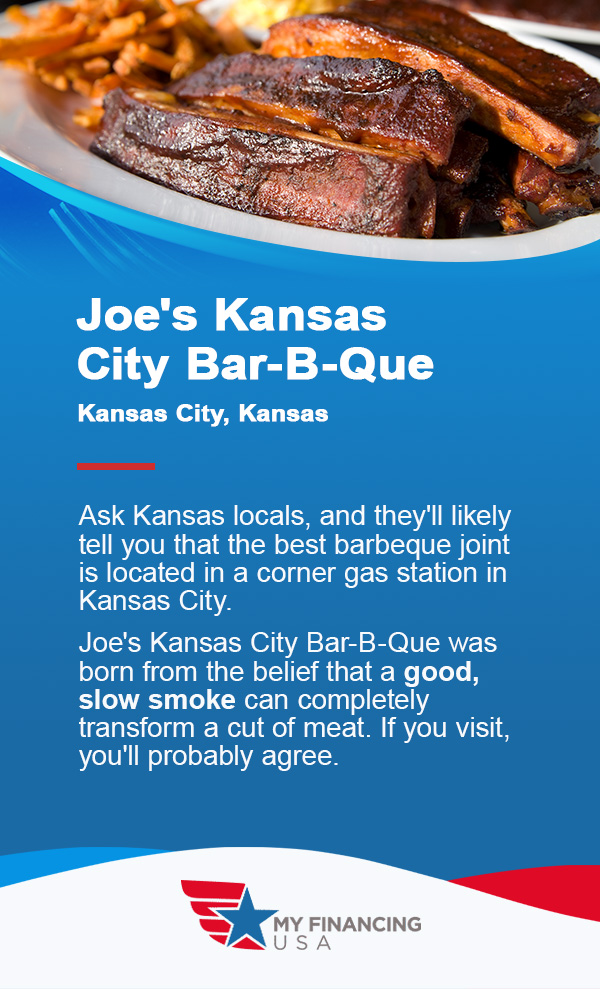 Ask Kansas locals, and they'll likely tell you that the best barbeque joint is located in a corner gas station in Kansas City. Established in 1996, Joe's Kansas City Bar-B-Que serves sandwiches, dinners and salads designed for BBQ lovers. Joe's Kansas City Bar-B-Que was born from the belief that a good, slow smoke can completely transform a cut of meat. If you visit, you'll probably agree.
Whether you feel like pulled pork, ribs, chicken or beef brisket, this restaurant has you covered. Add sides like spicy cole slaw, onion rings or smoked chicken gumbo to make it a meal.
10. The Mason Jar Cafe: Benton Harbor, Michigan
Plan to stop at The Mason Jar Cafe on your road trip through rural Michigan. This warm and inviting restaurant boasts seasonal dishes made from farm-fresh ingredients.
The Mason Jar Cafe is the perfect spot for a road trip brunch. You can order breakfast like banana oat pancakes or huevos rancheros all day long and choose from a wide range of coffees and juices. The lunch menu features specialty sandwiches, salads and other options like the grass-fed beef burger with Amish cheese. The Mason Jar Cafe also has dishes for those who prefer vegetarian, vegan and gluten-free dining.
11. The Taco King: Albert Lea, Minnesota
If you're taking a road trip to St. Paul or Minneapolis and crave Mexican food, try The Taco King in Albert Lea. You may not have a lot of dining options driving through this part of southern Minnesota, but The Taco King is worth the wait. This fast-casual restaurant serves large portions of fresh Mexican cuisine.
The menu at The Taco King features enchiladas, tacos, burritos and a wide range of other Mexican dishes. Visitors can also add toppings from the topping bar. Enjoy your meal inside, sit in the outdoor dining area or get it to go.
12. Pappy's Smokehouse: Saint Louis, Missouri
Looking for Memphis-style BBQ in Missouri? Head to Saint Louis to eat at Pappy's Smokehouse, where you'll find great BBQ smoked for up to 24 hours. The BBQ at Pappy's Smokehouse is always fresh and smoked over sweet apple or cherry wood for that perfect flavor. Choose from their selection of BBQ sauces to top off your dish.
Besides its signature ribs, pulled pork and smoked chicken, Pappy's Smokehouse also serves loaded baked potatoes and BBQ salad. With several awards to its name, Pappy's Smokehouse is one of the best road trip restaurants in the Midwest. Plan to arrive early — sometimes they sell out before closing time.
13. Open Range Grill: Ogallala, Nebraska
In the days of the open range, cattle grazed the Great Plains freely before ranchers sorted them out by their brands. The Open Range Grill pays tribute to those simpler times by serving burgers made from local range-raised beef. Travelers will enjoy the laid-back atmosphere and range of sandwich, burger and salad options.
Burgers from Open Range Grill come with multiple bun varieties and toppings like jalapenos, guacamole, pico de gallo and horseradish cheese. If you prefer something else, try the North Coast chicken sandwich or Open Range steak salad.
14. Fireflour Pizza + Coffee Bar: Bismarck, North Dakota

If your travels take you farther north, stop by Fireflour Pizza in downtown Bismarck, North Dakota. This pizzeria offers thin-crust pizzas browned to perfection in their wood-fired oven. Choose a Neapolitan-style pizza with either red or white sauce. You'll find plenty of fresh toppings, including prosciutto, fennel sausage, roasted artichokes and more. Pizza lovers, rejoice!
Fireflour Pizza also has an attached coffee shop where you can grab a scone and latte for the road. You can also pick up a scoop of gelato to complete your feast of Italian cuisine.
15. Lucky's Cafe: Cleveland, Ohio
Quality and freshness are central to the menu at Lucky's Cafe in Cleveland. The cafe partners with local farmers, butchers and honey farms. With a stellar breakfast menu and a variety of sandwiches, you and your road trip crew are sure to find something delicious.
Lucky's Cafe is best known for its biscuits and gravy and baked macaroni and cheese. The Lucky's Reuben is another favorite, topped with house-made sauerkraut, corned beef and thousand island dressing. There are plenty of vegan and vegetarian options too. The weekend brunch menu differs slightly from the weekday selection, so look for additional items.
16. Murdo Drive-In: Murdo, South Dakota
When you're craving classic American food on your road trip through South Dakota, make your way to Murdo Drive-In. The old-school space creates a laid-back atmosphere to enjoy your break from the drive.
Murdo Drive-In offers a variety of cheeseburgers, corn dogs and chicken options, including sandwiches and nuggets. Some of the most popular side options at Murdo Drive-In include the jalapeno poppers, onion rings and cheddar cheese balls. When you're finished, choose from a selection of ice creams as a road trip treat.
17. The Old Fashioned: Madison, Wisconsin
Wisconsin is the place to get classic Midwestern fare — specifically at The Old Fashioned Tavern and Grill. This restaurant features American and German foods with a Northwestern twist in a swanky tavern in the center of Madison. Wisconsin ingredients like locally-sourced meats and cheeses are the star of the menu.
The Old Fashioned burger is a popular option, along with the daily fish fry combo. The cheese curds have been voted Wisconsin's best, so they're definitely worth the try. Guests also enjoy the selection of cocktails, ciders and beers.
18. Moonshine Store: Moonshine, Illinois
It might be a bit out of your way to visit Moonshine Store while driving through Illinois, but the volume of visitors this place gets every year tells you it's worth it. Moonshine Store has been around since 1912, and no, there's no moonshine. This restaurant specializes in burgers and sandwiches at remarkably low prices, so you can fill up for reasonably cheap.
If you're stopping by, try the moonshine burger. This simple patty has been voted in the top 25 burgers in Illinois. Make sure to time your visit right — the grill shuts down promptly at 12:30 p.m.
19. Primrose: Corning, Iowa
One of the only restaurants in Corning, Iowa, Primrose is a big-city restaurant with a small-town feel. Primrose features a weekly rotating menu that guests can't seem to get enough of. This restaurant draws visitors from all over to enjoy the fresh seasonal dishes and community atmosphere.
Guests can find everything from burgers to gyros and a wide array of beers, wines and cocktails. Look out for seasonal specials like foraged mushrooms, or enjoy the fish tacos and chicken sandwiches. Primrose's most popular menu items are burgers with elevated flavors, like the Asian pork burger featuring kimchi mayo.
20. Firefly Grill: Effingham, Illinois
If you're anywhere near southern Illinois, stop into Firefly Grill. This farm-to-table restaurant is located on a four-acre farm, where the owners grow their own peppers, heirloom tomatoes and seasonal vegetables for the kitchen. The old barn creates a charming ambiance and sometimes serves as a wedding venue.
Firefly Grill works with other local farmers, foragers and fishers to provide fresh dishes daily. Guests will appreciate the variety of cuisines, from lavish salads to delicate salmon and hearty Meditteranean pizza.
Plan Your Midwest Road Trip Food Stops

Getting hungry on the road is no problem when you plan your road trip restaurants in the Midwest beforehand. What happens when your RV breaks down on the side of the road and there's no dinner in sight? Getting motorhome roadside assistance is the best way to prepare for the unexpected.
At My Financing USA, we offer Vehicle Service Contracts to protect you from the repair cost of a roadside breakdown. You can get help with RV tire issues, mechanical failures, towing and gas delivery. These services can be invaluable when you're in unfamiliar territory. 
If you're interested in buying an RV to take on your Midwest road trip, My Financing USA offers RV financing and can connect you with lenders. Fill out an application today or contact us to learn more about our RV financing.
---
Additional Resources on Road Trips:
---