One of the most enjoyable parts of any road trip is stopping for a bite to eat at new, exciting restaurants you've never been to before. If you're considering an adventure in the Northeast region of the United States, there are many unique and yummy dining options to choose from. From quick pit stops to full dining experiences, there is something for every road trip traveler.
Check out our list of the best road trip restaurants in the Northeast to try out on your next journey!
Quick Navigation
New York
If you're driving through New York on your adventure, consider stopping at one of these hotspots:
1. Gansevoort Market: New York, New York

If your road trip adventures take you near New York City, Gansevoort Market has a diverse selection of food vendors located in the Westfield World Trade Center.
Whether you're looking for Italian-style pizza or bakery sweets, there are plenty of vendors to pick from and a beautiful dining area. Having all these choices is ideal for families or groups with varying opinions about where to stop for food. This market is sure to be a crowd-pleaser on your road trip!
2. Pizza Loves Emily: Brooklyn, New York
Pizza Loves Emily is a Brooklyn staple. It offers a cozy ambiance with gourmet options. Its menu includes Detroit-style, wood-fired pizza and the famous Emmy Burger served on a pretzel bun. This location also has a full bar stocked with local draft beer and wine.
Stopping at Pizza Loves Emily is a great idea for road trip adventurers looking for a low-key and comfortable place to dine. There's also a second location just across the bridge in the West Village.
3. Peekamoose Restaurant and Tap Room: Big Indian, New York
As one of the most beloved places to eat in the Catskills, Peekamoose Restaurant and Tap Room is a farmhouse-inspired establishment that is a pioneer of the farm-to-table movement.
Peekamoose is open on Thursday through Monday evenings, and its menu features a wide variety of choices, ranging from scallops to sirloin steak. They also provide a full wine list and tavern menu filled with local craft beers and specialty cocktails. If you're looking to grab a quick bite without dining in, this restaurant also offers takeout.
New Jersey
New Jersey has many exciting restaurants to put on your list of go-to spots for your road trip. Consider stopping in on one of these establishments on your adventure:
4. Arlington Diner: North Arlington, New Jersey
The Arlington Diner in North Arlington, New Jersey, offers homestyle cooking paired with quality ingredients. If you're looking for excellent American cuisine on your road trip, this '50s-style diner is a great choice.
They offer an extensive menu, with everything from milkshakes to fried seafood to club sandwiches. Arlington Diner is a convenient and photo-worthy hot spot that your road trip crew is sure to enjoy.
5. Le Salbuen Cafe: Montclair, New Jersey
Le Salbuen Cafe is in Montclair, New Jersey, just under 20 minutes away from the Arlington Diner. It's a comfortable, European-style eatery that teams up with regional and organic produce growers. They offer seasonal meals with ingredients grown by trusted local farmers.
Foodies will love this spot. Whether your road trip group is interested in trying unique dishes like curry maple duck wings or something classic like a frittata, there is something for everyone at Le Salbuen.
Connecticut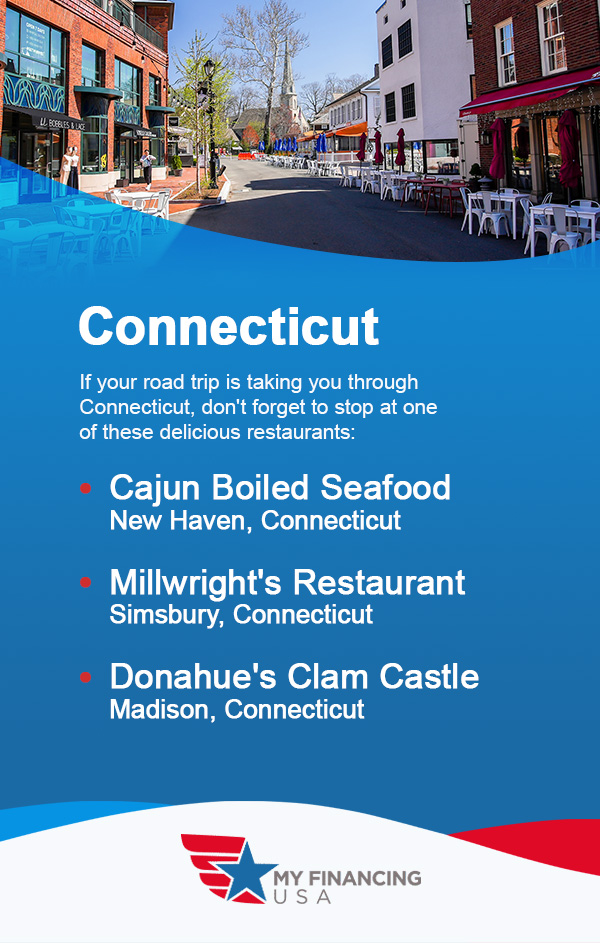 If your road trip is taking you through Connecticut, don't forget to stop at one of these delicious restaurants:
6. Cajun Boiled Seafood: New Haven, Connecticut
Cajun Boiled Seafood is a New Haven staple known for its outstanding seafood options. You can dine in or grab takeout. If your road trip crew loves hot and spicy meals, consider stopping here and checking out their famous Cajun-inspired crawfish or Szechuan seafood.
Cajun Boiled Seafood is a great choice for anyone looking for a unique dining option in Connecticut. If you're traveling with a group, this New Haven favorite has plenty of tasty basket options for eating together.
7. Millwright's Restaurant: Simsbury, Connecticut
Millwright's Restaurant offers a dining experience unlike any other. It's set atop a scenic waterfall and was formerly The Hop Brook Mill. One of the perks of dining at this establishment is choosing between spending your evening in the cozy, informal tavern area or enjoying a more upscale experience in the fine dining section.
Millwright's offers a unique menu with farm-fresh options like roasted eggplant or pork chops. If you're in the Simsbury area, consider stopping by for a gorgeous view and delicious food.
8. Donahue's Clam Castle: Madison, Connecticut
If your road trip adventure is taking you near the shorelines of Madison, Connecticut, stop in for a bite to eat at Donahue's Clam Castle. This little roadside shack offers yummy seafood with outdoor dining.
The Clam Castle has been world-famous for more than 60 years. Seafood lovers will adore this little pit stop. And just down the street, Donahue's Madison Beach Grille offers traditional options like burgers and wraps for passengers that may not want seafood options.
Massachusetts
Check out these Massachusetts dining destinations on your Northeast road trip:
9. KC's Classic Burger Bar: North Attleboro, Massachusetts
If you are taking kids on your road trip, a perfect spot to dine is at KC's Classic Burger Bar in North Attleboro, Massachusetts. This retro, 1950's diner-inspired establishment will take you back in time.
They offer plenty of kid-friendly options, such as macaroni and cheese balls or corn dog bites. There are many classic American diner options, including milkshakes and burgers. Adults can enjoy spiked milkshakes or bottled beer, making this stop a great choice for the grownups, too.
10. Publick House: Sturbridge, Massachusetts
Publick House is an inn located in Sturbridge, Massachusetts, and has various dining options. This is another kid-friendly choice with a dedicated children's menu for kids under age 12. They also offer a vegetarian and vegan menu.
The Publick House's indoor and outdoor dining experiences are upscale yet cozy. They're open for breakfast through dinner and drinks. If you're looking for a more casual option, consider the inn's Ebenezer's Tavern for lunch or dinner.
Vermont
If your travels take you to Vermont, take a look at these fun and unique restaurants:
11. Red Hen Baking Co.: Middlesex, Vermont
The Red Hen Baking Co. has been a Middlesex fixture for years. If you're looking for a bakery that offers delicious pastries or breakfast sandwiches on your road trip journey, head to this little cafe in the heart of Vermont.
In addition to their bakery and cafe treats, they also offer coffee and tea. Red Hen Baking Co.'s most popular products are their nearly 20 types of artisanal bread. In addition to the cafe, there is a Creemees Ice Cream on-site for a sweet treat before you hit the road.
12. Casey's Caboose
As a train-themed restaurant, Casey's Caboose is an awesome road trip stop for kids and adults alike. They offer a plethora of food options, ranging from juicy burgers to creamy mac and cheese.
Casey's Caboose also offers wine and beer as well as cocktails, making it a great place to stop before an overnight stay on your road trip adventure. In addition to the delicious diner meals, this restaurant also offers a dessert menu complete with Key lime pie and cheesecake.
New Hampshire
While on your Northeast road trip, check out these unique restaurants in New Hampshire:
13. The Little Red Schoolhouse: Campton, New Hampshire
If you're looking for a meal with a breathtaking view, The Little Red Schoolhouse in Campton, New Hampshire, has a terrace that overlooks gorgeous woodland near the Pemigewasset River.
Between locally sourced seafood and gooey cheesesteaks, this restaurant has something for everyone. They also serve ice cream. Kids will especially love spending lunch or dinner at The Little Red Schoolhouse — the open terrace makes it feel like you're dining in a treehouse.
14. Four Aces Diner: West Lebanon, New Hampshire
The Four Aces Diner in West Lebanon, New Hampshire, is a retro 1950s-inspired diner with all American items on the breakfast and lunch menus. This local hotspot is memorable with curved ceilings and well-worn counters.
You'll feel cozy and welcome if you stop at Four Aces Diner on your road trip. It's an affordable choice known for its homey ambiance. Whether you want chicken and waffles or their famous maple-glazed sour cream donuts, this diner stop will delight your passengers.
15. Puritan Backroom: Manchester, New Hampshire
Since its opening in 1917, Manchester's Puritan Backroom restaurant has served classic American meals. Their menu includes their famous chicken tenders and a plethora of other options, including gluten-free and kid menus.
After having a bite to eat, your road trip crew can choose from more than 30 homemade ice cream flavors, including baklava and peanut butter cup. If you're not looking to dine in, Puritan Backroom offers takeout options, as well.
Maine

These restaurants in Maine are sure to be memorable and exciting stops on your road trip:
16. DiMillo's on the Water: Portland, Maine
DiMillo's on the Water has awesome sea views and is in one of the most beautiful and unique spots for a restaurant. Since this dinner spot is on the Portland Harbor, you can enjoy watching the boats come in and out while you eat.
DeMillo's is a fine dining establishment with roots back in the 1950s. Your road trip crew can choose from a variety of seafood options for dinner on the water. You can also enjoy your meal indoors or outdoors on one of the decks.
17. Bob's Clam Hut: Kittery, Maine
Bob's Clam Hut in Kittery, Maine, is another restaurant by the water. Your passengers will enjoy this comfort food spot that's perfect for a road trip pit stop because you can stretch out at the walk-up order window.
This local staple is known for its fried seafood and casual beach vibes. Whether you're looking for the perfect hot dog or calamari, Bob's Clam Hut has an extensive menu with options for everyone. They also serve craft beer and wine for a laid-back evening.
18. Moody's Diner: Waldoboro, Maine
Moody's Diner in Maine is a local favorite known for its classic American and New England menu items, including their famous whoopie pies. This restaurant has a large menu and rave reviews for everything from omelets to ice cream.
This comfort food spot is part of Moody's Motel and Gifts. Your group could grab a bite to eat and stay the night in Waldoboro during your road trip adventure, or you could grab a few keepsakes from the gift shop to take with you.
Rhode Island
A Northeast road trip is not complete without a visit to the following Rhode Island restaurants:
19. Chomp Kitchen and Drinks: Warren, Rhode Island
Chomp Kitchen and Drinks in Warren, Rhode Island, is an upscale burger joint that foodies will absolutely love. They pride themselves on comfort food made from scratch. You and your road trip crew can dine indoors or on the sidewalk patio. This dining spot shares a rotating list of lagers and ales for the adults on your trip to try.
This location is fun and down-to-earth. You can enjoy dining under pretty lights in the evenings or opt for takeout to bring with you on your road trip journey.
20. Showfish Newport: Newport, Rhode Island
If you're looking for a posh restaurant with fresh seafood dishes and seasonal produce, spend an evening at Showfish Newport on your Northeast road trip. It offers immaculate water views from the dining area.
Showfish Newport serves breakfast through dinner as well as drinks. Nothing is more romantic than dining outside on the restaurant's waterfront deck. If you're interested in staying the night, this hotspot is part of Gurney's Newport Resort and Marina, and you can book room accommodations.
21. Nicks on Broadway: Providence, Rhode Island
Nicks on Broadway is a quaint establishment in Providence, Rhode Island, with an open kitchen and cozy ambiance. Foodies will appreciate their New American bistro selection.
Whether you're looking for breakfast or dinner and drinks, Nicks on Broadway offers many food and beverage options, making it a great spot for a road trip crew with different palates. This restaurant has both dine-in and takeout menus so you can stop in or grab your food on the go.
Begin Your Adventure With My Financing USA

Considering an RV for your next road trip? An RV can transform your adventure, making it more comfortable and fun! My Financing USA specializes in RV and boat financing, helping you get the vehicle you need for your dream trip.
We offer low rates and prioritize credit protection by pre-qualifying you. Our approval process is easy, and you could receive funding in as little as 48-72 hours. We also offer Guaranteed Asset Protection, RV Tire and Wheel Asset Protection and a Vehicle Service Contract that may cover you if something were to go wrong during your road trip.
Interested in learning more? Fill out an application online or contact us today!
---
Additional Resources on Road Trips:
---