Road trips are an excellent way to spend the summer in an RV. Whether you want to drive to a specific destination or simply hit as many states as possible, you can certainly find plenty of things to do, see — and eat! — during your adventure. If you're looking for beloved, historic restaurants to try, the South is the perfect area to begin your vacation.
From Southern comfort food to convenience store delis and full-service restaurants, the South has more than enough options to satisfy you and everyone you bring along. Cruise along the Gulf Coast in your RV to make the most out of your road trip and knock each historic city off your bucket list while eating some of the best food the nation has to offer. Keep reading to find the best road trip restaurants in the Southeast.
Quick Navigation
1. Martin's Restaurant: Montgomery, Alabama
Founded in the 1930s, Martin's Restaurant is one of the oldest restaurants in Alabama. It's conveniently located near tourist destinations in Montgomery, including museums and memorial centers, making it the perfect spot to stop and eat before driving around to see more of the city. This soul food restaurant is famous for its crisp "pulley bone" fried chicken, cornbread muffins and homemade meringue pies.
Other popular items to enjoy on the menu include:
Baked meatloaf
Baked turkey
Fried catfish
Roast beef with gravy
BBQ pork ribs
Fried chicken livers
Martin's famous fried chicken
Martin's fried chicken chef salad
Fried oysters
2. Puckett's Grocery: Franklin, Tennessee
Puckett's Grocery store has all the authentic comfort food classics you can dream of. Providing great food and Southern hospitality since the 1950s, this is the perfect spot for a laid-back atmosphere, slow-smoked BBQ menu items and even live musical acts for entertainment. Though this location was originally founded as a tiny grocery store, it evolved to expand its barbecue menu for locals and visitors looking for low-and-slow meats.
Today, Puckett's provides breakfast, lunch and dinner menus that let customers eat BBQ any time of day. Puckett's is great for road trip visitors looking for dinner that keeps them full for hours, such as meatloaf, cobbler of the day, brisket, fried chicken and mac and cheese.
3. The Market at Bellair: Charlottesville, Virginia
If you're running low on gas and looking for your next food stop on your road trip, The Market at Bellair can take care of both issues. This is a popular lunch spot and convenience store for Charlottesville locals because of the wide range of items on the menu, including a variety of deli sandwiches.
Visitors can even get bagged lunches to go, with a sandwich, bag of chips, cookie and drink, which is perfect if you're trying to make it to your next destination quickly. If you're looking to take a break from driving while you fuel up and dine in, The Market at Bellair offers both indoor and outside picnic seating.
4. Chicken On The Bayou and Boudin Shop: Breaux Bridge, Louisiana

With over 20 years of experience serving Cajun food, Chicken On The Bayou and Boudin Shop values the customer experience — and dinner with a view. If you're driving through the South and curious about trying some alligator for the first time, this spot is an ideal location right off the highway.
From farm-raised gator menu items to Cajun specialists like chicken and sausage gumbo or crawfish etouffee, you can find all the traditional Southern meals in this restaurant. Or, try out a gator burger or po'boy. Chicken On The Bayou even provides customers on-the-road snacks, such as fried pork belly cracklins and pork or crawfish boudin balls.
5. Big Bob Gibson Bar-B-Q: Decatur, Alabama
Though Alabama has plenty of popular barbecue spots for visitors to enjoy, Big Bob Gibson is one of the top joints. This restaurant is close to other attractions to stop by on your way out, including the Wheeler Wildlife Refuge and Carnegie Visual Arts Center.
Big Bob Gibson Bar-B-Q has been smoking their chickens in hickory-fired pits since 1925 and lathering each meal with their signature white barbecue sauce that customers rave about. Their menu also offers slow-smoked pulled pork shoulder in many different ways. This popular location values quality meat and has won 13 world barbecue championships.
6. Flora-Bama: Pensacola, Florida
Flora-Bama, named for its location on the border of Florida and Alabama, is also called the Redneck Riviera by local customers. This restaurant is famous for hosting the World Food Championships and is also located on a marina where visitors can participate in water sports and fishing. At night, Flora-Bama becomes a massive beach bar that hosts even more wild contests, including an interstate mullet toss competition and international songwriter festivals.
As for food, residents and out-of-state guests can enjoy delicious burgers and seafood and refresh themselves by the ocean with a cold beer and other icy drinks. If you're looking for oysters on your road trip adventure, be sure to check out Flora-Bama's oyster bar.
7. The Shed Barbeque & Blues Joint: Ocean Springs, Mississippi
On your trip down to the Southeast, one of the most popular things to do is cruise along the Gulf Coast and experience as much food, activities and ocean views as possible. Down in Ocean Springs, Mississippi, you can find The Shed, one of the most popular barbecue spots on the Gulf Coast. Located just a few hours from Panama City Beach and New Orleans, The Shed is an ideal location for fans of smoked meats.
This landmark restaurant also competes in competitions for its whole-hog cooking style and often takes home the trophy. The Shed is also family-owned and known for its warm hospitality, live blues music and signature barbecue sauce, which diners can purchase to take on the road after enjoying their meal.
8. Weidmann's: Meridian, Mississippi
Founded over 150 years ago by a Swiss immigrant chef on a transatlantic ship to Mississippi, Weidmann's is one of the state's oldest and most beloved restaurants. This location is perfect for food-lovers who love country music, thanks to the Jimmie Rodgers museum located nearby and many other tourist destinations within the area.
Popular items on the menu include fried green tomatoes, local catfish, and crab cakes made with crabmeat from the Gulf. Customers can top their delicious meals with an 1870 spicy cream sauce.
9. Phickles: Athens, Georgia
In the historic Civil War town of Athens, Georgia, visitors can see all kinds of sights, period exhibits, architecture and other interesting artifacts related to Southern history. Today, Athens primarily serves as an edgy, creative college town for the University of Georgia and plenty of famous food restaurants, like Phickles.
This small-batch artisan pickle restaurant sells to various stores and restaurants along the South, and their products can be found in many local bars in the area, including PhickleTinis drinks. Their popular menu items include many different pickled foods, from snap beans to Brussels sprouts and carrots. Their picked okra and hot cheese spread is likely the most beloved menu option, made with pickled jalapenos and aged white cheddar.
10. Luella's Bar-B-Que: Asheville, North Carolina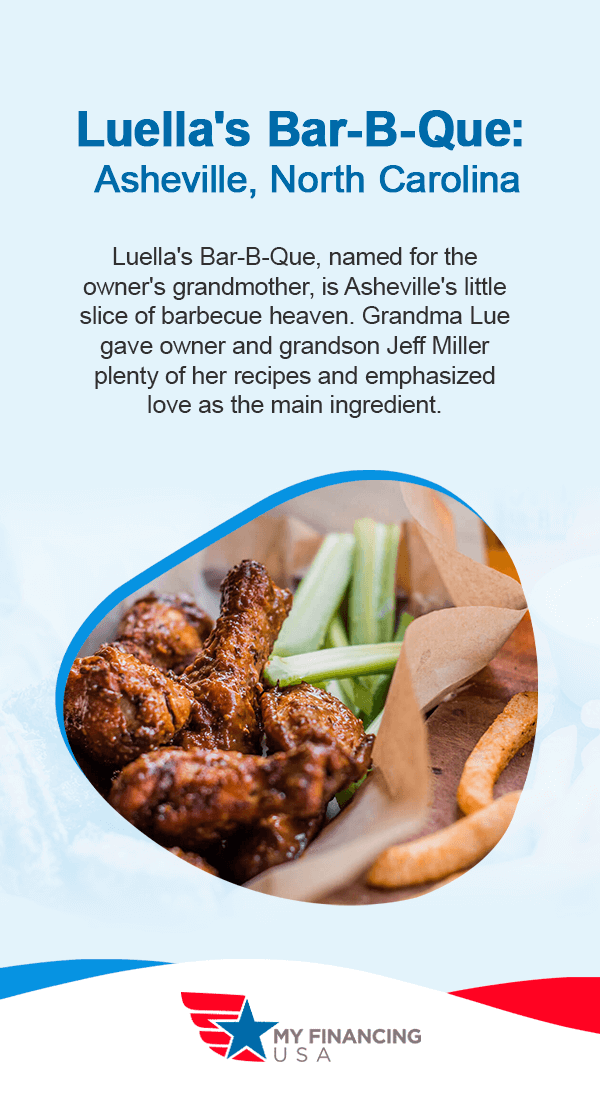 Luella's Bar-B-Que, named for the owner's grandmother, is Asheville's little slice of barbecue heaven. Grandma Lue gave owner and grandson Jeff Miller plenty of her recipes and emphasized love as the main ingredient.
This restaurant offers customers an authentic home-cooked meal experience and makes every dish from scratch from start to finish. Tasty menu options include:
Smoked wings
Chopped BBQ pork
Ribs
BBQ baked potatoes
Fried okra
Banana pudding
Deviled eggs
11. Mary Mac's Tearoom: Atlanta, Georgia
Also known as Atlanta's Dining Room, Mary Mac's Tearoom has been offering genuine hospitality and classic Southern food made from scratch for over 75 years. From fried green tomatoes to macaroni and cheese or shrimp and cheese grits, plenty of Southern delicacies fill the menu.
The restaurant staff bakes fresh bread and desserts every morning, including Georgia peach cobbler, key lime pie and old-fashioned banana pudding. Mary Macs also serves fried chicken and their own brewed sweet tea — a major staple in the South. Many of the recipes in this location have been passed down from the 1960s or by family members.
12. Home Grown: Atlanta, Georgia
While fried green tomatoes are a popular dish in the Southeast, they're the main attraction at Home Grown. This restaurant is known for the Grant's Stack Sandwich, named for a customer who came up with the idea. The sandwich has fried green tomatoes smothered in homemade pimento cheese and bacon between two slices of Texas toast.
Though this elevated version of a BLT draws most customers in, Home Grown has other popular dishes, including their Comfy Chicken Biscuit. This quaint restaurant offers breakfast and brunch items perfect for local residents and anyone else passing through east Atlanta.
13. Mrs. Wilkes Dining Room: Savannah, Georgia
After hours on the road, filling meals from a homey restaurant will certainly sound appetizing. At The Wilkes House, you'll find Mrs. Wilkes's Dining Room. This family-owned restaurant serves diner food to guests at communal tables for real Southern charm and a homey feel. From platters of fried chicken and cornbread to bowls of okra gumbo and biscuits, hearty meals are served seasonally.
The menu also changes slightly every day, so the lunch crowd can experience something different with each visit, including sweet potato souffle, jambalaya, banana pudding and — of course — sweet tea.
Guests can also stay on the property at the Wilkes House, so if you're looking to stop for a night or two in Savannah during your road trip, you can find comfortable lodging and delicious food here.
14. Acme Lowcountry Kitchen: Isle of Palms, South Carolina
If you're a fan of locally sourced seafood and casual coastal atmospheres, Acme Lowcountry Kitchen is the restaurant for you. This beach shack brunch spot offers classic Southern menu items, such as fried green tomatoes, shrimp and grits, and signature options like The Dozer and The Local's Breakfast. Their traditional favorites are flavor-packed and perfect for eating on their full bar and deck for a Southern coastal view of the beach.
15. Kermit's Key West Key Lime Shop: Key West, Florida

This yellow and green building is certainly bright enough to be a tourist attraction, but it's also a local favorite for those who love a good slice of key lime pie. If you're on the road looking for dessert, Kermit's Key West Key Lime Shoppe creates high-quality gourmet, decadent pies in a classic graham cracker crust. These rich, tart pies have been delighting the community of Key West for nearly 30 years, and many residents even get the pies delivered to their homes.
Locals can get both pies and pie bars shipped to them if they're in the area, while tourists can explore many other options in-store, including:
Cookies
Sauces
Salsa
Specialty oils
Jams and jellies
Candy
Nuts
Dry mixes
Gifts and accessories
16. Parkway Bakery and Tavern: New Orleans, Louisiana
After opening for business in 1911, Parkway Bakery and Tavern has been a beloved New Orleans icon ever since. This restaurant originally served as a local bakeshop, but it has evolved to serving all kinds of delicious bread, sweet rolls and sandwiches. Customers come from all over the state to get the best Poor Boy — also known as a po'boy — sandwiches, a popular dish found in many different establishments throughout Louisiana.
This sandwich comes with the usual lettuce, tomatoes, mayonnaise and pickles for dressing but has virtually endless ingredients. With catfish, oysters, roast beef, shrimp, or ham and cheese, this filling dish will certainly keep you satisfied while you're back on the road.
The traditional po'boy sandwich often comes with some type of fried seafood and many other meats. Parkway Bakery and Tavern always keep their seafood perfectly seasoned for the right kick that has customers coming back for more.
17. Cafe Du Monde: New Orleans, Louisiana
Even if you've never been to New Orleans, you've probably heard of the famous beignets from Cafe Du Monde. These beignets are pillowy, square-shaped doughnuts that have customers lining around the block every morning. Since 1862, the historic shop has been serving warm, delicious coffee and fluffy, sugary beignets to visitors worldwide.
This coffee shop offers dark, roasted hot or iced coffee, freshly squeezed orange juice or chocolate milk to accompany your beignets. Located in the French Quarter near plenty of shops, activities, bars and local attractions, Cafe Du Monde is an excellent place to stop on your road trip. Cafe Du Monde is open 24/7, so you can enjoy their treats at any time of day.
Get Your Road Trip RV With My Financing USA

Driving through the Southeast to hit these historic and convenient food locations sounds like a mouth-watering dream. Finding the right road trip vehicle can make that dream a reality. And with My Financing USA, you can get a loan for many different recreational vehicles that fit your road trip needs.
Whether you're traveling alone, with your spouse or bringing several family members, My Financing USA makes it easy to get the perfect RV and allows you to hit as many stops as possible in comfort and style in your living quarters.
With our RV Tire and Wheel Asset Protection, you can feel confident that your road trip will be a seamless experience. Get your road trip adventure started by filling out an application on our website or contact us today to discuss more with our team about our financing options.
---
Additional Resources on Road Trips:
---