Road trips are fun ways to travel, see the sights and explore new places. These types of trips are also great opportunities to try new restaurants. Some of the best restaurants across the country are based in small towns and run by individuals dedicated to making authentic, made-from-scratch meals.
The Southwest is known for barbeque, spices, chiles and endless flavor. You'll have no shortage of restaurants to try when traveling through the Southwest. We've put together this list of road trip restaurants in Southwest America to get you started.
Quick Navigation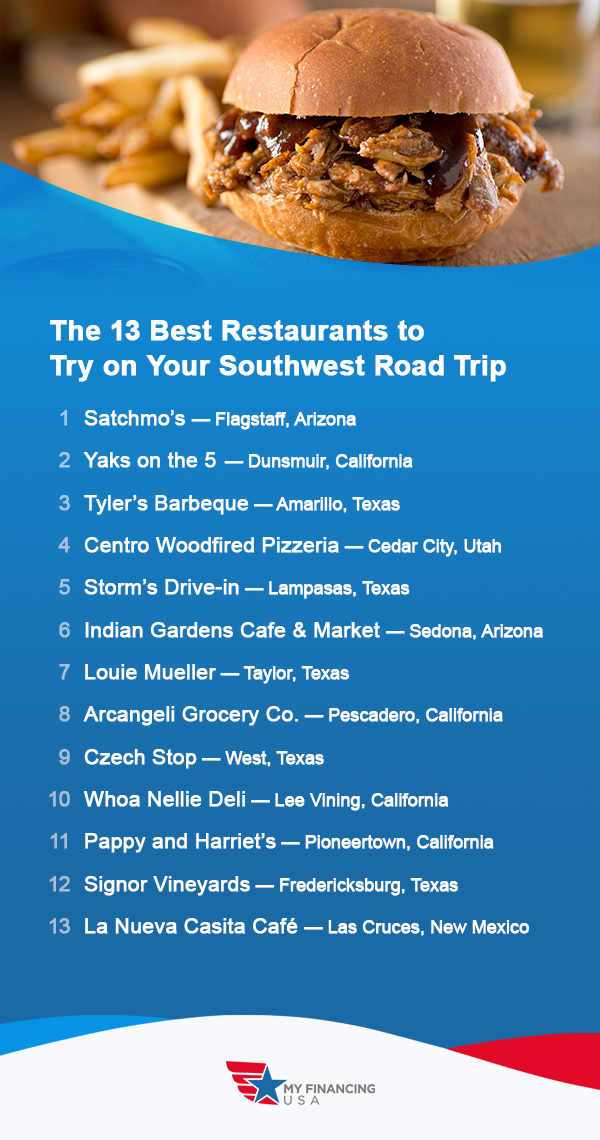 1. Satchmo's — Flagstaff, Arizona
Satchmo's is well-known around Flagstaff. Whether people are holding a festival, catered wedding or guest chef experience, Satchmo's fits right in.
This restaurant treats you as a guest rather than a customer, which means you'll find friendly and helpful staff in addition to incredible food.
They serve barbecue, Cajun and Creole food based on traditional ideas with a Satchmo's spin. Many of their menu items or ingredients are made from scratch in-house every day, so the food is fresh and authentic. From smoked meats to jambalaya to mac and cheese, Satchmo's has a full menu of flavor-packed foods that will make you wish you lived closer.
2. Yaks on the 5 — Dunsmuir, California
As one of Northern California's premier restaurant destinations, Yaks on 5 is a must-see. The restaurant is most well-known for its sticky buns covered in a bourbon and Bailey's caramel sauce. In addition to their freshly roasted coffee and other breakfast items, they also serve barbecue and gourmet burgers seasoned with homemade flavors and a variety of locally brewed craft beer.
Yaks on the 5 takes advantage of all the locally raised and grown products they can get their hands on. Anything they can't find locally, they make themselves, including many of their sauces and hamburger buns. Their commitment to local flavor is part of what makes this restaurant a must-try. In addition to their location on I-5, you can also find Yaks in Mt. Shasta, California.

3. Tyler's Barbeque — Amarillo, Texas
Amarillo native Tyler Frazer opened Tyler's Barbeque after several years of working with various barbecue restaurants and caterers. Now, with over a decade of experience, Tyler's Barbecue has become one of Texas's best barbecue joints. This restaurant has made a name for itself with multiple appearances in Texas Monthly, a place on Yelp's top 100 Texas restaurants and features in multiple other publications and news channels.
Even before you get your food, you'll be blown away by the restaurant's tantalizing aromas. Choose from a variety of meat specials, sandwiches or dinner plates. Pair your meal with a side of the jalapeño cream corn and finish your visit with one of the dessert options.
Tyler's Barbeque also offers barbecued meats by the pound and to-go sides in pint or quart sizes. Stop by Tyler's and pick up picnic supplies for an adventure in Palo Duro Canyon State Park!
4. Centro Woodfired Pizzeria — Cedar City, Utah
Centro Woodfired Pizzeria creates its menu items with traditional Italian recipes and cooking techniques passed down through generations. The restaurant staff pride themselves on creating artisanal foods with made-from-scratch ingredients. They know all the ins and outs of a wood-fired oven and produce consistently high-quality food.
Centro Woodfired Pizzeria uses a light dough and a "less is more" mindset when it comes to its ingredients. This approach makes their pizzas easily digestible, leaving you feeling energized for the next leg of your adventure. Each handmade pizza is unique, giving you a one-of-a-kind dining experience on your road trip.
In addition to their pizzas, Centro offers craft beers, wines, salads and starters to round out your meal.
5. Storm's Drive-in — Lampasas, Texas
Want to enjoy a burger where rock 'n' roll legend Elvis Presley frequented? Check out Storm's Drive-in on your Southwest road trip. IraDell Storm recalls that Elvis enjoyed Storm's burgers and strawberry shakes, making them a must-try for those looking to get an Elvis experience.
Storm's has a deep history in Texas, with roots that trace back to 1873. While the menu and locations have grown since then, the current owner suspects they serve some of the same items that were served when the restaurant opened, like fresh catfish and chicken fried steak.
Today, Storm's offers many traditional diner options like burgers, fries, malts, shakes and even root beer floats. Many visit the restaurant for the Storm's Special — a half-pound, three-patty burger made fresh in-house.
6. Indian Gardens Cafe & Market — Sedona, Arizona
If you're traveling through Sedona, consider making a pit stop at the lovely Indian Gardens Cafe & Market. What operated as a general store for over 60 years has expanded to offer a full menu of cafe-style foods you can enjoy in garden seating. Indian Gardens offers many gluten-free and vegetarian options, hearty sandwiches, breakfast options and Monday night pizzas.
Indian Gardens is one of the best spots in the area due to its great coffee, variety of menu items and cafe-style dining. The atmosphere is also unique compared to the surrounding environment and other smaller stops you may encounter on your trip. If you're looking for a break, you can take some time to sit in the garden and relax over a meal. Itching to get back to your adventure instead? Grab food and drinks for a hike on nearby trails!
7. Louie Mueller — Taylor, Texas
While Texas is home to many barbecue restaurants, Louie Mueller is the place to go if you're looking for top-tier barbecue. Located about 30 minutes outside of Austin, this restaurant has been in the Mueller family for the past three generations.
Back in 1973, the first issue of Texas Monthly named Louie Mueller the top barbecue restaurant in Texas. Louie Mueller has ranked in the top two spots on their Best list every year since. Food Network, The New York Times and others have also named Louie Mueller as Texas's best barbeque.
The food here is all made from scratch using family recipes. Some of their most popular items include beef brisket, massive ribs and sausage that's mixed and stuffed in-house. If you fall in love with the food here, you're not alone — the restaurant ships across the U.S., so you can always order a reminder of the great time you had here.
8. Arcangeli Grocery Co. — Pescadero, California
Some of the best restaurants have the deepest history. Before settling in Pescadero and opening the bakery, Italian immigrant Sante Arcangeli made his way across the country by working on the railroad with other immigrants. When he reached the coastal town of Pescadero, Arcangeli saw its resemblance to Italy and put down roots. Today, Arcangeli's great-great-grandson continues his legacy.
Arcangeli Grocery Co. is most famous for its garlic herb and artichoke bread that they bake throughout the day, so it's always fresh. In addition to their mouthwatering bread, Arcangeli Grocery Co. serves gourmet foods and sandwiches. You'll also find a curated selection of local wine, cheese, salsas, pasta sauces and more.
If you're feeling nostalgic after your trip, you can find Arcangeli Grocery baked goods in various local markets around Northern California and beyond.
9. Czech Stop — West, Texas
The small town of West, Texas, is rich with Czech heritage. The Czech Stop bakery works hard to promote and keep that heritage alive. Czech Stop bakes a variety of fresh goods each day, from savory kolaches and sandwiches to sweet muffins, cookies, brownies and pies. This stop on your road trip will leave your mouth watering for more.
Located just off of I-35, Czech Stop makes a perfect road trip pit stop. Where else can you stretch your legs, fill up on gas and get a dozen kolaches for the road?
Czech Stop baked goods have become so popular that they will ship to you overnight. Just be sure to place your order during the winter months — their food is fragile, and they won't ship their goods if the temperature is too high.
10. Whoa Nellie Deli — Lee Vining, California
Whoa Nellie Deli is conveniently located near access to the Eastern Sierras and Yosemite, making it an ideal place to stop for food before entering the park. You can even grab food to take with you — the deli will pack your sandwich in an insulated bag to keep it fresh on the go. If you're looking for more of a sit-down meal, Whoa Nellie Deli offers an expansive menu of breakfast, specials, grilled foods and pizza.
Whoa Nellie Deli's famous special is their fish tacos. These renowned Mahi Mahi tacos come in a pair, one with mango salsa and the other with ginger coleslaw, with black beans and cheese on the side.
Other great menu options include the breakfast burrito, meatloaf, ribs, slices or whole pizzas and a variety of burgers and sandwiches. The deli also offers a few craft beers, specialty drinks and coffee and tea options.
11. Pappy and Harriet's — Pioneertown, California
Pappy and Harriet's needs to be on your list of places to eat if you're traveling through Pioneertown. This unique restaurant has it all, including an outdoor beer garden, bar and concert venue.
You can browse upcoming shows on their calendar of events. They have concerts scheduled throughout the week, especially on weekends. You may even get lucky and come on a night when a famous artist shows up for a surprise show.
In addition to live music, Pappy and Harriet's has a great atmosphere and even better food. Their entrees range from a Santa Maria to a ribeye steak. They grill all their meats, fish and chicken over a wood fire, which makes the grilled salmon and ribs top picks for many visitors. Try their bison burger or catfish sandwich if you're looking for something a little off the beaten path. Don't forget to ask your server about dessert!
12. Signor Vineyards — Fredericksburg, Texas

Do you want something different to do on your Southwest road trip? Consider visiting the tasting room and market at Signor Vineyards.
Signor began planting grapes, opened a tasting room and became an internationally renowned wine all within the past decade. The property stretches 200 acres, showcasing cattle, oak trees and rows upon rows of grapes waiting to become wine.
Visit the tasting room, where you can order wine flights to sample a mix of red and white wines or order your favorites by the glass. Pair your wine with a charcuterie board or walk out to Joanna's Market, where Signor sells a variety of sandwiches, baked goods and more. Take your wine and walk through the gardens to reconnect with nature. Native plants and canopied trees provide a unique vineyard experience. Traveling with kids or pets? Signor Vineyards is pet- and family-friendly!
13. La Nueva Casita Café — Las Cruces, New Mexico
La Nueva Casita Café has been serving authentic Mexican cuisine since 1957. Located in Las Cruces's original downtown, this breakfast and lunch café has become a staple of the town. From its friendly staff to its food made from scratch with the freshest ingredients, La Nueva Casita Café is sure to provide its guests with an outstanding dining experience.
If you're looking to start your day with some spice and flavor, consider ordering the Chile Relleno Omelet or any of the house specialties, like the Huevos Compuestas — corn cups filled with meat, eggs and cheese. For lunch, you'll find a variety of taco, enchilada, fajita and burrito options, plus so much more.
Be sure you're ready with your chile preference when your server asks you, "Red or green?" Can't make up your mind? Just tell them you want "Christmas" and get a perfect blend of both!
Plan Your Food Stops for Your Southwest Road Trip Today

Now that you have some potential food stops for your adventure through the Southwest, you'll also want to consider where you'll stay when you need a break from driving.
One of the best ways to make the most of a road trip is to spend it in an RV. If you're looking for a new RV to travel in, be sure to look for RV financing options through My Financing USA. We add a personalized touch to the loan process, helping you find the best financing options for your situation.
We make it quick and easy to fill out your application online! To find out more about how we can help match you with the best RV loan program, contact our loan specialists today.
---
Additional Resources on Road Trips:
---