Finding fun reasons to get out of the car while on road trips is part of the fun, and one of the best reasons to get out and stretch your legs is in pursuit of delicious eats!
Whether you're looking for something quick and easy or more elaborate, we've put together a list of some of the best West Coast road trip restaurants to try.
Whether in Los Angeles, San Francisco, Portland or any other city along the California coast — don't miss out on trying some of these amazing restaurants.
Quick Navigation
The 10 Best Restaurants to Try in California
The famed Pacific Coast Highway is a destination in and of itself. It offers beautiful vistas of the gorgeous California coastline and delicious restaurants for travelers to try.
1. Pacific Coast Grill in Cardiff
Some restaurants you visit for their amazing view — and Pacific Coast Grill is one of them. Enjoy a fantastic eating and visual experience — both inside and out — at this award-winning Pacific Ocean beach restaurant. The Pacific Coast Grill lies on the beach of Cardiff, where the roadway snakes its way up a narrow peninsula just two blocks wide.
Every seat at this restaurant has an ocean view thanks to the two levels of bars, terraces and patios. Take a seat on the deck for spectacular ocean views and seafood. There's a good selection of freshly caught seafood, delicious sushi and inventive small appetizers to share. You'll experience tantalizing dishes made from fresh, local and free-range products.
2. Coastal Kitchen in Dana Point
Further down the Pacific Coast Highway is the Coastal Kitchen. This restaurant is elegant and casual with a bright and modern look. The Coastal Kitchen serves up appetizing bite-sized snacks and more sophisticated dishes during dinner. Their menu is diverse enough to satisfy every type of customer. Take advantage of the Parker House buns or huge lump crab cakes while you're there!
3. The Deck in Laguna Beach
If you're feeling like having a leisurely lunch, The Deck in Laguna Beach is an ideal choice. It provides a beautiful mix of locally-caught seafood, burgers, salads and other bigger dishes — such as the New Zealand lamb with pan-seared polenta. This restaurant, known for its delicious seafood and innovative specialty drinks, is also great for happy hour. Arriving late? You can always get a room at the adjacent Pacific Edge Hotel and wake up to the sound of the ocean.
4. Bear Flag Fish Co. in Crystal Cove
The Pacific Coast Highway continues north up the coast, passing through a couple of locations where the water is close enough to the road that the waves may touch your wheels at high tide. Crystal Cove, one of Orange County's most scenic villages, comprises a succession of emerald bays with dazzling Pacific sea. Bear Flag Fish Co. — founded by a father and his two sons who wanted to share their fishing spoils with their community — serves the fruits of the sea.
You'll enjoy seafood delicacies of local, fresh-caught fish that are brought from the ocean to your table through sustainable practices. Their menu offers a wide range of options — from sushi appetizers and soup to Bear Flag classics like fish tacos and custom seafood plates.
5. Broad Street Oyster Company in Malibu
Stopping for a snack at the sun-drenched, classic Southern California beach town of Malibu is a must when traveling down the Pacific Coast Highway! Broad Street Oyster Co., founded by Christopher Tompkins and located in Malibu Village, is a roaring good time. This New England-style seafood eatery is popular with vacationers, travelers, beachgoers, locals and foodies for its nautical meets party pirate ambiance. Broad Street Oyster Co. has established itself as LA's premier surfy-seafood destination, with oysters, shellfish towers and caviar-and-uni-adorned lobster rolls.
6. La Super-Rica Taqueria in Santa Barbara

Craving Mexican food? La Super-Rica Taqueria in Santa Barbara is a traditional Mexican restaurant noted for its fresh and delectable fish tacos! This restaurant may be the best taco restaurant you'll visit outside Mexico. Tacos are lavishly topped with chicken, carne asada or pork. Delicacies from across Mexico are available, such as Mexico City-style pasilla chiles stuffed with melted cheese and grilled chicken, pork or vegetables.
They offer an incredible variety of tamales, including corn, chayote, zucchini, cheese and potato tamales. Their quesadillas include their incredible homemade tortillas, which you can see the chefs making.
7. The Galley Seafood Bar & Grill in Morro Bay
The Galley Seafood Bar & Grill offers excellent dining with views of Morrow Rock and the surrounding bay. This restaurant focuses on essential ingredients and delivers fresh, high-quality seafood from nearby waterways. The menu includes beef and poultry and offers vegetarian meals with seasonal vegetables. Their daily menu includes hand-selected and seasonal veggies cultivated just for their kitchen. The Galley's quest for freshness does not end at sea. They source their farm-fresh, pesticide-free food and vegetables from their head chef's family farm in the beautiful Los Osos Valley.
8. Ragged Point Restaurant in Ragged Point
Head north and reach Ragged Point Restaurant right as you need to fill your fuel tank — and your stomach. It's a small village with one petrol station and an inn that boasts a surprisingly lovely restaurant and a great view. Before getting back in the car, walk toward the cliffs to see some beautiful sights.
You'll love this restaurant's gourmet cuisine if you're on a romantic escape along the Pacific Coast Highway. While watching the sunset, savor their fresh, seasonal California food and the finest regional wines, then enjoy a calm evening walk between the Monterey Cypress trees. They also have a wine and espresso bar and a sandwich stand so you can wind down after a long trip on Highway 1.
9. Nepenthe in Big Sur
Nepenthe in Big Sur is a must-visit for anyone searching for a breathtaking dining experience. This restaurant has wide views of the Pacific Ocean and the Saint Lucia Mountains, making for a sensory experience that will make your trip to Nepenthe even more delightful! This restaurant offers Greek Mediterranean cuisine combining regionally and California-grown ingredients. The Ambrosiaburger, a grilled 6-oz sirloin sandwich served on a chewy French bun with a secret chili-salsa sauce, is a fan favorite and menu standout.
10. Dad's Luncheonette in Half Moon Bay
Half Moon Bay is a tranquil small village that you'll find before reaching the city of San Francisco. Dad's Luncheonette is a vintage railroad caboose on picturesque Highway 1 in Half Moon Bay that serves American roadside favorites with a California twist, highlighting the finest of the area's coastal farms. Scott Clark, the "Dad," comes from the fine dining world and was once a three-Michelin star chef de cuisine.
This restaurant serves outstanding counter-service meals to regulars and passing travelers. Dad's Luncheonette is ideal for a gourmet sandwich or salad cooked with fresh local ingredients and bread from the Rosalind Bakery.
The 5 Best Restaurants to Try in Oregon
The Oregon Coast is dotted with communities, providing locals, travelers and tourists with a broad array of culinary delights. The following are the most incredible restaurants on the Oregon Coast, with a few must-try restaurants in Portland.
1. Pacific Sushi & Grill in Brookings
Pacific Sushi & Grill stays on course with a dedication to sustainable fishing — a struggle on the South Coast, where sourcing is challenging. You can expect colorfully plated sushi and traditional rolls served at tables in a rustic, wood-paneled environment. They offer a wide variety of fish, poultry and meat dishes — farmed and harvested in an environmentally friendly manner.
2. Local Ocean Seafoods in Newport

Local Ocean Seafood's owner aims to bring fish straight from the boats in Newport's harbor, near enough to observe from its restaurant. Local Ocean — widely regarded as the most fantastic seafood restaurant on the coast — provides classics such as moqueca, a mixed seafood stew with a coconut milk base. You can dine in or take your food with you on the go. There are also plenty of seafood-friendly glass pours on the wine list.
The restaurant includes an open-plan kitchen so visitors can see their food being prepared, as well as large windows and glass doors that roll up so visitors can enjoy a fantastic view of Yaquina Bay.
3. Le Pigeon in Portland
If you're making a pitstop near or in Portland, there's one restaurant you need to visit. The Le Pigeon restaurant is highly favored if you want to treat yourself to dinner. In a room with bare brick walls, communal tables and a tiny open kitchen, this restaurant provides some of the most outstanding French cuisines in Portland. The tasting menu — which includes vegetarian options — varies daily, so expect dishes like beef tartare with a side of saffron pickled potatoes or halibut paired with kimchi glazed pig belly.
4. Phuket Cafe in Portland
Also located in Portland, the Phuket Cafe is a must-visit for all travelers craving Thai food, fun cocktails and eclectic music. Phuket Cafe succeeds at creative twists on classic meals, focusing on local ingredients. This eatery is from the chef responsible for the great Thai restaurants Langbaan and Eem. With that skill, you know you'll be taken care of. Three evenings a week, this restaurant's modern Thai tasting menu rotates its themes with a profound appreciation for Oregon's seasonality, natural wines and attentive servers.
Visit for appetizers like the crisp-fried pampano fish smothered in herbs and acidic vinaigrette. If you're here for brunch and the weather is excellent, get a seat outdoors in the pink and green building that mimics a Thai railway car.
5. Bridgewater Bistro in Astoria
The Bridgewater Bistro is North Coast eating done correctly with the town's most fabulous waterfront view of the Astoria-Megler bridge. Recently sold to new owners, the restaurant vows to preserve the same cuisine, which includes seafood dishes and a wine selection focused on the Pacific Northwest.
Most days, you can eat outside on the desk from the comfort of covered pods. Portable heaters help warm up the tables, but if you want to feel extra cozy, order a serving of the restaurant's curry clam and mussel soup or smoked gouda mac and cheese. They also offer takeous and serve brunch on Sundays.
The 5 Best Restaurants to Try in Washington
These five restaurants are worth the road trip, whether as pitstops on a more extended trip or as standalone destinations.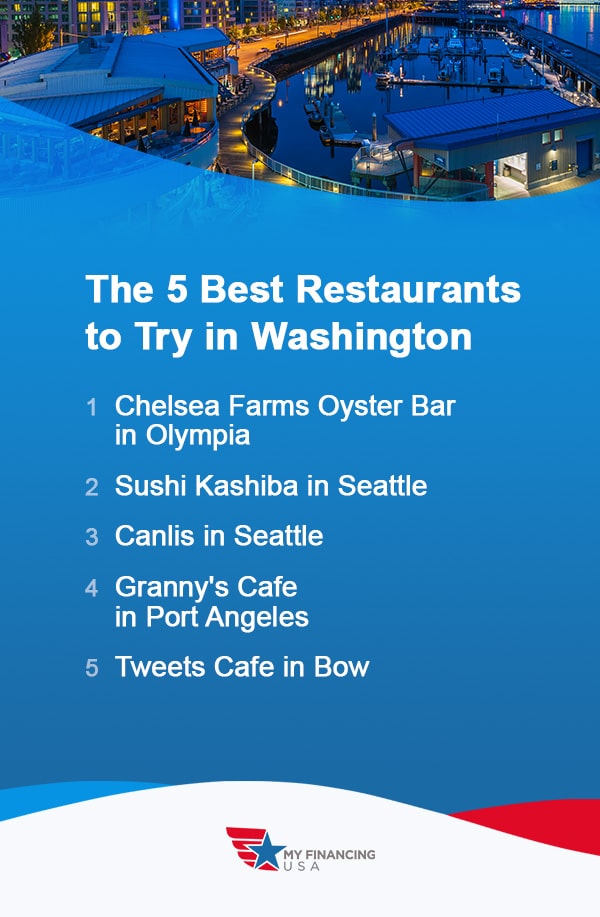 1. Chelsea Farms Oyster Bar in Olympia
For fresh oysters, travel to the south sound to Chelsea Farms Oyster Bar, which serves tide-to-table. The natural focus is seafood — particularly the farm's own responsibly caught oysters — which complements their superb beers, wines and cocktails. Choose to slurp fresh raw oysters or order a lunch that includes anything from delicate fish and chips to the entire Dungeness crab — or a tenderloin steak for landlubbers. Chelsea Farms' tidal tumbling Pacific oyster, the "Chelsea Gem," is well-known across the West Coast.
2. Sushi Kashiba in Seattle
Sushi Kashiba has long been a raw-seafood lover's paradise in Seattle — delivering Japanese cuisine of the finest caliber and employing sustainable seafood from the region in a quiet, beautiful setting. We're sure you'll wish you'd discovered Sushi Kashiba sooner!
The Edomae-style sushi is also available on the a la carte menu. Chef Shiro Kashiba, a three-time James Beard Award contender for Outstanding Chef, leads the restaurant. The Sashimi Tuna Poke should be tried first because it is the seafood house's favorite. Each cubed tuna sashimi is fresh and delicious and the house poke sauce gives the meal an incredible savory bite.
3. Canlis in Seattle
We need to mention this award-winning restaurant in Seattle — Canlis. The stunning Lake Union restaurant has earned multiple James Beard Awards in recent years — particularly for its design and wine program. It serves as a lesson on fine dining without stuffiness. Enjoy sablefish or strip loin while admiring breathtaking views of the rocky Cascades and Lake Union from the glass-enclosed dining area.
Canlis offers a multicourse dining experience in which you select three of the offered courses and they will also surprise you with some unexpected side dishes.
4. Granny's Cafe in Port Angeles
Granny's Cafe is a modest walk-up cafe next to a hotel on the approach to Crescent Lake, just outside Port Angeles. Granny's Cafe has been in business since 1956, during the Pacific Northwest's forestry period. Granny's serves breakfast, lunch and ice cream to its locals, travelers and visitors. With a favorite artisan cider, beer or mimosa, toast your incredible day on the Olympic Peninsula.
There are also homemade ice cream malts, thick delicious shakes on the menu and a daily dessert special advertised on the chalkboard. After dinner on the picnic tables, say hello to their resident chickens, bunny bunnies, emus and miniature donkey.
5. Tweets Cafe in Bow
Bow-Edison — the popular Skagit Valley art and farm-focused cuisine district — offers numerous noteworthy restaurant excursions. Tweets Cafe is a flower-filled cafe with a weekly changing menu and a selection of exquisite pastries made with local ingredients. Lamb shakshuka and hummingbird cake with browned butter, bananas and pineapple were two recent offerings.
Organic, locally sourced foods are the base of their seasonal cuisine. But the attractiveness of Tweets isn't limited to food. It's an all-encompassing experience. Customers describe it as warm and adorable and it's the type of location that makes you feel at home no matter how far away you are.
Get Started Planning Your West Coast Road Trip Today

How do you plan a road trip? Feel free to read our blog on planning a California road trip that includes our top recommended California destinations. Whether you're planning a solo road trip or the ultimate Pacific Coast Highway road trip, you can trust My Financing USA to help guide you. Road-tripping in an RV is an excellent way to visit and discover some of the best places in the country.
If you're looking for a new RV or want to buy your first, My Financing USA will help you find the best RV loans. We'll promptly approve and link you with the finest lenders for your budget and requirements so that you can be on the road as soon as possible. Fill out our RV financing online application and our staff will contact you to start the financing process!
---
Additional Resources on Road Trips:
---