Quick Navigation
Name a more iconic highway than Route 66. The chances are that you probably can't! What other road can take you on an adventure through eight states and some of the most interesting sites the United States has to offer? Cross a trip down almost 2,500 miles of American history off your bucket list — but first, read our tips to make the most of your journey.
Route 66 Facts and History
U.S. Highway 66 started in 1926 as a small highway leading out of Chicago toward the Midwest's famous farmland. It'd eventually become one of the most well-known roads in the United States. Today, Route 66 goes by several nicknames. Some people call it the Main Street of America. Others refer to it as the Mother Road.
Here are some more interesting facts about Route 66:
1. It's Not Always Easy to Find
Route 66 officially left maps and had its signs removed from roadways in 1985. After that, interstates bypassed or overtook much of the Route 66 roadway. While you can't drive along the old Route 66 uninterrupted, you can follow its path along the roadways that replaced it. Additionally, many states and towns still provide additional signage indicating the former path of Route 66, making finding the old road easier.
2. History Is Vital to Route 66
The National Register of Historic Places records more than 250 historic sites, bridges, road alignments and buildings along Route 66. This averages to a historic location every 10 miles along the almost 2,500-mile journey, so you'll find something interesting throughout the entirety of your trip. If you love adventures that connect you to the past, you can't miss a trip along any part of Route 66.
3. There Isn't a Single Alignment for the Route
Over the years, Route 66 changed its alignments and paths. Originally, it simply connected state roadways that already existed. When planners recognized the increased traffic along the route would impact local businesses, some alignments for the road changed. Therefore, if you want to follow the old route, you'll have several paths to follow in some places.
For example, Santa Fe once had Route 66 pass straight through its center. The route has since shifted to bypass the state capital and its traffic. Today, you can choose which one of these historic paths you want to take on your adventure.
4. Route 66 Is a National Treasure
In 2018, the National Trust for Historic Places listed Route 66 as among the most endangered historic sites in the U.S. To aid in preserving this roadway, the organization named it a National Treasure. Experience it for yourself to see why it's so celebrated as a must-do trip.

Where Does Route 66 Start?
Route 66 starts at Lakeshore Drive and Jackson Boulevard in Chicago. However, the starting location isn't the official birthplace of Route 66. That honor goes to Springfield, Missouri.
In April 1926, two businessmen, Cy Avery of Oklahoma and John T. Woodruff of Springfield, suggested the name Route 66 by telegram for the interstate highway from Chicago to Los Angeles.
Starting in Chicago for your Route 66 adventure means you begin at the easternmost portion of the highway. Don't forget to give a nod to Springfield when you pass through it to acknowledge its place in the history of this American artery.
Where Does Route 66 End?
The official western terminus of Route 66 is at Lincoln Boulevard and Olympic Boulevard in Santa Monica, California. Many people like to continue to the Santa Monica Pier, which has a small museum dedicated to the highway and serves as a more picturesque end to the trip at the Pacific Ocean.
If you prefer, you can start your trip in the Los Angeles area and drive it from west to east. This option will be a better choice in the spring when some northern parts of the road may still experience late-season snow and ice or spring storms.
How to Find and Stay on Route 66
To find and stay on Route 66, look for signs designating the historic route and gather reference materials that outline the current route. Look for maps or books to help you keep track of the route along the way. These printed materials will ensure you always know where you're going, even when you may not have cell reception.
The Department of Transportation has directions you can take to stay on Route 66 in Illinois, Oklahoma, Arizona and New Mexico. Due to the disconnectedness of the remaining parts of Route 66, you'll need this or another guide to help you to find and stay on the route.
The Best Time of Year to Drive Route 66
The best time of the year to enjoy your Route 66 adventure is any time from late spring through early fall. This time coincides with the lowest chances for driving through spring thunderstorms or winter snow. While the weather will likely make for easy driving, note that summer is a popular time for travel in the U.S., so some spots of your route may be more congested than others.
How Long Does a Route 66 Road Trip Take?
Plan at least two weeks to drive the entire length of Route 66. This timespan will cap your daily driving time to four or five hours a day, giving you more time to explore stops along the highway and truly experience its greatness.
How Much Does a Route 66 Road Trip Cost?
The cost of a Route 66 road trip will vary greatly depending on your plans. Do you have your own vehicle or RV to travel in? What are the current fuel prices? Do you want to stay in any historic hotels? These are just a few questions you should ask yourself to get an idea of how much your vacation will cost.
Ultimately, traveling Route 66 is just like taking any other road trip, with most of the expenses being food, lodging, gas, activities and souvenirs. If you budget for each category, you can predict a rough estimate of your journey's total cost.
How to Prepare for Your Route 66 Road Trip
Generally, planning for your Route 66 journey will require a few steps.
First, map out your route, choosing where you want to start the journey. Select the locations or activities you want to experience most along the way so that you can make enough time for them. This is a great time to scope out iconic restaurants you may want to visit, too.
Once you know where you'll be and when, you can book your lodging. If you have an RV or wish to camp, book reservations at the appropriate campgrounds or RV parks along the way. Otherwise, book rooms in hotels or make accommodations with friends or family members.
When your route and lodging are in order, it's time to pack. Everyone will need at least two weeks' worth of clothes and toiletries plus any medications or other necessities for that time. If you have pets at home, either bring them with you, which is easier when you have an RV or a large car, or find someone to care for them at home.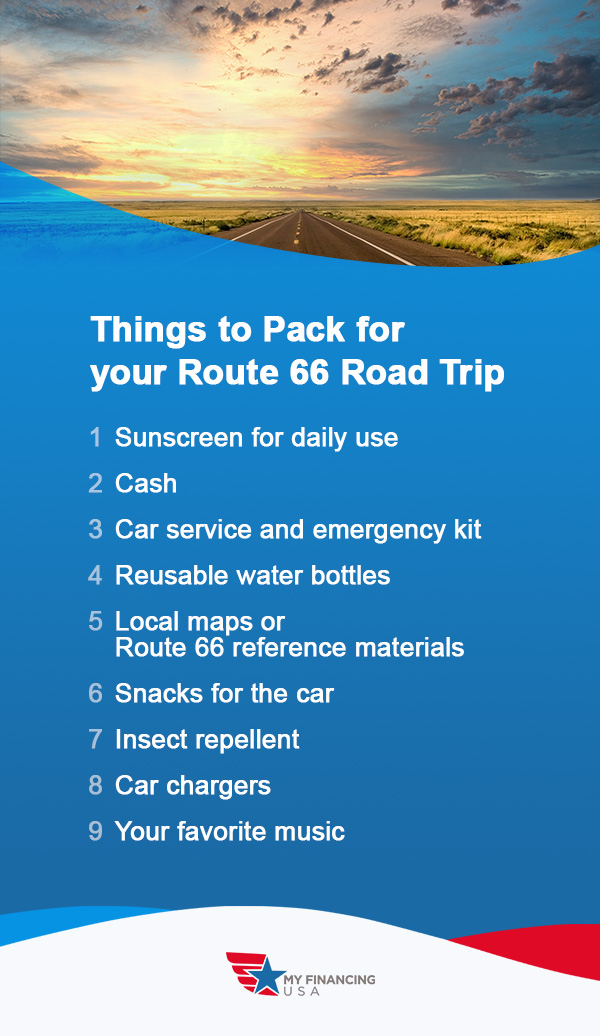 Other things to pack with you for your trip include the following:
Sunscreen for daily use
Cash
Car service and emergency kit
Reusable water bottles
Local maps or Route 66 reference materials
Snacks for the car
Insect repellent
Car chargers
Your favorite music
With enough preparation, you'll be ready for anything on your adventure so you focus on having fun along your trip down the Main Street of America.
Most Popular Attractions to Visit Along Route 66
With more than 250 historic sites along Route 66, you likely won't see them all on your journey. Find the places you're most interested in visiting to make the list more manageable. If you're not one to make strict plans, you're also free to wing it along the way and drive until you see something that catches your eye. This option gives you the sense of discovery that comes from exploring America.
Check out some of the following top places to see along Route 66:
Best Places to Eat Along Route 66
Consider adding some of the following dining favorites to your Route 66 road trip itinerary:
Sample Route 66 Road Trip Planner

Your Route 66 trip may start in Chicago as many travelers' trips do. This east-to-west trip follows the paths of many Americans throughout history as they moved westward to explore the beauty of the Midwest and Southwest to the Pacific Ocean. Here's one idea for the route you could take for your trip:
Chicago, Illinois to St. Louis, Missouri
This stretch of the old Route 66 follows today's I-55 and takes about five and a half hours to drive the 307 miles. On this part of the trip, check out attractions and eateries throughout Illinois as you pass through places such as Pontiac, Normal-Bloomington, Springfield and Staunton.
St. Louis, Missouri to Joplin, Missouri
This second stretch has a similar length and time to complete as the one through Illinois. On this portion of the trip, you'll pass through towns such as Cuba, Rolla, Lebanon, Springfield, Brooklyn Heights and Joplin.
Galena, Kansas to Tulsa, Oklahoma
On this section of the trip, you'll drive through all 13 miles of Route 66 in Kansas and spend the next portion following about a third of the highway through Oklahoma. You'll see Galena, Riverton and Baxter Springs in Kansas. The Oklahoma stretch to Tulsa passes through Commerce, Chelsea and Catoosa and finally arrives at Tulsa.
Tulsa, Oklahoma to Texola, Oklahoma
Finish your trip across Oklahoma from Tulsa to the state line at Texola. You'll go through Chandler, Oklahoma City, Clinton and Elk City along the way. If you choose to combine the Oklahoma segments, the trip across the entire state is more than 400 miles and requires almost seven hours of driving.
Texola, Oklahoma to Glenrio, Texas
This section across Texas takes you through McLean, Groom, Amarillo and Adrian before reaching the border. It only requires about three hours to drive its nearly 190 miles, giving you ample time to stop and explore the attractions during this part of the trip.
Glenrio, Texas to Santa Fe, New Mexico or Albuquerque, New Mexico
Like Oklahoma, New Mexico has more than 400 miles of highway along the old Route 66 path. Cut the journey in half by making it to Santa Fe on your first day. Towns along this route include Tucumcari, Santa Rosa and Tecolote as you head to Santa Fe.
This route uses one path for Route 66, but you can choose to go westward from Santa Rosa through Clines Corners and directly to Albuquerque.
Santa Fe, New Mexico or Albuquerque, New Mexico to Gallup, New Mexico
Leave Santa Fe, if you chose that as your endpoint for the last leg, and drive south to Albuquerque. From Albuquerque, continue through Los Lunas to Grants to Continental Divide before ending at Gallup.
Gallup, New Mexico to Flagstaff, Arizona
The trip across Arizona is straightforward but more than 400 miles. Break up the trip across the state with a stop in Flagstaff. From Gallup, New Mexico, you'll pass through Lupton, Arizona, Petrified Forest National Park, Joseph City and Winslow before reaching Flagstaff.
Flagstaff, Arizona to Oatman, Arizona
The second half of the trip across Arizona takes you through Williams, Seligman, Peach Springs, Hackberry, Kingman and Oatman. It finishes the more than 400 miles of Route 66 in Arizona, which would require a drive of more than six hours without stopping.
Oatman, Arizona to Santa Monica, California
This final leg of the trip is only 325 miles but requires almost six hours to complete. You may want to split it into two or more days to get the most from the California part of your adventure. You'll pass through Needles, Essex, Ludlow, Newberry Springs, Barstow, Helendale, Victorville, San Bernadino, Rancho Cucamonga and Arcadia before ending at the Pacific Ocean and the Santa Monica Pier.
Take the Ultimate Route 66 Road Trip in an RV

Stop dreaming about your adventure along the Main Street of America and start making it happen! If you're interested in taking the trip with an RV, which will make your Route 66 trip — and every other road trip you take — one of a kind, My Financing USA can help. Apply for an RV loan today!
---
Additional Resources on Road Trips:
---