Quick Navigation
No matter how often you use your RV – seasonally, annually or one weekend a month – your vehicle will need maintenance throughout the year. As such, we have developed these monthly, seasonal and annual maintenance checklists for your RV, motor home, camper, fifth-wheel RV, RV trailer, Class A RV, Class B RV, Class C RV, diesel RV, RV generator, RV travel trailer, camper trailer and pop-up camper.
Though no two campers or motor homes are identical, our tips will help you keep your RV in the best possible shape, so it's always ready for your next adventure.
Pre-Trip RV Checklist
Before every trip, take steps to ensure your rig is in good condition. An underinflated tire can quickly turn a fun camping trip into an unpleasant one, so you want to make sure you check all your RV's essential components before hitting the road.
External Checklist Before Your Trip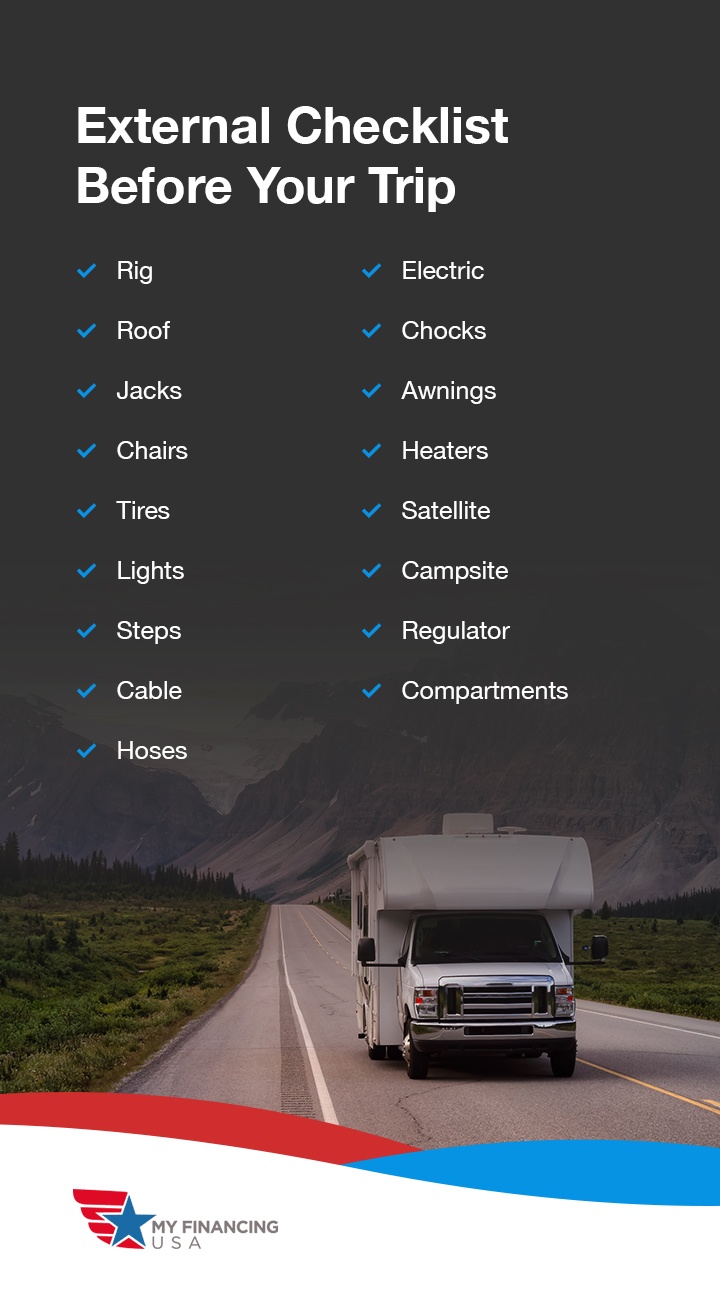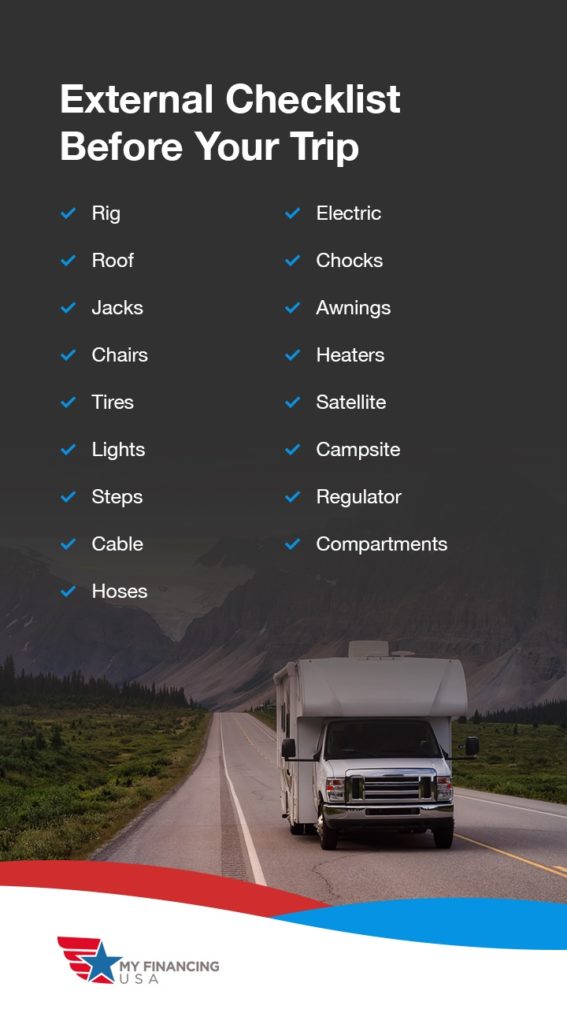 Follow the steps below for maintaining and checking the RV's external features.
Rig: Remove the RV's rig from the levelers, then safely stow it.
Roof: An RV roof can quickly gather debris, especially if you are camping near trees. If you allow it to sit on the roof, this can lead to damage and can be dangerous to other drivers if it flies off while driving. Before you leave, look for any debris and clean it off.
Jacks: To prevent your RV's jacks from falling while you are traveling, ensure they are in an upright position and locked into place.
Chairs: Check that all the chairs are secure and stowed correctly.
Tires: Check the tires to see whether the pressure appears even. Ensure there are no punctures or bald spots. If the pressure doesn't seem even, adjust the air pressure in every tire. Checking your tires is especially critical when they're cold.
Lights: Flip the light switches quickly to make sure they're working. Press the pedals as well to ensure your brake lights and headlights are working.
Steps: If your vehicle has steps that fold in and out, ensure you fold them up securely.
Cable: Does your RV have phone wires or cable connections? If so, roll these up and put them away safely.
Hoses: Check your RV's fill and drain hoses. Ensure they have their caps in place, then stow them safely.
Electric: Examine the RV's external wires or electric generator. Ensure you've disconnected and stowed them properly.
Chocks: Remove and stow the RV's chocks.
Awnings: If there are gaps in your awning that could allow water to drip down, repair them.Put the awning away and secure it tightly to your RV.
Heaters: Examine the gas and water heaters and make sure they're off.
Satellite: If you have a satellite dish on your RV for TV, take it down and put it somewhere safe.
Campsite: If you're leaving a campsite, ensure you leave it cleaner than you found it. You could get in trouble if you leave behind any garbage or debris.
Regulator: If you have a regulator for your RV's water pressure system, remove it and stow it safely. Check all your RV's regulators and fittings for leaks.
Compartments: Check your RV's exterior compartments and lock them to prevent items from falling while you're traveling.
Internal Checklist Before Your Trip
Follow the steps below for maintaining and checking the RV's internal features.
Furnace: To prevent fire hazards, ensure your furnace is in working condition and turn it off before leaving.
Antenna: If your RV has a TV antenna inside, put it down before you leave.
Cabinets: Close your interior cabinets and lock them to prevent any items inside from falling out during your trip.
Entry door: Ensure you close and lock your RV's entry door.
Bathroom: Close and lock your shower doors and stow any supplies you may have in your shower.
Trash cans: Empty all your trash cans and safely stow them.
Water pump: Turn off the water pump or double-check that you've turned it off already.
Pilot lights: Failing to turn off the pilot lights is another fire hazard, so switch them off before you hit the road.
Refrigerator: If your RV's fridge is empty, keep it powered down. Even if it isn't empty, lock the door.
Water heater: Turn off your interior water heater. If your water heater has an electric supply, check inside the RV. However, if your water heater happens to run on gas, it may be an external supply, so check the exterior.
Walls and floor: Check the walls and floor for signs of moisture, such as water marks, drips or discoloration. These could signify a leak. If so, check your roof, joints and plumbing to determine where the water is coming from.
Windows and vents: Inspect the sealant on your windows and moldings. Replace it if you notice signs of cracking or splitting. Ensure all your RV's windows and vents are closed and secure to prevent debris or precipitation from getting inside your vehicle.
If you notice leaks, gaps or cracks in any of your RV's features, repair them before you leave for your trip.
Monthly Maintenance Checklist for RVs
Whether you have a smaller camper or a Class A motor home, follow this maintenance checklist every month to ensure you keep your vehicle in the best possible condition.
1. Check for Pests
Keep pests out of your RV by checking under your RV for any cracked insulation, rodent access points or abrading. Pests can enter your RV even through minuscule gaps or cracks, so make sure you examine the rig carefully and thoroughly to spot these areas and repair them.
2. Check the Seals
Next, check the seals on your RV. Sealants are crucial for keeping water out of your RV. Unfortunately, sealants can become damaged over time by ultraviolet exposure, air pollution and freezing temperatures. Examine the exterior sealants, and if you find any cracks, separation, peeling, gaps or voids, re-seal them. If there are cracks in your sealants, and you fail to repair them, this could lead to extensive water damage.
3. Top off the Batteries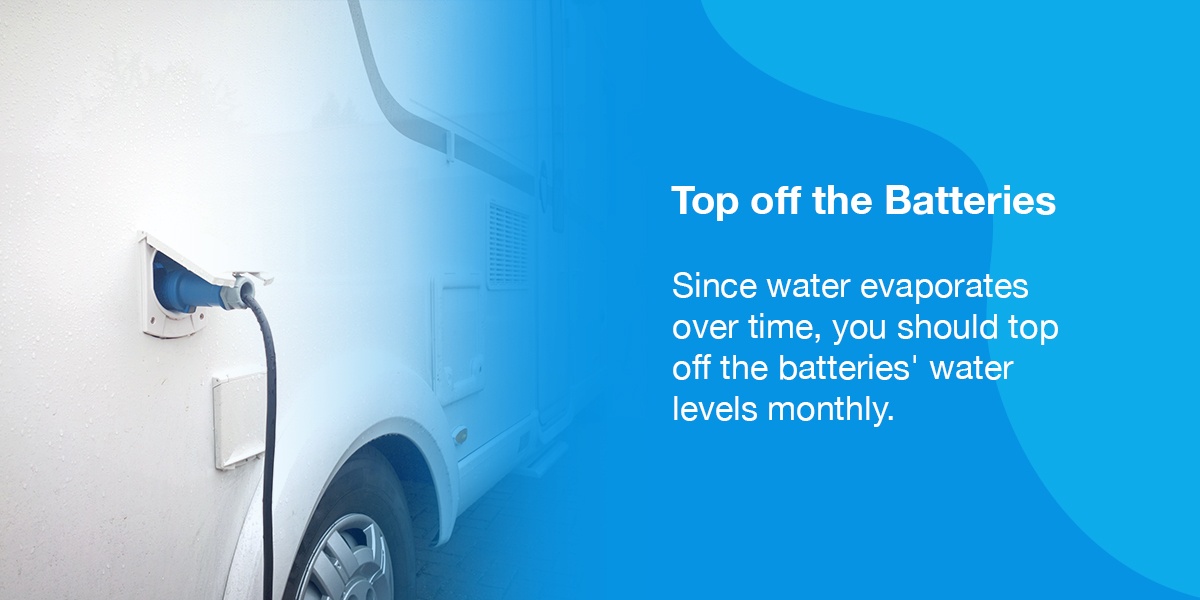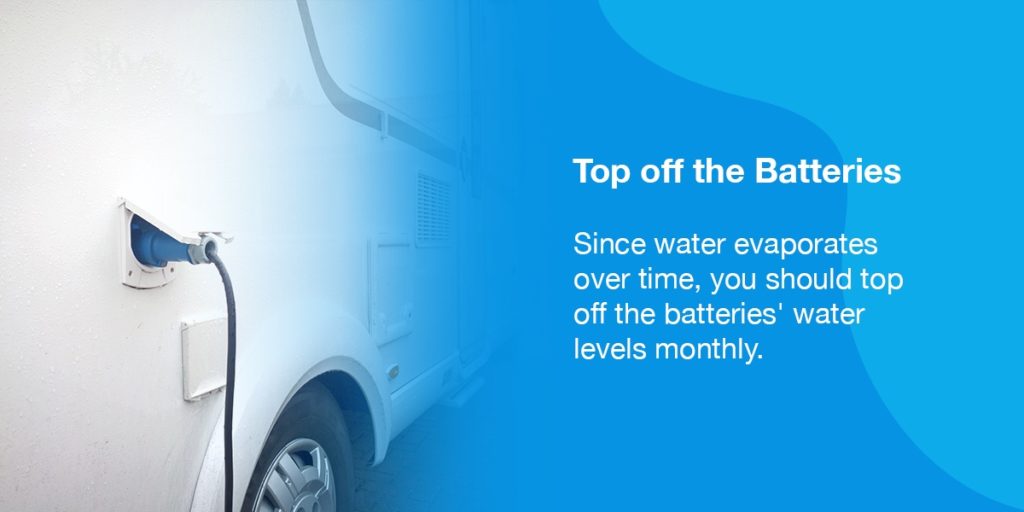 Your RV's batteries have water levels for facilitating electrical movement. Since water evaporates over time, you should top off the batteries' water levels monthly. Only use distilled water to top off your batteries, as tap water contains minerals that may affect the batteries' ability to conduct electricity.
4. Run Your Generator
Gasoline starts going bad after about a month, but it may spoil faster if you haven't used your gasoline recently. That means you should get your gasoline moving through the generator every month. At least once a month, run it for a couple of hours at half capacity. If you don't plan to use your generator for a while, you can add a fuel stabilizer to keep your generator longer during a lengthy storage period.
5. Care for Any Slideouts
Does your RV have slideouts? They can be an excellent addition to your rig, though they come with added maintenance. To ensure the slideouts remain smooth and continue moving correctly, slide them out and put some lubricant on.
Additionally, check for signs of corrosion or rust, as this may influence how well your slideouts work. If needed, you can also choose to use a dedicated spray to reinforce your slideouts' seals.
6. Check Under the Hood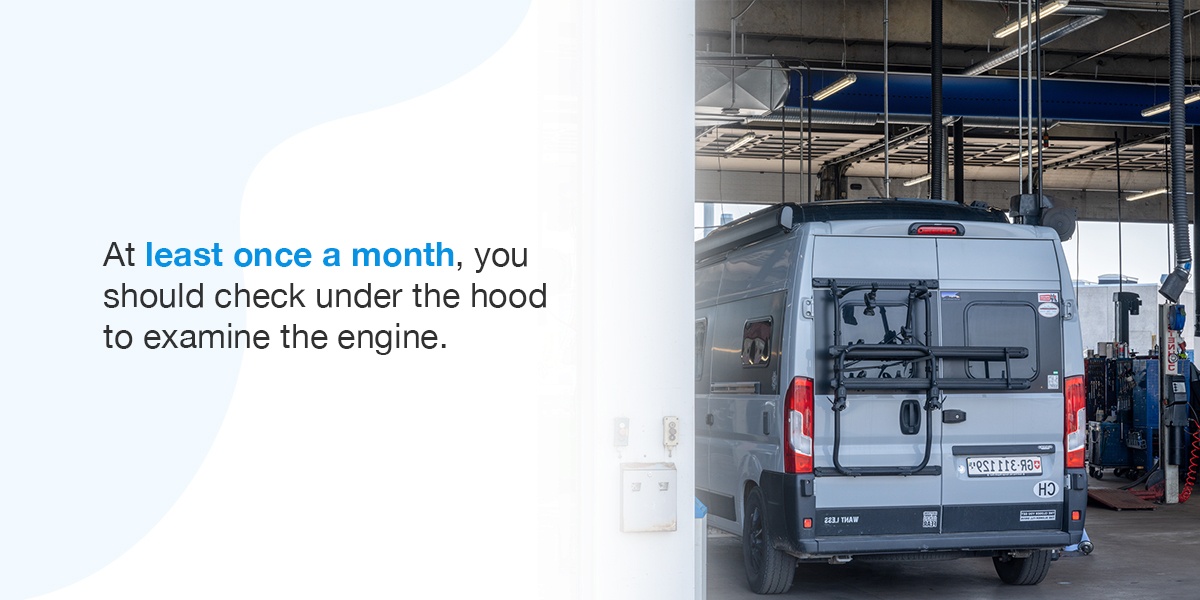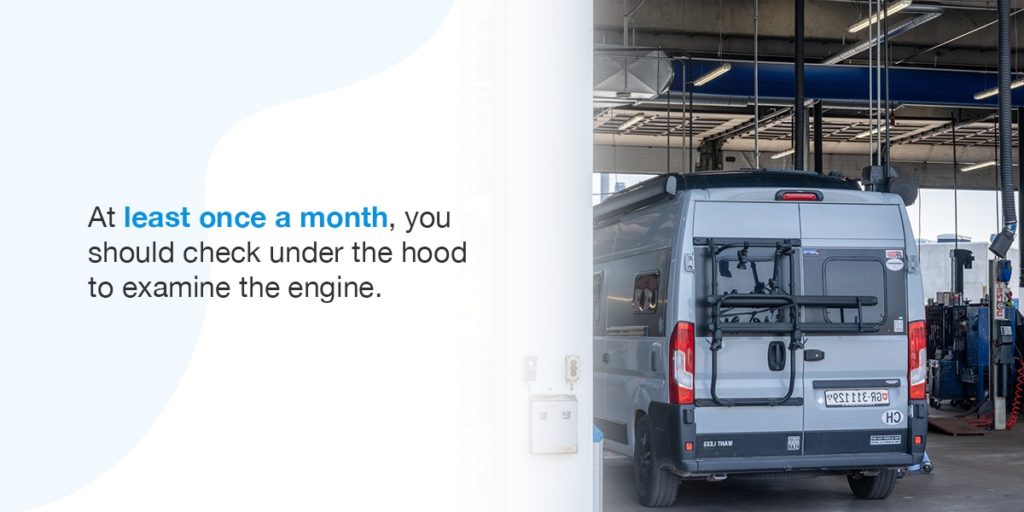 At least once a month, you should check under the hood to examine the engine. If you have a towable RV, check your towing vehicle. In particular, pay attention to the following features.
Battery: Look at the engine's battery to ensure you won't need to find jumper cables at the campground before you can leave.
Clamps and hoses: Check the clamps and hoses and ensure they're secure.
Filters: Air, fuel and oil filters can all lead to problems if they get clogged, so clean and replace them as necessary.
Belts: Examine the belts to determine whether there are cracks or corrosion present.
Oil levels: Check your transmission's and engine's fluid levels. If they are low, top them off. You may also want to ensure there aren't any leaks.
7. Clean the Air Conditioning
Like your home, your RV has vents to ensure only clean air is flowing through your RV. An air conditioning unit can become clogged over time, so to keep it running efficiently, vacuum the vents and clean them every month. Additionally, you may want to replace the filter every month.
8. Test the Safety Equipment
Finally, you should always test your safety equipment each month. Test your smoke and carbon monoxide detectors and other safety equipment to ensure they're all working correctly. If not, you may need to replace the batteries. Make sure your fire extinguisher is also in good working condition.
RV Spring Maintenance Checklist
Spring is the beginning of the camping season for most Americans. Once you've pulled your RV out of storage and started planning your trips, now is the perfect time to tackle some maintenance tasks. In the spring, you should take specific steps to prepare your RV for the changing seasons.
1. Weigh Your RV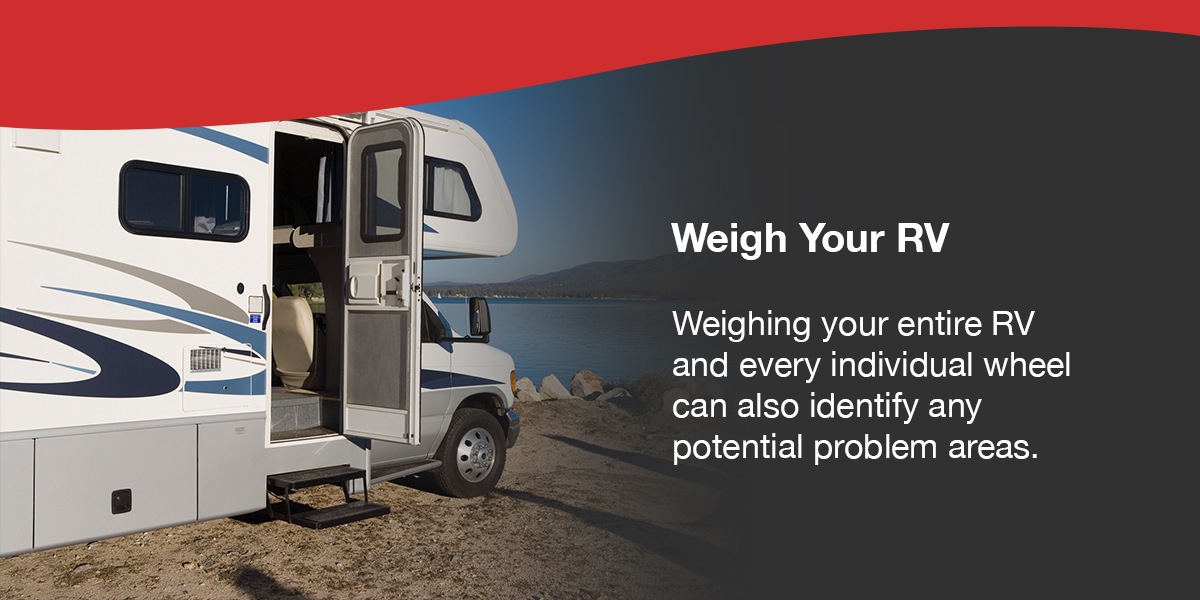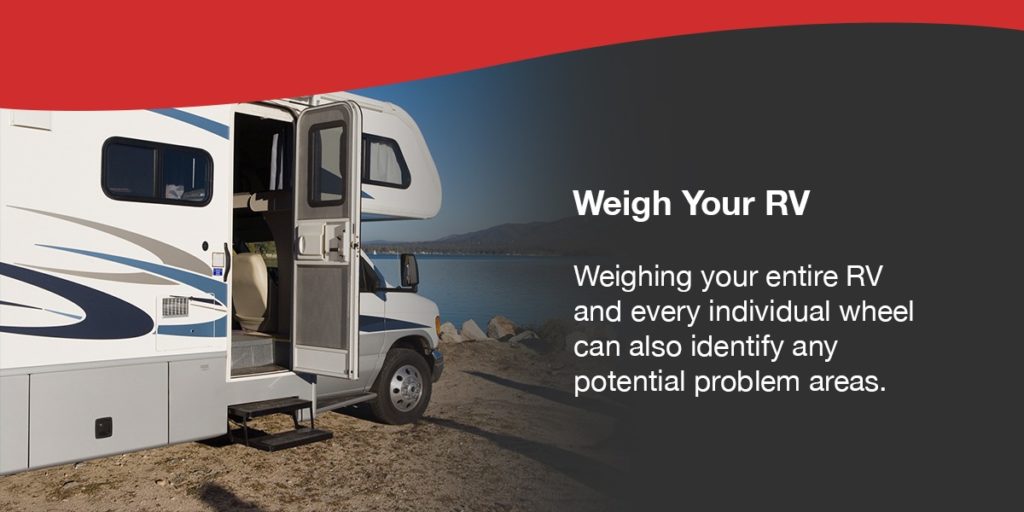 It can be incredibly dangerous to have an overweight RV, so it's crucial to know what your rig weighs before leaving on a trip, especially if you're including additional cargo. Weighing your entire RV and every individual wheel can also identify any potential problem areas. To weigh your RV, visit a local weigh station or check RV clubs and rallies that may offer the ability to weigh your rig.
2. Filter the Water
Not only is clean water essential for your family, but it's also crucial for your RV's equipment. To make sure the water in your RV is clean, you need to filter it. You also need to ensure your filter is working correctly. Most water filters last several months, so you may need to replace them once or twice a year.
If you do not have a water filter in your RV, pour some bleach into your freshwater tank and let it sit in the tank for a day. At this point, run the water through the lines to keep the tank and lines clean.
3. Check the Tires
Like your car, the tires on your RV are an essential component you shouldn't overlook. Checking your tire pressure and the wear and tear are crucial steps in ensuring your RV is safe. Follow the manufacturer-provided inflation guidelines that outline the maximum load capacity. Remember that overinflating and underinflating the tires are equally dangerous.
Avoid bleeding hot tires, as this will cause them to lose more pressure when they cool, and check the pressure when they're cold. Examine for unusual wear and tear as well, such as uneven tread wear, bulging or cracking.
4. Wax the Exterior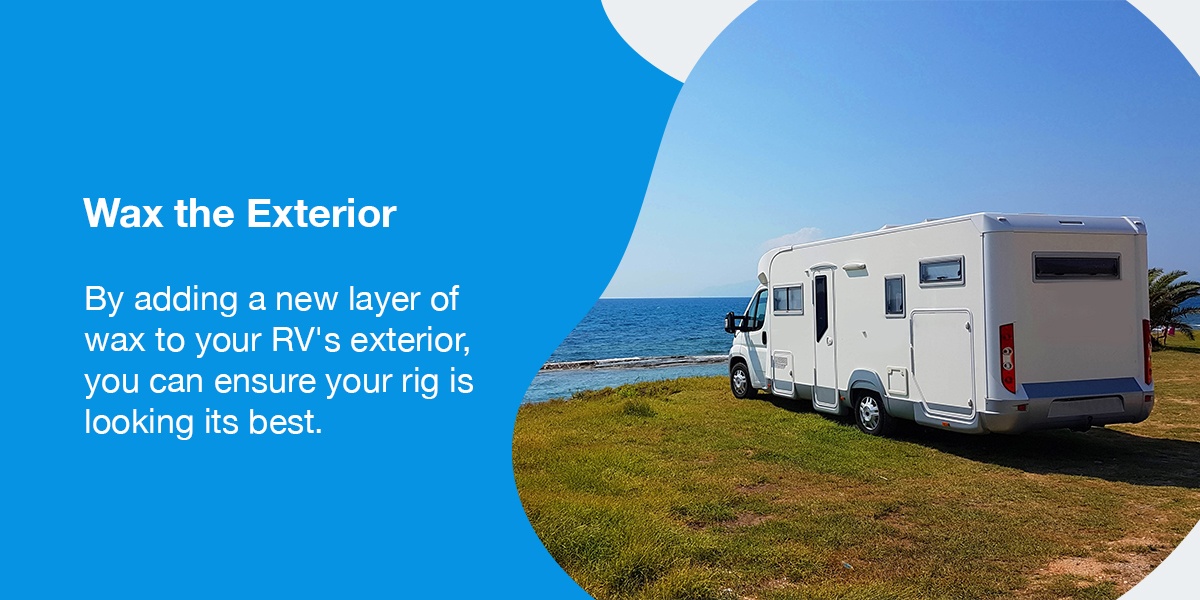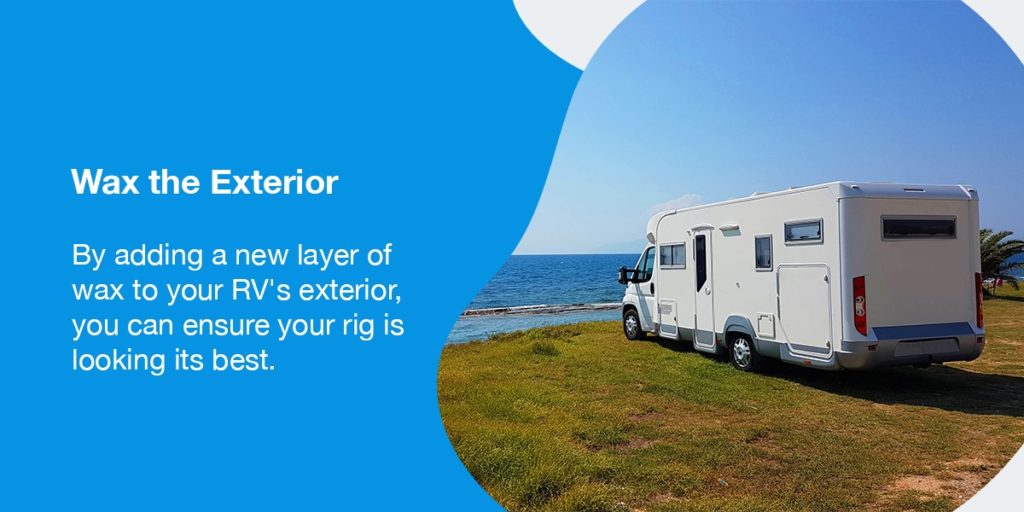 Say goodbye to a dirty, dull RV. By adding a new layer of wax to your RV's exterior, you can ensure your rig is looking its best. You can choose to use specialized wax, and if you get your RV professionally detailed, the service may include waxing.
5. Treat the Metals
Add lubricant to any areas where metal rubs against metal, including the leveling jacks, the hitch and the steps. Lubricant will help the metal on your RV stay loose, function effectively and prevent rust from developing.
6. Examine the Seals
Moisture is the RV's enemy and can lead to significant damage. Additionally, if your climate-controlled air escapes through broken seals, this could dramatically increase your energy consumption and costs. Seasonally, you will want to closely examine the RV's seals, particularly in these areas:
Doors
Lights
Windows
Slideouts
Water hookups
Latches or locks
Electricity hookups
Border or frame of the RV
7. Inspect for Damage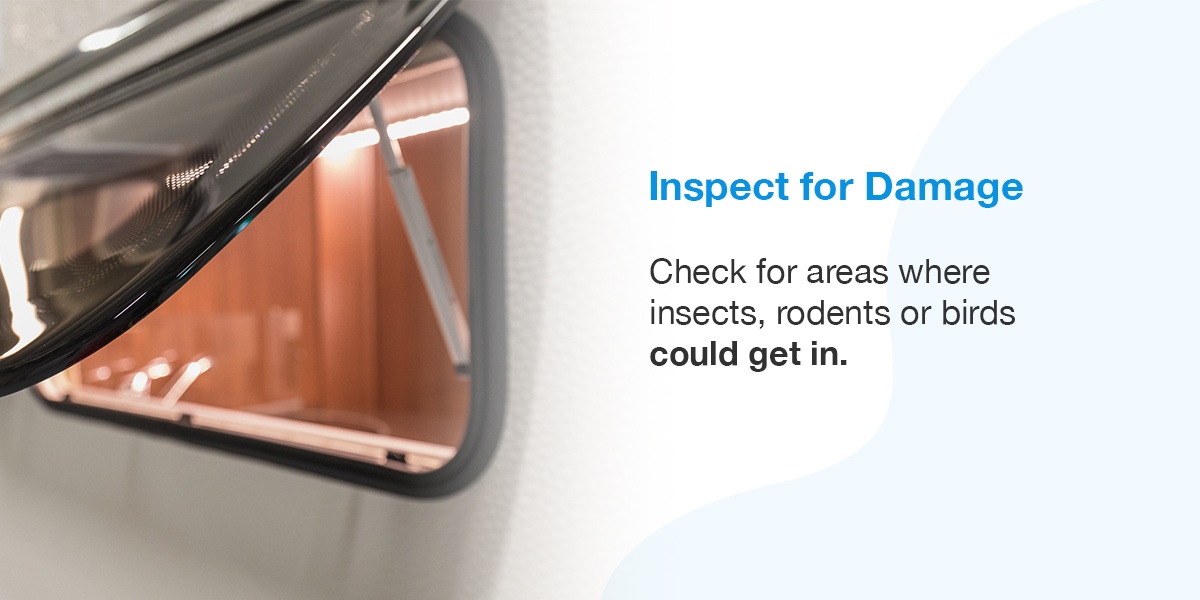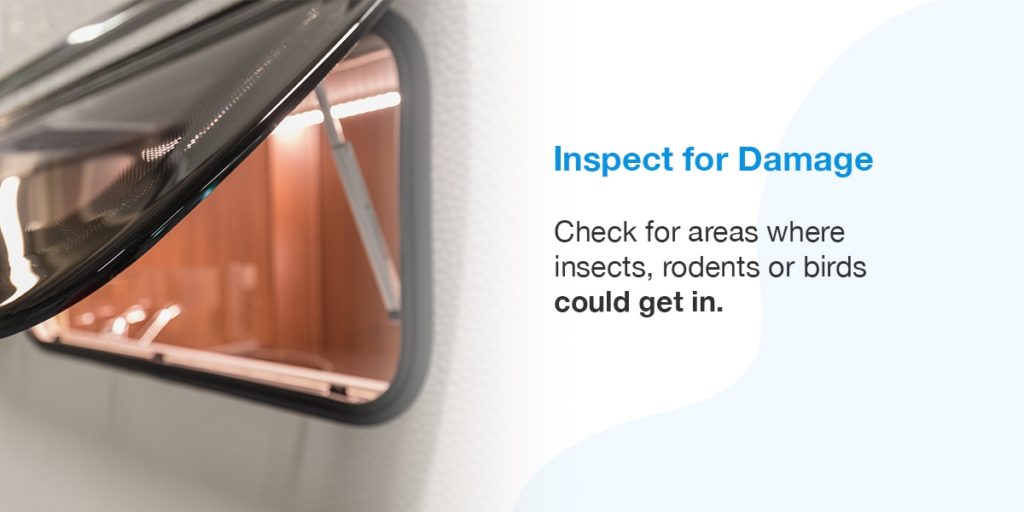 Every spring, you should inspect your RV for damage. Check for areas where insects, rodents or birds could get in. If you find any gaps, fill them to ensure pests can't enter your RV and harm the rig.
8. Do Some Deep Cleaning
If you will be storing your RV for an extended period or you have just recently pulled your RV out of storage, now may be the time to do some deep cleaning. You should clean the entire interior thoroughly. Even seemingly minor issues like moisture or a leftover piece of food hidden under furniture could cause significant problems later, especially if you're putting your RV into storage.
For a more thorough cleaning, you may even want to have your RV detailed. A professional will know what steps to take and how to complete the job efficiently, saving you a lot of time.
RV Annual Maintenance Checklist
Finally, you'll want to perform specific maintenance tasks annually. Be sure to do the following for your RV at least once a year.
1. Examine the Seals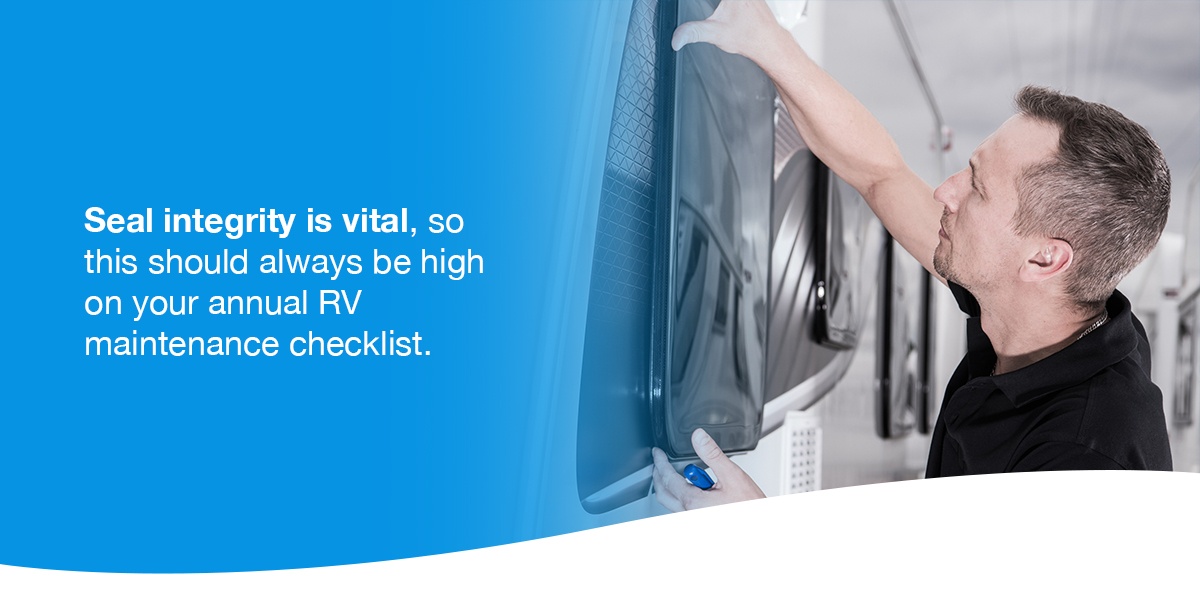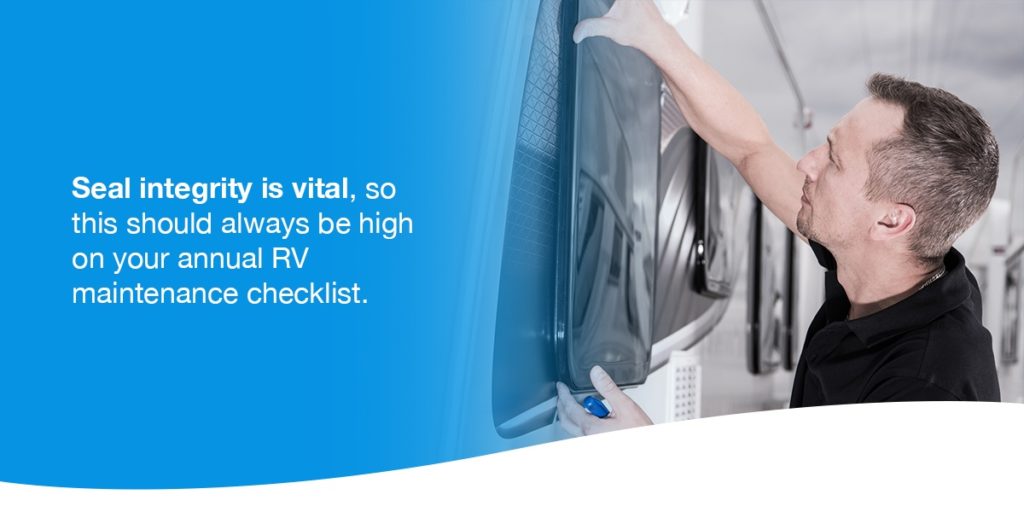 Depending on your region, the lifetime of your RV's seals will vary. Every year, inspect the seals, specifically focusing on the vents and roof. Check for any signs of gaps, voids, breaks, physical deterioration or looseness. If you notice an issue with the sealant, replace it with the same product. Seal integrity is vital, so this should always be high on your annual RV maintenance checklist.
2. Inspect the Propane
Next, inspect your RV's propane system yearly. Check for the following:
Dings
Signs of rust
Paint damage
Problems with the connection integrity
Your propane system should work correctly for efficiency and safety reasons. You may also want to hire a qualified propane service representative to test and inspect your propane system at least once a year, which can reveal whether there are any leaks.
3. Test Your Safety Equipment
First, vacuum your smoke and carbon monoxide detector covers, wash the covers with a slightly damp cloth, then dry and test the detectors. If they are not functioning correctly, be sure to replace them. Avoid spraying the front panel with a cleaning solution.
4. Service the Brakes and Tires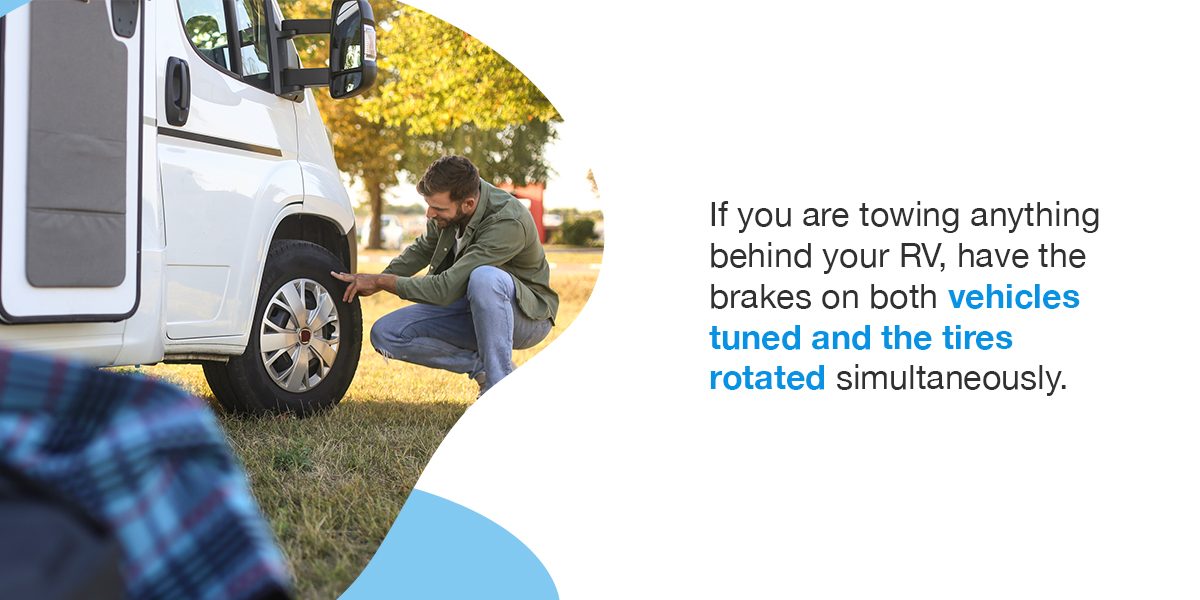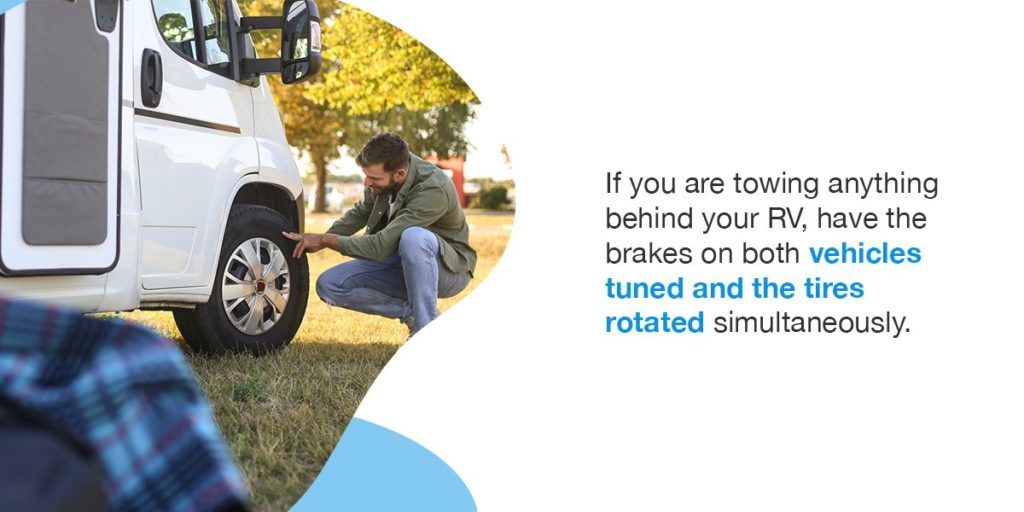 As with a car, you'll need to have your RV's brakes tuned once a year by a professional. If you are towing anything behind your RV, have the brakes on both vehicles tuned and the tires rotated simultaneously. Having this maintenance performed at the same time will ensure the tires and brakes wear evenly. For your next outing, repack the wheel bearings.
5. Keep Track of Your RV Maintenance
One of the most critical aspects of RV upkeep is keeping a log of what maintenance you have performed and when. It's easy to forget the tasks you've accomplished and the ones you haven't when you don't write them down. A log can help you determine when a chore is due, so update your records every time you perform a maintenance check or pay for repairs.
A three-ring binder can be an excellent record-keeping strategy, as you can add your completed maintenance checklists and separate them according to your monthly, seasonal and yearly schedule. Your checklists should include the date, what checks you performed, whether the features passed your inspection and any replacements or repairs you made.
6. Check the Heating and Cooling Systems
Few things can ruin a fun camping trip as swiftly as a malfunctioning air conditioning system. As with your home, you'll need to have your RV's HVAC system maintained and repaired annually by a trained professional. This regular maintenance will ensure your heating and cooling systems are working when you need them.
Apply for an RV Loan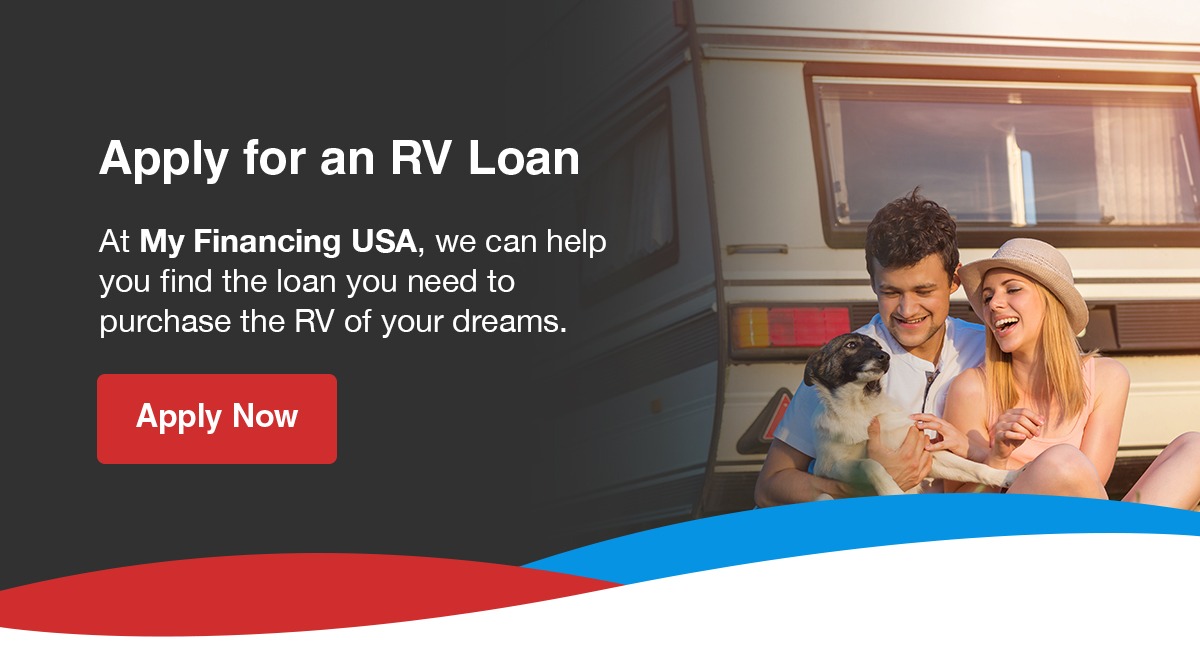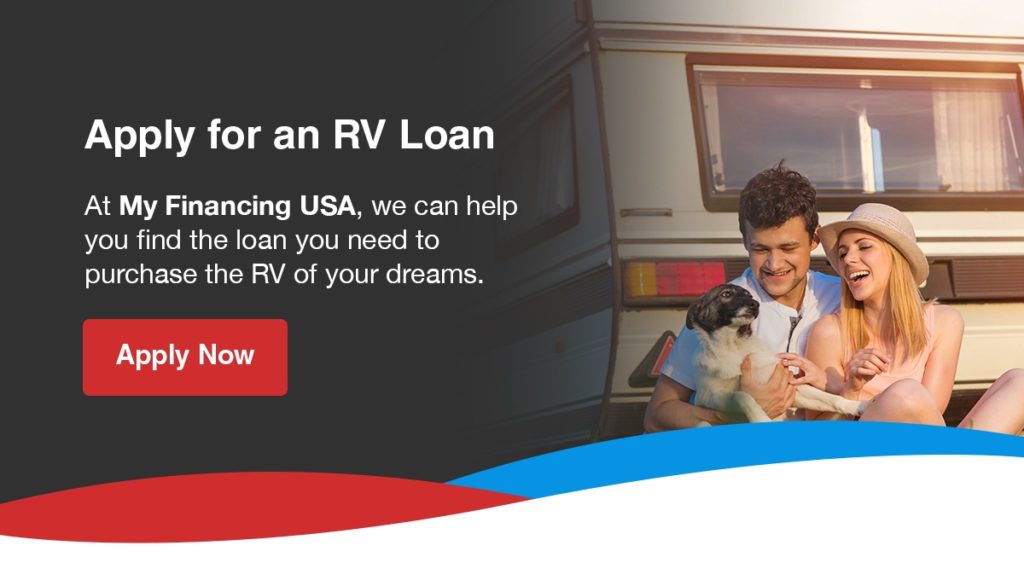 Though not part of your list of yearly RV maintenance checklist items, your checklist for RV ownership should include acquiring financing. At My Financing USA, we can help you find the loan you need to purchase the RV of your dreams. We'll conduct a nationwide search to help you find low rates and protect your credit by reducing hard inquiries.
Along with RV financing, we also offer extended service plans, gap waivers, tire and wheel coverage, comprehensive warranties and financing for other vehicles and units, such as:
Livestock trailers
Lawn equipment
Flatbed trailers
Snowmobiles
Cargo trailers
Motorcycles
Car haulers
Jet Skis
Boats
ATVs
UTVs
Whether you have good credit or bad credit, we can help you find the RV loan that's right for you. It only takes five to eight minutes to apply for an RV loan with us. You can also contact us at My Financing USA to learn more about our motor home financing options and our RV maintenance services.
---
Additional Resources on Motorhomes:
---