Quick Navigation
RV travel is one of the best ways to experience our beautiful country. You can bring the comforts of home while you have adventures, meet new people, sit by the campfire and go fishing. When you own a motor home, your family can hit the road anytime. You can choose to travel only on the weekends or live in your RV full-time.
Whether you are an RV owner or plan to purchase one soon, you should know how to maintain an RV. This guide will give you all the tips you need to keep your RV in the best possible condition.
Routine RV and Motor Home Maintenance Tips and Tricks
You'll want to perform a few maintenance checks and tasks routinely to keep your RV in peak condition. Pay particular attention to the water heater, roof, refrigerator, awning, battery and exterior.
RV Water Heater Maintenance Tips
Regularly check your water heater to ensure there is no debris in the chamber or burner tube. First, before tackling any of the water heater maintenance, turn off any power sources, as many RV water heaters use electricity and liquid propane.
If the tank contains hot water, run the shower until the tank cools. To remove any buildup, use compressed air, and check whether it's time to replace the anode rod. Clean out sediment, which can accumulate with regular use or outdoor storage.
RV Roof Maintenance Tips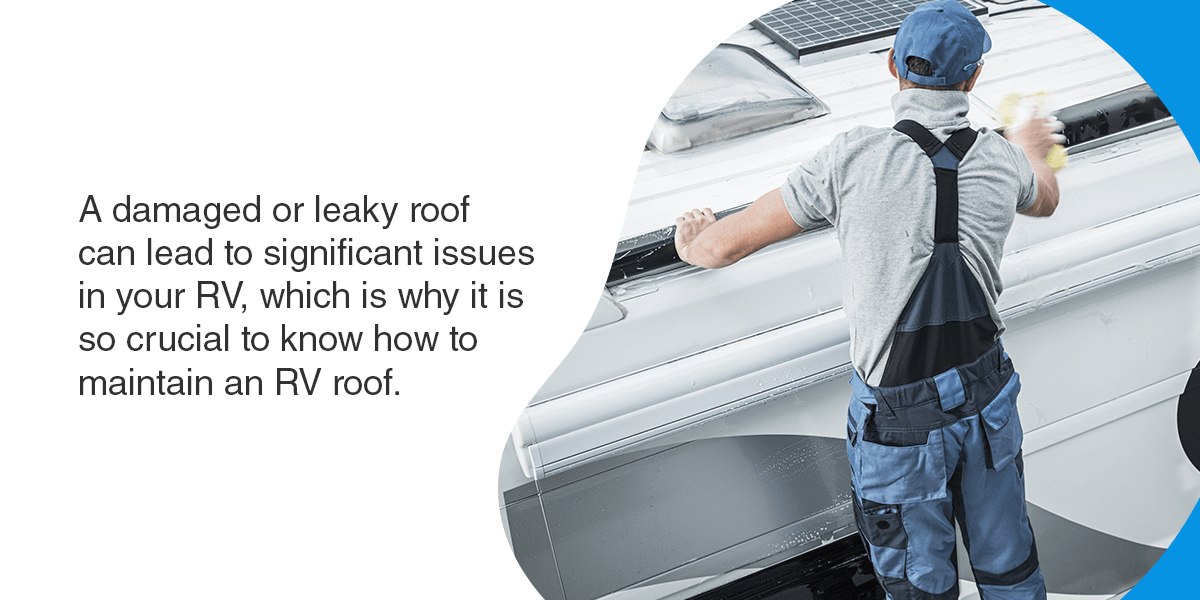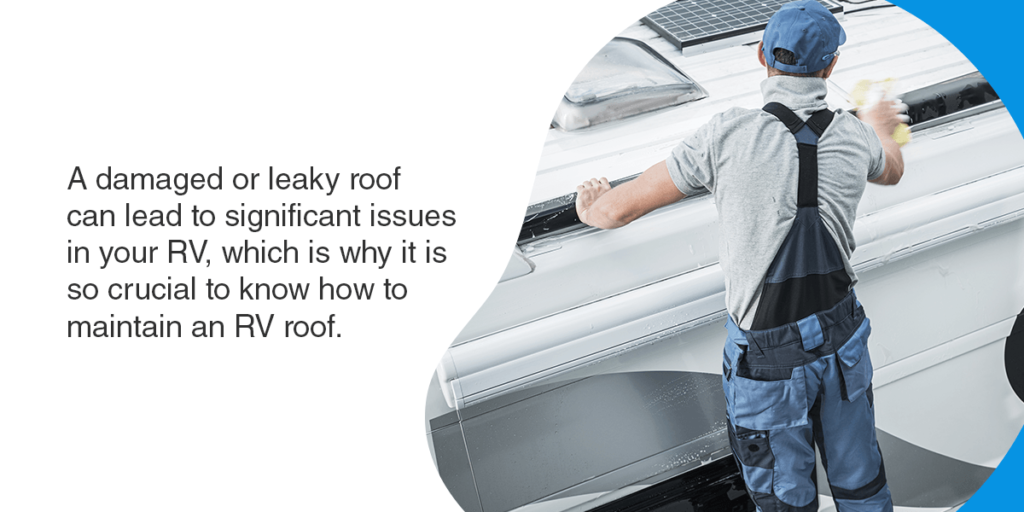 Constant exposure to the elements means an RV roof can take a battering from rain, wind, sun and hail. A damaged or leaky roof can lead to significant issues in your RV, which is why it is so crucial to know how to maintain an RV roof. Follow our tips to ensure your roof is in tip-top shape.
First, you should clean the RV's roof. If your RV has a factory-installed ladder, your RV's roof is walkable. If not, you can use a stable ladder. Either way, use water and a light solvent to wash your roof. If you've had to park under a sappy tree at the campground, wash the roof as soon as possible.
Next, inspect your RV roof's seams and seals. Every few months, inspect the roof for leaks. Any open seam in the roof's vents, edges, air conditioning unit or skylights can allow water to leak in. The first sign of this you may notice is water soaking into the roof's outer wood framework, which can then cause damage by seeping into the inner ceiling panels.
Patch up the leaks in your roof by using sealants compatible with the roof's material, which may be metal, fiberglass, ALFA, TPO or rubber. If you don't immediately take care of a broken seal, repairing the water damage to your RV could cost hundreds or thousands of dollars.
After cleaning and maintaining your RV's roof, keep the rig covered under a traditional RV cover or an RV carport. You can install a steel RV cover on your property and customize it to your rig's size. Many of these covers come with decades-long warranties to provide your RV's roof with long-term protection. Additionally, ensure you have your roof professionally inspected a couple of times a year.
RV Refrigerator Maintenance Tips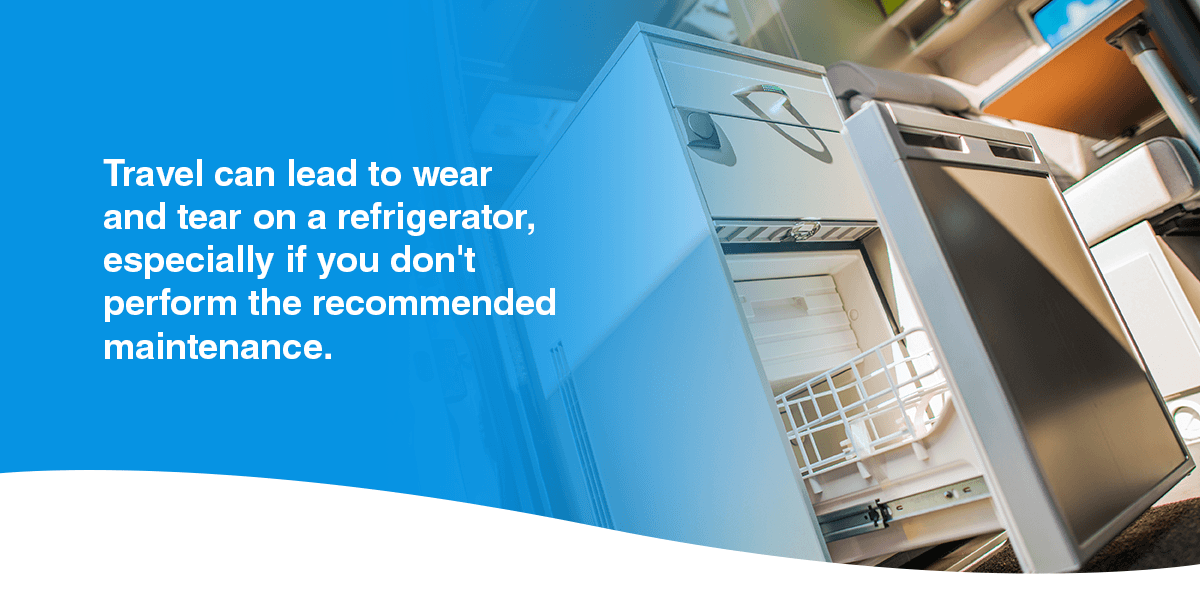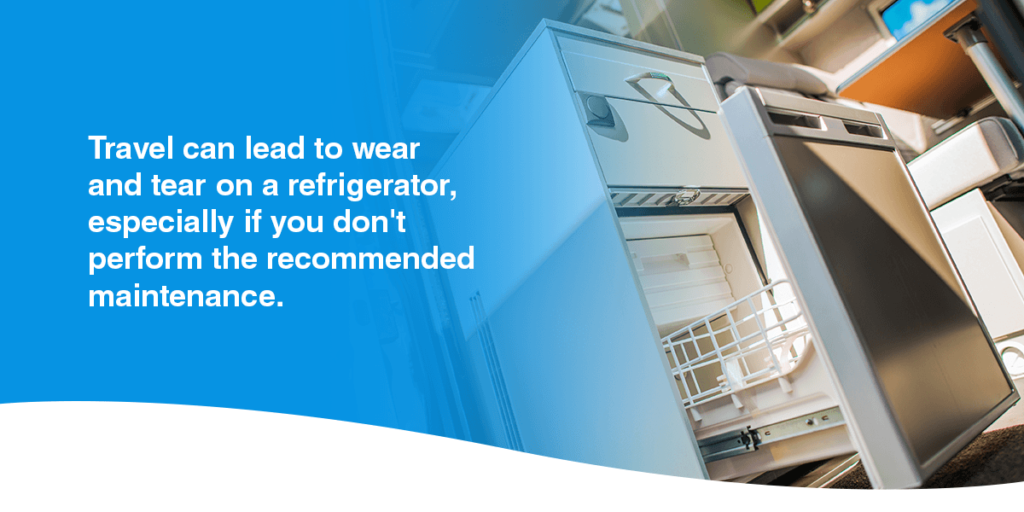 Keeping your RV's fridge in working condition will require some upkeep. Travel can lead to wear and tear on a refrigerator, especially if you don't perform the recommended maintenance. To keep your fridge in the best shape possible, follow the tips below.
Inspect the fridge after each trip: Check the fridge after you reach your destination. Ensure everything is in working order and properly connected. Make sure that the connections and wires are tight.
Start cooling the fridge early: Before you leave for a trip or store food in the refrigerator, start cooling it to ensure it's ready when you need it to keep your food fresh and safely stored.
Purchase ice: Rather than forcing your freezer to work hard to make ice, buy your ice separately.
Ensure the exhaust is free of debris: The outlet for the fridge's exhaust is typically on the roof, so keep the roof and the outlet free of leaves and other debris.
Keep the fridge side in the shade: When you park your RV, whether at the campground or for storage, try to keep the fridge side in the shade. Doing so can keep your refrigerator cooler and promote efficiency.
Arrange the food to allow for air circulation: Organize your RV's fridge to leave plenty of space for adequate air circulation. You may even want to buy a small fan to put in the refrigerator to assist with this.
RV Awning Maintenance Tips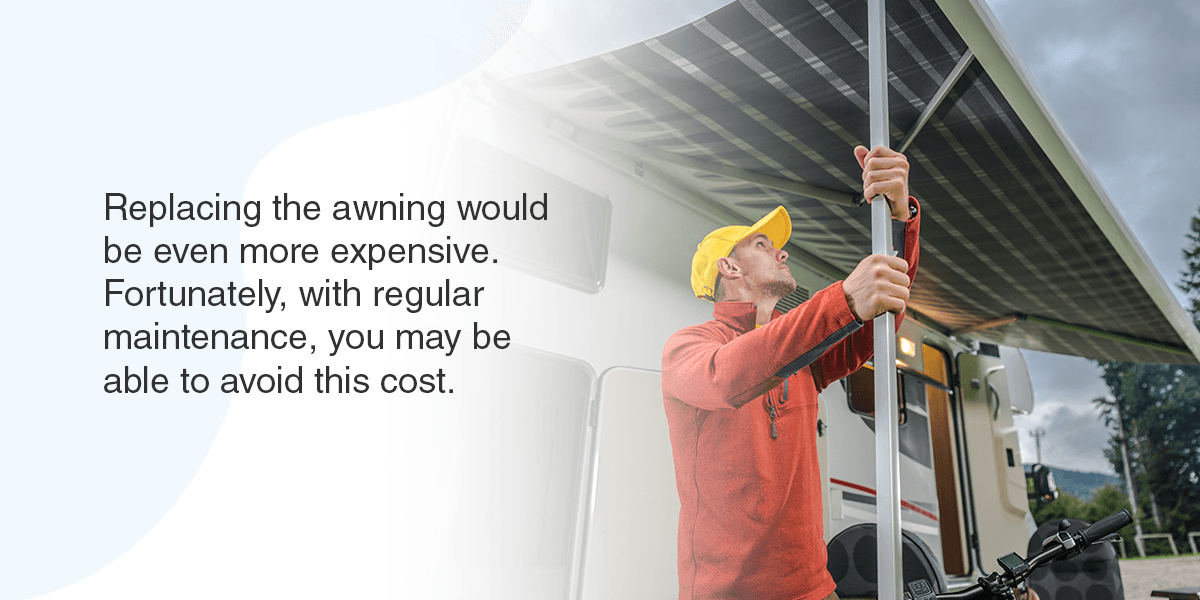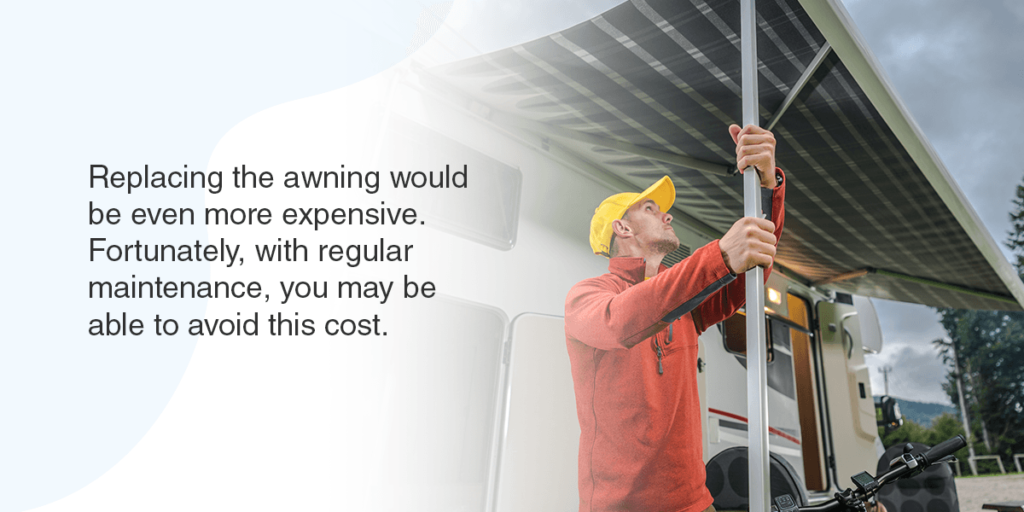 Keeping your RV's awning maintained is crucial for preventing mold and mildew buildup. When you inspect the awning, you'll spot any tears early and you can fix them before they become a more significant problem. Debris can quickly accumulate and lead to items getting stuck and tearing up the fabric or even to bees forming nests, so be sure to clean your awning after each trip in your RV and allow it to dry before you retract it.
Always put your awning away before a storm hits, as high winds can damage its alignment and prevent you from storing it effectively. Depending on the damage done to your RV's awning, a tear could cost several hundred dollars. Replacing the awning would be even more expensive. Fortunately, with regular maintenance, you may be able to avoid this cost.
RV Battery Maintenance Tips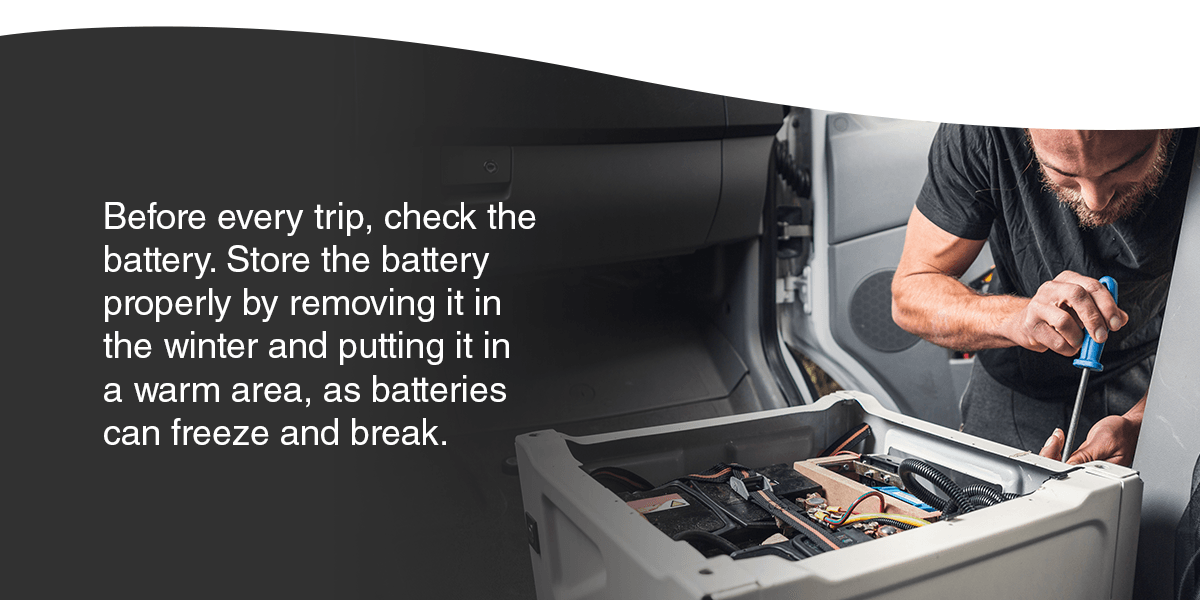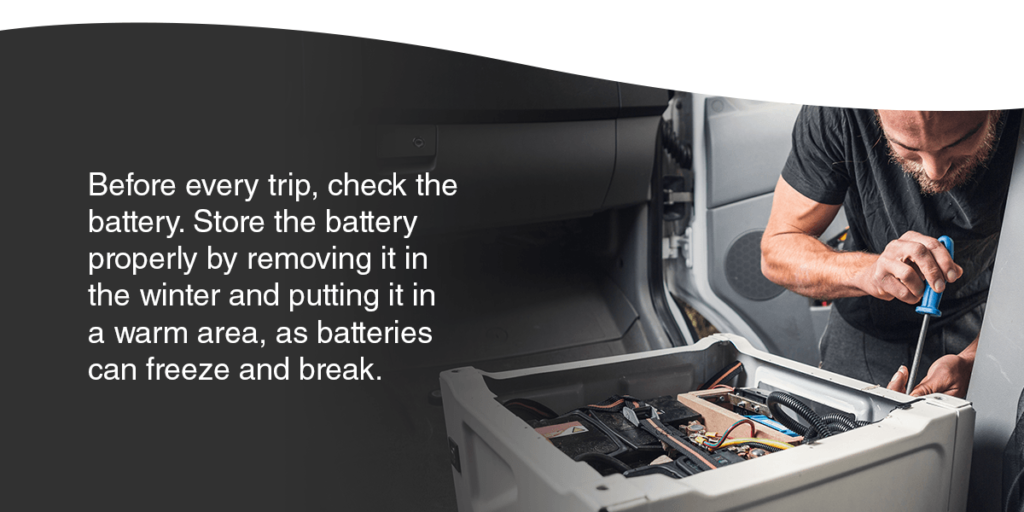 Nothing can ruin a family camping trip more quickly than a dead battery. While some batteries are maintenance-free, many have water levels that require regular upkeep. Keep your RV's battery fully charged so you don't have to worry about getting stranded at a campground or canceling the vacation you've been planning for months.
Before every trip, check the battery. Store the battery properly by removing it in the winter and putting it in a warm area, as batteries can freeze and break. If this happens, you could void the warranty and render the battery unusable.
Of course, no matter how well you maintain your battery, you'll have to replace it eventually. For towable RVs, deep-cycle batteries usually start losing capacity after a couple of years, while drivable RVs have start-type batteries that tend to last a few more years.
RV Tank Maintenance Tips
Your RV may come with holding tanks that will need regular attention, including a black tank, gray water tank, freshwater tank and sewer system.
Black tank: When you use your RV's black tank, be sure to use approved chemicals for breaking down solids in a black tank. After you empty the tank, use the black tank flush system if you have one installed. Doing so will keep the sensors clean and functional.
Gray water tank: A gray water tank doesn't require much maintenance. However, even with typical use, a gray tank can develop a smell. If you notice an odor, you may want to use an odor blocker to keep foul smells at bay.
Freshwater tank: Typically, you should flush your freshwater tank seasonally when you bring the RV out of storage. Bacteria can quickly build up in a moist environment. As a result, you should use water and a gentle bleach solution to sanitize the tank. To clear out the bleach after, do a few fills and flushes.
Sewer system: Use biodegradable RV toilet paper to keep the wastewater system in good working condition. To avoid unwanted backup, it's crucial to empty the holding tank. This process can be much easier with the proper RV sewer connections. Every so often, be sure to empty the holding tank.
RV Exterior Maintenance Tips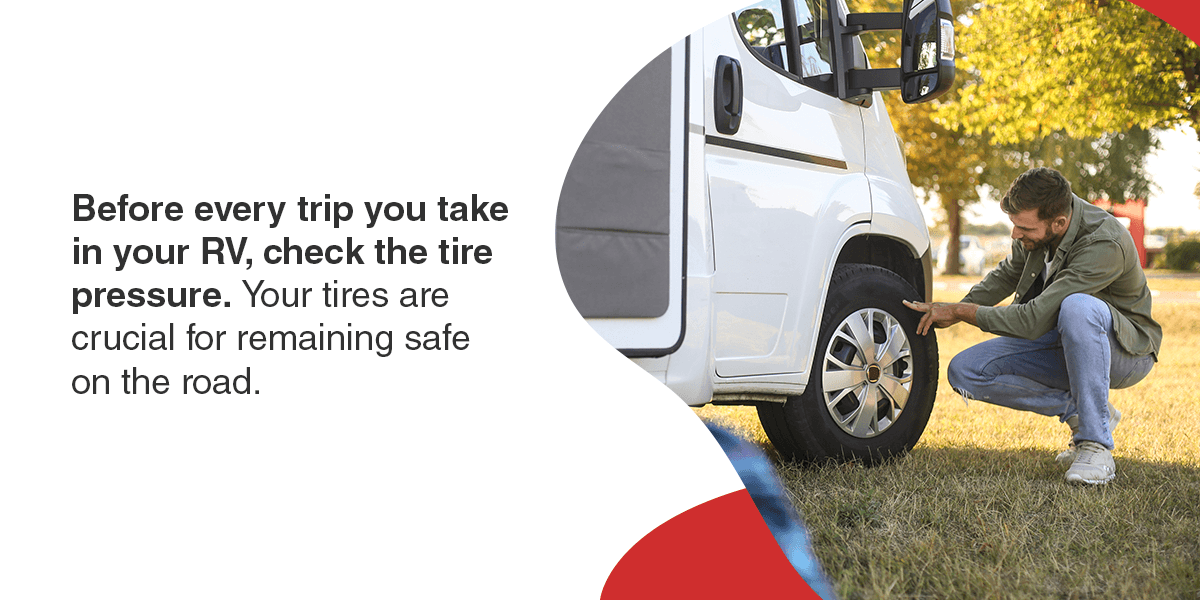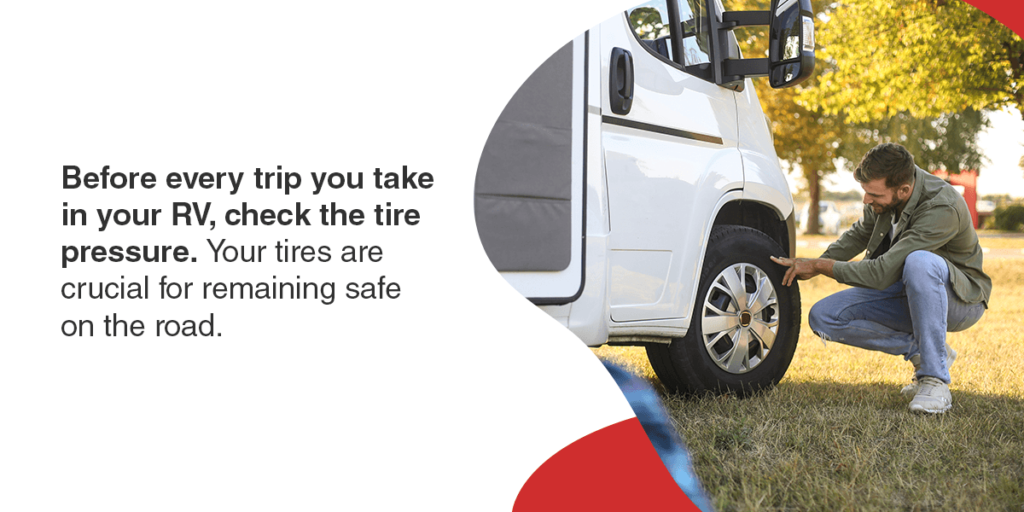 It's crucial to regularly maintain your RV's exterior. Complete the tasks below to ensure your RV's external features are in good condition.
Clean the slideout: To prevent dirt from building up in and around your slideout's seals, you need to clean your slideout periodically. If the slideout becomes dirty, you can face issues with sealing your RV. Lubricate the slider mechanisms to ensure the slideout can move in and out with minimal wear and tear.
Replace the filters: You should replace your RV's filters seasonally, including the coolant, fuel, air and hydraulic filters. Typically, you should inspect these filters during each oil change. Failure to change these filters when necessary could lead to needless wear and tear on the engine and drivetrain.
Treat the window seals: You should also treat the window seals with lubricant. If you notice the windows catching, that could signify it's time to replace them. Use lubricant on the rubber to keep your window seals in good condition. Doing so will allow your windows to easily move up and down or side to side.
Check the tire pressure: Before every trip you take in your RV, check the tire pressure. Your tires are crucial for remaining safe on the road. Tire pressure can fluctuate with the temperature, which means you could experience a significant drop after leaving your RV parked all winter. Overinflated and underinflated tires can be equally dangerous. An overinflated tire could explode and an underinflated tire could lead to control problems and create more resistance, impacting your gas mileage.
Examine the tire tread: Inspect the tires to determine whether there is uneven tread wear. If you load your rig improperly, this can cause the tires to become more worn in specific spots, possibly leading to a blowout.
Tighten the wheel lug nuts: Tighten the wheel lug nuts before you hit the road. These can loosen at any point while in storage or during a previous trip, so be sure to tighten them. If you drive your RV with loose lug nuts, you could risk losing a wheel while traveling.
Check the brakes: For ultimate safety, it's crucial to check the brakes and keep them maintained. Every spring, you should maintain your brakes. Make sure the brakes have enough material and are working properly, and keep the wheel bearings lubricated during the summer. You may need to replace your brakes, which usually entails replacing the seals and repacking the wheel bearings. This service can cost a few hundred dollars.
Change the RV's oil: You may have your car regularly maintained every few thousand miles, but RVs spend much more time sitting in storage. Ensure you change the oil seasonally or at least annually to keep everything lubricated and operating efficiently. Failing to change the oil when necessary will lead to excessive wear and tear on your RV's engine and could lead to expensive service or even the need for a new engine.
Check the electrical connection to the tow vehicle: If you'll be towing your RV, ensure the connection between the rig and your tow vehicle is reliable. This connection is essential for your safety on the road, as the connection transmits your vehicle's electrical signal to the RV. The signal turns on the RV's brake lights and allows your vehicle to charge your RV's battery.
Maintain the RV's generator: Refer to the owner's manual for recommendations on how frequently you need to change your filter and oil. Neglecting to service the generator could run you thousands of dollars in repairs. When the RV is in storage, run your generator every so often to ensure there isn't any buildup on the carburetor. Check the schedule in your manual to determine when to service your generator.
Annual RV Maintenance Tips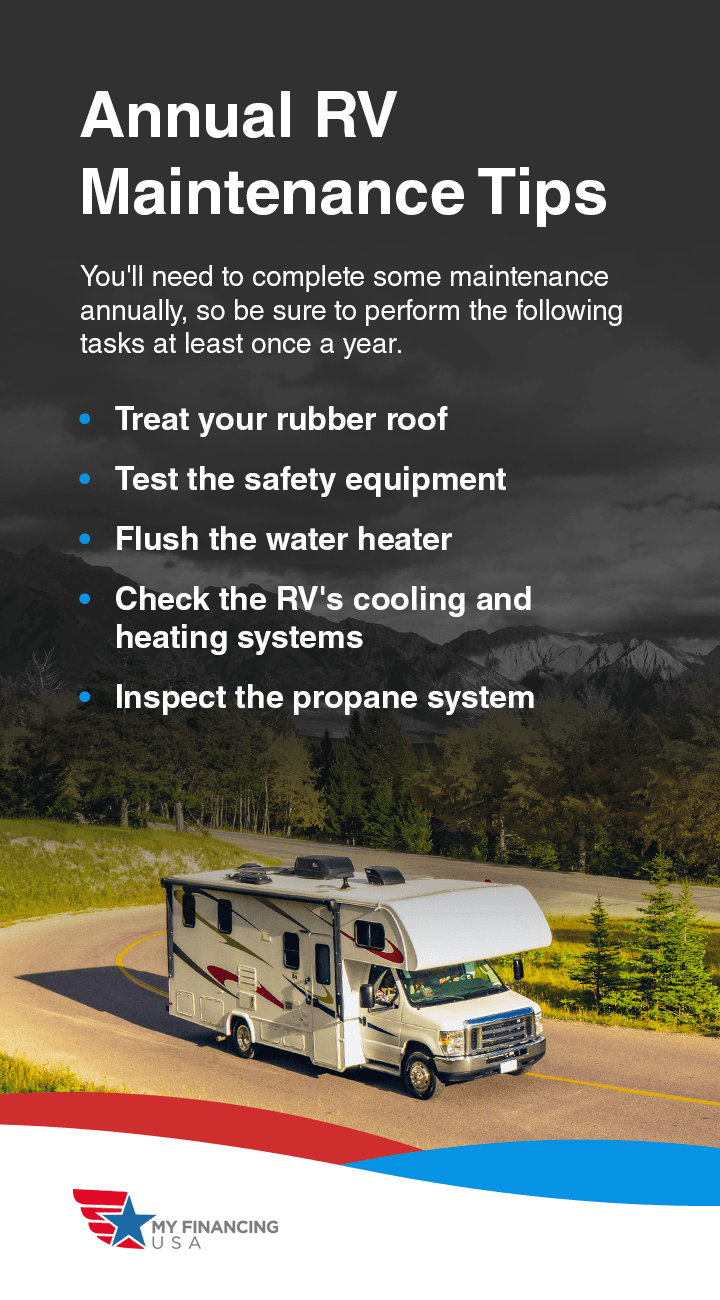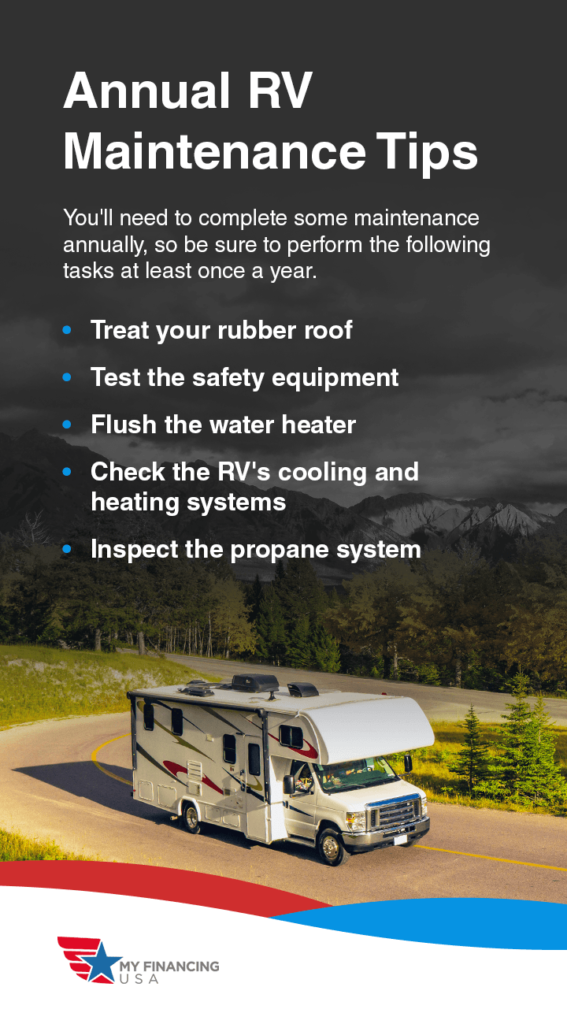 You'll need to complete some maintenance annually, so be sure to perform the following tasks at least once a year.
Treat your rubber roof: If your RV has a rubber roof, have it treated annually to prevent sun damage.
Test the safety equipment: Vacuum the RV's carbon monoxide and smoke detector covers, then wash these covers with a dampened cloth before letting the detectors dry and testing them. If you notice your RV's detectors aren't functioning correctly, make sure you replace them before your next trip.
Flush the water heater: Each year, you should flush the water heater to get rid of any possible debris or hard water buildup.
Check the RV's cooling and heating systems: If you go camping in the summer, few things make a trip as unpleasant as a broken air conditioning system. A professional should maintain and possibly repair your RV's HVAC system annually to ensure your cooling and heating systems are functioning correctly.
Inspect the propane system: Inspect your RV's propane system at least once a year for dings, rust, paint damage and issues with connection integrity. To remain efficient and safe, an RV's propane system should be working properly. You can also hire a professional to inspect and test the system to determine whether there are any leaks.
Best Full-Time RV Maintenance Tips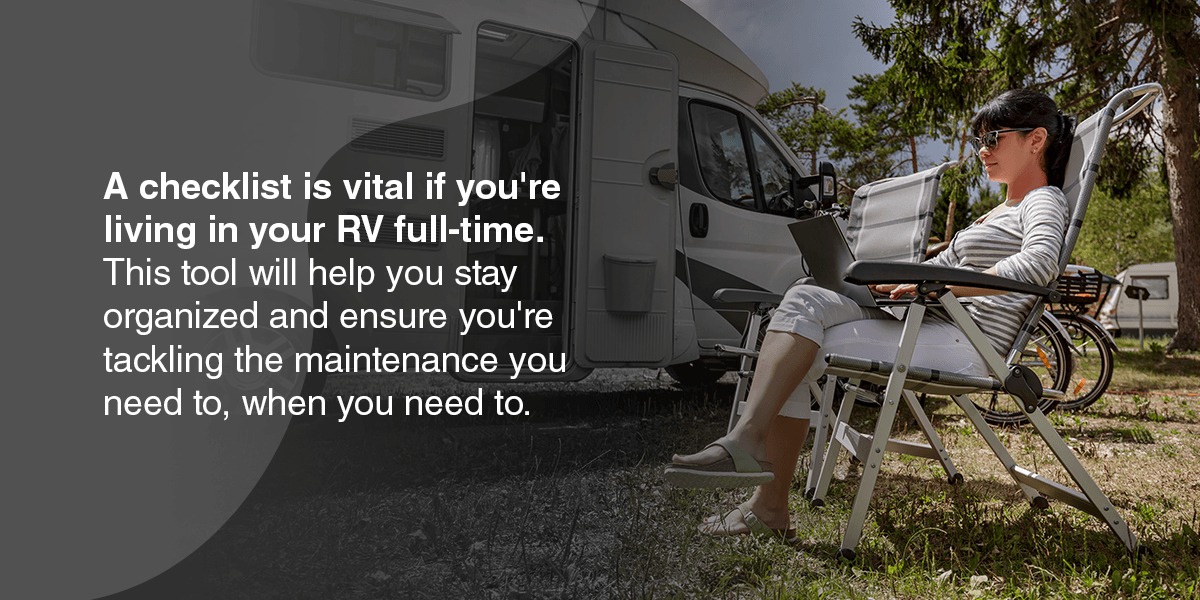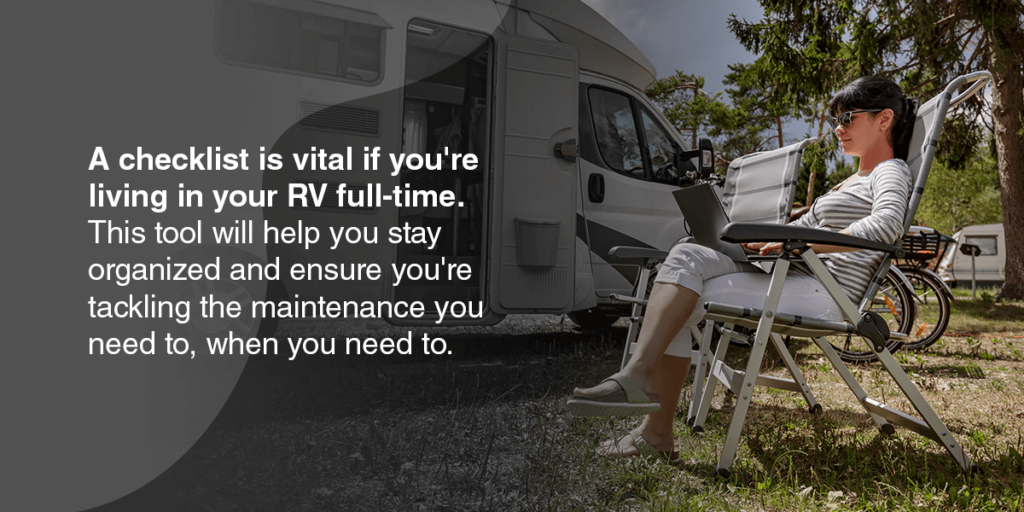 Living in your RV full-time can be much more affordable than a mortgage and offer you the flexibility of traveling wherever you want, whenever you want. If you plan to live in your RV, you should know how to maintain it.
How hard is it to maintain an RV you are living in year-round? Fortunately, once you become accustomed to living in your RV and regularly tackling upkeep tasks, it will start seeming easier.
Create a checklist: A checklist is vital if you're living in your RV full-time. This tool will help you stay organized and ensure you're tackling the maintenance you need to, when you need to. Make a note of when you check specific features or complete repairs.
Clean your roof regularly: If you live in your RV full-time, keep your roof clean. If you don't feel comfortable doing so, ask a fellow RV owner to help or hire a professional. Regularly cleaning your roof will also reduce the black streaks that can appear on an RV.
Expect the unexpected: When you're permanently living in an RV, some issues are bound to arise. You could run into severe weather or discover a flat tire, so you may want to prepare for these possibilities. To do so, save an RV repair fund, always carry a spare tire and create an emergency plan.
How Much Does It Cost to Maintain an RV or Motor Home?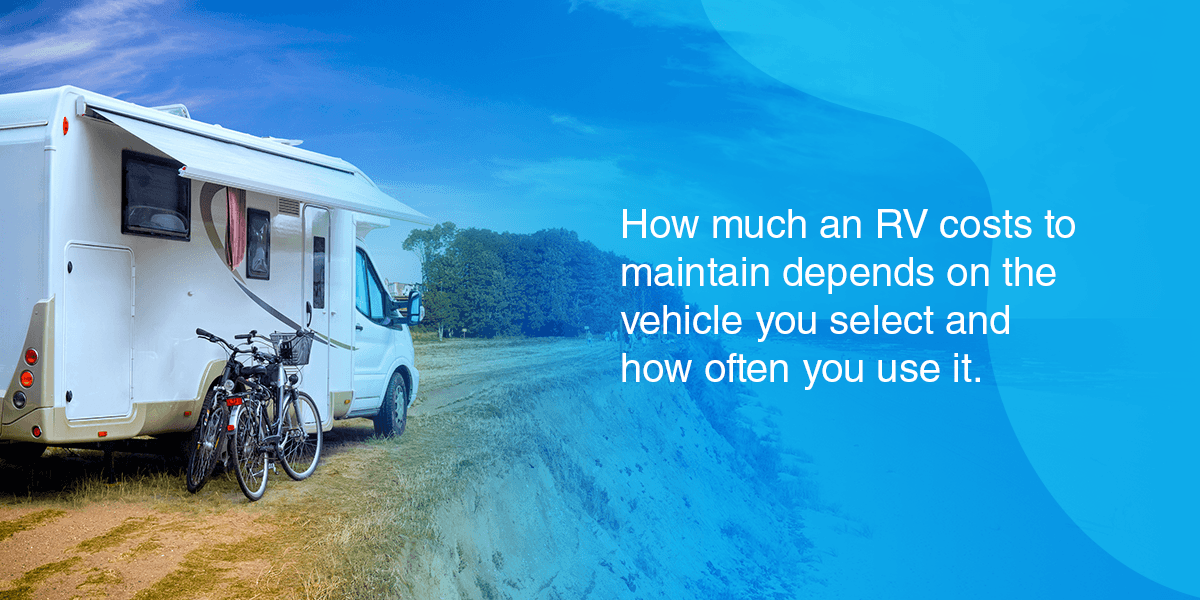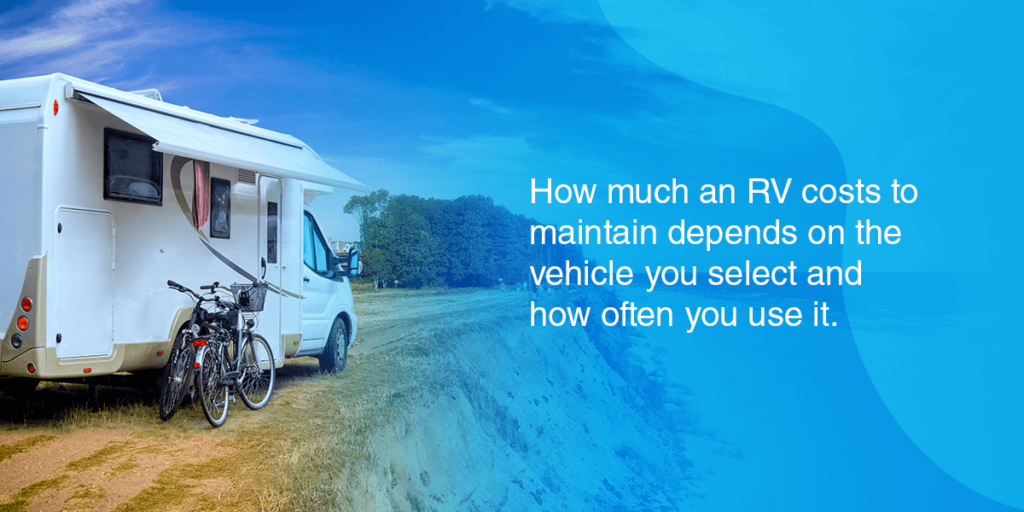 How much an RV costs to maintain depends on the vehicle you select and how often you use it. For example, the cost of maintaining a diesel motor home may differ from the cost to maintain a Class A motor home.
While your maintenance costs will depend on the amount of wear and tear on your RV, if you live in your rig, you can expect to spend a few hundred or even a few thousand dollars. Even if you aren't living in your RV full-time, you may need to pay to store your rig. If you want to cover your trailer, you may need to spend a few hundred dollars. All of these factors can affect your annual cost to maintain an RV.
You will also need to factor in other costs of RV ownership and travel, such as refilling your propane tank, servicing your brakes and tires and maintaining your RV insurance.
Contact Us About Our Service Contracts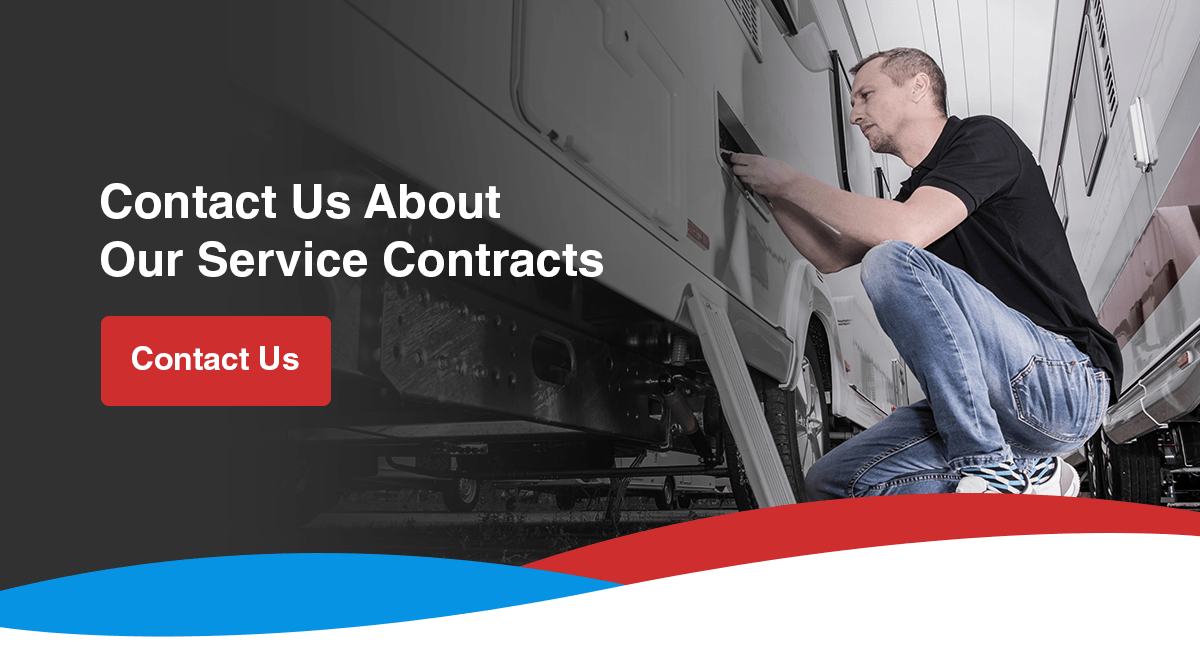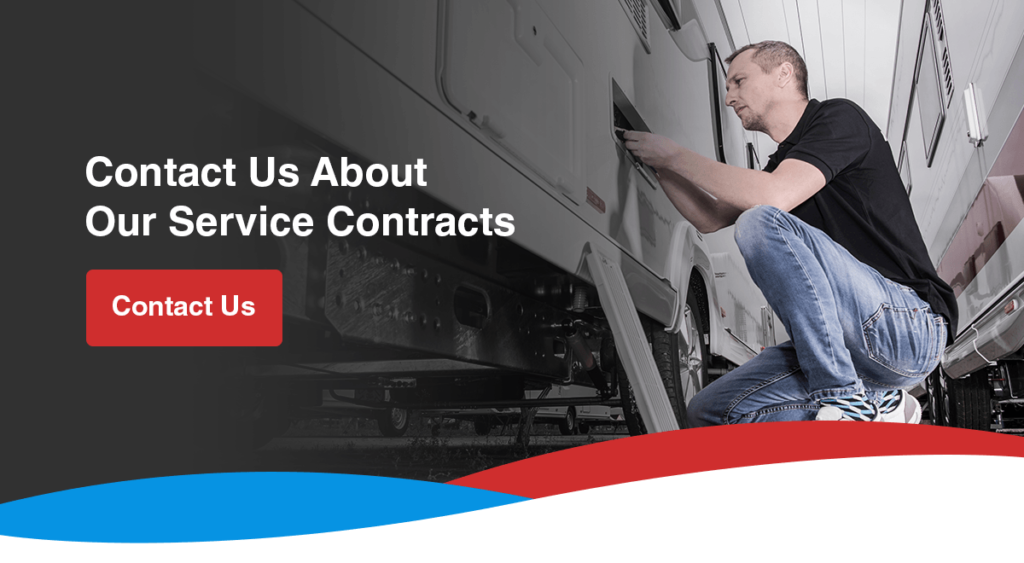 At My Financing USA, we offer vehicle service contracts and tire and wheel protection that can shield you against costs related to breakdowns and road hazards. We know RVing is a way of life, which is why we'll also aim to find the best RV loan program for you. If we can't get your RV loan application approved by a lender on the first attempt, you can receive a free credit consultation call and participate in a credit repair program to improve your odds of securing financing. 
Apply for an RV loan today or contact us at My Financing USA to learn more about our vehicle service contracts and tips for RV restoration and maintenance.
---
Additional Resources on Motorhomes:
---