Quick Navigation
Ah, the great American road trip. It's packed with good times, great views and games to pass the time. But things have changed in the last few years, leaving many of us wondering what road trips look like today. Spoiler alert: They're more popular than ever. As other methods of travel became riskier, people rediscovered the joys of a trip in the car or RV.
We've compiled some fascinating stats about road trips to help you better understand how these travels look. Learn more about road trips, from what people munch on while on the road to where they're headed.
1. Almost a Third of Americans Want to Go to the Northwest
Let's start with some road trip stats we've collected ourselves. My Financing USA conducted a survey on traveler sentiments in 2022. One of the questions we asked was where people would like to travel on a road trip. Here's where Americans said they wanted to go:
Northwest: 31.62%
Southwest: 27.59%
Southeast: 22.73%
Northeast: 18.06%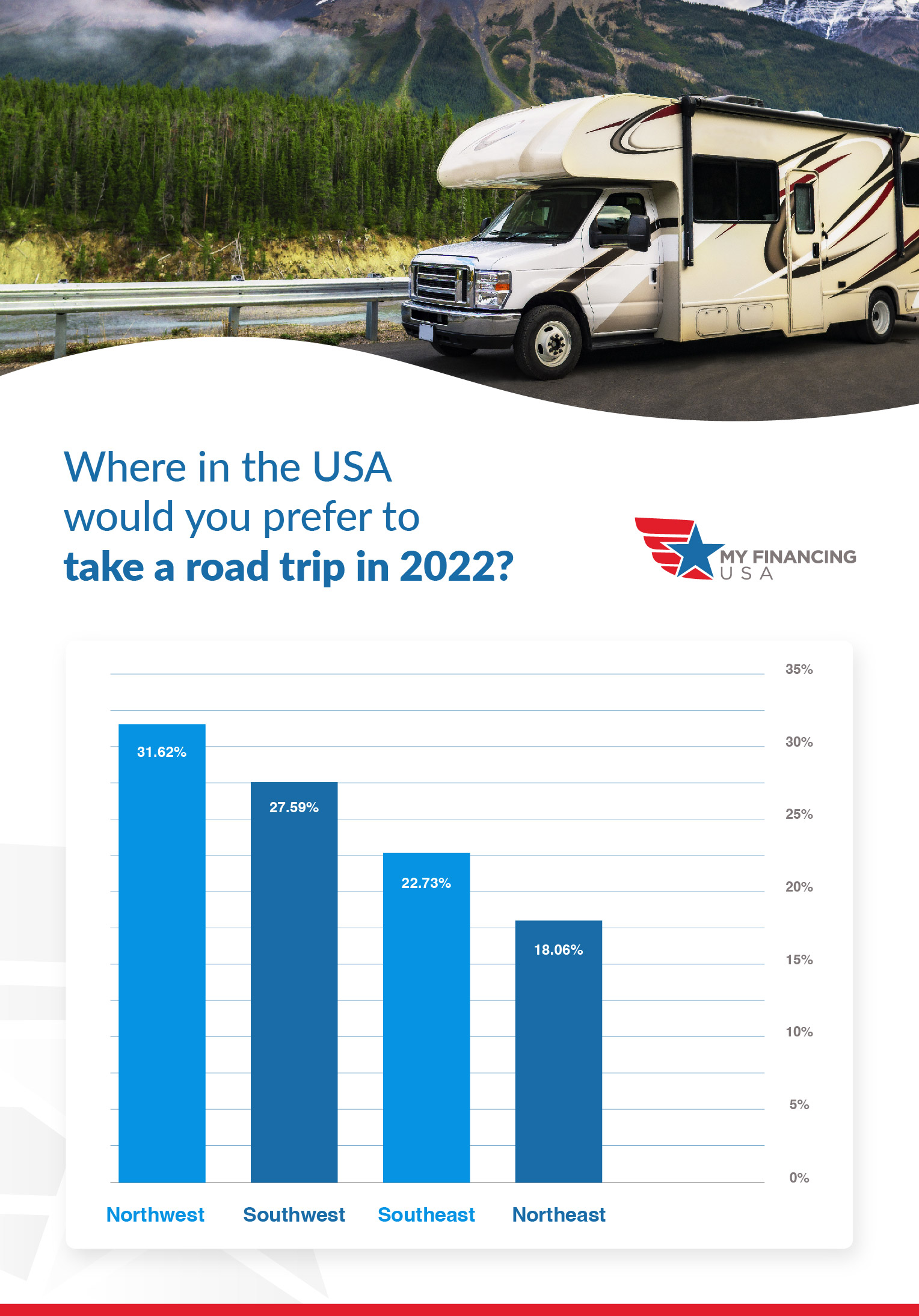 So what brings them to these places? In the Northwest, you can see just about everything, from snow-covered mountains to beautiful coastlines and peaceful wineries. Drivers can choose one of several scenic highways to travel through, including the Willamette Scenic Highway and the Pacific Coast Scenic Byway. Plus, the time of year you visit can make it feel like a totally new experience — skiing in the winter, colorful forests in the fall and wildflower fields in the summer.
In the Southwest, you'll find the beautiful canyons of Arizona and Utah and the stunning mountains and forests of Colorado. Travelers can hit up historic cities in the Southeast, like Savannah and Charleston, or head to jazzy New Orleans or Florida for some fun in the sun. Lastly, New England is jam-packed with history and big cities with a side of gorgeous scenery. 
Wherever they're going, U.S. travelers can visit stunning destinations from coast to coast.
2. Plans to Travel Have Gone Above and Beyond Pre-Pandemic Levels

Travel got pushed to the side for a while, but it's back with a vengeance. MMGY Global, a travel intelligence group, found a huge rebound through its Traveler Sentiment Index (TSI), which indicates optimism for the summer travel season. Over 80% of American adults said they planned on taking at least one trip in the next year. The TSI rose just slightly above pre-pandemic levels, but with a shift toward driving over flying. There are a few potential reasons for this:
Safety: Driving allows people to avoid the big crowds and tight spaces of air travel.
The great outdoors: A road trip offers more opportunities for getting in tune with nature.
Sustainability: More travelers are concerned about the environmental impact of their travels and becoming aware of the problems with air travel, like high carbon emissions.
Whatever the reason for driving, it's become the preferred method for most Americans.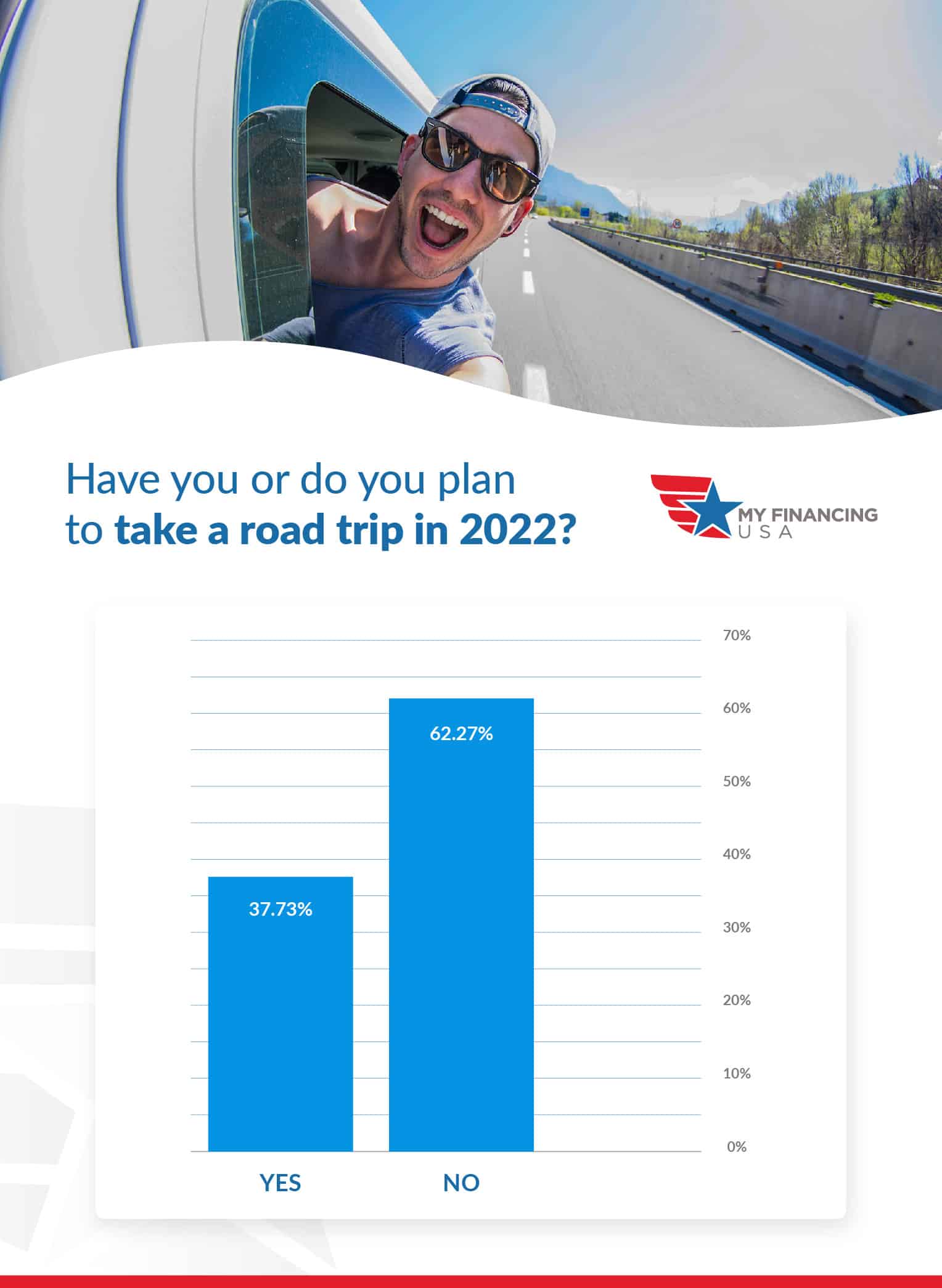 3. The Most Important Road Trip Essential? Snacks
You've got to keep more than just your car fueled up. The average American eats at least four times during a five- to six-hour road trip. The road trip snack of choice for over half of respondents was pretzels or chips. Candy and chocolate weren't far behind. As much as we love junk food, other, more filling options might include protein bars, string cheese and jerky.
4. People Love Their Family Road Trips
Family road trips might conjure up thoughts of, "Are we there yet?" and "Stop touching me," coming from the backseat, but parents usually find family trips well worth it. Almost four in five parents said they'd been on a family road trip in the last five years — and most of them had a blast, despite a little travel stress and fighting. Road trips are a great way to bond with the whole family and expose kids to more people and parts of the world.
Kids or no kids, 71% of people said that a road trip wouldn't be complete without their spouse or significant other. Nearly half of people said they were traveling to visit family.
5. One in Five People Like to Be in Nature on Their Road Trips
According to 23.33% of respondents in our survey, people's favorite thing to do on a road trip is to be in nature. Between seeing the sights and exploring your own backyard, road trips are a great way to get in touch with Mother Nature.
Here's how other activities stacked up:
Seeing famous landmarks: 20.85%
Trying local restaurants: 18.62%
Exploring local towns: 16.95%
Shopping: 10.81%
Playing road trip games while they drive: 5.34%
Chatting with locals: 4.1%
Another study tells us that almost half of people will happily bypass major highways and opt for local or country roads instead, while over three in 10 prefer longer routes to enjoy the scenery.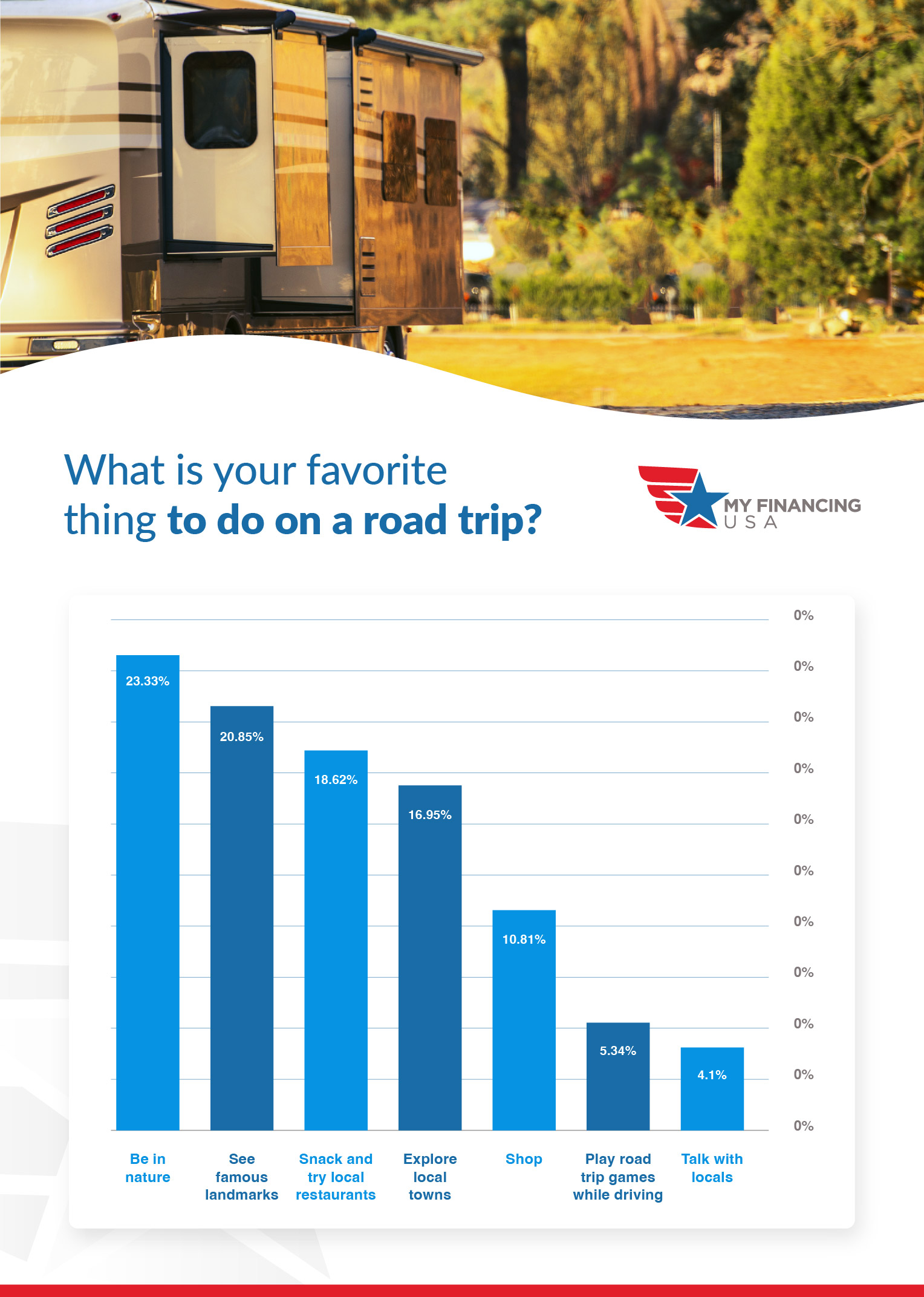 6. Most Americans are Happy to Drive Long Distances
You might think that people would prefer shorter drives, but the overwhelming majority — 78% — don't mind traveling more than 500 miles! When asked to choose how long they'd drive for a road trip, more than a quarter would travel over 1,000 miles. The sweet spot seems to be 500 to 750 miles, with 29% of respondents choosing that length. When you're having a great time on a road trip, it seems there's no limit to how far Americans will go.
7. A Quarter of Americans Still Play I Spy and the License Plate Game
What do people do while they're on those long drives? Play games, of course! I Spy and the License Plate Game are two quintessential classics that 25% of people say they still play while driving. In I Spy, players give each other clues to find whatever they're looking at, and in the License Plate Game, players get points when they spot license plates from other states. Both are great ways to pass the time.
And when traffic hits, nearly 70% of people use music to cope with it. Others listen to the news, talk on the phone, listen to audiobooks or podcasts and do other things to distract themselves from bumper-to-bumper frustration in the cities.
8. The Vast Majority of People Feel Safer Driving
More than two-thirds of Americans said they did not feel safe on a plane in a 2021 survey, but a whopping 99% said they would feel safe traveling in an RV. While air travel involves ever-changing travel restrictions and close quarters on planes, hitting the road keeps people away from the crowds and lets them go where they please. Travelers can load up on hand sanitizer and stick to secluded locations or head to cities depending on their region and comfort level.
Another bonus that many people find with RV travel is that they can avoid hotels, staying safe and saving on costs.
9. Over 70% of People Would Take Their Pets on an RV Trip

For many of us, time away from furry friends can be tough. Fortunately, road trips make it easy to bring them along. Dogs, cats or birds — while pets are difficult to bring on a plane and many hotels don't allow them, you make the rules in your car or RV. In one survey, 71% of respondents said they'd take their pets RVing with them, and we imagine the numbers are pretty high for car rides, too.
10. Nearly 9 in 10 Americans Consider Travel a Central Part of Their Lives
In one survey, 88% of Americans said that travel was "extremely" or "very" important in their lives. Travel offers an opportunity to learn more about the world around us, visit old friends and family and simply see the sights. It also helps us get away from the minutia of everyday life. Plus, the last few years have shifted the priorities of many Americans. They've realized how important it is to spend time with loved ones and in nature, making vacations an essential part of getting away from it all.
11. Road Trips Help Local Communities
Air and ocean travel often center around big cities and thoroughfares, but road trips can involve driving through smaller, local communities that can really benefit from the passersby. In a survey on RV travel, half of Americans said they stay two to three nights on average, spending money in local communities. They spend less than $75 a night, which is less than a hotel stay but enough to make a difference for small businesses. 
During the pandemic, small businesses in accommodations and food service were some of the hardest-hit organizations. This boost in road travel can help them weather the storm and stay on track. Road trips are an excellent choice for travelers looking to do some good in local communities while on their adventures.
12. A Third of People Are Taking Advantage of Remote Work to Travel More
When you can work anywhere, why not take it to a beach, mountain or countryside? With the rise in remote work, more people have started to take advantage of the situation. About a third of respondents in one survey said they planned to travel more with the option of remote work. It certainly sounds appealing, expanding the opportunity to travel without taking any time off work.
13. Summer Travel is on the Rise
As of spring 2022, six in 10 Americans had summer travel on the brain, with 35% expecting to travel more this summer than the last. Relaxing safety guidelines are sending more people traveling as they feel a little more confident in the health landscape.
14. National Parks Are the Top Destination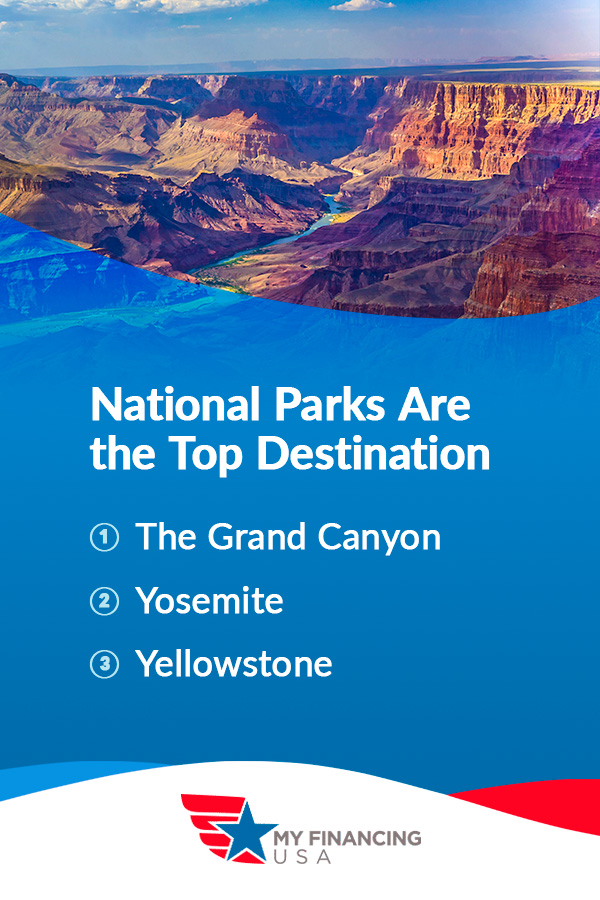 People want to see a wide variety of places — including national parks, mountains, beaches and big cities, in that order. Whether someone is looking for relaxation, adventure, exploration or something else, they're in good company.
But not all national parks are created equal. The top picks were:
The Grand Canyon: From sightseeing and mule trips to whitewater rafting and bicycling tours, the Grand Canyon is a legendary sight on many bucket lists, with 44% of survey respondents choosing it as a sought-after destination. While you're there, you can also find spaces for camping, buying souvenirs and taking scenic drives.
Yosemite: Yosemite boasts some of the most stunning natural features on the planet, all in one place, like massive waterfalls, unique rock formations and giant sequoia trees, as well as meadows, forests and lakes. Yosemite is an excellent pick for outdoor adventurers and sightseers alike — 32% of respondents said it was a top choice.
Yellowstone: Yellowstone tied with Yosemite at 32%, offering an incredibly unique landscape full of hot springs, geysers, waterfalls and mud volcanoes. You might even spot some wildlife while there, but be sure to keep your distance. You can hike, fish, bike, ride horses and do plenty of other activities in Yellowstone.
15. The Top States to Travel to Span Coast to Coast and Beyond
A 2021 survey pinned these states as the ones most travelers said they were interested in visiting:
Hawaii: 64%
Florida: 62%
California: 53%
Colorado: 50%
Alaska: 49%
New York: 49%
Clearly, Americans want to see it all, covering beaches, big cities, frozen tundras and mountains. And depending on where you're leaving from, you can drive to all but one of those destinations, making road trips an option for most families looking to travel to these top spots.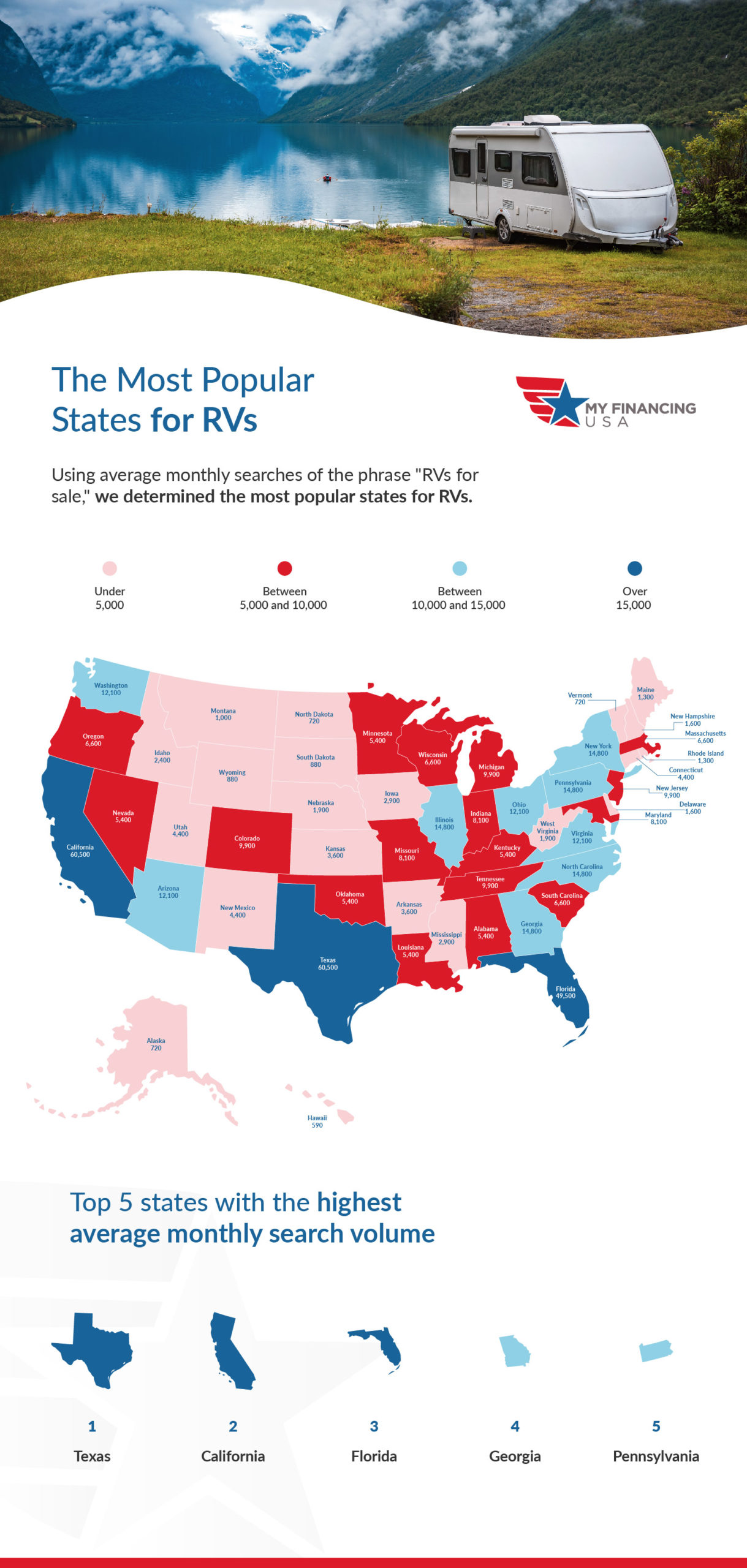 16. The Average Road Trip Takes Two to Four Weeks to Plan
From finding accommodations to deciding what things you want to see and do, planning a road trip can seem daunting. That's why most Americans take two to four weeks to plan one. Thankfully, this step can help you create a more enjoyable trip overall. With all the apps and travel websites available, you can plan a safe and fun trip from your home.
17. Almost 40% of Americans Plan on Taking a Road Trip This Year
Our research shows us that almost four in 10 Americans are planning to take a road trip this year — and it's easy to see why! They offer safety, savings, convenience, bonding time and much more. Road trips have become a great way for people to get away from the stress of the pandemic and everyday life. 
The Rise of the Road Trip

With so many disruptions in the past few years, it makes perfect sense that road trips have become as popular as they are. People traveling in the United States can take advantage of a huge landscape of different environments. Whether you're more interested in the snowy mountains of Colorado or the sandy beaches of Florida, you can access many different settings by car, helping local communities and the planet as you go.
If you'll be one of those travelers this year, My Financing USA can help you get RV financing that works for you. Whether you're looking to take short weekend trips or head cross-country, our smooth, trusted approach to financing can make it happen. Take just five minutes to apply and start thinking about where your adventures will take you!
---
Additional Resources on Road Trips:
---