Quick Navigation:
Road trips are a great way to see the United States from a different perspective and make lifelong memories. While each state offers something unique, there's something special about taking a road trip through Mississippi. Whether it's Civil War battlefields or historic blues joints, you may feel you're traveling back in time as you travel down the road.
As you make your way through the magnolia state, be sure to check out the following destinations.
1. Devil's Crossroads
Devil's Crossroads is where Highways 61 and 49 meet and is one of the most well-known crossroads in America. According to legend, blues singer Robert Johnson went to the crossroads to sell his soul to the devil for fame and fortune. This free activity can be great to fit into your road trip itinerary as a way to introduce yourself to the South.
You'll know when you reach this crossroad due to the signpost with three guitars. If you visit the crossroads on a quiet day and stand still, you just might make out the faint whisper of Johnson's slide guitar.
2. Natchez Trace Parkway
While traveling in the car is a great way to see the sights, sometimes you need hands-on experience. With the Natchez Trace Parkway, you can get out of the car and back into nature via a beautiful 444-mile trail.
Native Americans in the region initially used the trail to forage for their communities. Many explorers from Europe and America also utilized the trail in the 18th and 19th centuries. Whether you hike the entire distance across several weeks or walk only for a few minutes, ensure you take in the Civil War history and other historic sites interspersed across this beautiful trail.
3. Yazoo City
You may get more than you bargained for with a stop in Yazoo City. This charming city is author Willie Morris's birth and resting place, and while paying your respects, you may see the Witch of Yazoo. Chain links surround her grave, which rests next to Morris's. She inspired his novel "Good Old Boy: A Delta Boyhood."
Alternatively, go on one of the guided tours to dive deeper into local legends regarding the Witch of Yazoo and the role she may have played in an infamous fire in 1904. Before heading back out on your Mississippi River road trip, make sure to grab two moon pies — one for you and one to leave on Morris's grave.
4. Delta Hot Tamale Trail

Mississippi boasts many delicious food options, with tamales being a common menu item at establishments across the state. If you want it to be tamale time all the time, the Delta Hot Tamale Trail is a must-have experience on your road trip. Tamales are plentiful across the trail as you start in Clarksdale at Abe's Bar-B-Q and make your way north to Tunica or south to Doris' Hot Tamales in D'Iberville.
5. Mississippi Petrified Forest
As you head south toward Jackson, it's worth taking a detour to the petrified forest in the town of Flora. About 36 million years ago, a log jam deposited a collection of logs that have since become stone giants. As a place of beauty and fascination, the Mississippi Petrified Forest contains the sweet scents of wildflowers and honeysuckle, and you can hear the faint call of birdsong as you take a peaceful walk and ponder the passing of time.
6. Mississippi State Capitol
Once you reach Jackson, you'll want to take a quick stop to admire the beautiful Mississippi State Capitol, which has been the center of the state's government since 1903. Take a guided tour to immerse yourself in the history of this building and experience the Beaux Arts-style architecture. During your tour, you'll have an up-close look at the House of Representatives and Senate chambers.
7. Mary Mahoney's Old French House
If you want a break from the RV snacks and dinners, you can't miss a visit to Mary Mahoney's Old French House. The restaurant is situated in one of America's oldest homes — built in 1737 — and serves an array of locally sourced seafood, steak and other enticing menu items. This dining experience is like no other you'll have on your road trip through the state.
8. B.B. King Museum
If you love blues, your next stop needs to be the B.B. King Museum in King's hometown of Indianola. The extensive collection showcases King's legendary career, with exhibits featuring objects from his work and life and many personal papers. There are also state-of-the-art films and multimedia exhibits for an immersive tour experience.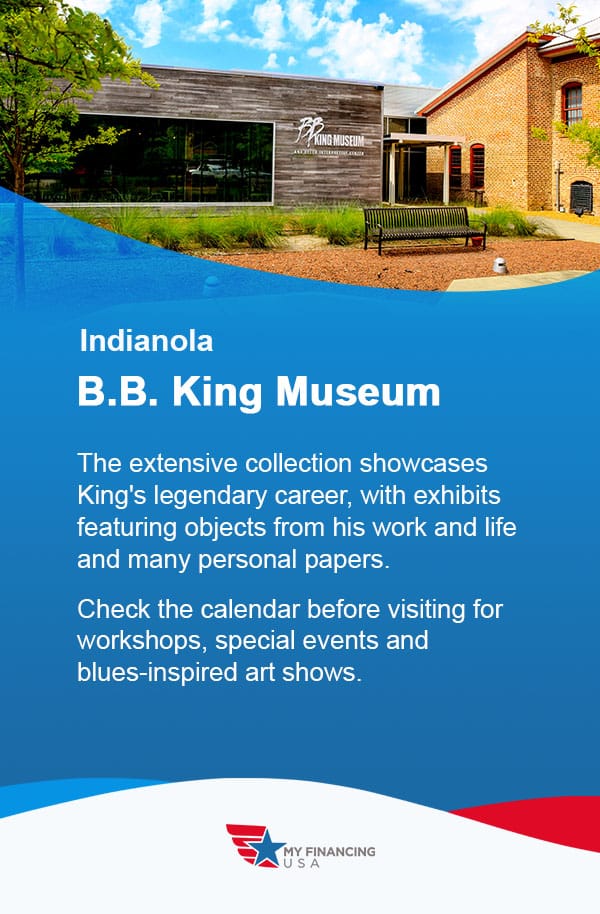 Some of the more unique museum elements include a restored cotton gin where King himself worked and a guitar studio for visitors to strum a few chords. Check the calendar before visiting for workshops, special events and blues-inspired art shows.
9. Ground Zero Blues Club
If you're in Biloxi in the evening, treat yourself by stopping at the Ground Zero Blues Club for live blues and delicious burgers and barbecue. Co-owned by actor Morgan Freeman, this charming blues club is the perfect way to get a taste of the real Mississippi experience.
10. Ohr-O'Keefe Museum of Art
No road trip is complete without some art. The Ohr-O'Keefe Museum of Art is your destination for an incredible art experience.
Named for the permanent pottery collection from George E. Ohr's work, the distinctive architecture of the building is an art piece in and of itself. Even if you don't visit the galleries, it's worth exploring the campus to see the exciting blend of old and new architecture.
11. Tennessee Williams Home and Welcome Center
Going to the source is one of the easiest ways to understand someone. By visiting Tennessee William's childhood home in Columbus, you can put yourself in his shoes — or maybe just his childhood bedroom.
The famous playwright was born in Columbus in 1911 and spent the first three years of his childhood in the home that's now the Tennessee Williams Home and Welcome Center.
Make sure you stop on your tour to admire one of William's favorite possessions, a teacup set made for men so they wouldn't ruin their mustaches while enjoying a cup of tea.
12. Tupelo Buffalo Park and Zoo
The Tupelo Buffalo Park and Zoo is now home to more than 260 animals. With a guided tour, you can get an up-close look at the park's wide assortment of animals, like buffalo, zebras and giraffes. If you're traveling with little ones, you can also take advantage of the petting zoo and reptile exhibit.
13. William Faulkner's Grave
Pay tribute to William Faulkner, one of America's most famous writers, as you drive through Oxford. Faulkner, who based many of his stories on a fictional county in Mississippi called Yoknapatawpha, was a Nobel prize winner and rests in the Oxford Memorial Cemetery.
Regardless of your familiarity with Faulkner's work, it's hard to miss out on the chance to participate in a city tradition of taking a sip of a bottle of bourbon and leaving the rest as a gift on Faulkner's grave marker. While Maker's Mark will work, just know that Faulkner preferred Jack Daniels.
14. Elvis Presley's Birthplace
Learn more about the king of rock and roll on your road trip by stopping at the Elvis Presley Birthplace in Tupelo. This humble wooden cabin is the birthplace of Presley and where he resided until he was 13 years old when he moved to Tennessee.
The Elvis Presley Birthplace site features attractions such as a museum and the church where the singer and his family attended service. Visitors can also tour Elvis Presley Park and explore the trails the icon himself may have walked during his 13 years there.
15. French Camp Bed and Breakfast
French Camp Bed and Breakfast is part of the French Camp Historic Village and offers all travelers a cozy and quaint place to stay. The inn is part of the French Camp Historic Villiage, which is a stop on the Natchez Trace Parkway. The inn includes three separate cabins, offering country comfort and a bountiful breakfast.
16. Walker's Drive-In
In the Fondren Arts District in Jackson, Walker's Drive-In showcases classic southern meals with unique tastes. Walker's Drive-In is in an old-school diner that offers a step into the past as you enjoy modern takes on traditional meals.
17. Vicksburg National Military Park
Vicksburg National Military Park commemorates a pivotal campaign in the Civil War and is arguably one of Mississippi's most illustrious historical attractions. This military park features numerous attractions that showcase the city's importance in American history. With over 1,400 monuments, markers and tablets, there's plenty to experience.
The park features over 20 miles of earthwork and trenches to reflect the battle experience. Additionally, visitors can explore the USS Cairo Gunboat and Museum, which allows visitors to tour the restored vessel and view Civil War-era artifacts.
18. Windsor Ruins
Dive even deeper into the history of the south at Windsor Ruins. These 29 stone pillars are the only remaining structures of the Windsor plantation, which a fire destroyed in 1890. When standing, the house was one of the largest private homes in the state and hosted many influential individuals, such as Mark Twain and Civil War generals.

The columns have captured the imagination of guests for generations. After more than a century of exposure to the elements, the 45-foot-tall masonry columns have begun to erode and fracture, further contributing to their beautiful and haunted feel.
19. The Corners Mansion Inn
If you're looking for a comfortable and charming place to rest before continuing your drive, The Corners Mansion Inn in Vicksburg is a great choice.
In 1873, John Alexander Klein built The Corners as a wedding gift for his daughter. The Corners Mansion Inn features several rooms spread across multiple buildings. Guests can access private porches to relax after a long day of driving and watch the sunset over the Mississippi River.
20. De Soto National Forest
Spend time outside the car as you explore De Soto National Forest. The gently rolling terrain features southern pine ridges and quietly babbling streams. Travelers can access the park year-round, and there are numerous recreational activities for hiking, biking, canoeing and fishing. With over 60 miles of trails, the forest offers plenty to explore as you reconnect with nature.
If you need a place to rest on your road trip, you can camp at De Soto National Forest's two campsite options. The forest is also home to the Black Creek River, featuring white sandbars and a gentle pace, which make it perfect for floating or cooling off before resuming your journey.
21. Tishomingo State Park
If you've visited some of the nation's state parks in the past, you know they can be just as exciting as national parks. As you traverse Mississippi, one of the stops you need to take is Tishomingo State Park.
Visitors to Tishomingo State Park will discover the same timeless natural beauty that fascinated Native Americans centuries before. With massive rock formations and fern-filled crevices, there's plenty to discover and enjoy as you make your way through the area.
There are plenty of activities to enjoy at Tishomingo State Park if you're traveling with family. Spend time with your loved ones playing a volleyball game, having fun on the playground or swimming in the pool. Tishomingo State Park also offers Bear Creek River access, which is perfect for fishing.
22. Delta Blues Museum
The Delta Blues Museum encourages a more profound interest in blues through preservation and interpretation. The museum was opened in 1979 by the Carnegie Library Board of Trustees and became a standalone museum in 1999. It's the oldest music museum in Mississippi.
Located in Clarksdale, the museum is located in an old train department. The exhibits feature photos, artifacts and instruments to cover a wide range of blues artists from Mississippi and beyond. Since its creation, the Delta Blues Museum has helped create a welcoming presence for visitors to find meaning and perspective as they explore the history and heritage of the blues art form.
23. Longwood
Located in Natchez, Longwood is a historic octagonal-shaped mansion. Longwood, also known as Nutt's Folly, began construction in 1860 by Philadelphian architect Samuel Sloan. Construction halted in 1861 due to rising tensions over the Civil War.
As tensions increased, the craftsmen, who were from the Northeast, dropped their tools and went home. While the home's exterior was mostly complete, the interior was incomplete except for the lower level.
The property's original owner, Dr. Haller Nutt, died in 1864, and his wife and children continued to live on the finished first floor. The workers never completed the upper five stories, and visitors can tour the house and see where the craftsmen's tools still lay.
Plan Your Mississippi Road Trip Adventure Today

While having a destination is undoubtedly and essential aspect of any road trip, choosing the vehicle you'll use to get yourself and your family from one attraction to the next also requires some thought. Investing in an RV is a great way to travel on a budget and help your family feel at home as you travel across Mississippi and the country as a whole.
At My Financing USA, we offer numerous RV loan options so travelers with various credit levels can find the financing they need and get on the road. Apply for a loan today with My Financing USA to start your adventures!
---
Additional Resources on Road Trips:
---