Quick Navigation
Are you itching for summertime adventure? Luckily, if you live in the United States, you don't have to travel abroad to find adventure or see awe-inspiring sights. Of course, summer road trip ideas can vary widely depending on your location or the region you'll be traveling to. Whether you are planning on staying in your home state or you want to do some traveling, you can have thrilling adventures in any corner of the U.S.
We offer a list of late, mid and early summer road trip ideas for the East Coast, Midwest and West Coast, along with fun activities for kids, friends and couples.
East Coast and Northeast Summer Road Trip Ideas
Are you based in the Northeast? Want to travel along the East Coast? We've compiled a list of summer road trip ideas for destinations on the East Coast.
Summer Road Trip Ideas From NYC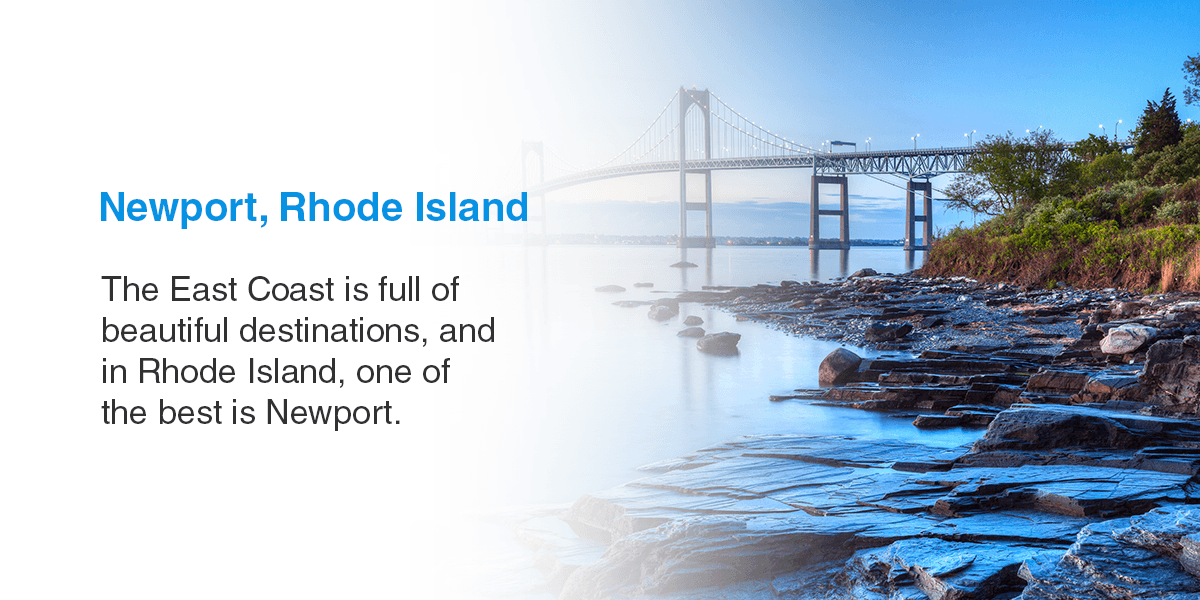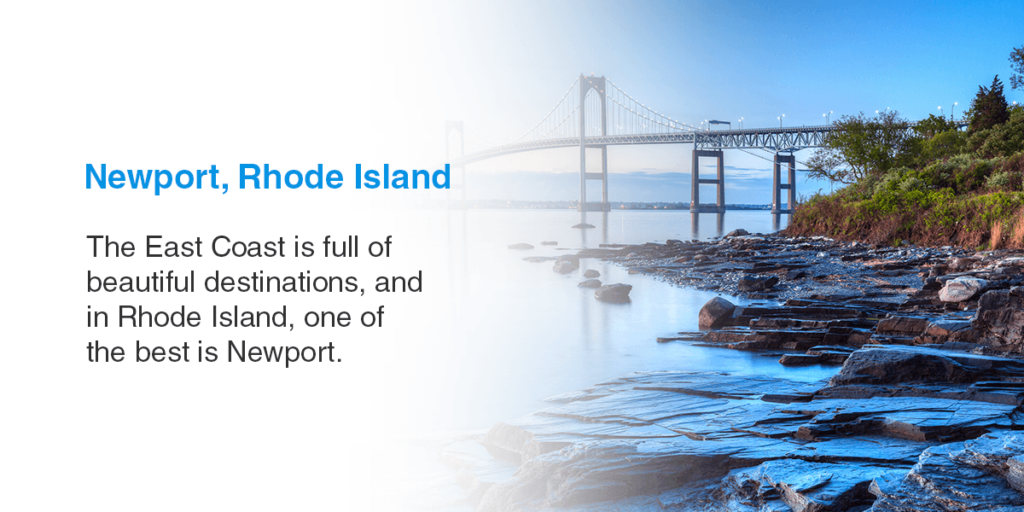 If you're based in the city, you may want to explore other parts of the East Coast. Whether that's another city or a small town, this region has plenty of fun and scenic places to visit.
Florida Keys: Florida is a popular vacation destination, and the Florida Keys are tropical islands off the state's southern coast. These islands are nestled between the Gulf of Mexico and the Atlantic Ocean and are the ideal spot for swimming, snorkeling, boating, sunbathing, fishing and scuba diving. Even after the sun goes down, the Florida Keys offer thrilling nightlife by the water and fun clubs to visit.
Newport, Rhode Island: The East Coast is full of beautiful destinations, and in Rhode Island, one of the best is Newport – a picturesque, seaside town filled with so much charm, you'll want to return every summer. If you're based in New York, the trip from New York to Newport is beautiful, and you'll drive through the state of Connecticut, one of the most scenic in the nation.
Upstate New York: If you want to visit New York, you should know there's much more to the state than the city. In upstate New York, you can discover beautiful hidden gems. Start with Hudson, one of the state's most popular towns, and ask locals for recommendations on where to travel next as you explore the state.
Jersey Shore: To enjoy miles of oceanfront beaches, resort areas and boardwalks, travel along the Jersey Shore. Here, you can surf, lay under the sun and stop at every top spot, including Ocean City with its legendary boardwalk, Wilwood with its famous amusement park and Atlantic City with its casinos.
Summer Road Trip Ideas in Maine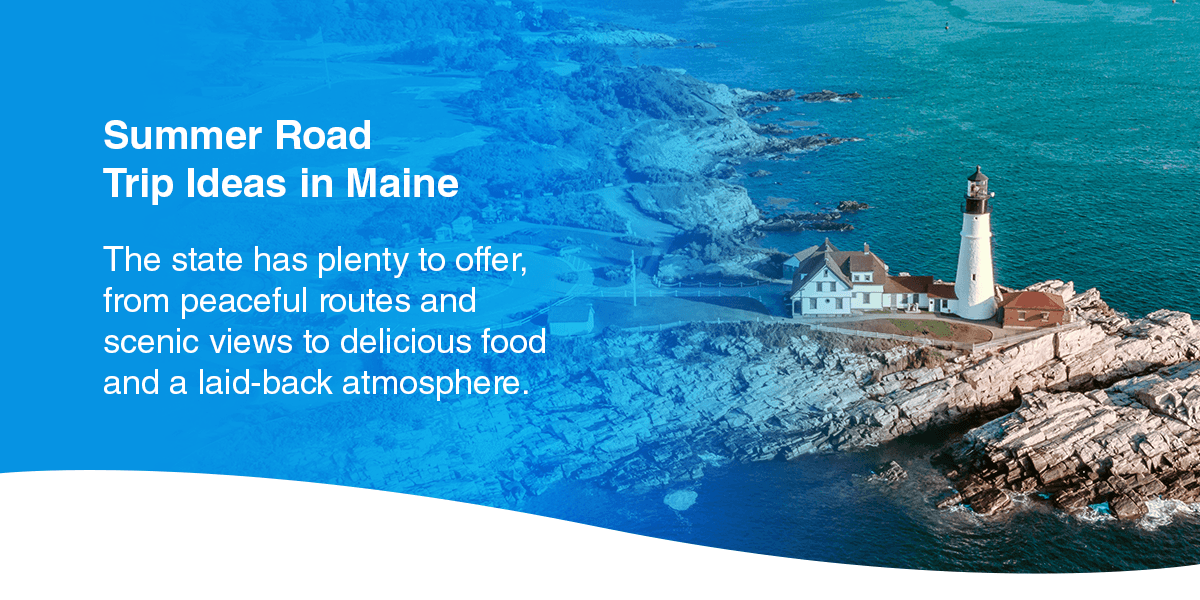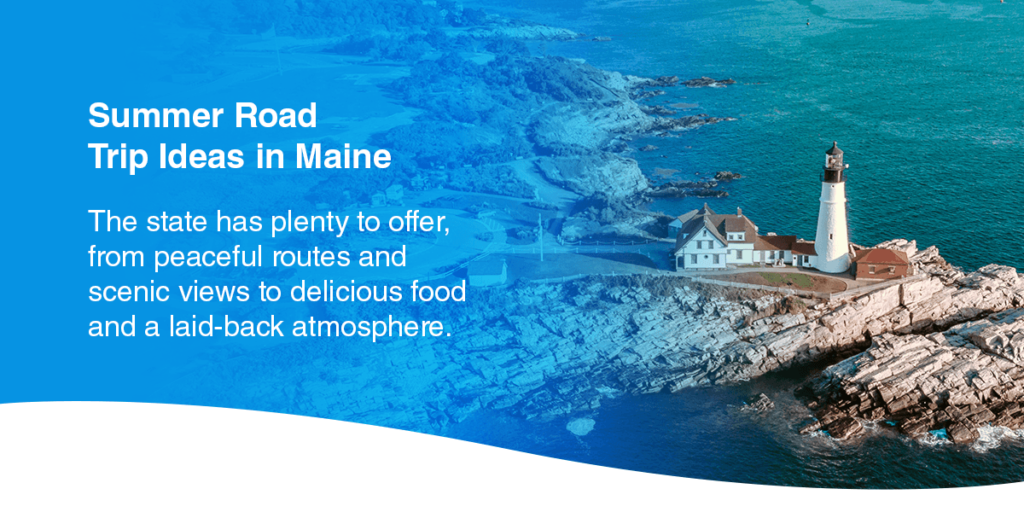 If you want to explore the Northeast in the summer, Maine is a must. The state has plenty to offer, from peaceful routes and scenic views to delicious food and a laid-back atmosphere.
Maine Lobster Trail: Love seafood? Don't pass up a visit to Maine – drive the lobster trail. Throughout the state, you can find numerous restaurants that offer seafood, specifically lobster. Along with the restaurants, you can enjoy the small villages and meet friendly locals. For a weekend adventure on the East Coast, be sure to hit the lobster trail in Maine.
Portland, Maine: While in Maine for the lobster trail, consider visiting Portland, the old fishing village. Home to Old Port, this waterfront area includes restaurants and working fishing wharves. You can also find the West End, which is an idyllic area where you can visit the Victoria Mansion Museum and the Portland Museum of Art.
White Mountain National Forest: This beautiful forest is located in both western Maine and eastern New Hampshire, where you can explore the alpine peaks and the hardwood forest. On your road trip, spend time enjoying local wildlife, hiking deep trails and visiting the historic sites, such as the Russell-Colbath House. If you would prefer to drive, you can take the Kancamagus Scenic Byway, which still allows you to view the scenery.
Park Loop in Acadia National Park: In Maine, the Park Loop in Acadia National Park is a widely visited destination. If you want to visit one of the most scenic parks in the U.S., start planning your trip to Maine. The Park Loop is a 27-mile road on which you can admire all the highlights the park has to offer.
Midwest Summer Road Trip Ideas
Whether you live in the Midwest or you want to travel to the Midwest this summer, there are plenty of places to visit and activities to fill your summer days.
Summer Road Trip Ideas on Route 66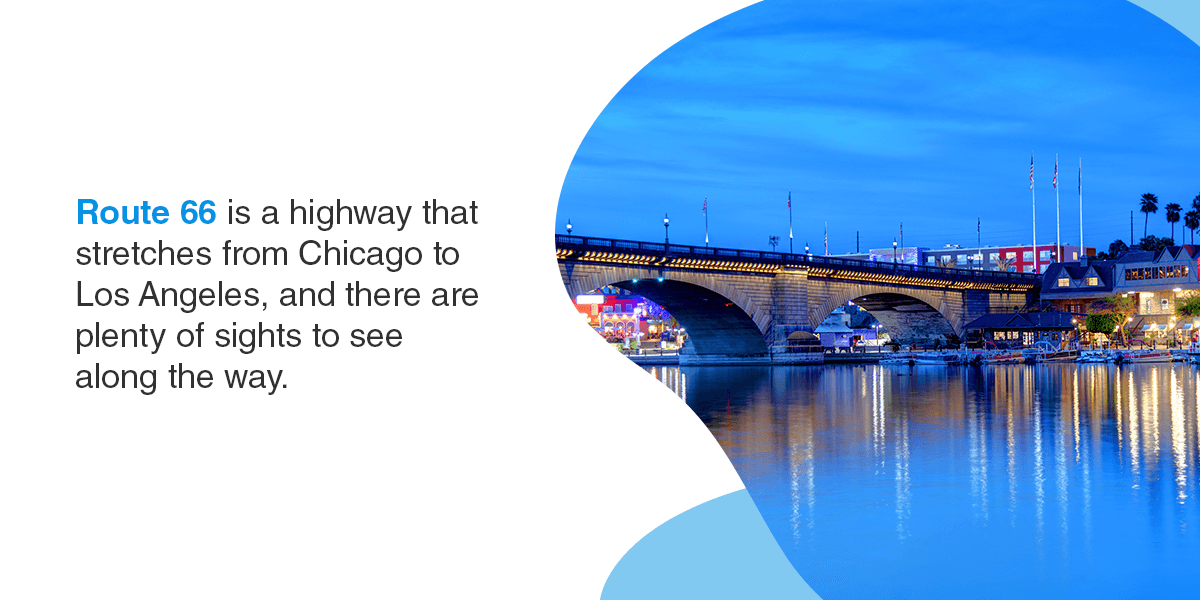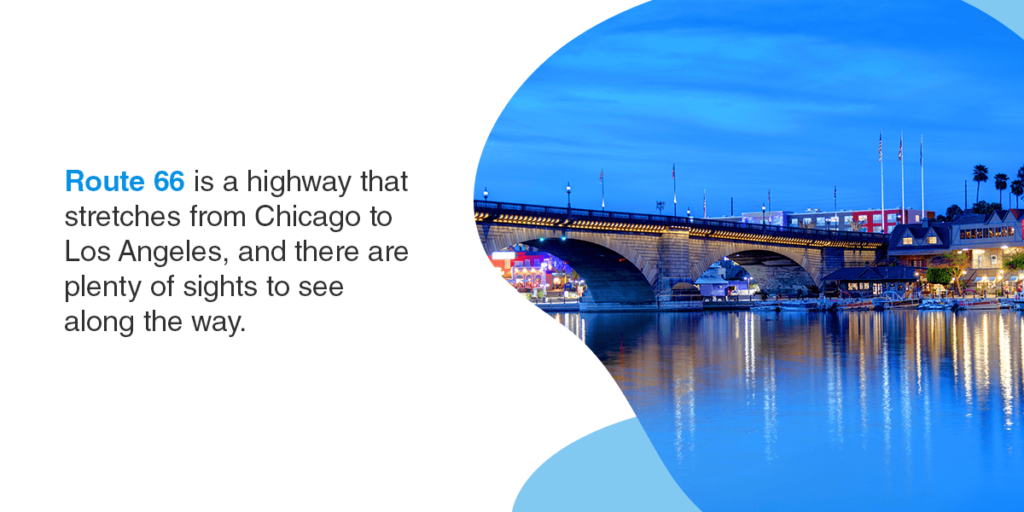 To take a journey through American history, schedule a trip to drive down Route 66. You'll see breathtaking natural formations, abandoned gas stations, old-fashioned motels and diners, quirky museums, flickering neon signs and some of the most famous landmarks in the nation. Route 66 is a highway that stretches from Chicago to Los Angeles, and there are plenty of sights to see along the way.
Sky City: In New Mexico, one of the most important cultural destinations in the state is Sky City. Located on top of a sandstone mesa, this area is one of the nation's oldest continuously inhabited settlements. View exhibits, explore the museum, take a guided tour and see the vast views. To reach the mesa, you'll have to take a tour bus.
Seligman: The small, quiet town of Seligman claims to be Route 66's birthplace, making it a must-see along your journey. Time travel to the Old West when you visit Seligman – complete with an old street that appears to belong on a Western movie set and hitching rails for horses. Visit the museum and dine at the Roadkill Cafe.
London Bridge: In Arizona, you can see the London Bridge – the namesake of the famous children's song. The bridge was relocated to Arizona from the River Thames in England. In Lake Havasu City, you can find the reassembled and restored London Bridge above a canal with water that comes from the Colorado River. Take a walking tour here and visit the museum.
Cadillac Ranch: The quintessential stop along Route 66 is Cadillac Ranch. You've probably heard Cadillac Ranch referred to multiple times in pop culture and media, including films and music. Located in Texas, this public art exhibit features a row of colorfully painted Cadillacs standing on their heads. When you reach this must-see near the halfway point of Route 66, stop by for a photo-op.
Wigwam Village: In the Arizona desert, you can visit the Wigwam Village Motel No. 6 and sleep in a concrete teepee. The white and red teepees are incredibly tall and built in a semicircle, and each of the teepees includes a shower, toilet, sink and furniture. While here, you can visit the onsite museum filled with historical and Native American memorabilia.
Cozy Dog Drive-In: Like corn dogs? The Cozy Dog Drive-In claims to have invented the food, which they call a Cozy Dog. You can find plenty of other inexpensive food at this restaurant and a fun atmosphere, too. When you reach Springfield, Illinois, fill your belly and grab memorabilia of your trip down Route 66 at the Cozy Dog Drive-In.
Meramec Caverns: The Meramec Caverns, located in the Ozarks, are home to hidden treasures. In this cavern system, you can find ancient mineral formations that mark the world's biggest cave formations. Drop by for a guided tour of the Meramec Caverns that give Missouri its nickname of "the cave state."
The Grand Canyon: Slightly north of Route 66, you can find the Grand Canyon National Park. Take a small detour to visit this dramatic, 200-mile canyon of the Colorado River. Not only is the Grand Canyon one of the most beautiful natural formations along Route 66, but it's also one of the most beautiful in the nation. If you want a little more adventure beyond sightseeing, schedule a hiking trip, camping excursion or whitewater rafting trip.
The Petrified Forest: You won't find another national park like the Petrified Forest in Arizona. Here, you'll find ancient petroglyphs, fossils and unusual petrified logs. Take a day to backpack through and explore the Painted Desert, where you can also camp for free overnight. Alternatively, you can drive through the park and view the stunning overlooks.
Chain of Rocks Bridge: In St. Louis, Missouri, you can find the Chain of Rocks Bridge, which crosses over the Mississippi River. The bridge is named after the dangerous stretch of rocky rapids, and though you can't drive across it, you can walk or ride a bike.
West Coast Summer Road Trip Ideas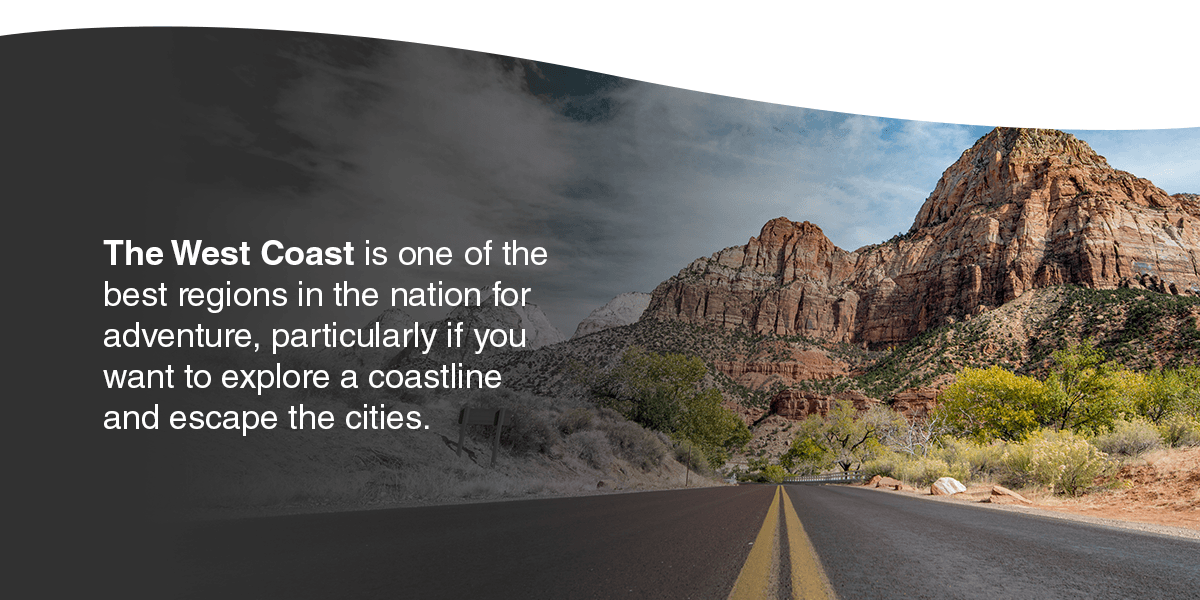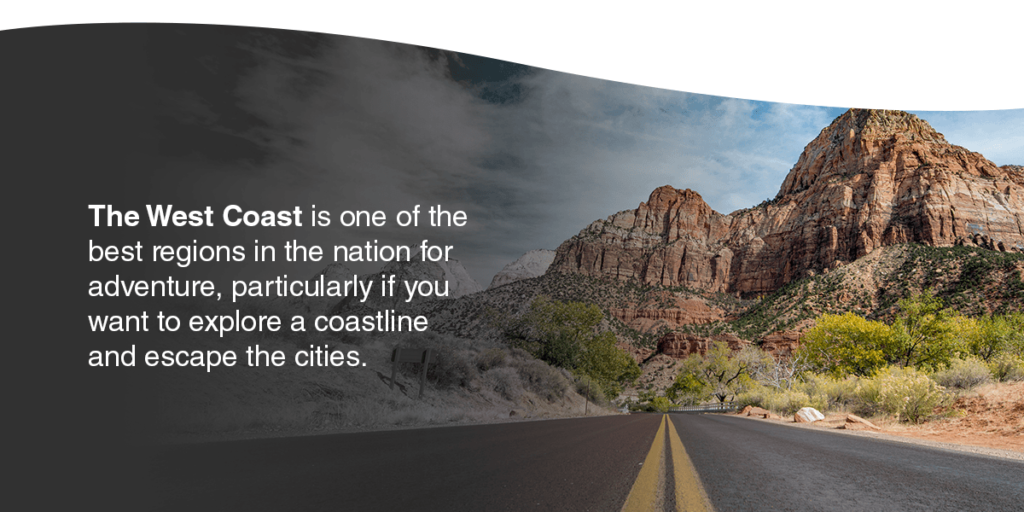 The West Coast is one of the best regions in the nation for adventure, particularly if you want to explore a coastline and escape the cities.
Oregon Coast Highway: One of the most idyllic places to travel is the Oregon Coast Highway. If you want to skip the more populated drives on the West Coast, this road trip flies under the radar and offers a laidback, no-rush attitude. For a soul-filling journey on the road, be sure to include a trip along the Oregon Coast Highway on your summer bucket list.
Zion National Park: You'd be hard-pressed to find a state that offers more road trip opportunities than Utah. But if you have to pick just one journey in this gorgeous state, take a trip through Zion National Park, the first national park in the state. Here, you can follow the paths walked by pioneers and ancient native people. View the massive sandstone cliffs of red, pink and cream that soar up to the brilliant blue sky.
Page, Arizona: Zion National Park borders Arizona, and Page is the nearest Arizona town. There, you'll find the Slot Canyons and Horseshoe Bend, so if you're planning a trip through Arizona as well, Zion National Park can be a great place to kickstart your adventures.
Alaska Highway: Alaska offers some of the most indescribable beauty in the U.S., and you can enjoy the views during a trip on the Alaska Highway. Much of the journey on this route passes through the Yukon Territory. Plus, as a bonus, you'll get to travel through Canada on your way to Alaska. If you're looking for adventure, look no further than a trip down the Alaskan Highway.
California Summer Road Trip Ideas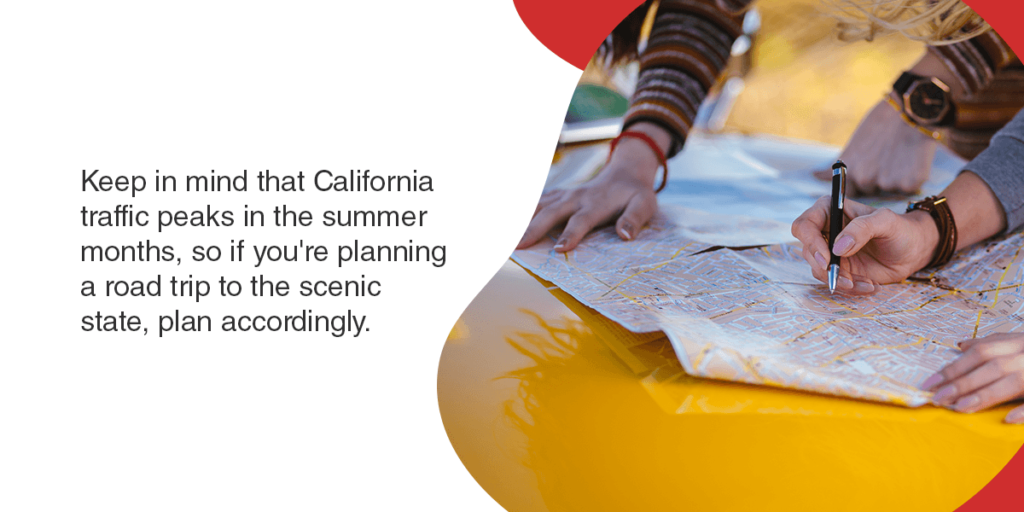 If you're looking to plan a day trip, hit the Pacific Coast Highway. However, you may enjoy the trip more by spending a night near the coast. You can find many hidden gems on the highway between San Francisco and Los Angeles. Carmel-by-the-Sea, sometimes shortened to Carmel, is a great spot to hang out for a couple of days and enjoy the peace of the California coastline.
If you live in Los Angeles or want to visit, be sure to take a trip to Joshua Tree. You can explore the National Park, home to the famous Joshua Trees and a great place for short hikes. You may also want to visit the vintage thrift stores and the book stores in the quirky towns. If you're planning to stay for a weekend or a few days, you can choose between a cabin rental for a large group or a tiny cabin for a romantic getaway.
Keep in mind that California traffic peaks in the summer months, so if you're planning a road trip to the scenic state, plan accordingly.
Fun Summer Road Trip Ideas With Kids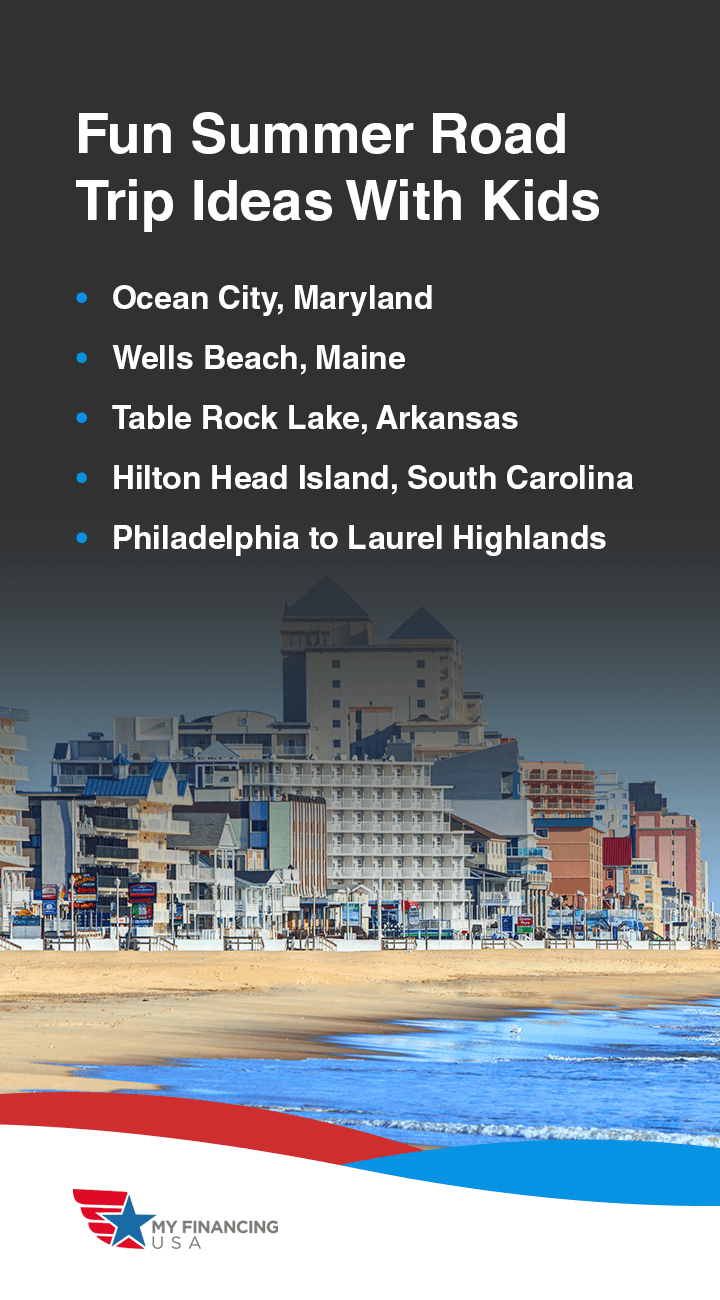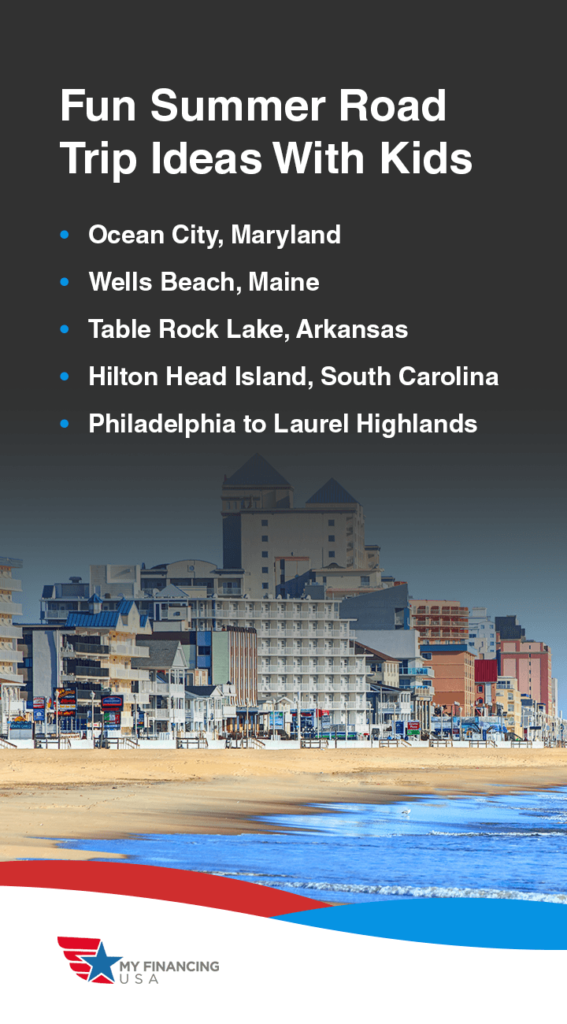 If you have children, you need kid-friendly road trip ideas. Kids may not be too enthralled with spending their summer days in a car to explore scenic spots. You need a destination with plenty of fun activities to keep your kids active and busy during their summer vacation.Luckily, we've compiled some summer vacation road trip ideas for families.
Ocean City, Maryland: On the East Coast, one of the best places to visit with kids during the summer is Ocean City, Maryland. The city offers pristine beaches, iconic boardwalks, delicious restaurants and plenty of seaside amusements. Here, you can enjoy time with your family on the beach this summer.
Wells Beach in Maine: You can find Wells Beach in Maine between Ogunquit and Kennebunkport, where there are picturesque beaches and calm waters. This spot is a great destination if you have kids, allowing everyone to play and swim on these family-friendly beaches. You can relax and enjoy the sun while your kids have fun, and then later enjoy the excellent shopping and dining in the area.
Table Rock Lake in Arkansas: In the Ozarks of Arkansas, you can find an artificial lake known as Table Rock Lake. This lake is known for fun summer activities, including camping, boating, biking, fishing and water skiing. You can also find the Butterfly Palace and Rainforest Adventure, which is a kid-friendly attraction that includes a butterfly aviary, and Marvel Cave, which is a unique formation perfect for exploring.
Hilton Head Island in South Carolina: On this island, you can enjoy beautiful beaches and the Atlantic Ocean, along with exciting attractions and immaculate golf courses. Visit the Pinckney Island National Wildlife Refuge, the Harbor Town Lighthouse and Museum and the Coastal Discovery Museum, where you'll find themed gardens and heritage sites. Your kids will be delighted by the array of wildlife like birds, deer and alligators.
Philadelphia to Laurel Highlands: If you're based in Pennsylvania, you can take a fun road trip with your kids to explore the western part of the state. Hop on I-76 and explore historic sites and farms or go hiking, biking, fishing, horseback riding, golfing and whitewater rafting. There are also plenty of spas, wineries, distilleries and breweries, as well as a casino that can keep the entire family happy and busy. Stay at a variety of places, such as campgrounds, cabins, motels, hotels and luxury resorts.
Adults-Only Summer Road Trip Ideas
If you don't have kids or you're taking a trip with your spouse or friends while the kids stay with the grandparents, we have plenty of destination ideas to keep you busy.
Summer Road Trip Ideas for Friends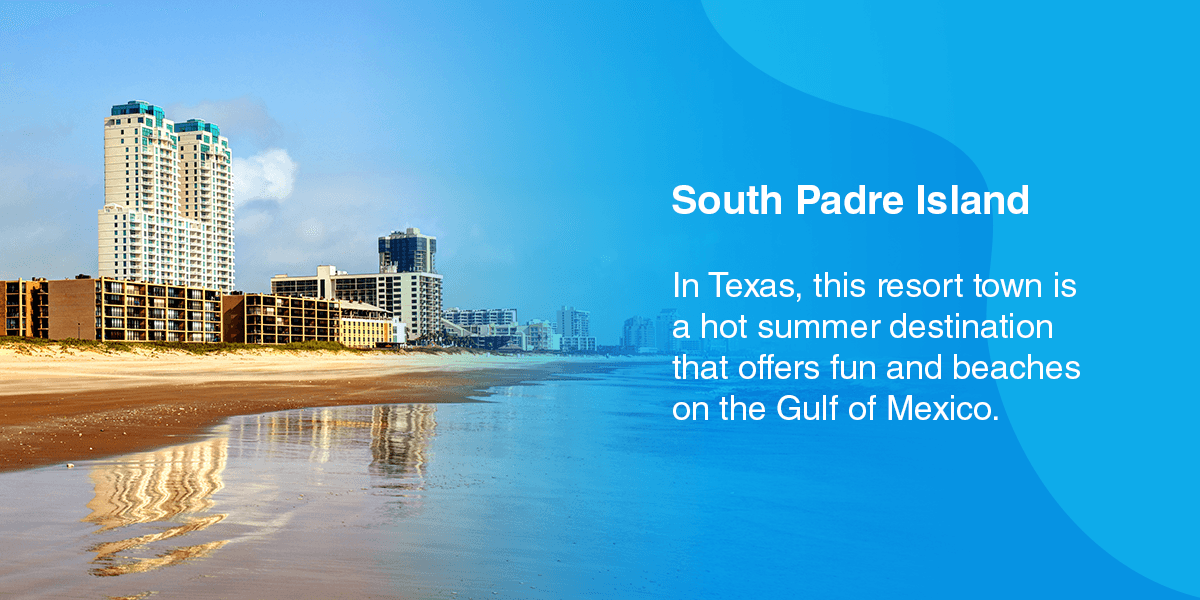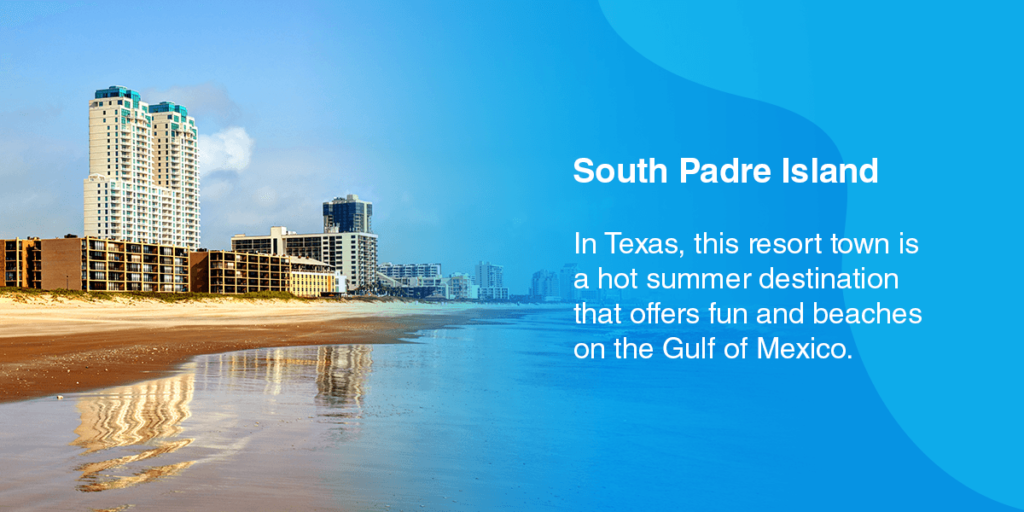 Spending part of your summer with friends? Few summer activities are better than a road trip. Below are some road trip ideas for you and your friends.
One place you can visit with friends is South Padre Island. In Texas, this resort town is a hot summer destination that offers fun and beaches on the Gulf of Mexico. Explore various wildlife attractions, including Sea Turtle, Inc., which is a rescue and rehabilitation center specifically for turtles. Additionally, you may want to visit the island's Dolphin Research & Sealife Nature Center, where you can find touch tanks and marine creatures visible from a boat tour.
You and your friends may also want to spend some time in Cape May County. In New Jersey, Cape May County is surrounded by the Atlantic Ocean and Delaware Bay. Here, you can find endless beaches and seaside resorts on islands. Lay in the sand or join a water sport. Travel to Stone Harbor or Sea Isle City to dine on delicious seafood fresh from the ocean and lounge on the beach. Of course, don't forget to enjoy the Victorian splendor offered by Cape May.
If you're planning your trip on a budget, consider a visit to the Great Sand Dunes National Park in Colorado. Here, you'll find North America's highest sand dunes. You and your friends can go backpacking and sand sledding and hone your photography skills. The park is open at all hours, so not only can you backpack during the day, but you can lay under the panorama of stars by night.
Summer Road Trip Ideas for Couples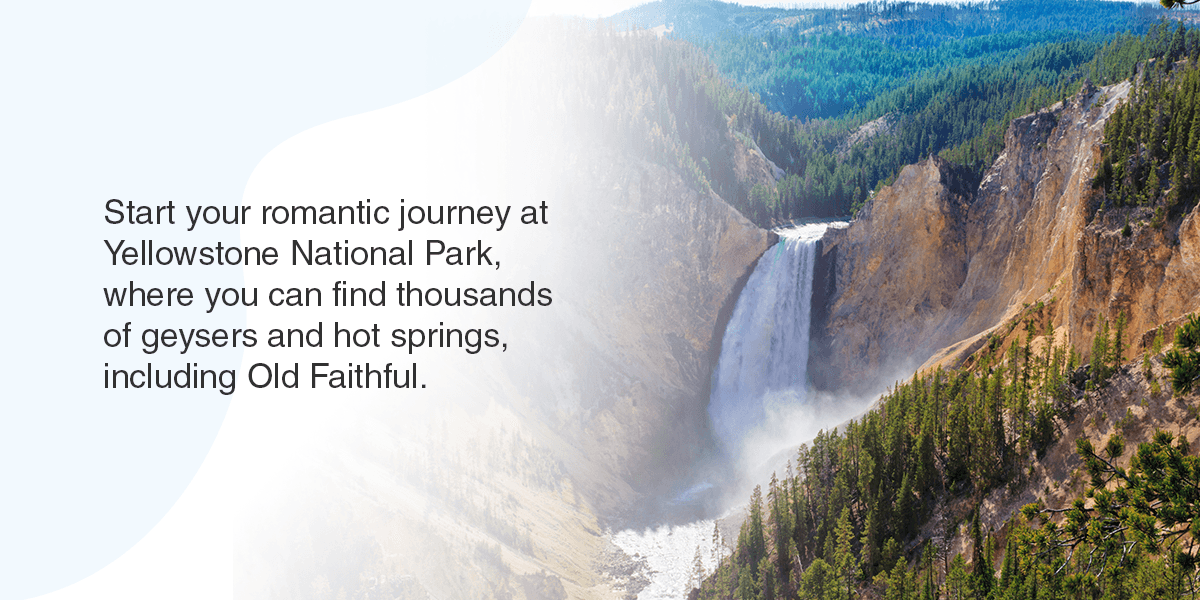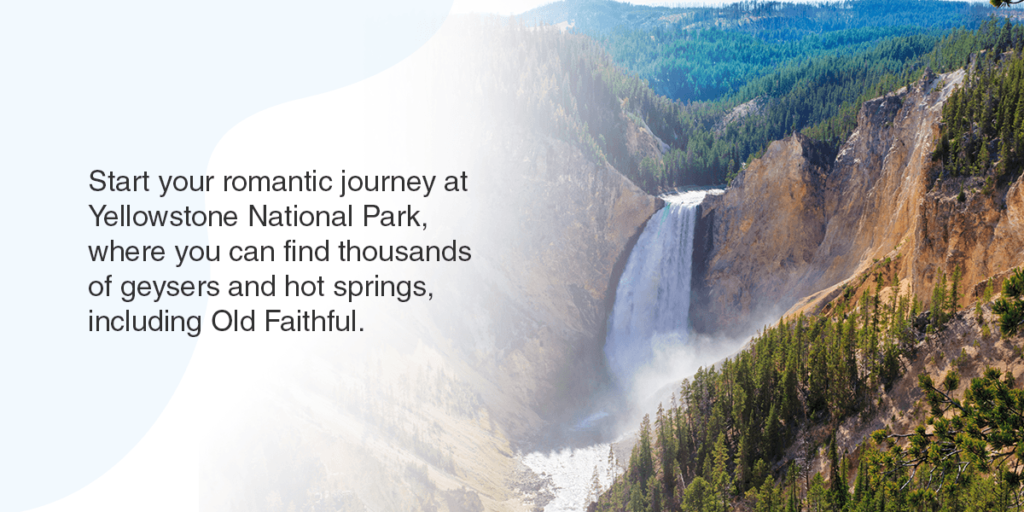 Whether you and your partner are looking for one-week summer road trip ideas in the USA or you want to spend most of your summer traveling, consider the ideas for couples below.
Start your romantic journey at Yellowstone National Park, where you can find thousands of geysers and hot springs, including Old Faithful. After Yellowstone, head to Grand Teton National Park located in northwestern Wyoming. There, you'll find stunning alpine lakes, expansive grassy plains and a stunning mountain landscape. Next, spend a night at a spa that offers a backdrop of Teton views and the romanticism of the Old West, Lost Creek Ranch & Spa.
If you're looking to reconnect with your significant other, you can't beat a road trip in Utah from St. George to Moab. Unplug from technology and enjoy the one-on-one time while you view the stunning nature scenes and bond over your adventures. You'll see a rainbow-colored land full of valleys, canyons and mountains, along with multiple national parks. In the evenings, you can dress up and head into Downtown Moab to enjoy a nice dinner with your loved one.
Apply for an RV Loan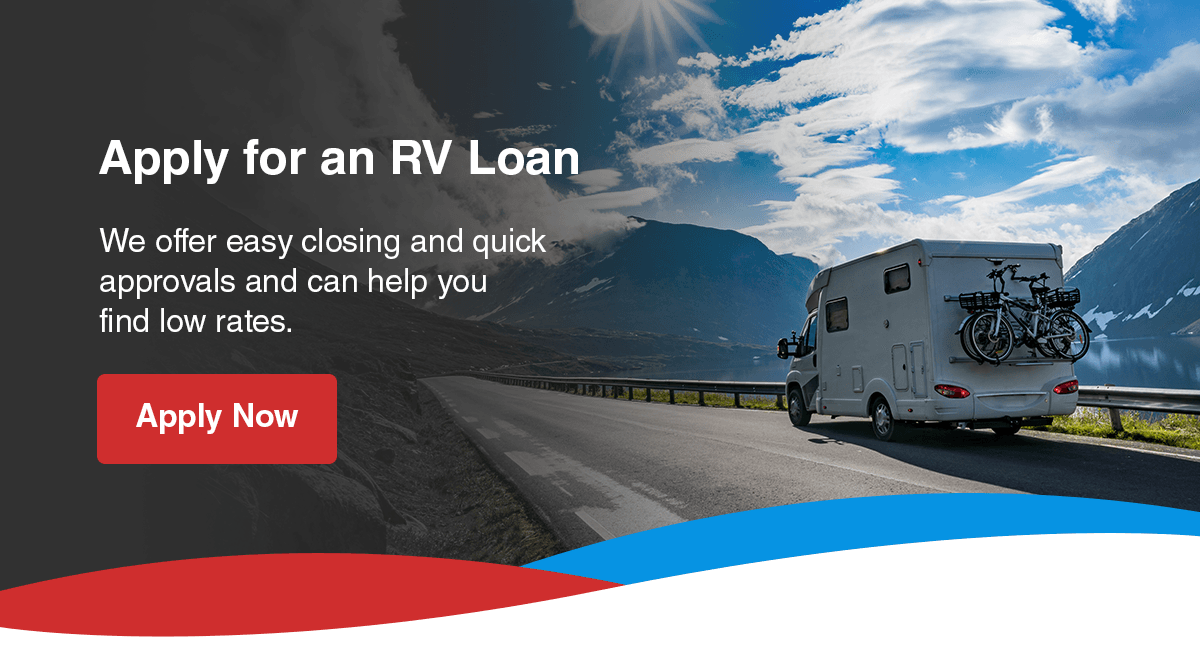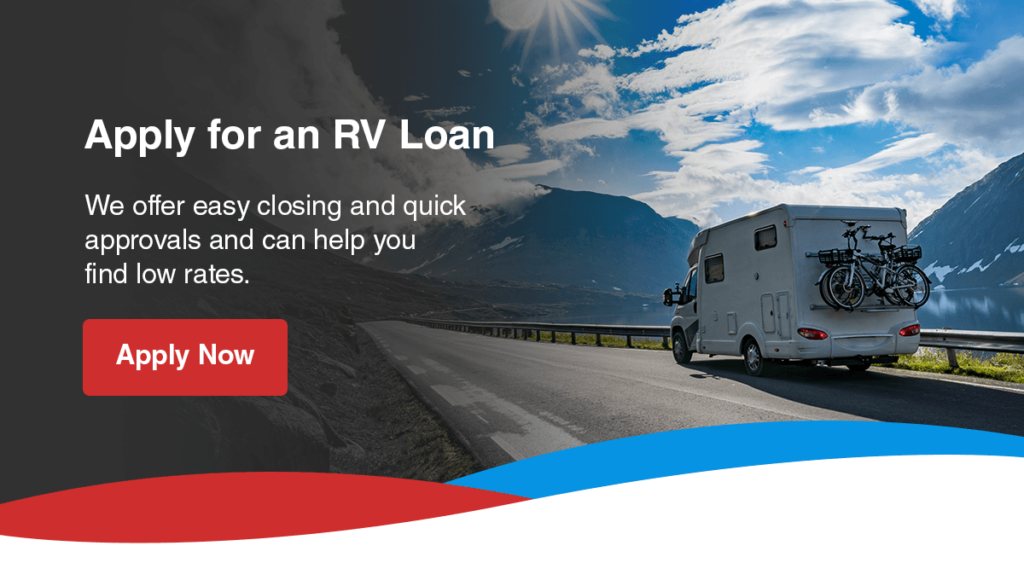 Looking to travel around the U.S. on a summer road trip? An RV is the best way to travel to any state or region, allowing you to bring all the comforts of home with you. If you have found the RV of your dreams, your next step is finding a loan to cover your purchase.
Regardless of whether you have good or bad credit, My Financing USA will try to help you find the right loan and lender for your RV. We can offer our services to those in the 48 contiguous states.
When you apply for a loan, you'll fill out all the requested information and we will get in touch with you. We will discuss your application with you, and we may ask some questions to ensure we understand your expectations and goals for financing. We offer easy closing and quick approvals and can help you find low rates. Apply for an RV loan with us at My Financing USA.
---
Additional Resources on Road Trips:
---