Quick Navigation:
A boating trip can be a relaxing hobby, an energizing social event or anything in between. The list of boating activities ranges from lounging and fishing to participating in water sports or racing in a regatta.
Fortunately, there are more than 100,000 lakes in the lower 48 states — both natural and artificial — so you're sure to find an excellent boating location near you. Whatever your idea of a perfect boating excursion, this guide to the best boating lakes in the U.S. will give you plenty of ideas for your next boating trip.
Best Lakes in the East
Our tour of the best boating lakes in the U.S. begins in the nation's East, where boaters can enjoy miles of rocky shoreline, picturesque forested landscapes and excellent waterfront dining. From Vermont to Pennsylvania, here are some of the best boating lakes in the Northeast states:
Lake Winnipesaukee, New Hampshire
As New Hampshire's largest lake, Lake Winnipesaukee is one of New England's most popular boating destinations. The 72-square-mile lake offers beautiful wilderness scenery, sparkling spring-fed water and nearby nature preserves and quaint New England towns to explore. Hop out of your vessel to lounge on the lakeshore or fish for rainbow trout from the deck.
Lake George, New York
There's a reason why Lake George is nicknamed "the Queen of the American lakes." Crystal-clear waters and breathtaking vistas of the southern portion of Adirondack State Park make this lake one of the most beautiful in the U.S. Boaters on Lake George will enjoy the dozens of islands perfect for a picnic. For a change of pace, you can enjoy water sports opportunities galore, from jet skiing to waterskiing and tubing.
Lake Champlain, New York and Vermont
Nestled throughout New York, Vermont and Quebec, Lake Champlain has served commercial and military purposes since the 1700s. Now, recreation on the lake is always lively during the spring and summer. This freshwater lake offers boaters opportunities to fish for bass, walleye and salmon and chances to enjoy plenty of museums, restaurants, forts, shops, state parks and activities on land.
Lake Placid, New York

Also located in the Adirondack Mountains, Lake Placid is another of New York state's finest boating lakes. Lake Placid has different islands for boaters who want to enjoy the views of towering pines and serene mountains or camp for a night on the beach, while thrill seekers can try cliff diving over Pulpit Rock. Try hiking, kayaking or adventuring on-shore after you've had your fill of the lake.
Saratoga Lake, New York
Saratoga Lake is an inviting place to cruise on the clear water, sun on Brown's Beach and fish for a variety of bass, pike and walleye. Boaters might also catch a glimpse of collegiate rowers rowing the length of the lake, which is the site of rowing races. Saratoga Lake is also stunning in the fall when autumn foliage cloaks the surrounding hills.
Lake Wallenpaupack, Pennsylvania
Located in Pennsylvania's Pocono Mountains, Lake Wallenpaupack offers a range of water activities like jet skiing, fishing for bass and walleye, tubing and cruising. After a day on the water, explore Lake Wallenpaupack's 52 miles of uninterrupted shoreline and hundreds of acres of forests from several public recreation areas. If you plan your visit right, you can celebrate the end of summer with friends and family at the popular Wally Lake Fest.
Best Lakes in the South
Known for its balmy summer weather and Southern hospitality, the South has several great places to enjoy a boating trip and explore the outdoors. From tranquil Kentucky woodlands to stunning Florida sunsets, there's so much to see in the southern states. Take a look at some of the best boating lakes in the U.S. located in the South.
Lake Norman, North Carolina
Lake Norman is an artificial freshwater lake boasting activities like paddleboarding, wakeboarding and fishing. Take a cruise to enjoy the sun, dock your vessel at a marina and hike or bike along the lake's edge.
Lake Cumberland, Kentucky
Stunning Lake Cumberland is surrounded by rolling green hills and abundant wildlife species. Go birdwatching from your vessel or reel in a record-breaking bass or trout before docking at General Burnside Island and enjoying a picnic.
Norris Lake, Tennessee
Boasting 800 miles of shoreline and surrounded by mountains, Norris Lake is one of the best boating spots in east Tennessee. Popular activities on the lake include waterskiing, tubing, fishing and hydro biking.
Lake Charles, Louisiana
Boating on Lake Charles offers a taste of Louisiana's unique landscapes, from lush marshlands to the sparkling lakefront. Go freshwater, brackish or saltwater fishing, enjoy paddleboarding or jet skiing, or lounge in the sun with good company.
Beaver Lake, Arkansas
Known around the country for its bass fishing tournaments, Beaver Lake is a great spot to reel in a record-breaking catch. Explore the limestone cliffs and caves surrounding the lake, go scuba diving or picnic on the beach.
Lake Lanier, Georgia
Gorgeous waterfalls and mountains make Lake Lanier one of the best boating lakes in the U.S. High-speed motorboats, rowing and jet skis are welcome on the lake. Dock at a nearby marina to enjoy dinner with a lakeside view after your day on the water.
Lake Kissimmee, Florida
As part of the headwater of the Everglades, Lake Kissimmee houses an abundance of Florida wildlife. Visitors can catch fish like largemouth bass and bluegill, go tubing or try snorkeling. Go hiking or birdwatching in nearby Lake Kissimmee State Park when you're finished on the water.
Lake Okeechobee, Florida
Nicknamed "The Inland Sea," Lake Okeechobee provides access to Florida's east and west coasts. Hike the Lake Okeechobee Scenic Trail after spending a day on the lake to catch a glimpse of wildlife like egrets, manatees and alligators.
Lake Texoma, Oklahoma and Texas
Visitors to Lake Texoma can enjoy all kinds of boating, from powerboating and sailing to personal watercraft. Fish are also abundant in the lake. If you enjoy thrills, try windsurfing or catch the Lakefest Regatta in the spring.
Lady Bird Lake, Texas
Lady Bird Lake offers lake activities for the entire family right in Austin, Texas. This small lake features several parks and walking trails along its edges. Boaters can enjoy fishing for catfish and bass, paddleboarding and kayaking.
Caddo Lake, Texas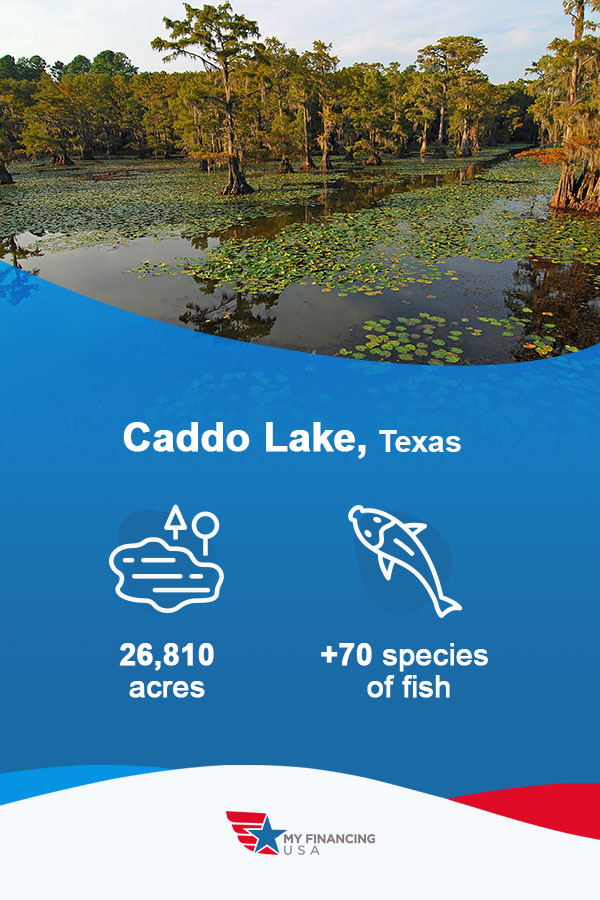 The massive Caddo Lake covers 26,810 acres and houses over 70 species of fish. The Texas side of this lake features a unique, swampy landscape of interconnected waterways and huge bald cypress trees.
Lake Travis, Texas
Lake Travis is the perfect spot if you're interested in nearly any lake activity. Boating on the crystal-clear water is serene, and many boaters anchor their vessels in Devil's Cove to go floating. Indulge your adventurous side and plan a day of fishing, zip lining, scuba diving or jet skiing.
Best Lakes in the Midwest
Some of the best boating lakes in the U.S. are in landlocked states. The Midwest is home to the Great Lakes, Lake of the Ozarks and other fantastic boating destinations for those who want to experience the area.
Lake Michigan, Michigan
Lake Michigan tops the list of best boating lakes in the U.S. From pristine sandy beaches to lighthouses and charming waterfront villages, Lake Michigan has something for everyone. One of the largest freshwater lakes in the U.S., this destination has miles of beautiful shoreline and even provides access to cities like Chicago and Milwaukee. Take your boat out and enjoy sailing, waterskiing, fishing or lake surfing.
Lake Superior, Michigan
As the largest of the Great Lakes, Lake Superior offers vast waters and excellent whitefish, salmon and trout fishing. Take your speedboat for a spin or kayak along Pictured Rocks for a more leisurely pace. If you want to venture into the open water, remember to check local weather reports — Lake Superior can get choppy.
Tappan Lake, Ohio
Ohio might not be the first state that comes to mind when you think of boating lakes, but Tappan Lake is a true gem. This scenic lake is usually less crowded than more popular locations and still provides a wealth of water activities for boaters to enjoy. Take your vessel out on more than 2,300 acres of water to lounge, swim or enjoy the scenery.
Lake of the Ozarks, Missouri
Lake of the Ozarks winds through central Missouri, creating several private coves along the shoreline for boaters to dock and enjoy a swim. This lake is a popular fishing destination, though visitors may also enjoy adventuring on shore. Golf courses, campsites and picnic spots line the beach, and Lake of the Ozarks State Park offers hiking and biking.
West Okoboji Lake, Iowa
West Okoboji Lake is one of the best boating lakes in the U.S. for water sports enthusiasts. The lake's gorgeous blue waters are fed from an underground spring, creating the perfect place for jet skiing, parasailing, flyboarding and waterskiing. Visitors will enjoy sunning on the lake's beaches, snorkeling in the chilly waters or angling for record-breaking tiger muskie.
Lake Minnetonka, Minnesota
Lake Minnetonka has carried steamboat rides and ferries for generations, and now visitors can enjoy boating and various water sports on the lake. Anglers flock to the lake, with several fishing tournaments held in its waters each year. Travel through the interconnected water system for a relaxing day.
Lake Winnebago, Wisconsin
As one of the best boating lakes in Wisconsin, Lake Winnebago is truly a fisherman's paradise. Several species of fish are abundant, from walleye and sturgeon to catfish and bass, attracting fishing tournaments each year. If fishing isn't your hobby, relax on your sailboat or try waterskiing.
Best Lakes in the West
The West Coast states are home to several great boating lakes, located miles from the Pacific Ocean in landlocked Idaho or SoCal's pine forests. Discover some of the best boating lakes in the western U.S.
Lake Coeur d'Alene, Idaho
You'll find stretches of sandy beaches, trails and sports courts at this lake in the West. Explore the 165-acre natural peninsula, or visit one of the lake's nine major marinas to go boating. Try your hand at fishing for chinook salmon, or go birdwatching to spot one of 200 species that frequent the lake.
Lake Granby, Colorado

Colorado's third-largest lake, Lake Granby offers more than 40 miles of scenic shoreline to explore. As one of the best boating lakes in Colorado, this destination has a few marinas to help you head out on the water in a motorized or non-motorized vessel. You can even visit the nearby sister lakes — Shadow Mountain Lake and Grand Lake.
Flathead Lake, Montana
Nestled in the vast expanse of Montana's plains is Flathead Lake, one of the largest freshwater lakes in the country. The surrounding mountains are a gorgeous backdrop to a lazy day on the lake or a speedboat ride. Then, explore the wildlife on Wild Horse Island or hike around the lake's edge.
Lake Powell, Utah and Arizona
Lake Powell has some of the most stunning lake scenery in the U.S., including picturesque vistas of the surrounding desert. Visitors love the lake's fishing opportunities and kayaking among the red sandstone cliffs. Other popular activities include wakeboarding, waterskiing and hiking to Rainbow Bridge National Monument.
Lake Chelan, Washington
The scenic Cascade Mountains frame Lake Chelan, located in Washington state's North Cascades National Park. The lake's deep blue waters are perfect for playing, fishing or cruising. Visitors enjoy paddleboarding through waterways, windsurfing, scuba diving in the Lucerne Basin and other activities.
Crater Lake, Oregon
Also located in the Cascade Mountains, Crater Lake was formed by an ancient volcano. Crater Lake is the deepest freshwater lake in the U.S. and features dazzling blue waters and a picturesque island in the center. Boaters can enjoy fishing, swimming and hiking.
Lake Mead, Nevada and Arizona
Lake Mead straddles the border of Nevada and Arizona, offering a striking desert landscape full of mountains and canyons. Boaters can speed through the lake's open waters or hide away in a secluded cove. Go fishing, lounge on Boulder Beach or rent a houseboat for a night.
Lake Havasu, California and Arizona
The sandstone cliffs and waterfalls surrounding Lake Havasu create a serene oasis. Jet skiing and fishing are hugely popular here. Boaters flock to The Sandbar in the middle of the Colorado River and Topock Gorge, often called the mini Grand Canyon.
Big Bear Lake, California
Big Bear Lake is the perfect escape for boaters looking for an alpine lake getaway. Whether lounging, jet skiing or fishing, adventurers will enjoy this reservoir in the San Bernardino Mountains. Take part in water sports galore, swim in the cool water or just enjoy the views of the tall pines around the lake's rim.
Lake Tahoe, Nevada and California
Lake Tahoe's cold, clear waters invite boaters to spend a day soaking up the sun. Bask on the sandy beaches, go windsurfing and fish to your heart's content while admiring the scenery of pines and firs. Step off the water to enjoy the resorts and fine dining around the lake.
Plan Your Next Boating Trip to One of These Locations

Planning a trip to one of the best boating lakes in the U.S. is exciting, with so many options and activities to explore. Having your own boat allows you to skip the boat rentals and get on the water faster, all in the comfort of your own vessel.
My Financing USA can help you purchase the boat of your dreams. We can help get you lower monthly payments for our boat loans, and we may approve your application within 72 hours. Apply for boat financing today or contact us to discuss our financing options.
---
Additional Resources on Boating:
---