Quick Navigation
The great outdoors offers opportunities for recreation and inner healing. When you step foot outside, you can enjoy the sunshine, breathe the fresh air and engage in physical activity, which can all provide many benefits to one's life. The outdoors also offer great opportunities to socialize and pursue new adventures. The best way to have one of these adventures for yourself is by visiting state parks.
The many state parks throughout the United States offer incredible opportunities to experience nature in a whole new way. Each state has unique characteristics, from the deserts of Arizona to the salty coasts of Maine. How you experience it all is up to you. Enjoy learning about some of the best state parks in the U.S. below!
Activities to Enjoy in the Top State Parks in the U.S.
There's a state park for every type of adventurer. Before researching the top 10 U.S. state parks on this list, it's important to know the types of activities in which you can participate when you visit a state park. Knowing your own interests will help you find the state park for your adventure.
Here are some of the most popular reasons people visit state parks in the U.S.
Hiking

Hiking is one of the most popular activities to enjoy when visiting a state park. State parks are full of trails of varying difficulties, so people of all ages and abilities can have a great time. Hiking is also an excellent way to exercise, helping you burn calories and increase your endurance.
Hikers know that the journey is the destination. Of course, when you go on a hiking trip, you'll experience many destinations along the way that will take your breath away. From sights that extend miles in every direction to roaring waterfalls that spray you with a cooling mist, hiking will take you to places you've only imagined in your dreams.
Whether your ideal hike lasts an afternoon or a week, state parks are the best places to go. Find the state park with the trails that appeal to your sense of adventure, and you'll have the experience of a lifetime.
Camping
Another way you can utilize state parks is for your next camping trip. Camping gives people a unique connection with nature, whether you're spending the night in a tent or a simple cabin. The appeal is that you'll be doing most of your activities outside, like spending time around the campfire, swimming in a nearby creek or finding a trail to hike for the afternoon. It's a great way to recharge from the busyness of modern life.
Camping also provides exciting opportunities to see the night sky in all its glory. Most people experience a less-than-ideal night sky due to light pollution. Even suburban and rural areas can see a tarnished night sky from nearby cities or factories.
But when you go camping, you could be dozens of miles from the nearest humanmade light source. Some areas in U.S. state parks are official Dark Sky Places, meaning there are protections and rules in place to ensure the area gives visitors a truly incredible experience watching the night sky away from light pollution. Spend some time looking up, and you'll see more stars than you ever have. You may even be able to glimpse a shooting star.
RVing

RVing can take your camping game to the next level. The appeal of RVing is that you can stay on the move, seeing more incredible sights along the way. When you find the perfect spot, park your RV and set up camp. From there, you can enjoy the pleasure of camping with some added amenities.
Depending on your RV, you may have access to air conditioning, traditional cooking appliances, a bed and even a bathroom with a shower. You could even bring modern luxuries like Wi-Fi and television along so you can enjoy the best of both worlds. But the true pull of RVing is the free feeling of hitting the open road and enjoying the journey as much as the destination. Plus, it's a great way to see several state parks on the same trip.
Water Activities
Water activities can be fun for the whole family or group. And the options for fun in the water are endless. Swimming, fishing, and boating only scratch the surface of the possibilities. Here are some of the water sources you could find on your journeys through the best state parks in the US:
Oceans
Lakes
Rivers, streams and creeks
Lakeside and oceanic beaches
Hot springs
Waterfalls
Swimming holes
Natural waterslides
If you're in the mood to see some beautiful water sources or even take a dip yourself, then be sure you come prepared. Bring the right attire and know any restrictions that are in place for your protection. Note that some swimming areas at state parks lack any lifeguards, so you'll be enjoying the water at your own risk. And if you plan on boating, you may have to bring your own vessel, although some state parks may allow you to rent one.
Rock Climbing
One of the best parts of state parks is the incredible rock formations you could encounter. These formations take indescribable shapes and can range in size from dozens to thousands of feet high. If you're looking for some more strenuous adventure to test your limits, these rock formations are waiting for your to conquer them.

It's important to note that some rock formations are protected in such a way that the public is unable to climb them for sport. But rest assured, many hills, mountains and cliffs at state parks are popular rock climbing attractions for people of all skill levels. Be sure you have the appropriate gear and that you follow the right protocol if you attempt to legally climb on your visit to the state park of your choice.
Winter Sports
One of the fun aspects of visiting state parks is that the experience could be completely different depending on the time of year you visit. Some parks feature colorful autumns, while others showcase gorgeous foliage in the spring and summer. But one season that can provide new ways to have fun is winter.
During the winter, visitors to state parks can enjoy snowmobiling, snowshoe excursions, ice skating and ice fishing, to name a few activities. These pastimes are only available thanks to the snow, ice and low temperatures of the area combined with the state park's unique features. Some state parks are renowned for their winter activities, so be sure to research the possibilities that await you before your wintertime visit.
The Top 10 State Parks in the U.S.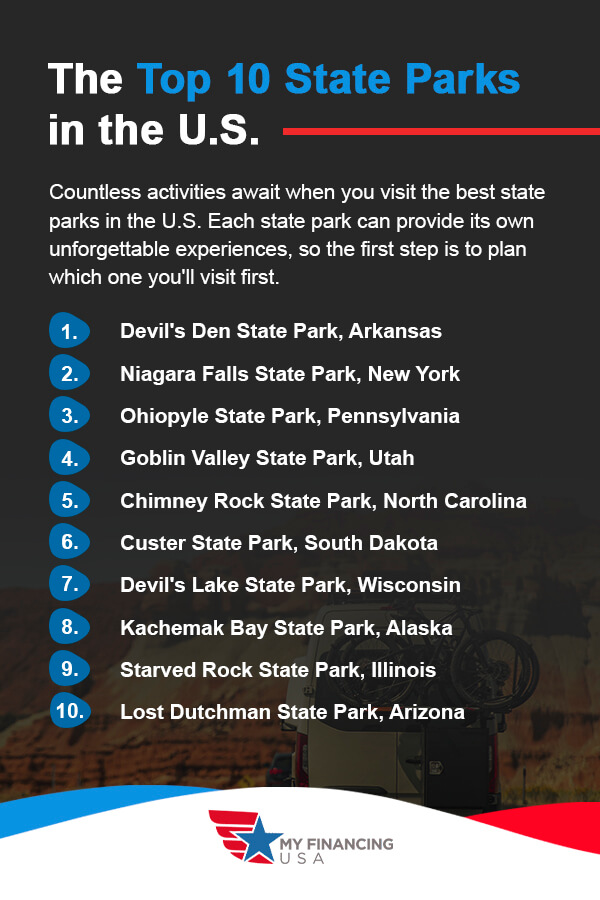 Countless activities await when you visit the best state parks in the U.S. All you have to do is visit these places for yourself to see all that they have to offer. Each state park can provide its own unforgettable experiences, so the first step is to plan which one you'll visit first.
Here are the top 10 U.S. state parks according to our research to help inspire you to embark on your own state park adventure. All of these locations are worth a visit. See which one calls out to you the most!
1. Devil's Den State Park, Arkansas
Devil's Den State Park has been an officially recognized state park since the 1930s. Located in Lee Creek Valley in Arkansas, Devil's Den contains rustic stone and wood structures built by the Civilian Conservation Corps (CCC) that mimic the surrounding area's natural beauty. In addition to these structures, visitors can enjoy 17 cabins that include fireplaces and kitchens, six camper cabins and 135 campsites.
But like the other state parks on this list, Devil's Den's main allure is its natural features. These features include impressive rock formations, caverns, and a rock dam that spans Lee Creek to form Lake Devil. At lake Devil, you can enjoy boating and fishing with rentable pedal boats and canoes. If you prefer to stay on land, you can enjoy activities like backpacking, hiking, horseback riding and mountain biking deep into the surrounding Ozark National Forest.
2. Niagara Falls State Park, New York

This park may be the most famous on this list, for a good reason. Niagara Falls State Park brings in tourists from all over the world to see the splendor of its main attraction — the Niagara Falls themselves. This roaring waterfall dumps 3,160 tons of water per second, which is a hard stat for one to even wrap their mind around. Suffice it to say, Niagara Falls is an impressive wonder of nature to behold.
And you'll have several ways to view the Falls during your visit. Explore the Cave of the Winds, which brings you 175 feet into the Niagara Gorge. You'll stand on Hurricane Deck, where you can experience the true power of the Falls.
You can also enjoy the Maid of the Mist boat tour that can give you a whole new angle on the Falls. And depending on the season, you can enjoy a delicious meal at the Top of the Falls Restaurant, which features a panoramic view of the Falls to enjoy as you dine. Call ahead to make sure the restaurant is open, as it has seasonal hours.
3. Ohiopyle State Park, Pennsylvania
As one of the most popular state parks in the U.S., Ohiopyle State Park attracts millions of annual visitors. People come from all over Pennsylvania and beyond to explore the park's 20,500 acres of natural, rugged beauty. Plus, it's located near major metropolitan areas to give visitors plenty of activities to enjoy when they come to the area.
One of the main draws of Ohiopyle State Park is the Youghiogheny River Gorge, located at the heart of the park. The river offers some of the eastern United States' best whitewater boating and can provide a thrill to amateurs and veterans alike. You'll also see some of the gorge's incredible scenery as you make your way down the river or hike along the Laurel Highlands Hiking Trail.
Ohiopyle State Park also includes over 25 miles of mountain bike trails. And if you can find it, there's also a natural sandstone waterslide and swimming hole that's perfect for summertime fun. No lifeguards are on duty there, so be sure to watch any children you may bring along.
4. Goblin Valley State Park, Utah
Unbelievable and diverse sights await you throughout each of the top 10 state parks in the U.S. But some parks feature more other-worldly sights than others. Such is the case with Goblin Valley State Park, a place in Utah that makes visitors feel like they just stepped foot on Mars.

Goblin Valley features colorful and strange rock formations that are reminiscent of goblins or mushrooms. The area is a photographer's or a sightseer's dream, as each rock formation is different than the last. Yet the similarities in erosion among the formations bring it all together and create quite a jaw-dropping visual.
Campers will love setting up their tents among the nooks of Goblin Valley State Park. And for a more unique activity, visitors can enjoy an 18-hole disc golf course among the rock formations. You can also experience one of the darkest night skies at Goblin Valley State Park, setting you up for some incredible stargazing and photography opportunities.
5. Chimney Rock State Park, North Carolina
The backbone of Chimney Rock State Park is its namesake, Chimney Rock — a 315-foot-tall granite monolith that towers above the surrounding countryside of North Carolina. Visitors can see breathtaking sights from atop Chimney Rock any time of year. And people of all ages and abilities can enjoy the view, thanks to the Otis elevator, which carries people from the parking lot to the top of the Chimney.
Hiking and rock climbing also await adventurers at Chimney Rock State Park, making it a great place to stay active while seeing the amazing sights. Visitors can also see the park's 404-foot waterfall, which draws crowds all on its own. There's something for everyone at Chimney Rock State Park, and its natural beautify definitely earns it a place on the list of best state parks to visit in the U.S.
6. Custer State Park, South Dakota

In the Black Hills of South Dakota lies the beautiful Custer State Park. The park is full of miles of trails for mountain biking and hiking, as well as plenty of climbing locations. Some of the most appealing characteristics of the park are the granite peaks that contrast the rolling plains and open skies. There's even fun to be had on Sylvan lake, which rests peacefully beneath the granite crags for which the park is so famous.
One of the allures of Custer State Park is its size. At 71,000 acres, you'll have to come back many times to see all it has to offer. The area is home to a diverse ecosystem of plants and wildlife, including roaming bison. Whether you're going on a relaxing camping trip or looking for an exciting adventure, Custer State Park is ready to impress you on your next trip.
7. Devil's Lake State Park, Wisconsin
Wisconsin's largest and most beautiful state park is Devil's Lake State Park. This location was shaped by a glacier, which has created bold topographical features and the stunning Devil's Lake. Giant trees surround the lake, creating a rugged yet picturesque atmosphere.
Many activities await you at Devil's Lake State Park, including mountain biking and horseback riding. You can work up a sweat hiking or rock climbing, relax with some fishing or picnicking, and cool off under the hot sun with a dip in the lake. And thanks to its northern location, Devil's Lake State Park offers some fun winter opportunities as well. Options include snowshoeing, cross-country skiing and ice fishing.
8. Kachemak Bay State Park, Alaska
Residents of Alaska — or visitors and RVers from the lower 48 states — will be in awe of Kachemak Bay State Park. This park features twisting rock formations that act as evidence of the movement of the earth's crust. And with constantly changing weather patterns, the park has plenty of unique scenery opportunities for campers, hikers and boaters.

But one of the best parts about Kachemak Bay State Park's roughly 400,000 acres is its wildlife. The park is a critical habitat area that supports unique marine species. On your visit, you may catch a glimpse of wildlife from both land and sea. You'd be wise to go into Kachemak bay State Park prepared for the rare encounter with one of these wild beasts.
In the sky, you could spot many species of local birds like gyrfalcons and eagles. The presence of diverse bird species makes Kachemak Bay State Park one of the most beautiful state parks in the U.S. for bird watching. But remember, this park contains a lot of wilderness without cell service. Enter at your own risk and enter prepared!
9. Starved Rock State Park, Illinois
Waterfalls, sandstone canyons and wooded trails await you at Starved Rock State Park in Illinois. When you see this park's varied landscape, you may even think you've entered another world. This feeling will only amplify when you see the local wildlife, including white-tailed deer in the forest or a soaring bald eagle overhead. To make the area even more magical, visit in the fall. The colors of the changing leaves are a sight to behold at Starved Rock State Park.
In addition to excellent camping opportunities, you can also enjoy some of the following activities during your visit:
Hiking the many trails
Fishing and boating
Kayaking
Hunting
Various winter activities, including cross-country skiing
Starved Rock State Park is waiting for you to uncover its mysteries. Consider visiting it on your next journey.
10. Lost Dutchman State Park, Arizona
The United States has diverse ecosystems. This list would be incomplete without a state park located in a desert area, and Arizona's Lost Dutchman State Park delivers. Located around 40 miles east of Phoenix and close to the Superstition Mountains, Lost Dutchman State Park provides enough cacti and red rock formations to keep you occupied for days. And with plenty of hiking trails to choose from, you'll always see something new.
Lost Dutchman State Park is extremely friendly toward campers and RVers, boasting 134 sites that include picnic tables, fire pits and barbeque grills. It's the perfect place to escape the city and enjoy a taste of desert life, whether you're visiting for a day trip or a weekend getaway. And be sure to bring your camera, because you're going to see some sights you'll want to remember forever on your visit.
Start Your RV Adventure With an RV Loan Through My Financing USA

If the 10 best state parks in the U.S. are calling to you, then you may want an RV to help you get there and enjoy the journey. My Financing USA specializes in getting our clients low-interest loans for RVs so they can go on the adventure of their dreams. We also offer quick turnarounds and reduced inquiries to give you more peace of mind throughout the process.
We're ready to help you get the right RV loan so you can enjoy greater choice as you narrow your search for the perfect RV. Apply for an RV loan today or contact us online for more information about our financing options.
---
Additional Resources on RVing:
---