Every travel trailer owner knows how fun it is to hit the open road with their camper in tow. Seeing new sights and staying in beautiful locations are two of the reasons people love going on camping trips with their travel trailers. You get to experience a true sense of freedom in nature, yet you still get to live and sleep comfortably in a familiar space that's all your own.
But owning a travel trailer can be a lot of work. The travel trailer experience is more than hitching it to your vehicle and driving off into the sunset. You need to keep it in great shape to enjoy the best experience possible. Maintaining your travel trailer is the key to getting the most out of it and making sure it's ready for your next adventure.
How to Maintain a Travel Trailer: Exterior Care
The first place to start your maintenance process is with the outside of your travel trailer. The outside is what you see first, so you want it to look its best throughout your journey. More than that, you want it to be in good condition.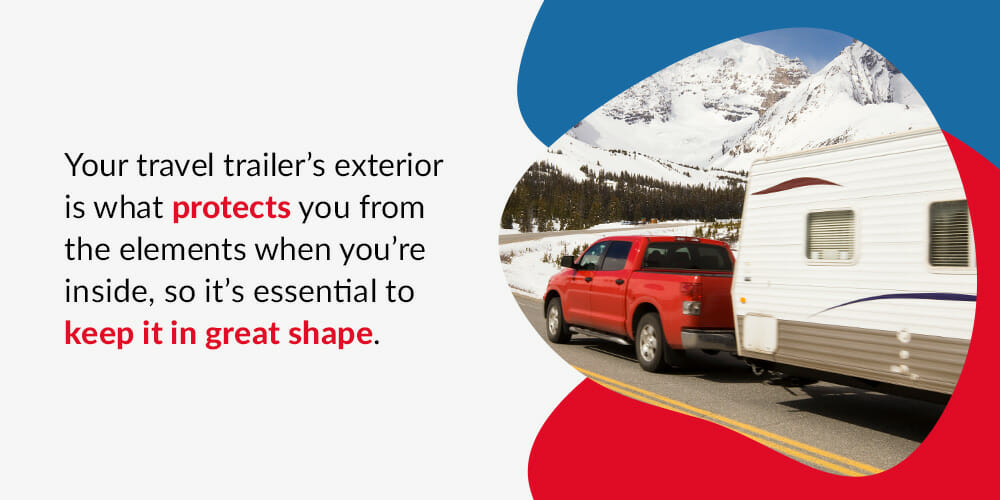 Your travel trailer's exterior is what protects you from the elements when you're inside, so it's essential to keep it in great shape. Let's take a closer look at how you can maintain your travel trailer's exterior.
Perform Routine Exterior Inspections
First, you should perform routine exterior inspections on your travel trailer. This can be as simple as slowly walking around the trailer while examining it closely for any defects, damages or other issues. You should bring your smartphone or camera with you to take pictures of anything you find, in case it needs a professional to repair.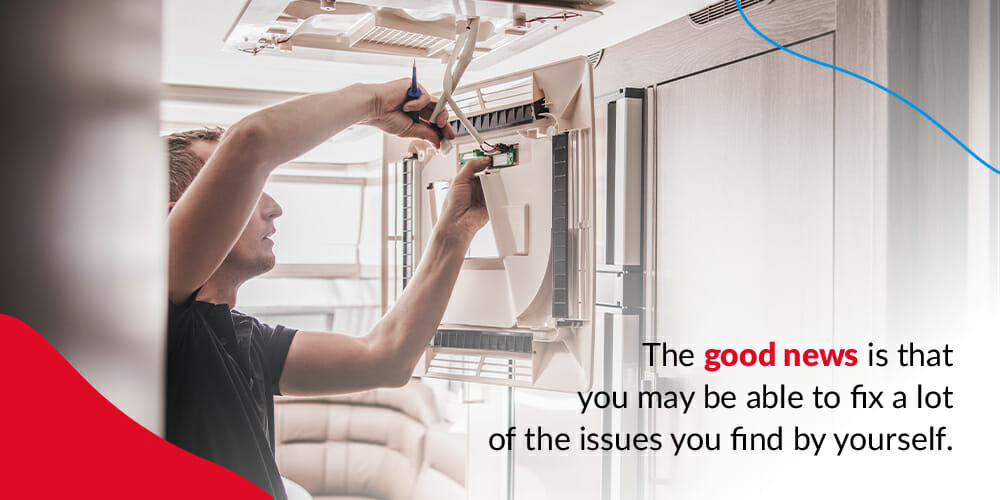 The good news is that you may be able to fix a lot of the issues you find by yourself. Most of them will be small preventative maintenance actions that will be inexpensive and easy to perform. Here are some tasks you may be able to perform during your exterior inspection:
Look for loose or missing screws and nuts. If you have the right tools, bring them with you for the inspection so you can tighten up the loose hardware or replace them if they're missing.
See if any of the rubber seals are broken or in need of a replacement. You'll find rubber seals around hose inlets, hose outlets, the storage panel and anywhere else your travel trailer uses seals.
Look for damage or obstructions to your travel trailer's slide-out section if it has one. You can also use this time to make sure your slide-out is operating as it should be.
If the exterior includes fiberglass sections, check them for cracks. If your travel trailer has exterior metal components, check these for rust.
After you've performed your inspection and are happy with the results, you can move on to washing the outside of your travel trailer.
Apply for a Travel Trailer Loan
Wash Your Travel Trailer's Exterior
Invest in the aesthetics of your travel trailer by giving the exterior a good washing every so often. Your travel trailer sees a good deal of dirt, mud and road grime. Frequent washing can help keep the exterior clean and maintain its quality after a long trip.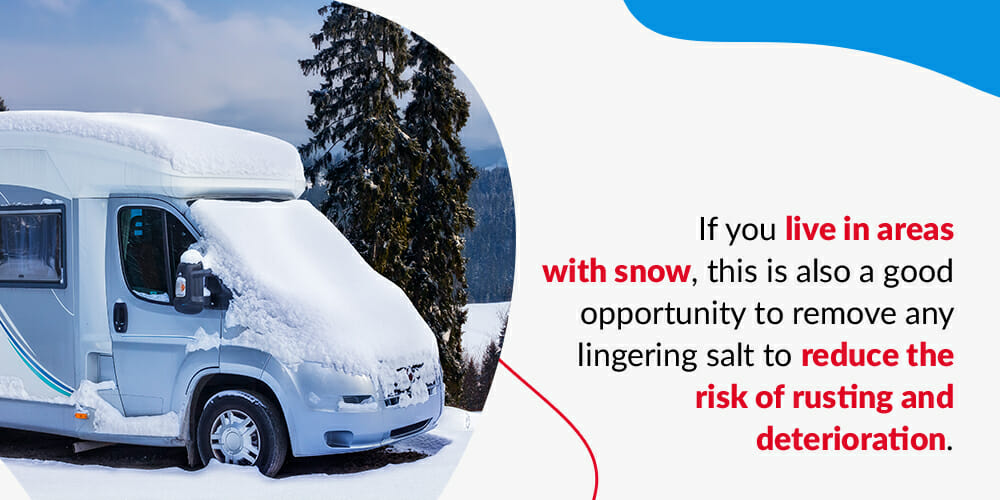 If you live in areas with snow, this is also a good opportunity to remove any lingering salt to reduce the risk of rusting and deterioration.
Follow these tips to make sure you're washing your travel trailer correctly:
Use a soft-bristled brush to keep from damaging the exterior. Hard bristles can scratch surfaces, which is why soft bristles are so important during the washing process. It's also a good idea to get a brush with an extendable handle so you can wash places that are out of reach.
When maintaining a rubber roof on a travel trailer, ensure you use a cleaner that offers protection from the sun's rubber-damaging ultraviolet (UV) rays.
Make sure any cleaners you use have a good rating for use on travel trailers. Read all product descriptions, directions and packaging information before use.
Remove dirt or debris from your slide-out's tracks and lubricate them for smooth operation.
Wash your travel trailer with a gentle stream of water and let it dry fully before applying a coat of wax. If you can, do this step out of direct sunlight and only apply the wax if the exterior surface is cool to the touch. This will keep sunspots to a minimum and ensure your travel trailer's exterior looks great for your next trip.
Should You Pressure Wash the Exterior of Your Travel Trailer?
Many people wonder if they can wash the exterior of their travel trailer with a pressure washer. While pressure washers do make cleaning many things easier, the force of the water's stream can be too much for the delicate components of your travel trailer's exterior. This can damage seams and seals on the surface.
This is why we recommend using a regular garden hose with a spray attachment for a little extra force.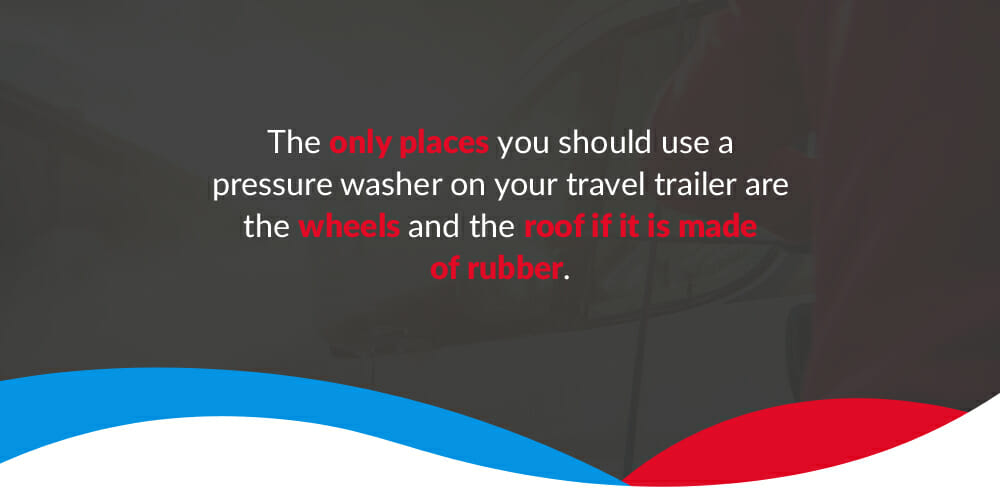 The only places you should use a pressure washer on your travel trailer are the wheels and the roof if it is made of rubber. Even then, use extreme care to avoid damaging any part of your travel trailer.
How to Maintain a Travel Trailer: Interior Care
Once you've completed your initial exterior maintenance, it's time to take your cleaning efforts to the inside. You'll be spending a lot of time in your travel trailer during your trip, so it's essential that you make sure it is as clean as possible. Fresh smells, clean surfaces, functional fixtures and safe, pure water are key components of enjoying your camping trip.
Vacuum, Dust, Wipe and Wet Mop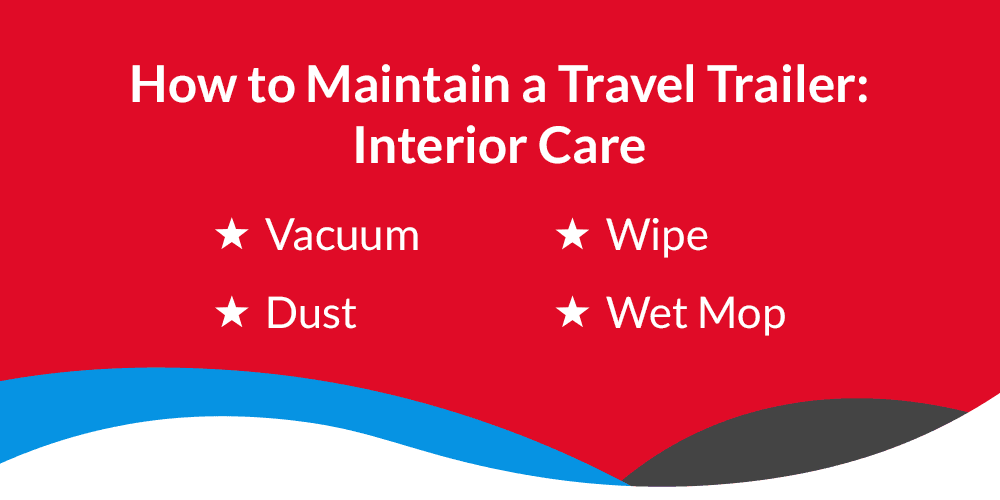 You want to remove any pathogens or allergens from your travel trailer's interior, especially if it has been sitting dormant for a few months. To do this, you'll need a vacuum, a reliable duster and cloths for wiping down surfaces. Here's how you'll perform these actions:
Vacuum: Get a small, portable vacuum that can fit into the small areas and crevices of your travel trailer. Be sure to use a vacuum with various attachments so you can vacuum things like upholstery, carpets and hard flooring materials.
Dust: Use a duster with the flexibility to fit in tight spaces below and between your interior fixtures. It should also have an extending handle to help you dust those hard-to-reach places. Depending on how dusty your interior is, you may also want to bring an extra dusting head to achieve satisfactory results.
Wipe: Use disinfecting wipes or disinfectant spray and clean cloths to wipe down the interior surfaces of your travel trailer. This will ensure you kill any bacteria on the surfaces while also giving the place a better appearance. You'll love going on your next trip with clean surfaces and appliances to enjoy.
Wet mop: After you've vacuumed your floors, you're good to wet mop any sections of your trailer that contain hard flooring. This includes tile floors, bathroom floors, laminate, vinyl and other hard materials. After wet mopping, wring the mop out and go over the floors one last time to absorb excess moisture. Then, allow the rest of the moisture to air dry.
Apply for a Travel Trailer Loan
How to Maintain a Travel Trailer Toilet and Bathroom
Your bathroom and toilet are two of the most important parts of your travel trailer. They're essential for a comfortable camping experience, but the opposite could happen if you forget to maintain these areas. Start by giving your bathroom the same treatment as the rest of the interior, including vacuuming, dusting, wiping and wet mopping. Doing this will make sure your bathroom is sanitary and clean.
Then check that the various fixtures and items in your bathroom are in working order. If your travel trailer has water, use this opportunity to test the faucet and the toilet's flushing ability. You can even take it a step further and check your travel trailer sewer valves to ensure they're ready to work for your entire upcoming journey.
Caring for Your Travel Trailer Awning
If your travel trailer has an expandable awning, you need to give it the treatment it deserves.
These awnings may protect you from the sun and even some light weather, but things like branches, animals and more severe weather can damage it. Here are the two most common types of awnings and how you can maintain them:
Fabric awning: Fabric awnings use breathable materials that are resistant to the sun's UV rays. They also dry quickly, making them quite the resilient material. Many manufacturers cover their awnings in a special treatment to help them repel water and stains, but this treatment can disappear over time. Check the condition of your fabric awning and clean off any dirt or debris.
Vinyl awning: Be sure to clean your vinyl awning with bleach-free cleaners, as bleach can harm the vinyl material. Brush away any debris and use a vinyl-safe cleaner to rejuvenate the vinyl and help it withstand further use.
Preparing for Your Trip
After tending to the general interior, exterior and awning of your travel trailer, it's time to maintain some of its most important aspects and features. Here are some essential items to check before your trip.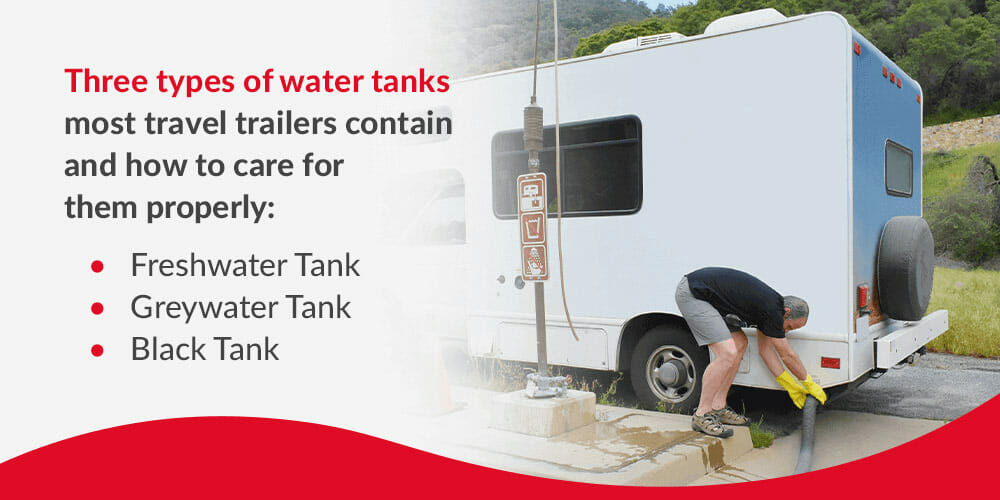 The Water Tanks
Your travel trailer's water tanks are some of its most necessary components. You rely on them for all your water needs while you're out on your adventure. Here are the three types of water tanks most travel trailers contain and how to care for them properly:
Freshwater tank: This tank holds all the fresh water you need for drinking, washing dishes, bathing and cleaning. You should sanitize the freshwater tank before every trip. To do this, fill the tank with clean water and a small amount of bleach. Drain the water tank, then refill and drain it several more times with water only to remove any traces of the bleach. After a few cycles, your freshwater tank should be clean and ready to provide you with the water you need.
Greywater tank: After using fresh water in your sink or shower, the drains carry it to the greywater tank. The water in this tank is mostly clean with the presence of some dirt, soap and other particles. You may want to keep a deodorizer handy in case this tank starts to smell. Other than that, the greywater tank should cause little trouble during your journey.
Black tank: The black tank houses the wastewater from your toilet. To maintain this tank, you'll need a cleaner recommended by the manufacturer that can dissolve solids and neutralize odors. Make sure you empty your black tank regularly throughout your journey to keep below its max capacity.
The Propane Tank
Many travel trailers have propane tanks that allow you to enjoy pleasures like cooking your meals, using your appliances and getting warm when temperatures get chilly. You definitely want to avoid being partway through your journey with an empty propane tank.
Instead, ensure it's filled before your trip. Depending on its size, you may be able to remove it and bring it to your local propane filling station. You can also call ahead and see if the filling station can fill travel trailer propane tanks directly from the trailer. If so, you can save yourself a lot of effort by bringing your travel trailer right to the fillup station.
The Generator
Like the propane tank, the generator is there to help you make the most of your travel trailer experience. This device allows you to run your electrical and electronic devices while camping. Turning on the lights, using the microwave, charging your phone and other common actions all depend on the electricity your generator provides.
Give it a test run before leaving for your trip. Let it run for an hour or so to make sure it's ready to handle longer periods of use. You'll also want to check that the generator's oil levels are good and that you've topped it off with the necessary fuel. Then, you can begin your travels with confidence knowing your generator is ready for its duties.
The Battery
Most travel trailers will have at least one battery to provide power when no other sources of power are available. You can use some electrical features of your travel trailer using your battery alone, including turning on lights and running your water pump.
A dead battery is good for nothing, so test yours before your trip to ensure it will be of use to you. The process of testing your battery will be different depending on the type you have, so follow any packaging or manufacturer directions available. If you've had your battery for several years, then you may want to play it safe and buy a new battery for your upcoming travels.
Apply for a Travel Trailer Loan
Miscellaneous Travel Trailer Preparation Tips
Here are a few other preparation tasks you should consider doing before heading out:
Buy a fire extinguisher for your travel trailer if it lacks one or if the one it has is expired.
Closely inspect the tires before hitting the road. Be ready to replace your tires if you notice any balding or rotting.
Check all your mirrors to make sure you can see around your travel trailer. Try to reduce the number of blind spots.
Check the hitch connecting your towing vehicle to your travel trailer to ensure it's ready for the stresses of the road.
Inspect the exterior lights on your travel trailer to ensure they work. This will help you stay safer and compliant with road laws.
Check the roof to make sure it is free from damage and debris. You want to avoid driving down the highway and having something fly off your travel trailer toward the cars behind you.
What Are the Costs of Maintaining a Travel Trailer?
Be ready to put some money into your travel trailer throughout the maintenance process. Since proper maintenance occurs throughout the year, you may find yourself consistently spending money on your travel trailer.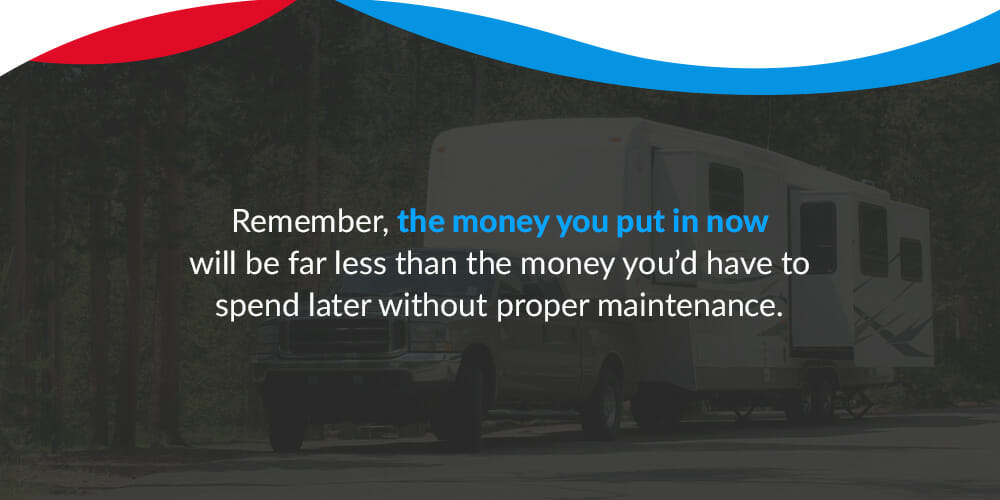 Remember, the money you put in now will be far less than the money you'd have to spend later without proper maintenance. Letting a travel trailer sit all year without maintenance can lead to costly fixes. Any money you spend now means more money in your pocket in the long run.
You could also choose to pay a professional to do the heavy lifting for you. You may be able to find someone who provides storage, maintenance and prep services for your travel trailer. This will make things easier for you but could cost quite a bit of money. This service could be worth it to you if it means keeping your travel trailer in excellent condition and always ready for the next camping trip.
Additionally, at My Financing USA, we have several cost protection services available to help you handle the costs of repairs and maintenance when on the road. We offer tire and well protection and overall vehicle service contract and warranty protection, so you can plan for the unexpected while on the road.
Travel Trailer Maintenance Tips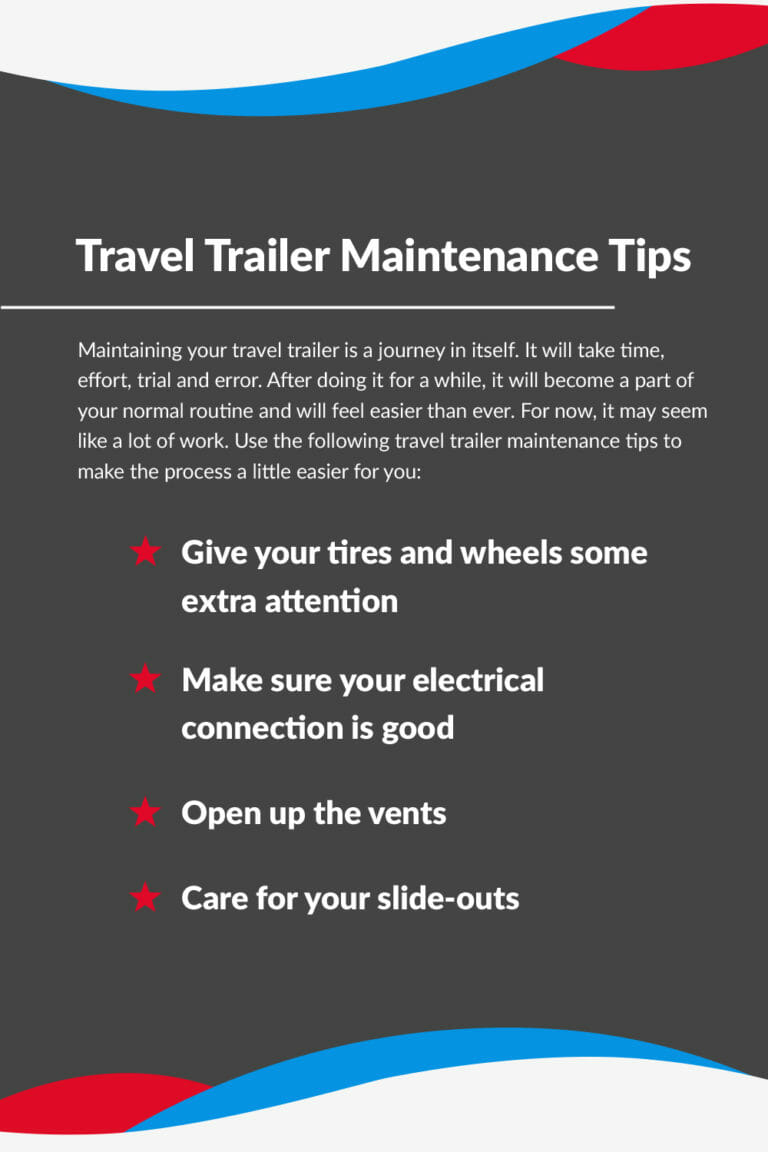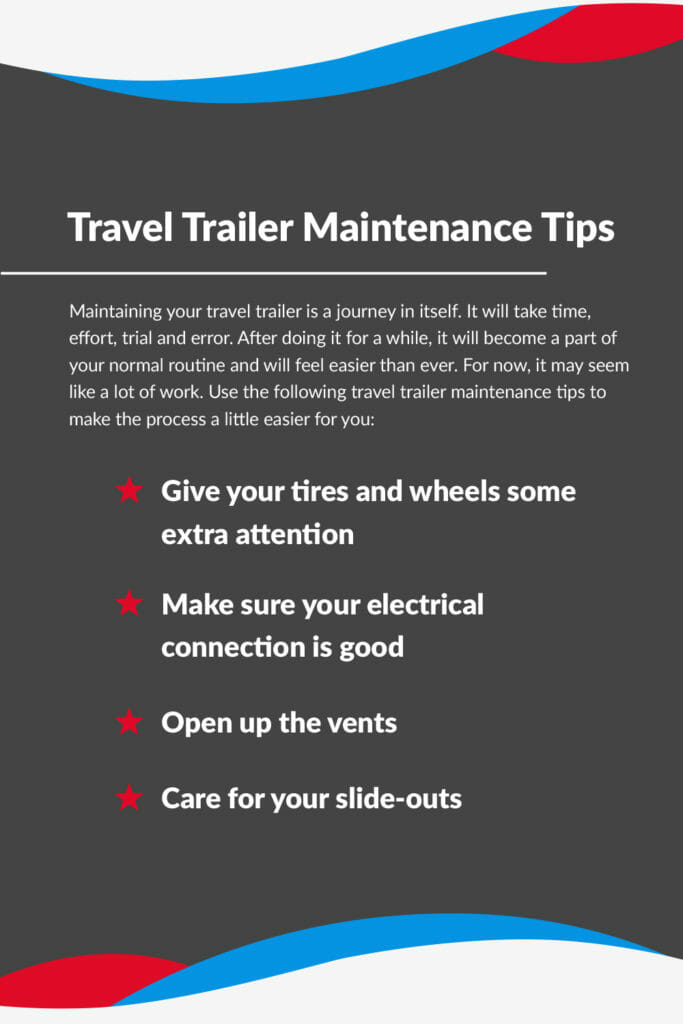 Maintaining your travel trailer is a journey in itself. It will take time, effort, trial and error. After doing it for a while, it will become a part of your normal routine and will feel easier than ever. For now, it may seem like a lot of work. Use the following travel trailer maintenance tips to make the process a little easier for you:
Apply for a Travel Trailer Loan
Give your tires and wheels some extra attention: It's obvious how important your tires and wheels are to getting where you want to go. Check that your tire pressure is at the recommended levels. Low tire pressure can lead to excess drag and low gas mileage, while high tire pressure puts you at risk of a blowout. You should also maintain your travel trailer wheel bearings to ensure they're in good shape for the journey. Don't forget to tighten your lug nuts for extra safety and peace of mind.
Make sure your electrical connection is good: A strong electrical connection between your towing vehicle and your travel trailer is critical. This connection is what powers your travel trailer's brake lights and indicators. It also charges your travel trailer's battery to ensure it's ready to provide power when you get to your destination.
Open up the vents: When your trailer is sitting for extended periods, like in the offseason, it can get extremely hot inside. Hot interiors can cause premature breakage to the inside of your travel trailer, so you'll want to avoid this. Make temperatures cooler for your travel trailer's interior by opening up the vents to let air move and blow through. This will lower the temperature by several degrees and keep the air from getting musty.
Care for your slide-outs: Your slide-outs provide structural stability to your travel trailer, but they also give you extra interior room when you park at your destination. Lubricate the slide-out tracks for easy movement and to fend off rust. Also, clean the slide-outs before putting them back in to keep dirt and debris from getting stuck in the tracks and causing damage.
Get Your Dream Travel Trailer With Help From My Financing USA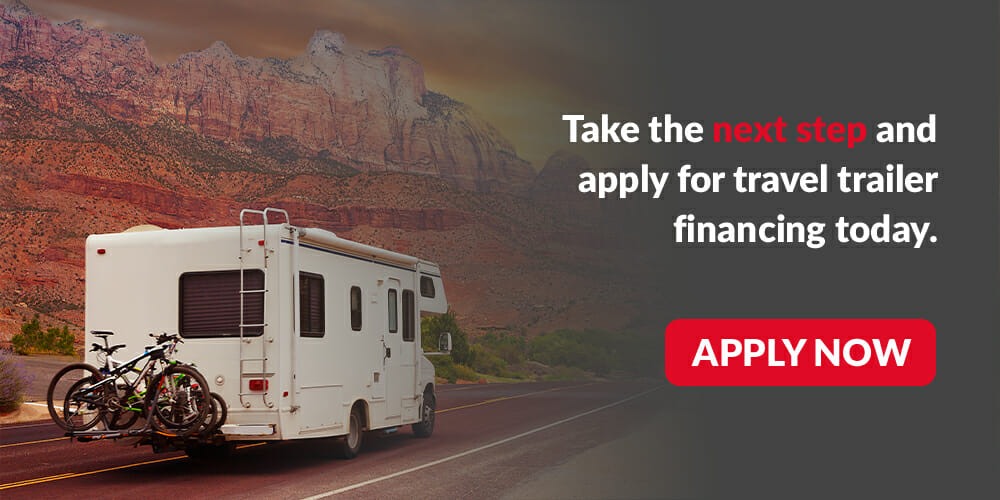 At My Financing USA, we're passionate about helping people live out their travel dreams! We know the price to get a new travel trailer or recreational vehicle (RV) can be expensive. That's why we make the process of getting a travel trailer loan easier and more flexible than ever. Since our team focuses on providing these types of loans, we can offer more affordable and valuable loans than the competition.
Take the next step and apply for travel trailer financing today. And if you need help maintaining your travel trailer, contact us today to ask about our RV protection services, including our warranty program and our tire and wheel coverage, to help you cover the costs of servicing your travel trailer. We look forward to hearing from you!
Apply for a Travel Trailer Loan
---
Additional Resources on Travel Trailers:
---