Quick Navigation:
What state has the most national parks? Many travelers ask this question when planning which parks to visit. Themed trips within one state are great ways to explore the state's unique culture, history and geography. Each national park celebrates nature and preservation, giving visitors insights into local ecosystems and a chance to observe wildlife in their natural habitats.
Which States Have the Most National Parks?
Knowing which state has the most national parks in the U.S. can help individuals plan road trips that optimize their access to these iconic spaces. Many travelers want to visit every national park, so knowing where the bulk of them are can streamline their goal progress.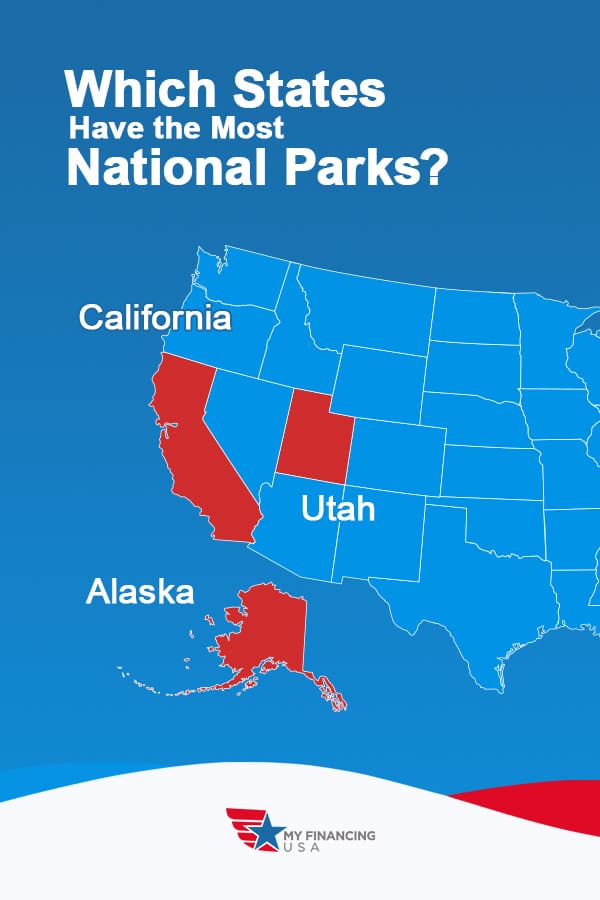 California
California is the U.S. state with the most national parks, totaling nine national parks across its diverse landscape. From coastal islands to rich forests, you can find various experiences and adventures within the Golden State. The parks are home to some of the continent's and world's records, showing nature's beauty. These are California's nine national parks:
As the state with the most national parks, California is an excellent location for your next road trip. You can visit several California national and state parks or cross the borders to explore others on the west coast.
Alaska
As the country's largest and northernmost state, Alaska has the second most national parks per state. The Last Frontier boasts eight national parks, ranking it just below California in number. Because of the state's vastness, it has some of the largest national parks and excellent scenic diversity. The eight Alaskan national parks are:
Alaska can offer many road trippers a way to explore several of the most acclaimed national parks. The variety ensures something matches your skill level and desired experience.
Utah
Coming in third place, Utah boasts five excellent national parks, each highlighting the beautiful and diverse scenery the West offers. The number of national parks makes Utah perfect for a national park road trip, allowing you to see multiple parks on your route. The five national parks in this state are:

Visiting some of Utah's national parks is essential when in the West. The state's proximity to other iconic spots like the Grand Canyon allows travelers to get the most out of this region while visiting and road-tripping.
States With No National Parks
While these three states have the most national parks, many states lack even one. When planning a trip, you can still find many amazing sites and attractions in these states, including state parks managed by their parks and recreation departments. These are the U.S. states without national parks:
Alabama
Connecticut
Delaware
Georgia
Illinois
Iowa
Kansas
Louisiana
Maryland
Massachusetts
Mississippi
Nebraska
New Hampshire
New Jersey
New York
Oklahoma
Pennsylvania
Rhode Island
Vermont
Wisconsin
While these states have no national parks, NPS is often still present, helping to manage other important sites. Most states have historical trails, parks and monuments that NPS helps maintain and protect. As you map out your next road trip, you can stop at other NPS sites in these states on your way to your next national park. You might learn something about the state and its history while taking in the local scenery and charm.
Plan Your Trip to the National Parks With My Financing USA

When you want to travel the U.S. and see various national parks, RVs are the way to go. You can travel at your comfort level with various amenities available while opening more opportunities to camp in the parks. In an RV, you can create memories the whole family will look back on for years.
My Financing USA can help finance your RV loan for a more streamlined planning process. Your application can get approved within 48 to 72 hours, so you can focus on where you want to go and see.
Submit an application online today with My Financing USA and begin your next adventure!
---
Additional Resources on National Parks:
---