Quick Navigation
Many adventurous travelers dream about a U.S. West Coast road trip. The U.S. West Coast offers thousands of miles of windswept beaches and lush forests between Canada and Mexico. Tucked among the natural wonders and beautiful vistas are quaint coastal towns and exciting world-class cities you need to experience to believe.
If you're ready for the adventure of a lifetime, check out this ultimate guide to West Coast of America road trip ideas. Below, you'll discover the top attractions to see on a U.S. West Coast road trip, where to park your RV while on the road and specific West Coast USA road trip routes.
U.S. West Coast Road Trip Ideas
From quirky roadside attractions to magnificent national parks and camping destinations, here are some of the best road trip ideas for the West Coast:
West Coast Roadside Attractions
Nothing brings more joy on a road trip than stumbling across strange landmarks and unique roadside attractions in the middle of nowhere. Luckily, the West Coast is home to numerous roadside sights people make long drives to see each year. If you plan your road trip route around fun roadside stops, the West Coast will be a wealth of amusement for you.


Here are 10 top attractions to see up and down the West Coast:
Trees of Mystery: Located in Klamath, California, this attraction features unusual attractions, such as two giant statues of Paul Bunyan and his ox, Babe.
Cabazon Dinosaurs: These enormous dinosaur statues in Cabazon, California, are among the most popular roadside attractions in the country. Road trippers of all ages will love stopping to visit Dinny the Dinosaur and Mr. Rex.
Salvation Mountain: This famous sight on the edge of San Diego is a surreal and brightly colored hillside shrine situated in the middle of California's desert country.
Wild Horses Monument: This beautiful sculpture in Quincy, Washington, is dedicated to the state's centennial. If you love wild horses, you have to make a stop to see this collection of iron horses galloping along a ridgeline above the Columbia River Gorge.
Forestiere Underground Gardens: These gardens are an impressively intricate series of underground passageways and subterranean structures. If you'll be anywhere near Fresno, you'll want to stop and explore this charming spot with your family.
Octopus Tree: As the name implies, this old spruce tree in Tillamook, Oregon, is distinctly shaped like an octopus.
The Oregon Vortex: Bring your family by this spooky roadside attraction in Gold Hill, Oregon, but be warned — the laws of physics are allegedly non-existent here due to paranormal activity.
Oregon State Hospital Museum of Mental Health: If anyone in your family is a fan of "One Flew Over the Cuckoo's Nest," you have to stop at this site where the movie was filmed. This museum in Salem, Oregon, now displays artifacts from the movie and archaic therapeutic techniques.
Rosie: Rosie is a massive fish statue in Sekiu, Washington, that has legs and wears tennis shoes, a pink skirt and a bra. If you're into unique roadside attractions, this half-fish, half-human work of art is a must.
Codger Pole: This huge totem pole in Colfax, Washington, commemorates local football players as they appeared in the 1930s when their first game took place. Sports fans of all sorts will appreciate this piece of public art that was dedicated to the rival cross-county teams during their final rematch in 1988.
West Coast National Parks
When you think of West Coast of America road trip ideas, you can't forget to look into national parks. The West Coast features some of the most stunning scenery in the country. If your family enjoys outdoor beauty and spectacular sights, you'll want to stop at as many national parks as you can.


Check out the following West Coast national parks to get your fill of natural beauty:
Kings Canyon and Sequoia: These stunning national parks are situated next to each other in Southern California. Both parks are filled with awe-inspiring giant sequoias — one of the tallest types of trees in the world — and surrounded by the beautiful peaks of the Sierra Nevada mountains.
Joshua Tree: This desert national park near Los Angeles features unique flora and fauna for you to admire. As a playground for the adventurous, Joshua Tree is a trendy destination among climbers, boulders and weekend warriors.
Yosemite: If you're in Northern California, you can't miss Yosemite National Park. Yosemite is a granite wonderland filled with some of the sheerest and most striking rock walls in the world. Hikers and rock climbers alike will enjoy the sights and activities Yosemite has to offer.
Redwood: Another Northern California treasure, Redwood National Forest is one of the best attractions along the West Coast. Redwood is home to some of the oldest and tallest trees on the map.
Death Valley: If you're up for a challenge, this national park in Southern California is one of the hottest and inhospitable places on the planet. Those who can handle the heat will be rewarded with scenes of surreal geology, enormous dunes and majestic mountains. Make sure you pack plenty of water if you plan on visiting this dry and arid spot.
Pinnacles: This Northern California national park was designated to preserve a mountainous area full of gorgeous rock formations and a large population of local bats. Visit Pinnacles National Park if you're interested in cave exploration, rock climbing or California Condor viewing.
Channel Islands: The Channel Islands National Park in Southern California provides vast ecological diversity, making it the perfect spot for scuba diving, whale watching and hiking. You'll get to explore trails to lighthouses, sea caves and rare pine forests.
Lassen Volcanic: This Northern California national park is best known for its active volcanoes and bubbling thermal pools. The park's beautiful combination of lava rocks, lakes, summits and hydrothermal sites makes it one of California's best places to camp.
Crater Lake: If you pass through Oregon, make sure you stop at the state's only national park — Crater Lake. This breathtaking spot is home to an astonishingly deep and clear lake situated in a collapsed caldera surrounded by gorgeous mountain peaks.
North Cascades: The North Cascades National Park is a vast and wild mountain range commonly referred to as the Alps of the U.S. While hiking the North Cascades, you'll be mesmerized by the deep forested valleys, snow-capped peaks, cascading waterfalls and glistening glaciers. Make sure you check out Diablo Lake for a phenomenal overlook.
Mount Rainier: This Washington national park is an alpine paradise home to the highest summit in the Cascades and the largest glaciers in the Continental States. Mount Rainier itself is a dormant volcano that offers some of the best views in Washington.
Olympic National Park: Located on Washington's Olympic Peninsula, this national park is one of the most geographically diverse regions along the entire West Coast. From mountains and glaciers to rainforest and rugged coastlines, you can take in multiple dimensions of nature in a single park stop.
If you plan to include some national parks in your West Coast road trip routes, you may want to save some money by purchasing an America the Beautiful National Parks and Federal Recreational Lands Pass. This annual pass covers entrance and basic amenities fees for more than 2,000 federal recreation sites throughout the U.S. If you consider the cost of exploring a national park for the day, you'll see that the pass quickly pays for itself.
West Coast Camping Options
If your family loves a bit of adventure as well as nature, camping is a fantastic way to experience the West Coast. Loading the whole family up into an RV and hitting the road will allow you to see some of the most spectacular West Coast sights without worrying about booking hotels. Camping is also one of the best West Coast family road trip ideas because it lets you go to sleep and wake up in the heart of some of the country's most beautiful landscapes.


The West Coast offers a wide variety of campgrounds with differing rates and amenities. In general, there are four kinds of campgrounds — private, public, dispersed and backcountry.
Private: These large campgrounds provide the most amenities, including showers, communal kitchens and sometimes even onsite restaurants. If your family enjoys the comfort of modern amenities, private campsites are the right choice for you. Keep in mind that this option is the most expensive because it offers more luxuries.
Public: Public campgrounds are a bit more basic than private campsites but still provide standard amenities. While public campgrounds are supposed to include running water, bathrooms and electricity, some may not. However, the prices for public campsites are extremely reasonable.
Dispersed: Also known as primitive camping or wild camping, dispersed camping refers to camping in an unofficial but legal campsite. Although dispersed camping comes with little to no amenities, it's almost always free.
Backcountry: Backcountry camping occurs in wilderness areas and nearly always requires a hike to reach the site. These campgrounds don't include any facilities so you'll have to bring your own food, cooking gear and other camp supplies. Typically, backcountry camping requires having a permit you can get from the nearest ranger station.
When planning your West Coast camping stops, keep in mind most campgrounds fill up quickly, especially those located at national parks. Try to book your campsite in advance to ensure you have a place to stay each night of your trip. Most campgrounds have walk-up sites available, but you'll need to arrive early enough to secure a spot.
West Coast Road Trip Routes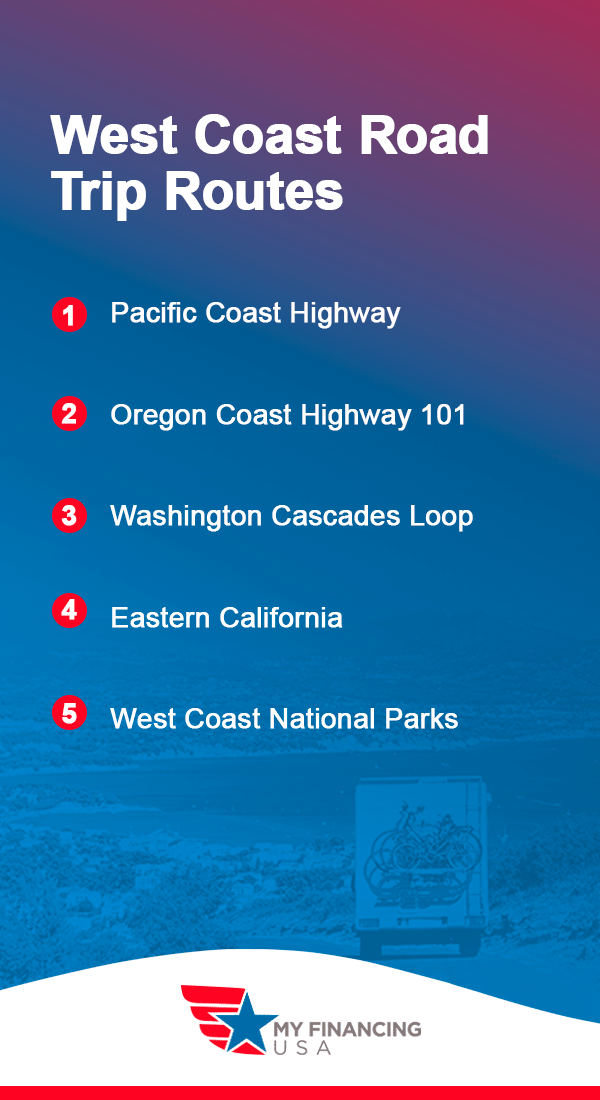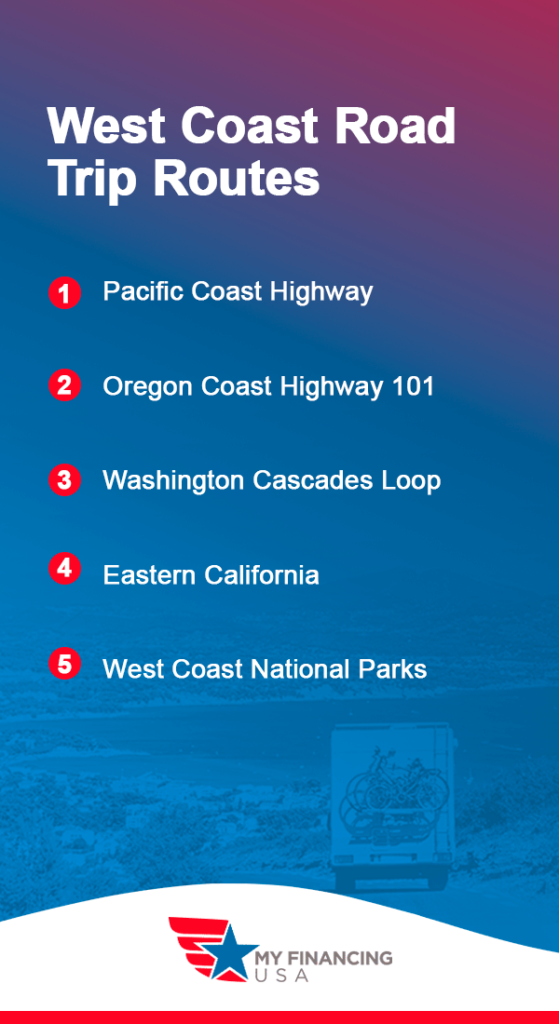 Check out five of the best West Coast road trip route options below.
1. Pacific Coast Highway
Also referred to as California State Route 1, the Pacific Coast Highway is one of the nation's most famous road trip routes. This marvelous highway spans 600 miles of California coastline from Los Angeles to Mendocino County. In between these points, the highway passes through the picturesque views of Big Sur, the illustrious Golden Gate Bridge and more.
If you're intrigued by the Pacific Coast Highway, here are a few top tips for cruising the California Coast from top to bottom:
Start in San Francisco: Before hitting the road, you'll want to check out the iconic Golden Gate Bridge and spend some time walking around the downtown area. Visit the city's Golden Gate Park, which covers over 1,000 acres of grounds and includes a Japanese tea garden, multiple world-class museums, a windmill and a herd of buffalo.
Snap photos at Big Sur: Big Sur is one of the most scenic sections of California's coastline. Dotted with rugged mountain peaks and enchanting redwood forests, Big Sur is a natural wonder. Swing by the Bixby Creek Bridge to get an unbelievable ocean view from the aesthetically designed bridge.
Stay the night in Morro Bay: This small city on a large bay is home to incredible wildlife, such as sea otters, monarch butterflies and hummingbirds. The Morro Bay State Park offers plenty of opportunities for you to encounter these animals and several trails so you can see the sights while stretching your legs.
Sip some California wine:As you continue down the coast, make some stops at the local wineries around San Luis Obispo, Santa Ynez Valley and Edna Valley. After visiting these famous wine destinations, you'll understand why California is so well-known for its vineyards.


Shop in Santa Barbara: Santa Barbara is the intersection of California's trademark glitzy culture and its casual beaches. You can spend all day lounging on the beach or shop until you drop in the city's exciting arts district. Along with admiring the ocean, you'll have a great time gawking at the impressive mansions scattered throughout Santa Barbara.
Surf in the South Bay area: As you keep driving, you'll come across Malibu, Santa Monica and the South Bay area. Make a pit stop to enjoy the area's beautiful beaches and catch a couple of waves. Whether you're a surfing fan or more into sunbathing, the South Bay area will be a welcome stop along your West Coast road trip.
Search for stars in Los Angeles: This California cultural hub is a must-see. You'll find endless activities in Los Angeles, old-fashioned food markets, first-class art museums, famous malls and five-star restaurants. You'll also get to experience the many personalities of Los Angeles, from Old Hollywood glamour to modern hipster.
Stop at Dana Point: This sunny Orange County city is an excellent place for spotting dolphins and whales. Take a whale-watching cruise or hop on a trail at Dana Point Headlands Conservation Area to see the city's extensive ocean vistas and fascinating fauna.
Soak up the sun in San Diego: San Diego is the perfect place to end your California road trip. You can go out with a bang by visiting the city's lively downtown area, SeaWorld and Balboa Park — home to botanical gardens, numerous museums and the San Diego Zoo. If being on the road has tired you out, you can close out your trip relaxing on San Diego's sandy beaches and basking in some rays.
2. Oregon Coast Highway 101
Although slightly less well-known, the Oregon Coast is equally as impressive as the California Coast. The Oregon Coast spans hundreds of miles from Astoria and the Columbia River in the north, down to the border of California in the south. This scenic drive has roadside attractions like historical shipwrecks, towering sea stacks and incredible ocean views.


Whether you're starting from California or Seattle, your trip along the Oregon Coast Highway will include striking coastlines, charming towns, tide pools and plenty of marine life. Some of the best places to pull over include the scenic vistas of Cape Perpetua, Samuel H. Boardman State Scenic Center and the Oregon Dunes, which offers overnight accommodations.
Other popular Oregon Coast attractions include Newport's Yaquina Head Lighthouse, the Astoria-Megler Bridge and Haystack Rock at Cannon Beach. If you're looking for West Coast family reunion road trip ideas, meeting up on the coast of Oregon will be memorable. Essentially, the Oregon Coast is full of adventure and unpredictable weather, so make sure you bring rain gear, beach supplies, hiking equipment and a camera.
3. Washington Cascades Loop
To get the full flavor of Washington's splendid cities, mountains, sights and scenes, you'll likely want to complete the 440-mile Cascade Loop. The route begins in the culturally rich city of Seattle and can be taken north toward Anacortes to connect with the North Cascades Scenic Byway. This 120-mile stretch takes travelers through some of the most dramatic landscapes in Washington.
You'll find incredible hiking trails and the top-rated campsites of North Cascades National Park along the byway. Specifically, Diablo Lake is extremely accessible from the byway and boasts a beautiful lake view. You'll also be able to spot gorgeous glaciers and striking mountain peaks.
The Cascade Loop's southern section passes through additional road trip attractions, such as Leavenworth — a German-inspired area featuring beautiful alpine mountains and lively local cultural festivities. The irresistible charm of Leavenworth draws a multitude of tourists each year and even converts some to residents.
If you're interested in adventurous activities like skiing, hiking or white water rafting, make sure you stop at Stevens Pass. After getting your adrenaline fill, you can take U.S. Route 2 back to Seattle to complete the loop. Try to build some extra time into your itinerary to explore Seattle because you don't want to miss the city's top attractions.


During your tourist days in Seattle, make sure to hit these sites:
The Space Needle
Pike Place Market
The Museum of Pop Culture
The Seattle Art Museum
Chihuly Garden and Glass Museum
4. Eastern California
The inland portion of California has a diversity of national parklands and natural beauty. Full of shimmering lakes, postcard-worthy peaks and lush forests, the Sierra Nevada Mountains of California are breathtaking. You can start your scenic Eastern California road trip by hopping on Highway 395 to South Lake Tahoe — home of the shimmering Emerald Bay State Park.
Continuing south, you'll run across Mammoth Lakes, which is a prime destination for anyone who loves hiking, mountain biking, skiing or snowboarding. After Mammoth Lakes, make sure you circle back to see Yosemite National Park. Home to North America's tallest waterfall — Yosemite Falls — and a 3,000-foot tall granite monolith known as El Capitan, Yosemite is a crucial stop on any road trip route.


After you're done exploring Yosemite, make sure you don't miss the mystical snow-capped wonder of Mount Whitney. Mount Whitney is the tallest mountain top within the contiguous United States. Hiking some or all of Mount Whitney is an epic way to wrap up your road trip. If you have some extra time, be sure to check out Kings Canyon and Sequoia National Park — the two sensational parks that sandwich Mount Whitney.
5. West Coast National Parks
If you're feeling ambitious, a national parks tour might be the best route for your West Coast road trip. Among Washington, Oregon and California, you have a nearly endless selection of national parks, state parks, historical reserves and designated wilderness areas to explore.
For the ultimate West Coast national park experience, try following this giant loop:
Start in Los Angeles and travel east to Joshua Tree National Park.
From Joshua Tree, head up to Death Valley.
Go from Death Valley to Kings Canyon National Parks.
Make the short drive over to Yosemite National Park.
Following Yosemite, keep traveling north to Lassen Volcanic National Park.
From Lassen Volcanic National Park, cross over into Oregon to see Crater Lake.
On your way up from Crater Lake, stop to check out the Newberry National Volcanic Monument.
Continue driving north into Washington to see Mount Saint Helens.
After admiring Mount Saint Helens, pop up to another impressive peak — Mount Rainier.
Once you've explored Mount Rainier, drive up to North Cascades National Park, which will be the height of your road trip loop.
Following the North Cascades, you'll start driving south to Olympic National Park.
Keep going south into Oregon to see the dazzling Oregon Dunes National Recreation Area.
After the Oregon Dunes, make a stop at the Oregon Caves National Monument and Preserve.
Once you've gotten your fill of caves, keep going south into California to Redwood National Park.
From Redwood National Park, enjoying driving down the California coast until you reach Point Reyes National Seashore.
After resting up at Point Reyes, keep going south to Pinnacles National Park.
Proceed from Pinnacles National Park to Channel Islands National Park, the final new destination on your road trip map.
Come full circle by driving from Channel Islands National Park to Los Angeles, completing your West Coast National Parks Road Trip.
Apply for an RV Loan From My Financing USA Before Your West Coast Trip


If you're planning a West Coast road trip, consider traveling in an RV or campervan so you don't have to worry about packing camping gear or pitching a tent. Instead, you'll have access to all the amenities you need to make your trip even more enjoyable. Plus, you can save money in the long run on expenses like lodging and eating, meaning you can spend more on activities throughout your road trip.
Learn more about your RV loan opportunities from My Financing USA to make financing your RV as easy, convenient and affordable as possible. My Financing USA offers RV loans for both high and low credit scores, so you can find a loan option that meets your needs.
Are you ready to start your RV road trip? Apply for an RV loan from My Financing USA today, or contact us to learn more about your options.
---
Additional Resources on Road Trips:
---