Quick Navigation:
Finding the right RV class for your needs can involve a lot of research. In the RV world, what is a Class B? They are defined by their van-like structure and look distinct from either Class A or Class C drivable RVs. A Class B RV combines the luxuries of the other drivable RV models with the accessibility of a more compact passenger vehicle. With regard to its price range and features, Class B is a good middle-ground choice with a little bit of everything.
Learn more about Class B RVs to see if they're the right choice for you.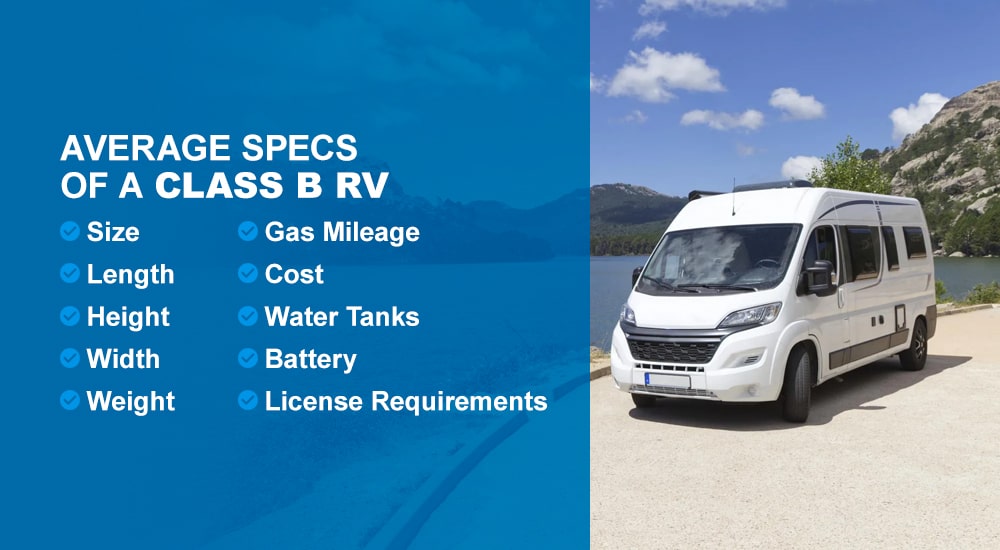 Average Specs of a Class B RV
Class Bs have a lot to offer for frequent travelers. They are very popular RVs for a reason, with many desirable features. What is a top-of-the-line Class B RV? To determine the best models of Class B motorhomes, consider their typical specs to see how they stack up.
Size
If you have researched the different classes of RVs, you know Class Bs are supposed to be smaller than either Class As or Class Cs. What size is a Class B RV usually? The dimensions will vary depending on the brand, but they fall into a wide range of about 15-26 feet long. If size is the reason you're uncertain whether a Class B might be for you, it is possible to buy one with a capacity that rivals the other classes.
Length
One of the smallest camper vans on the market is the Winnebago Revel, which is just under 20 feet long. On the other end of the spectrum, the Airstream Interstate 24GL is a generous 24 feet long, surpassing the space capacity of several Class Cs. Can you buy one of only 15 feet to save some money? Finding a Class B RV any smaller or larger can be challenging. Many of the smallest are actually camper van conversions that have been reclassified as Class C motorhomes.
What length is a Class B motorhome of a larger size? The larger Class B+ model ranges from a compact 17 feet up to 30 feet. Super Class Bs rival Class C RVs in size.
Height
If you or someone you plan to travel with is taller than 6 feet, one question that matters is — what is the height of a Class B motorhome? Class Bs look and drive just like vans, and they have comfortably high ceilings for most RVers. If you're over 6'4" tall, however, you will have to duck your head.
Class B motorhomes are about 9-11 feet in their total height, and some like the Tellaro have ceiling attachments to extend when you're ready to set up camp. What size is a Class B motorhome when it's a super or plus model? The B+ models are actually about the same height or slightly taller.
What is the interior height of a class B+ RV? You will get around six feet and three inches of space on the inside, even with a plus model. If extra height is important, look for an RV with a roof extension for an expanded interior. For example, the National Traveler van has a roof that can extend beyond 7 feet.
Width
Although most motorists lack concern for the width of their vehicles, an RV's width is an important feature that will influence your sleeping position. The standard width of a Class B RV is about 8 feet, so you will have plenty of room for your bed. You can shop for either a pull-out mattress or a fixed frame depending on your overall space capacity.
Weight
A Class B RV falls into a range of about 6,000 to 11,000 pounds and is classified as a light-duty vehicle. In comparison, the average medium-sized pickup truck for noncommercial use is about 8,000 to 9,000 pounds.
Gas Mileage
If gas mileage is important to you, Class B is the RV to consider. You may have heard that out of the drivable RVs on the market, Class B gets excellent gas mileage. So what is the average mpg for a Class B RV? Camper vans and Class B motorhomes run on about 18-25 miles per gallon. For example, the Roadtrek Sprinter RS Adventurous gets at least 20 miles per gallon, with a great range of 21-24 mpg while out on the road.
Cost
Class B motorhomes average in cost from about $60,000 to $240,000. The sales price of new models continues to increase every year, with luxury and B+ motorhomes surpassing the average price range for the more expensive Class As.
If you are looking for a bargain, you can find cheaper used RVs with high mileage. However, replacing outdated parts could cost about the same as a new Class B vehicle or more. On the higher end are models such as the Advanced RV B Box. Made from a Mercedes-Benz Sprinter chassis, these Class Bs go for upwards of $380,000.
Water Tanks
The size of your gray water tank determines how much wastewater you can carry before needing to dispose of it. Class B RVs typically hold between 8 and 35 gallons on average, and some have larger gray water tanks that hold even more. The freshwater tank allows you to wash your hands, shower and do laundry. This is typically the largest tank. For example, the Nexus Viper 25V holds 40 gallons of freshwater.
Battery
What type of battery is in a Class B RV? Below are some common types, including upgrades:
Lithium-ion: These batteries are rechargeable with the use of a conventional source of electricity. Lithium-ion batteries have a long life span.
Solar: Want an additional power source? Need a backup? You can order solar panels to connect with a battery that converts energy from the sun into power. Solar batteries and the equipment that charges them are high-end upgrades.
Deep-cycle lead acid: Most RVs come with this kind as the standard. When your battery is getting close to dying, your RV will warn you that it needs to be replaced soon.
License Requirements
You can drive a Class B with a regular driver's license. You only have to apply for a commercial driver's license if a vehicle falls over the weight limit of 26,000 pounds, as the RV would then be considered a Commercial Motor Vehicle (CMV). Most RVs weigh much less, and Class Bs are the lightest drivable RVs.
Benefits of the Class B RV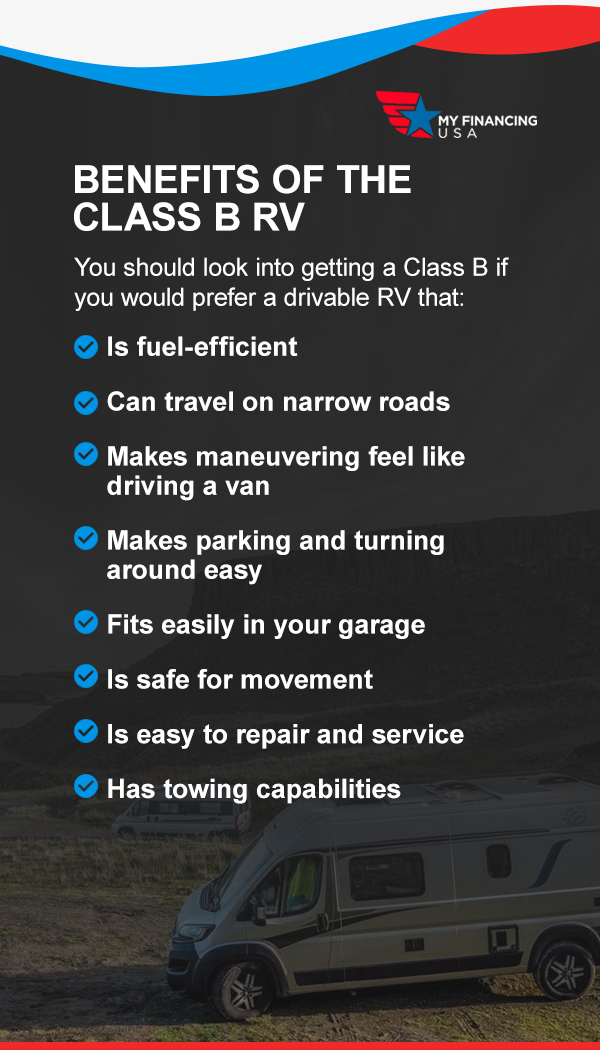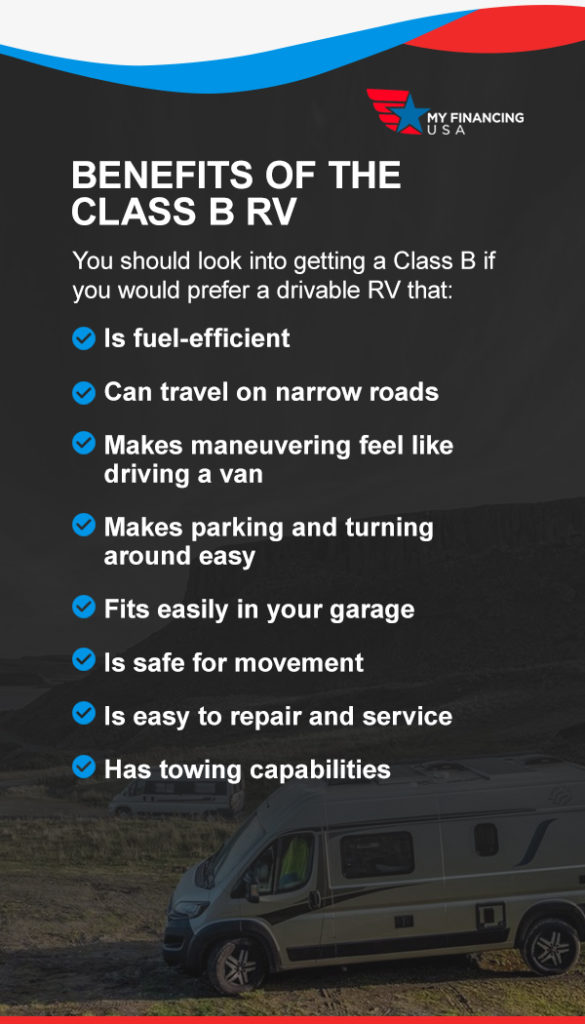 Class Bs have all the valuable camping features of a drivable RV. Plus, they are compact and easy to drive. You should look into getting a Class B if you would prefer a drivable RV that:
Is fuel-efficient: These vehicles are well-known for getting great gas mileage. Newer models continue to improve their fuel economy.
Can travel on narrow roads: Class B is wide enough to provide a comfortable living space and narrow enough to travel safely on narrow roads.
Makes maneuvering feel like driving a van: Steering a Class B is easy if you are used to driving a larger passenger vehicle.
Makes parking and turning around easy: You can generally park anywhere a passenger car can, with some restrictions.
Fits easily in your garage: If you can fit a large pickup truck in your garage space, your Class B will probably fit too.
Is safe for movement: Adult passengers can leave their seats for access to the bathroom and refrigerator.
Is easy to repair and service: Many automotive dealerships offer chassis repair and engineering services for Class B RVs.
Has towing capabilities: While the towing capacity is a bit less than an A or C Class, some Class Bs can haul more weight than others.
Drawbacks of the Class B RV
Class B RVs are a great choice for singles or couples. They have some disadvantages for families, so if you have kids or want to bring your friend camping, you should be aware of the drawbacks. Some cons of a Class B RV are that:
Most are small: Wherever you look for information about Class Bs, they are described as small. Although they offer significantly more space than a passenger car, they are a smaller choice for a drivable RV.
Many have only two seats: Usually, two travelers can ride in the front of the vehicle. Some Class B motorhomes accommodate four or more travelers. If you want to make sure you have enough seats for your passengers, check the floorplan.
They have less storage space: If you have a lot of luggage or plan to carry new purchases home, look at how you would store your items. Check the available floorplans for storage space.
Many only sleep two people: The floorplan can only accommodate as many people as square footage allows. Even with the best floorplan available, most Class Bs could lack enough room for a large family to sleep inside. Some models have four or more seats but only sleep two or three people.
They have smaller gas tanks: Their gas tanks are a good size relative to the vehicle. Still, larger drivable RVs also have larger gas tanks.
Learn About Class B RV Financing
Common Reasons to Choose a Class B Motorhome: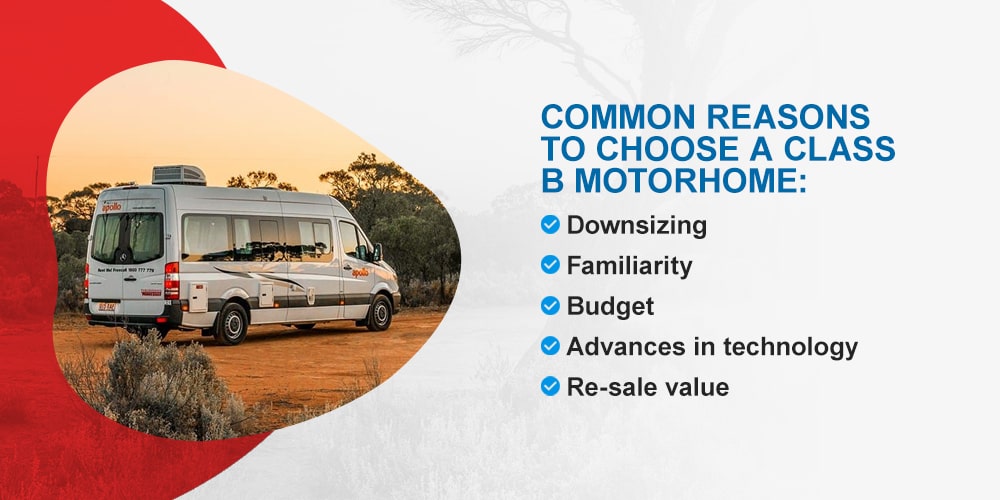 Why should you select a Class B over another type of RV? Travelers who buy a Class B might have the following reasons:
Downsizing: Some RVers like the compact aspect of Class B and decide to downsize. Instead of being a disadvantage, a smaller floor plan with the same amenities is a plus for many. You might want to downsize after you sell off a larger motorhome. If you're a retiree, for example, you might require less room while traveling.
Familiarity: A Class B is similar to a van or another larger passenger vehicle. You might choose this class if you like how simple it is to drive, steer and park. Of course, you must get used to any new vehicle. When you're new to RV life, Class B is the closest you can buy to a car.
Budget: This might be the RV class that would best fit your budget. One reason is the overall cost relative to other drivable RVs. You might also be able to make do with a Class B as your only vehicle. Because Class Bs have few restrictions, you can drive yours around just like a car in most areas.
Advances in technology: New technology makes traveling in a Class B more convenient and affordable than ever. Some of the things that add appeal to smaller RVs are Wi-Fi signal boosters for staying connected to the outside world, space-saving portable sinks with their own water tanks, and eco-friendly, independently fueled camping stoves.
Re-sale value: Even if you put a lot of miles on your new Class B, with the rapid increase in demand, you can usually find a buyer willing to take it. Decades-old campervans sell for thousands online. Many who want an RV for boondocking are unable to afford a new model, so they shop for a used Class B with a negotiable price tag.
What Is a Class B+ RV?
The Class B+ motorhome is a relatively new style built to meet the demand for more spacious Class Bs. Larger than a standard Class B campervan, they rival the Class C RVs on the market with high square footage interiors and luxury amenities. A super Class B RV is essentially the same vehicle as Class B+ RVs.
The size capacity of a drivable RV begins with the chassis or the base. Class B+ RVs use a larger, heavy-duty chassis for a more spacious interior. The improved super van chassis is why these vehicles are also called super Class Bs.
If you want the biggest heavy-duty Class B on the market, expect to pay more. The added features and space also make these models more expensive.
What Is a Class B Motorhome With a Pop Out?
Pop-out attachments are also called slide-outs. Certain Class B motorhomes like the Airstream Atlas Murphy Suite and Winnebago Era 70A have these power-retractable attachments for increasing space. Slide-outs will add square footage to the inside of your RV.
A simple attachment with an awning is also used to create an open-air ceiling over a camping site. You can pull out the awning and anchor it to make a rainproof outdoor space. This way, you can eat and enjoy the view while sitting outside in your lawn chair.
Get a Loan for a Class B RV With My Financing USA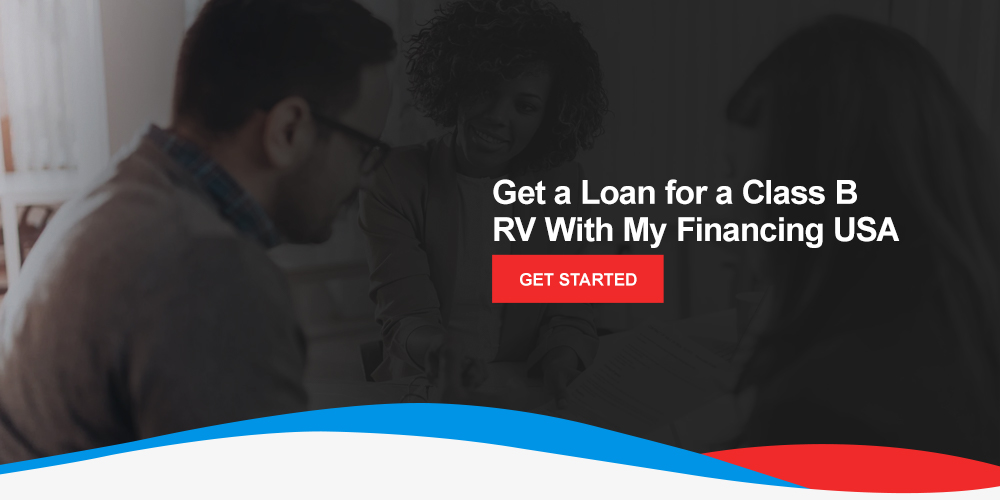 A Class B motorhome is a good choice whether you're a first-time RV owner or planning to make an upgrade. If you're looking for your own Class B RV, My Financing USA will help you find a loan that best fits your budget. We will work with you even if you have a low credit score, and we try to limit credit inquiries.
You can do the entire process online. Learn more about our Class B RV loans before applying. Ready to finance your new RV today? We look forward to working with you. Apply for an RV loan today!
---
Additional Resources on RVs:
---