Quick Navigation
Hunting for a new RV? Class C is an affordable option for a larger family or if you just want more space for sleeping and a greater capacity for storage. This class has a cutaway chassis and raised sections above the cab to maximize the amount of interior space and minimize the total length. These raised sections make the top of the vehicle distinctive from the Class B campervan.
Although they are different in many ways, Class C motorhomes share some of Class B's best features, only on a bigger scale and at a lower cost. They are still smaller than Class A motorcoaches and get superior gas mileage. Still unsure about which type of RV is right for you? Learn more about Class C motorhomes below.
Average Specs of a Class C RV
If you're considering a Class C motorhome, you should be aware of how the specs affect your buying options. Below are common specs for Class C motorhomes that new RV owners like yourself often check before making the final purchase:
What Size Is a Class C RV?
The Class C is known for being larger than a Class B camping conversion van but smaller than a traditional style Class A RV. Many of the most popular models are right around 30 feet long. Most have enough room for at least three campers to sleep in, with some of the luxury models able to accommodate up to eight travelers.
So what is the smallest size for a Class C motorhome? If you're looking to downsize or otherwise would prefer a smaller RV, check out the Winnebago Outlook 22C. This RV is about 25 feet in length, rivaling similar Class B RVs in terms of maneuverability and space.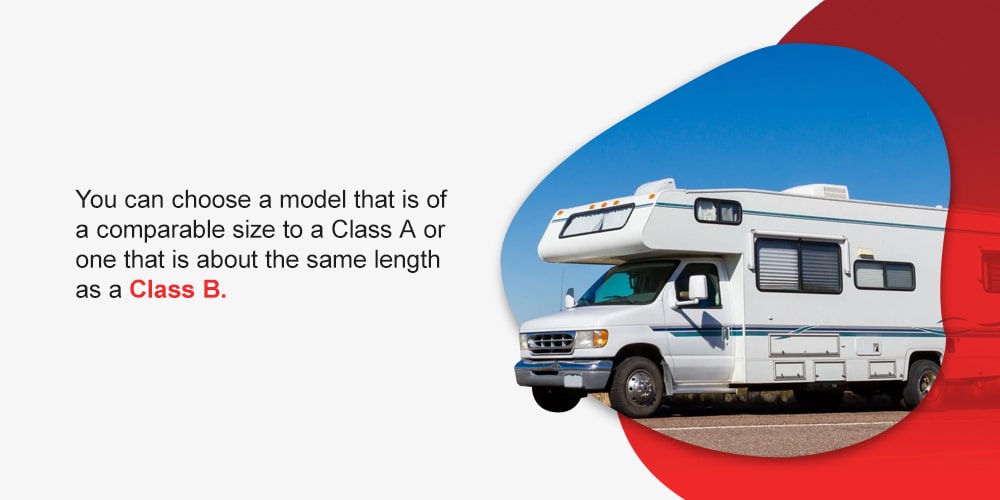 What Is the Length of a Class C Motorhome?
Class Cs range widely in length from about 22 feet all the way up to 44 feet. You can choose a model that is of a comparable size to a Class A or one that is about the same length as a Class B. As far as which model is the best, it really depends on your transportation needs.
Would you prefer to drive a larger Class C for the extra square footage? Check your manufacturer's floorplans before you decide. In a Class C, the extra space above the cab provides additional storage or even another sleeping area. You might be able to find everything you're looking for in a Class C of an average size.
What Is the Height of a Class C RV?
The average height of a Class C is about 11 feet, but the interior height will always be shorter than the total height.
In an RV, the exterior height can differ significantly from the interior due to the thick layers of insulation needed to keep you safe from extreme temperatures. Even the smallest Class C models have an interior height of about 6 feet and 4 inches. This is tall enough for most travelers to walk around without ducking, unless you're making an exit.
What is a small Class C RV in terms of height? Even the small models stand at about 11 feet tall. Smaller dimensions affect the length and width more than the height.
Learn About Class C RV Financing
What Is the Width of a Class C Motorhome?
The standard width is about 100 inches, or 8 feet and 4 inches. Some Class C motorhomes can be expanded in width with slide-outs once you make camp. RVs must conform to safety laws that restrict the width of a vehicle, and they must stay below the limit of 102 inches wide in most states.
What Is the Weight of a Class C RV?
These vehicles average at around 10,000 to 12,000 pounds, but some models are heavier. Although they weigh more than the Class B campervan, they are close in terms of the weight class.
The Class C is less heavy than the Class A, but you might need to check for road restrictions based on weight classes. If you are uncertain of how much your RV will weigh once your passengers are all inside, go to a CAT scale station or a truck stop just to make sure you know the total.
What Is the Average Gas Mileage on a Class C RV?
This class gets around 8 to 15 miles per gallon on average, a typical range for RVs in general. This might seem low, but your Class C will also come equipped with special features that make off-roading and boondocking easier. Most passenger vehicles lack the same capabilities.
Some Class Cs run on diesel instead of unleaded gasoline. Diesel is a useful fuel for vehicles with towing, but it does cost more than gasoline. If you will be driving your RV without towing a passenger vehicle, consider getting a model that runs on gas.
What Is the Average Cost of a Class C RV?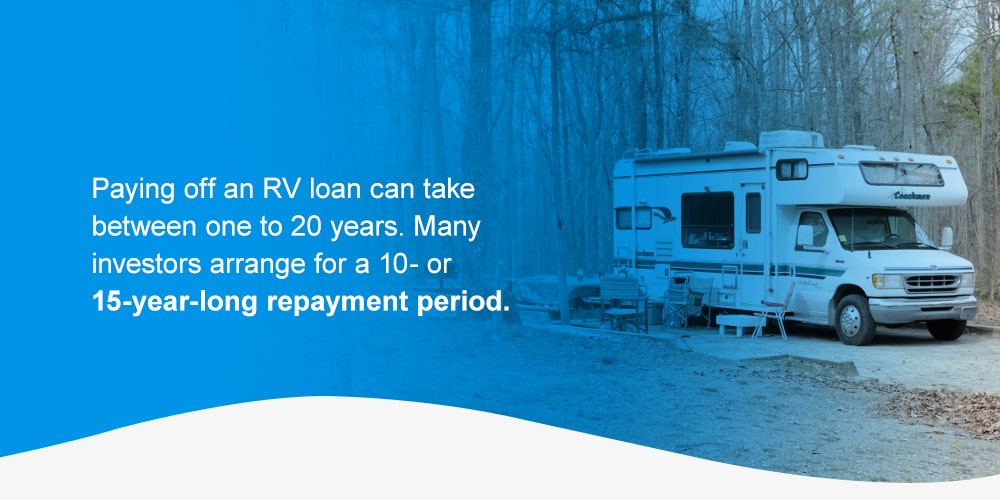 The Class C is the most affordable option if you're looking for a drivable RV. They range from about $80,000 to $140,000, but prices have steadily increased in the past few years. Some larger models with luxury features can cost significantly more. Generally though, the Class C is less expensive than all other drivable classes.
So what is the average loan for a Class C RV? It depends on how much you borrow. Paying off an RV loan can take between one to 20 years. Many investors arrange for a 10- or 15-year-long repayment period. Before you make a purchase, review the terms of the loan, and carefully check how the payments will affect your monthly budget.
What Is Considered High Mileage for a Class C Motorhome?
You can get a good bargain for a used Class C vehicle, but if you plan to drive it without making several replacements and upgrades, look for one under a predicted lifespan of 200,000 miles. Some models can last for up to 300,000 miles, but the risks outweigh the benefits of buying a newer RV.
What Is the Average Water Tank Capacity for a Class C RV?
The freshwater tank ranges from an average of 35 to 55 gallons, and the grey water tank for a Class C ranges from around 28 to 40 gallons. If you are traveling with a larger family, you will have to refill your freshwater tank more frequently, and if you go on long trips, expect to refill the tank regardless of its capacity.
The capacity of your water tanks is important when you are traveling with multiple campers who need to share the facilities. In a Class C, the water tanks are a generous size, since many of these RVs are designed to accommodate more than two people. It takes between 2 and 5 gallons of water per minute to shower and around 1 gallon to either wash your hands or brush your teeth.
What Type of Battery Is in a Class C Motorhome?
The RV requires a battery in the chassis to start the engine, but you also need a power source for your amenities. Your Class C will come with its own system. Below are the common battery types and additions that you can make as upgrades to your power supply:
Deep-cycle: These come in either a 12 volt or two 6 volt units. They are the standard for powering the home areas of your RV.
Lithium-ion: These batteries are rechargeable and have a longer lifespan than the lead-acid kind.
Solar: This is a more expensive add-on, but solar power can help you stay connected in remote regions or serve as a backup when one of your other power supplies runs out.
License Requirements for Class C RVs
This class tips the scale from a light-duty vehicle classification into a medium-duty classification of above 10,000 lbs. However, a commercial driver's license is not required. You can drive a Class C with a standard driver's license, without passing any special testing.
If your RV and towed vehicle totals over the weight limit of 26,000 pounds, you could need a commercial license to legally drive the RV in some states. Fortunately, a Class C is light enough to avoid this limit, and most can only tow about 8,000 lbs. Be sure to check state laws to see more specific requirements.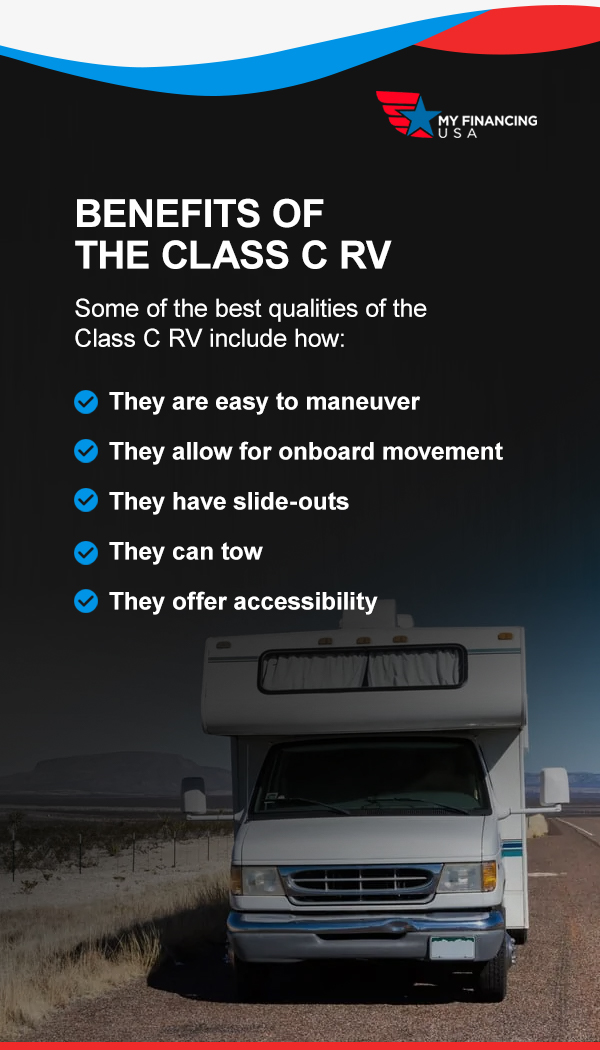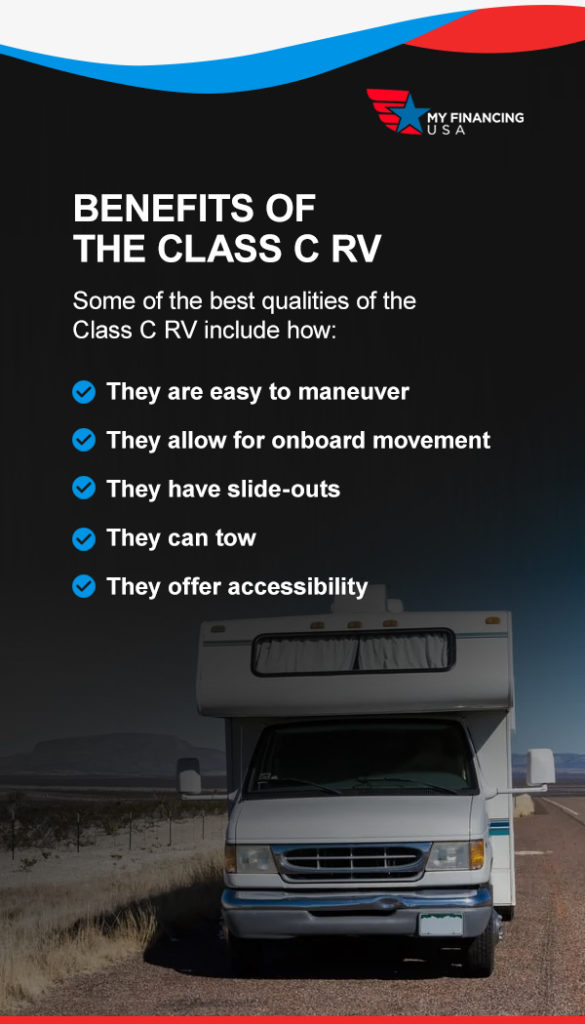 Benefits of the Class C RV
Owning a Class C is a beneficial investment for families with kids, traveling professionals who need to transport heavy equipment or any group of campers. Some of the best qualities of the Class C RV include how:
They are easy to maneuver: Steering and parking feels about the same as driving a large van.
They allow for onboard movement: It is legal for adult passengers to use the bathroom or walk to the refrigerator while the RV is in motion. This means only the driver needs to make rest stops.
They have slide-outs: You get the best possible living spaces and storage with slide-outs.
They can tow: Depending on the make and model, they can serve as a toy hauler. You can transport your ATV, bikes or other recreational equipment outside of the vehicle for even more space.
They offer accessibility: Maintenance and repair services for Class Cs are available at most automotive shops.
Drawbacks of the Class C RV
Class C RVs have many pros, but there are also the cons to consider. If you are planning to get a Class C, think about how:
The towing capacity is limited: They have a decent towing capacity, but it is limited by their size. A Super C is able to rival even the Class A in terms of its towing capacities.
Cheaper options are available: In terms of drivable RVs, the Class C is the most affordable, but towable RVs often have a lower price tag.
This class limits your travel options: A Class C is a solid unit with all parts staying connected. If you set up camp and need to leave for supplies or food, you will have to pack everything up before driving away in your Class C. Then you will have to remake camp when you return.
Parking space is more limited: The average passenger car can fit into tighter spaces than your Class C. You have to park more carefully than usual while you're driving one.
Some restrictions might apply: The Class C is wider and heavier than a pickup truck or a van. You might have to tow along a passenger car if you plan to explore certain major cities with narrow parallel parking. Class Cs are also heavy and tall, so make sure you know the exact weight with all of your passengers and luggage included. When you're in an unfamiliar area, you should also check your routes for any weight or height restrictions that might come up.
Common Reasons to Choose a Class C Motorhome:
Why buy a Class C motorhome? Some common reasons that sway buyers include:
Sleeping capacity: Many of these vehicles have more room than smaller RVs with multiple beds. In some models, you will find a loft bed above the cabin, and there is also space for a table with enough room to install another sleeping space.
Easy navigation: This class of motorhomes is easy to drive and maneuver.
Safety: The cockpit and the overall construction make them a very safe vehicle to be in if there's ever an emergency. They stand up well to unexpected severe weather.
Affordability: Out of all drivable RVs, you can often find Class Cs for the lowest price tags.
Economical utilities: Less space can also mean heating and cooling are easier to manage.
What Is a Class C Mini Motorhome?
You may have heard the term mini motorhome when shopping for a Class C. This is another name for the standard Class C and is often used interchangeably with the title of "Class C RV."
Want a smaller RV than most Class C options without moving to a Class B instead? A Class C closer in length to 22 feet might be the best option for you. Class C vehicles are affordable alternatives to the slightly smaller drivable RVs. They provide many of the same features that make a Class B motorhome such an attractive vehicle, so the extra space is worthwhile for most RVers.
What Is a Super Class C RV?
A Super Class C is also called a C+. When a Class C model uses a larger chassis than the standard, for example, a Freightliner truck chassis, the model is considered a Super. These vehicles are larger versions of the standard Class C. They usually run on diesel, which results in a greater hauling capacity.
The chassis capacity and wheelbase do more for a vehicle than you might expect. The base influences the entire build, like which features can be included. You will have more variety in floor plans when you start with a base that has more square footage.
You should consider getting a Super Class C if you require the towing power of a Class A. Another advantage of getting a Super Class C is the additional slide-outs they often come with. This will give you even more living space.
Get a Loan for a Class C RV With My Financing USA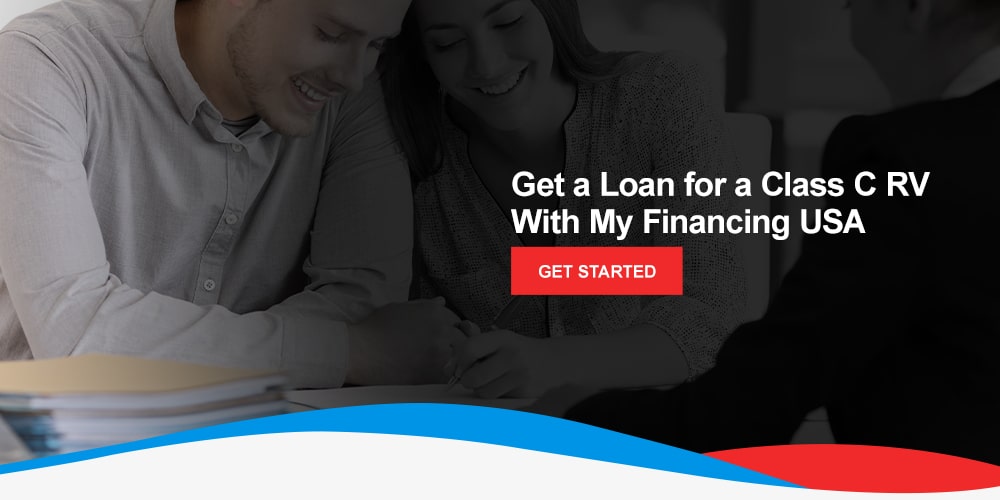 Have you found the perfect RV? Consider financing your Class C motorhome with My Financing USA. Good credit or low, we will help you find a loan that fits your budget. Apply today for an RV loan, and start living the life you've been dreaming of.
---
Additional Resources on RVs:
---