The Class A RV, also known as a motorhome, is a large style of drivable RV built with a heavy-duty frame. The chassis is usually based on a commercial vehicle like a bus or 18-wheeler truck, or sometimes a heavy-duty motor vehicle. The large 22.5-inch wheels support the Class A's heavy frame. Your Class A is built as a luxury RV, with an interior designed to feel like a home and an impressive amount of storage space underneath.
What features a Class A motorhome offers will depend upon the make and model of the unit. If your main concerns are privacy and wanting a similar environment to a house while out on the road, the Class A motorhome is probably the best fit for you. For more information about Class A RVs, check out our comprehensive guide below.


What Is the Length of a Class A Motorhome?
Class As are the largest and heaviest motorhomes on the market, averaging 35 to 40 feet. If you're looking for something with the comfort of home without an enormous size, you have plenty of good options for smaller Class As to pick from.
What Is the Longest Class A Motorhome?
With the longest models being just under 45 feet in length, you can buy a Class A with plenty of room for the whole family.
What Is the Shortest Class A Motorhome?
Some of the shortest models are close to 25 feet long, similar in size to a Class C RV.
What Is the Smallest Class A Motorhome?
If you're looking for a vehicle about the same size as a more compact Class B or C, certain models stand 11 feet high and are a little over 25 feet long. They are among the smallest Class A RVs on the market, and these dimensions are easy to find on Class A RVs manufactured and sold in the United States.
When determining what the smallest Class A RV is like compared to the largest, you will want to check the amenities to ensure you get all features you need.
What Is the Height of a Class A Motorhome?
Class As run about 10 to 13 feet in height, with some standing a little taller, giving you a high ceiling that even the tallest campers can stand comfortably under. Watch for low clearance zones in your Class A RV. They are taller than passenger cars, although their height typically has little effect on the driver's ability to maneuver and park.
Learn About Class A Motorhome Loans
What Is the Width of a Class A Motorhome?
Like the other styles of RV, Class A motorhomes must fit the width requirements for a motor vehicle due to lane safety reasons. The width is at least 8 feet across. Due to state and federal laws, a Class A motorhome must stay confined to a width of about 8 feet and 6 inches. The space an RV offers travelers comes mostly from its length, with attachments for additional capacity.
What Is the Weight of a Class A Motorhome?
Class A RVs are generally heavier than all other classes. Some models have a gross vehicle weight rating (GVWR) of up to around 63,600 pounds. On the other end of the spectrum, other models weigh only about 12,500 pounds.
What Is the Average Gas Mileage for a Class A Motorhome?
The average Class A motorhome gets around 8-13 mpg, and the gas tank is large.
What Kind of Sleeping Capacity Does a Class A Motorhome Have?
As you determine which Class A motorhome is the best for you, consider how important bed space is if you plan to travel with a large family. Most Class A RVs sleep around two to four campers, with one bed located in the back and couches that can convert into beds in the main room. Some Class A RVs have a greater sleeping capacity. It's common to find models on the market that can sleep six campers, and some sleep up to eight.
Do Class A Motorhomes Have Road Restrictions?
Weight and size restrictions may apply to your Class A RV, but the added comfort of traveling in a spacious vehicle is worthwhile for most campers. It's important to take your new RV to a weigh station for an exact measurement of its total weight while all people, pets, luggage and gear are inside.
Pay close attention to road signs for weight warnings, especially when entering an unfamiliar town or navigating a rural route. Also, watch for signs that will warn you about height restrictions under overpasses and bridges.
What License Is Needed to Drive a Class A RV?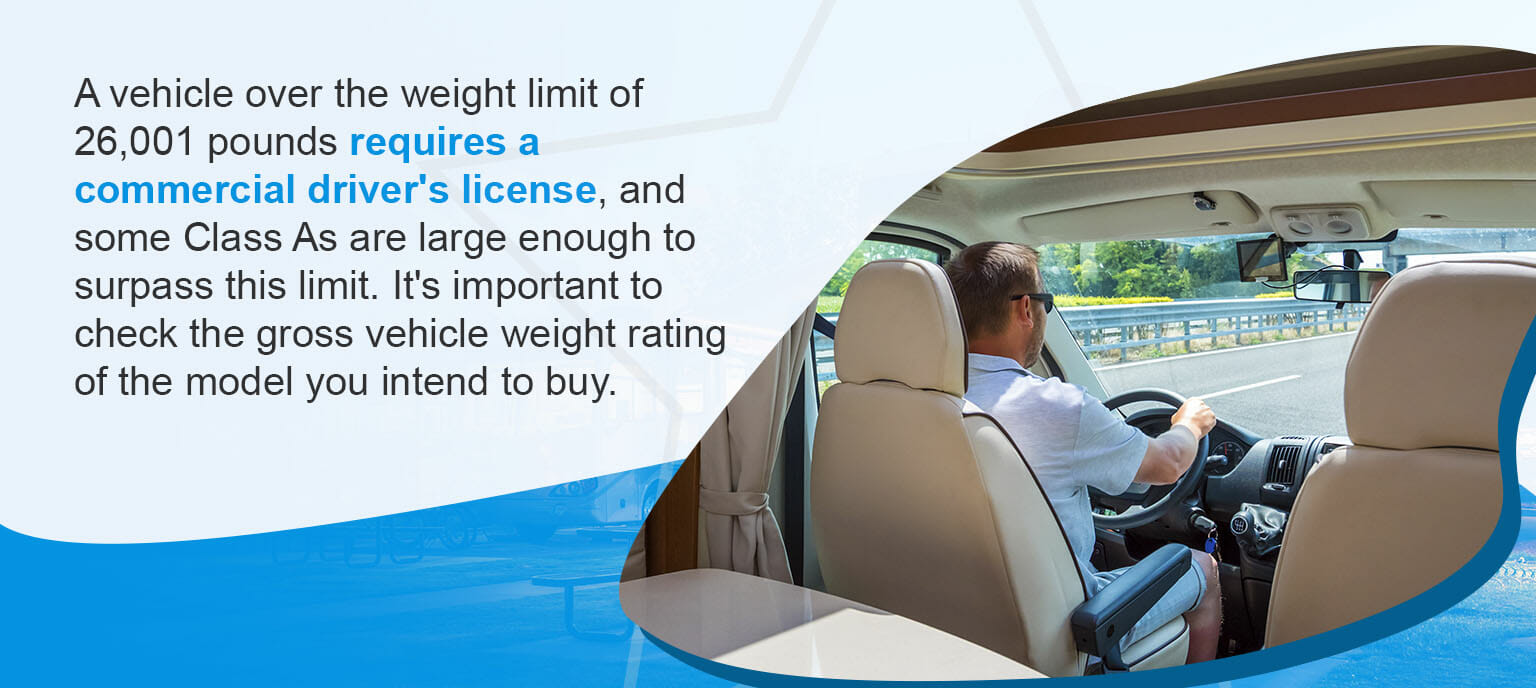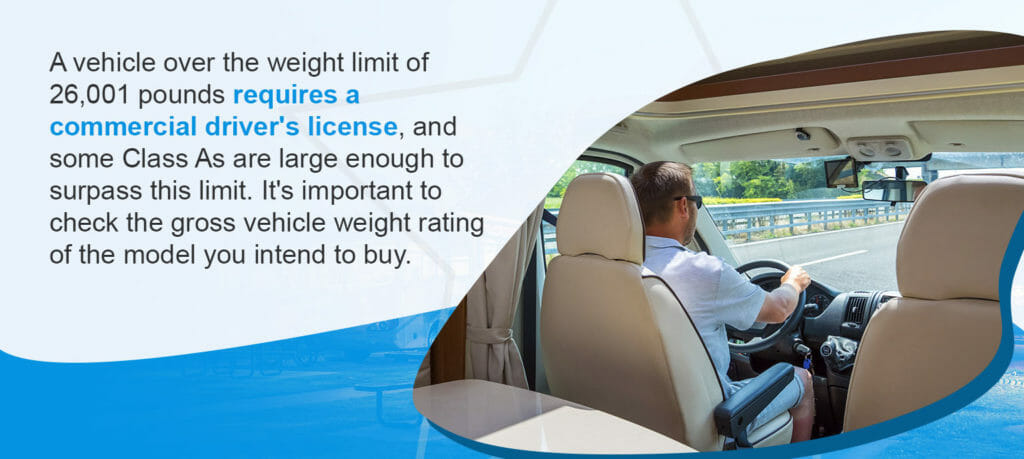 A vehicle over the weight limit of 26,001 pounds requires a commercial driver's license, and some Class As are large enough to surpass this limit. It's important to check the gross vehicle weight rating of the model you intend to buy when you're in the market for a new Class A. You may have to take additional hours in road safety training before you can get in the driver's seat.
Does a Class A RV Have Slide-Outs?
Most Class A RVs have at least two slide-out attachments for adding space when you stop to make camp. Class A models are the largest RVs with the most capacity for space. Slide-outs make them even more spacious, allowing them to feel much more like a home.
What Kind of Maintenance Does a Class A RV Require?
Your Class A requires vehicle maintenance and a little extra care for the interior. Your auto mechanic will help you keep up with:
Regular oil changes
Tire rotations, replacements and regular air pressure checks
Brake pad changes
Engine cleaning and maintenance
Brake fluid monitoring and replacement
Fuel injection Issues
You also need to keep cleaning supplies on hand during a road trip, just like you would in your kitchen and bathroom. The home components of the RV require the following:
Dusting, mopping or wiping down floors
Vacuuming any carpeted areas or rugs
Wiping counter areas where food was recently prepared
Cleaning out the refrigerator after each trip
Draining water tanks and pipes for when the RV is dormant and applying antifreeze before winter starts
Lubricating any slide-outs
Using UV protectant spray on weather seals to keep the rubber strong
Checking the roof and using a patch kit when needed
Checking the surge guard for problems
Using toilet cleaner for motorhomes
Wiping down the shower after each use
Waxing the exterior to protect your RV from bad weather
What Are the Benefits of a Class A RV?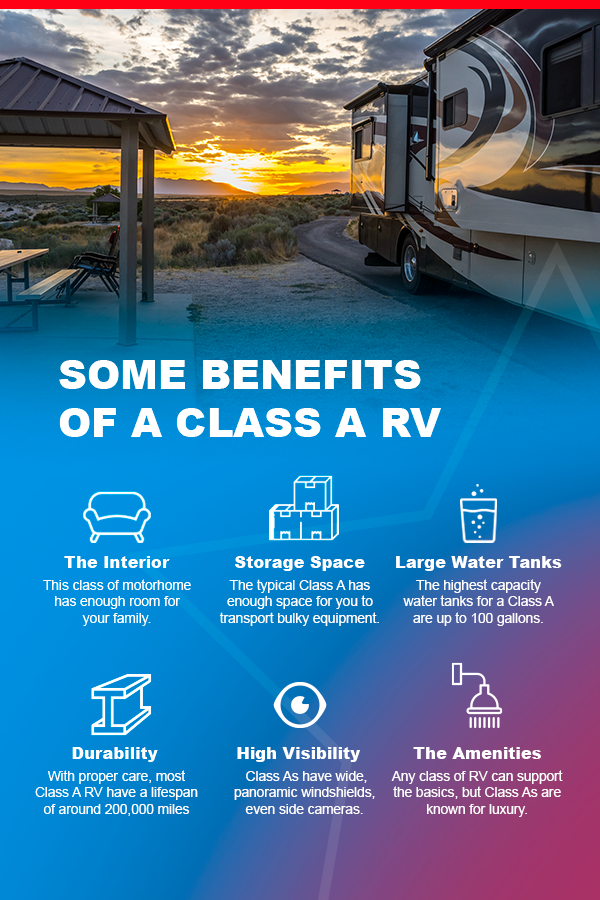 Class A RVs have a classic appearance, several desirable features for frequent travelers, and they maintain a high value. Buyers who look for Class A RVs might have the following reasons in mind:
1. The Interior
This class of motorhome has enough room for your family. The additional space makes it ideal for traveling with a partner if you work remotely or if you prefer to have a more comfortable environment to replace hotel stays. Class A RVs generally have an open floor plan due to their shape and capacity and the space can really be a benefit if you travel with children or pets.
If you're unsure about the interior, look at multiple models to get a good idea of your options. Different makes and models offer an array of floorplans, designs, and special features. If the layout is of particular importance to you, the variety of Class A floorplans should lead you to a few very good choices.
2. Storage Space
A Class A motorhome is also a good choice if storage space is a concern for you. Depending on the size capacity of the unit, your Class A might have closet space, luggage trays, or even a slam latch baggage door. The typical Class A has enough space for you to transport bulky equipment or a large volume of supplies and purchases. It can hold several suitcases, plastic containers full of cooking utensils, toy boxes, extra pillows, blankets and so much more — just like a house.
3. Large Water Tanks
Since Class A RVs are so large, many come with high-capacity freshwater tanks. The highest capacity water tanks for a Class A are up to 100 gallons, but most are just over 72 gallons. This results in fewer stops on the road to refill the water for your sink or to empty your gray water tank.
4. Hauling Capacity
The average Class A is larger than other drivable RVs, with a powerful engine and a large gas tank to fit the frame of the vehicle. If you get a diesel motorhome, also known as a diesel pusher,expect the powerful engine to work well up inclines and while towing a passenger vehicle. Class A RVs can tow anywhere from 5,000-20,000 pounds.
5. Durability
Class A motorhomes are built to last, so long as you keep up with the routine maintenance. With proper care, most Class A motorhomes have a lifespan of around 200,000 miles.
To ensure your motorhome stays in good condition, remember to care for the vehicle's amenities. For example, you should empty the water tanks when the vehicle is sitting on your property. Keeping water out of the pipes will prevent unnoticed leaks and tanks from freezing over and cracking after sitting out in winter weather. When you purchase a Class A motorhome, a comprehensive warranty policy from My Financing USA is recommended to help protect the many different parts that could malfunction and give you peace of mind.
6. Smooth Driving
Many Class A RVs come equipped with features that make driving them feel smooth even on tough, winding roads. Look for a make and model with shock absorbers and a special driving system designed to reduce bumps and friction. Some also have features such as a digitally balanced driveshaft to limit jolts, jounce bumpers and a sway bar.
7. High Visibility
Since Class A motorhomes sit high from the ground, your view of the road ahead is about as good as it can get. Class As have wide, panoramic windshields, and some makes and models come with side cameras and a backup camera with night vision.
8. The Amenities
Any class of RV can support the basics, but Class As are known for luxury. For some passengers, being able to shower in the RV is a must, and most Class A motorhomes have enough room for a large bathroom with a generous water tank attached.
Other amenities that might sway you into getting a Class A are the built-in microwave, stove and TV. The superior insulation keeps your appliances in a safely temperature-controlled environment, making the Class A an appealing option.
What Are the Drawbacks of Buying a Class A RV?
When a buyer decides on a different class, these factors are usually why:
The size: The storage capacity and living space are certainly advantages, but some buyers would prefer a smaller RV. A more compact vehicle can fit in their garage or an off-road parking space, for example. They may also decide they require less living space for traveling, so they might want a smaller RV to fit all of their other needs.
The cost: While they come in at varying price points, Class A RVs also tend to be the most expensive. Some buyers estimate that a different class with fewer features or amenities would fit into their budget, whereas a larger RV would surpass their spending limits.
The license requirement: Getting a commercial driver's license is usually required to drive a Class A RV, but this depends on the weight of the model instead of the class. Some buyers want to avoid driving a vehicle that requires getting a special license.
Living area maintenance: All RVs eventually need their interiors cleaned, but having a large interior will mean there is more to clean. Sanitizing and deodorizing your Class A during or after long camping trips can feel like taking care of a house. Many campers get cozy home decor just for their RVs, and those items also need to be changed or replaced occasionally.
Apply for an RV Loan With My Financing USA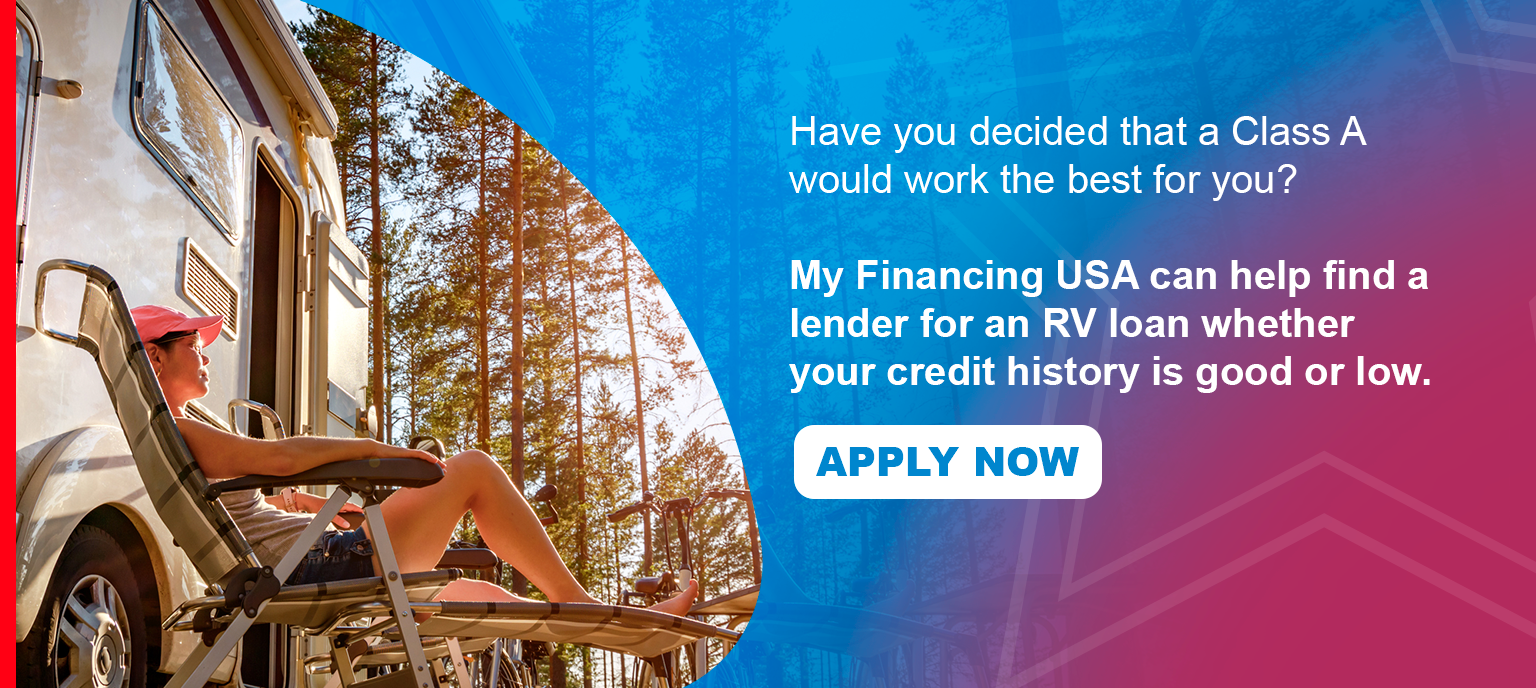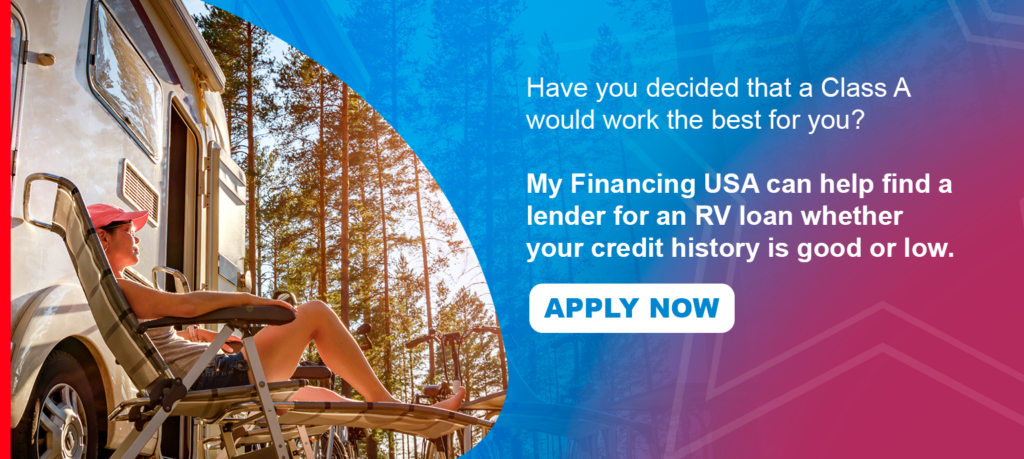 Getting a Class A motorhome is a great way to pursue the RV lifestyle. Stay comfortable in your vacation home on the road, with plenty of space and high-quality amenities.
Have you decided that a Class A would work the best for you? My Financing USA can help find a lender for an RV loan whether your credit history is good or bad. Our initial soft pull into your credit will determine if you are a candidate for our lenders without impacting your credit score. Learn more about our Class A Motorhome loans and apply for an RV loan today.
Apply for a Class A Motorhome Loan
---
Additional Resources on RVs:
---