Quick Navigation:
There is no feeling like taking your new boat on the water for the first time. A day or two surrounded by water, unplugged from the constant phone calls and notifications, next to the people you love is the perfect getaway you've been waiting for. But how well you prepare for your upcoming venture determines whether your outing is successful.
Any nautical expert knows that a day off shore, no matter how short it may be, comes with a detailed checklist of essentials for things you need on a boat. That's why we've compiled a complete list of what to pack for a boat trip. We cover everything from what food to pack for a boat trip to must-have items for your tool kit.
Whether it's your first time testing the waters or you need a refresher after a winter away, it can be stressful trying to figure out what to take on a boat day trip — especially when you don't want to leave anything out! You'll need to bring more than some food and drink. You'll need to bring more than some food and drinks. A complete boat trip packing list fills in the blanks where you may have missed a few basic supplies and some helpful extras.
With our help, you can set the sails knowing that you've accounted for all of your necessities, potential emergencies and, of course, ways to enjoy yourself while on the water.
Safety Equipment Checklist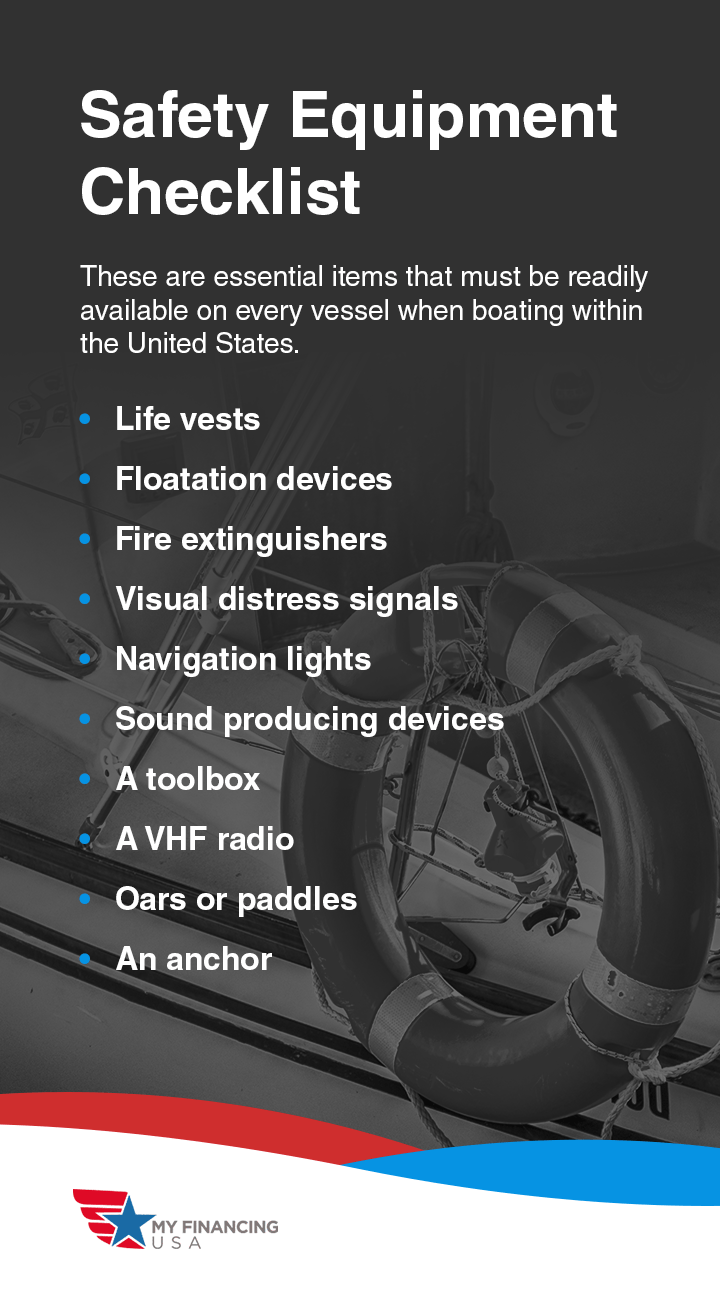 The U.S. Coast Guard sets very specific standards for what to bring on a boat for vessels of every size. These are essential items that must be readily available on every vessel when boating within the United States.
Life vests: One U.S. Coast Guard-approved life vest for each person on board.
Floatation devices: There should be at least one throwable floatation device, such as a cushion or a ring buoy.
Fire extinguishers: According to U.S. Coast Guard regulations, boats under 26 feet in length must have at least one B-1 type fire extinguisher. Vessels between 26 and 40 feet in length are required to have at least two 5-B type fire extinguishers or one 20-B type extinguisher.
Visual distress signals: Vessels measuring more than 16 feet in length are required to carry functional visual distress signals for both daytime and nighttime use. Pyrotechnic devices include aerial flares, handheld orange smoke and parachute flares. Non-pyrotechnic devices include lights and flags.
Navigation lights: Vessels of all sizes need navigation lights to use between sunset and sunrise and in other situations with reduced visibility. Boats 16 feet or longer must also have an anchor light that works separately from the running lights.

Sound producing devices: All watercraft must carry at least one sound signaling device, such as an air horn, bell or whistle.
A toolbox: Your toolbox should provide the dual function of being an emergency repair kit as well. It should include items such as a headlamp, duct tape, screwdrivers, scissors, a hammer, an adjustable crescent wrench, a flashlight, a portable jumper pack, electrical tape and a sharp knife.
A VHF radio: A very high-frequency radio is one of the most useful and potentially life-saving things to bring on a boat trip. This type of marine radio is available as a handheld device and provides a direct line of communication as a two-way radio system with a substantial range.
Oars or paddles: While it isn't ideal for your boat engine to quit when you're out on the water, you still want to be prepared just in case. Having oars or paddles stored away on your vessel will ensure you are ready for any circumstance that comes your way.
An anchor: Many vessels nowadays don't need an anchor, but having one on board can prove to be highly valuable — especially in a distressing situation. In bad weather or engine failure, an anchor will keep you from floating further out on the water. They are also ideal to use when staying on your boat overnight.
First Aid Marine Medical Kit Checklist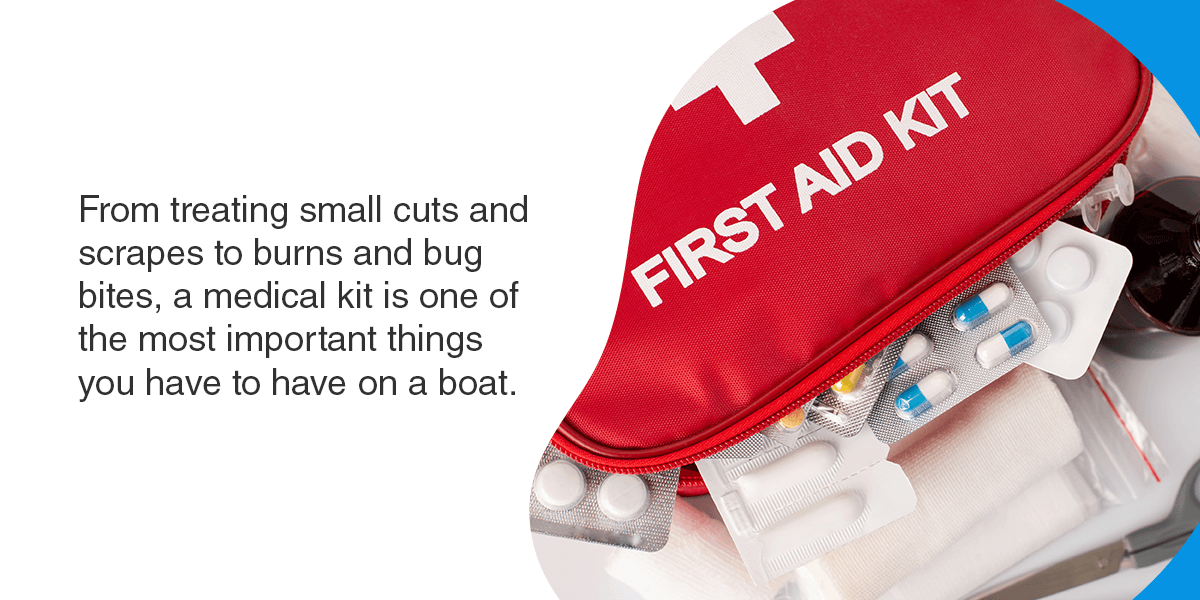 Packing for a boat trip doesn't have to be difficult or time consuming. Most things to bring on a pontoon boat, cruiser, bowrider or other vessel are the same essentials that you can leave on board most of the time — starting with a first aid kit.
Even though most ventures go off without a hitch, emergencies can happen at any time. From treating small cuts and scrapes to burns and bug bites, a medical kit is one of the most important things you have to have on a boat. Here are the items that should be in your first aid kit:
Bandages: You should come prepared with adhesive bandages of all sizes.
Gauze pads: Gauze sponges and pads are made with a loosely woven fabric, making them efficient for absorbing bodily fluids and protecting open wounds from bacteria and dirt.
Antiseptic wipes: You can't dress a wound without cleaning it first. Antiseptic wipes kill bacteria and germs instantly, so you should always sanitize cuts and scrapes before applying a bandage.
Sting relief wipes: Barbequing on a boat usually means mosquitos galore. Sting relief wipes and patches provide instant relief for insect bites, minor burns and cuts with anti-inflammatory and soothing properties.
Cold packs: Excess sun exposure on the water can lead to overheating. Cold packs are useful for minor bumps, insect bites and sweaty necks for a quick cool down. They reduce swelling and numb pain in just a few minutes.
Tweezers and nail clippers: These tiny tools can prove to be incredibly useful in a pinch. If someone gets a painful hangnail or splinter, having nail clippers and tweezers on board can provide a quick solution to minor inconveniences.
Pain relievers: Headaches can come on at any time, and experiencing one on the water can ruin your day. Ibuprofen or aspirin is a valuable addition to any first aid kit.
Aloe vera gel: Sunburn comes on slowly and discreetly. You can be halfway through your day before realizing that you've gotten a bit of color. By the end of your trip, you'll be as red as a lobster. Aloe vera gel is one item that should always be at the top of your packing list for a boat trip.
Motion sickness remedies: A boating trip packing list is incomplete without motion sickness medicine. Some things to bring on a boat to help with seasickness include ginger chews, vertigo wristbands, medicine and peppermint gum.
Antibiotic ointment: Antibiotic ointment is a great solution to have on hand to treat minor cuts, scrapes and burns, as well as to prevent infections and heal wounds faster.
Petroleum jelly: Petroleum jelly is one of the most versatile items to add to your first aid kit. Along with healing cuts and burns, it helps your skin retain moisture. This makes it an excellent lip balm substitute when the wind and sun are particularly harsh on your lips.
Allergy medication: Unfortunately, boating season is also peak allergy season. When you're relaxing on the water, the last thing you want is to have dry eyes and a runny nose ruining your trip. To battle itchy eyes, nasal congestion and sneezing head-on, pack some allergy medication for the ride.
Emergency contacts: Finally, you should always have emergency phone numbers written down for poison control, local emergency services and a family doctor. Wi-Fi and mobile data aren't always available, so having these numbers on hand can save a life.
Basic Sun Protection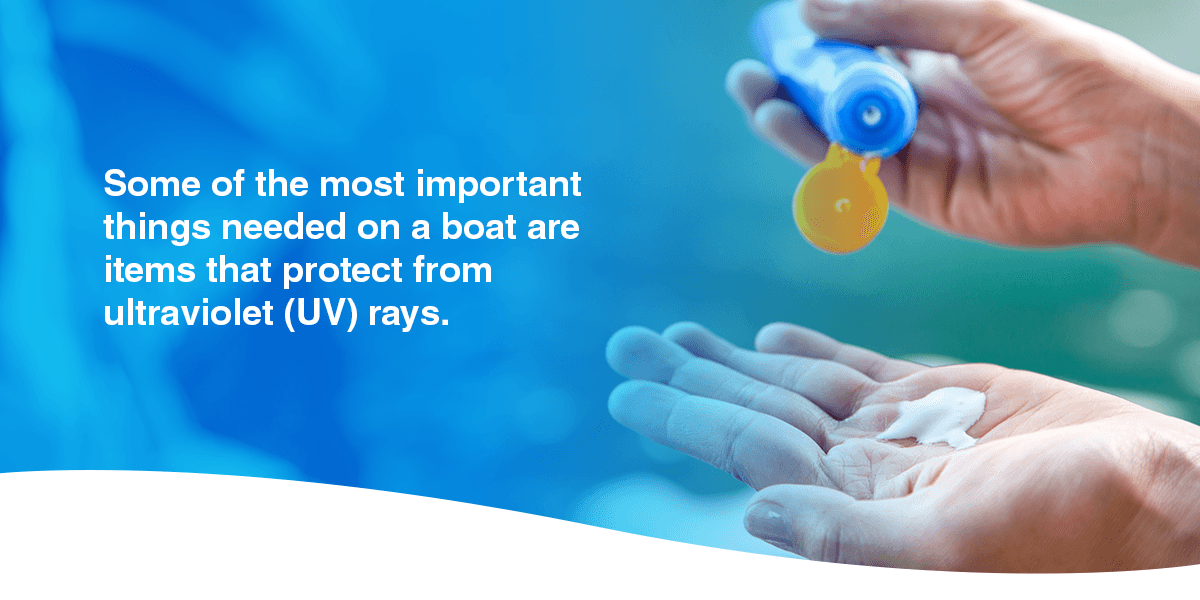 Regardless of how long you're staying out on the water, extended sun exposure is a very real danger that you should take seriously. Some of the most important things needed on a boat are items that protect from ultraviolet (UV) rays.
Prime boating hours are between 10 a.m. and 4 p.m., which is also the time of day when the sun is at its strongest. While sunbathing is a common boating activity and some exposure to sunlight provides its own benefits, too much sun is never a good thing. Boaters have an even greater risk of sunburn, premature aging, eye damage and skin cancer because the sun's rays reflect off the water and fiberglass boat hulls.
Here's what to bring when boating for head-to-toe sun protection:
Hats or a head-covering: Even if you have a full head of hair, your scalp is still at risk for sunburn. A wide-brimmed hat provides substantial shade for your face and neck. Why not make the occasion more festive with a skipper's cap?
Sunglasses: The bright glare of the water and reflective surfaces on a boat leave little room for optical relief. To prevent cataracts, light sensitivity and other types of damage to your eyes, it's best to wear sunglasses with broad-spectrum UV protection.
An umbrella: When you can't find shade and need a break from the sun's harsh beams, an umbrella can be a compact and practical solution. A functional umbrella can block three-quarters of UV rays on a bright sunny day.
Lip balm: Lips are one of the most sensitive parts of your body. Chapped and dehydrated lips can be painful and easily ruin a beautiful day on the water. For moisture and sun protection, use a lip balm that is made with sunscreen.
Sunscreen: Although other forms of sun protection are relatively effective, nothing provides the complete protection that high SPF sunscreen can. You should reapply sunscreen every two hours, and even more often when you're swimming or sweating.
The UV index: While this doesn't quite fall into the category of "what to pack for boat trips," checking the UV index is a crucial factor in your safety and preparedness. The UV index predicts the intensity of the sun's ultraviolet rays, so you can use it to your advantage when planning your sun exposure protection. The National Weather Service (NWS) and the U.S. Environmental Protection Agency (EPA) issue a report daily.
Clothes to Wear When Boating
When it comes to clothing, you may be stumped on what to bring on a boat ride. Depending on what events you have planned for the day, you don't want to be over or underdressed. If your day includes swimming in the water and playing watersports, then activewear and swimming suits should be at the top of your list. But if you're just lounging about on the deck and brunching with friends, then you can add a level of formality to the occasion.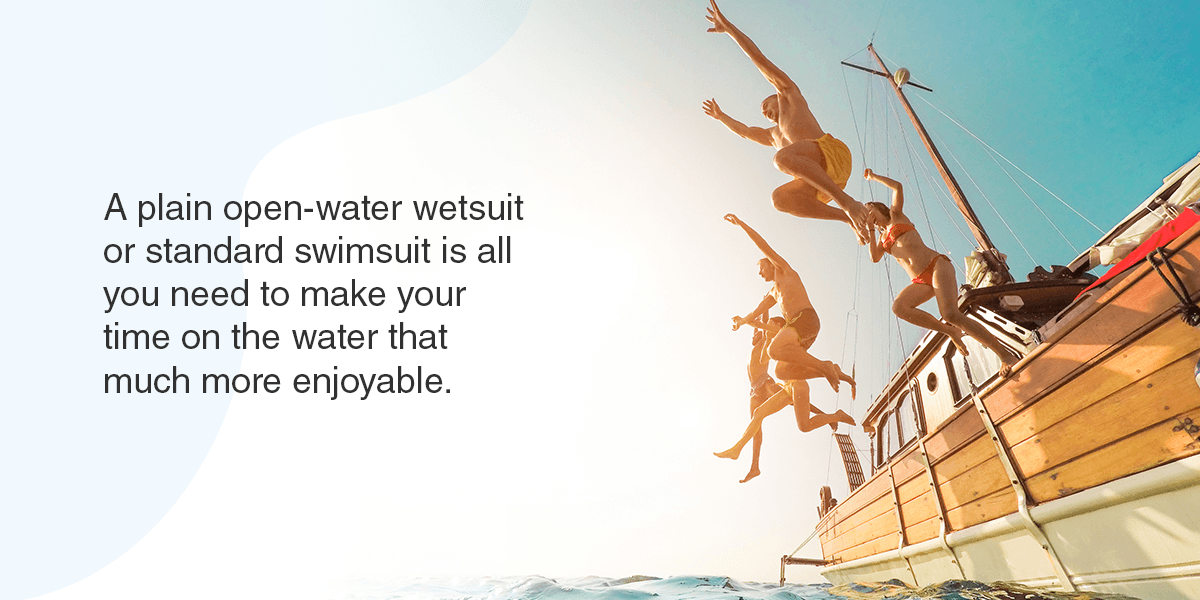 When you're deciding what things to pack on a boat trip, your length of stay will be one of the biggest factors. If you're venturing out on the water for just a day, then your list of things to bring on a boat will be minimal and basic. However, a weekend water getaway will warrant more thought and care. We've outlined everything that you'll need for your upcoming excursion, including what to pack on a boat trip that is overnight.
Extra clothing: It's always a good idea to pack an extra set of clothes when you are spending the day swimming, and many people prefer to change into comfortable athletic clothes after an afternoon in the water. A second set of clothes is also handy to have in your bag in case your first set gets damp from your swimsuit.
Quick-dry fabrics: Waterproof and breathable fabrics will make your boating experience much more pleasurable. They allow you to move around and steer the ship where it needs to go while keeping you cool and comfortable.
Protective clothing: You may think sleeves aren't ideal for a sunny day on the water, but they provide significant coverage from the sun. But protective clothing doesn't necessarily mean bulky garments. A basic linen or silk covering is stylish and strong against the sun.
Footwear: Between the spray and foot traffic, boats can get pretty slippery. While many boaters prefer ditching their shoes entirely, we recommend investing in some non-slip footwear. Sandals and boat shoes with rubber soles will prevent slipping and sliding on deck.
A jacket: Whether you tend to run cold or the weather service predicts cloudy skies and wind, having a jacket on-hand is just common sense. Even if you don't wear it, someone else in your party may end up needing it.
A swimming suit: You can't have a day of fun in the surf and sun without a swimming suit! A plain open-water wetsuit or standard swimsuit is all you need to make your time on the water that much more enjoyable.
Layers: When packing for a boat trip, you'll cover all of your bases by adding layers to your outfits. Cardigans, sweaters, sweatshirts, wraps and cover-ups are versatile pieces that you can dress up or down for any occasion or circumstance.
Tips for Packing Food for Boat Trips
Finding food to pack for a boat trip that appeases everyone on your vessel can be stressful, especially when your boat doesn't have a galley or even a refrigerator on board. Figuring out what food to bring on a boat when you're spending the day on the water shouldn't be a source of your most recent headache. Instead, it should make you feel even more excited about your upcoming excursion!
This list of what food to bring on a boat will simplify your snacking dilemma with refreshments that pair perfectly with the salty sea air or a freshwater breeze. At the very least, these ideas for what to bring on a boat day will serve as inspiration for your time aboard.
Entrees and Snacks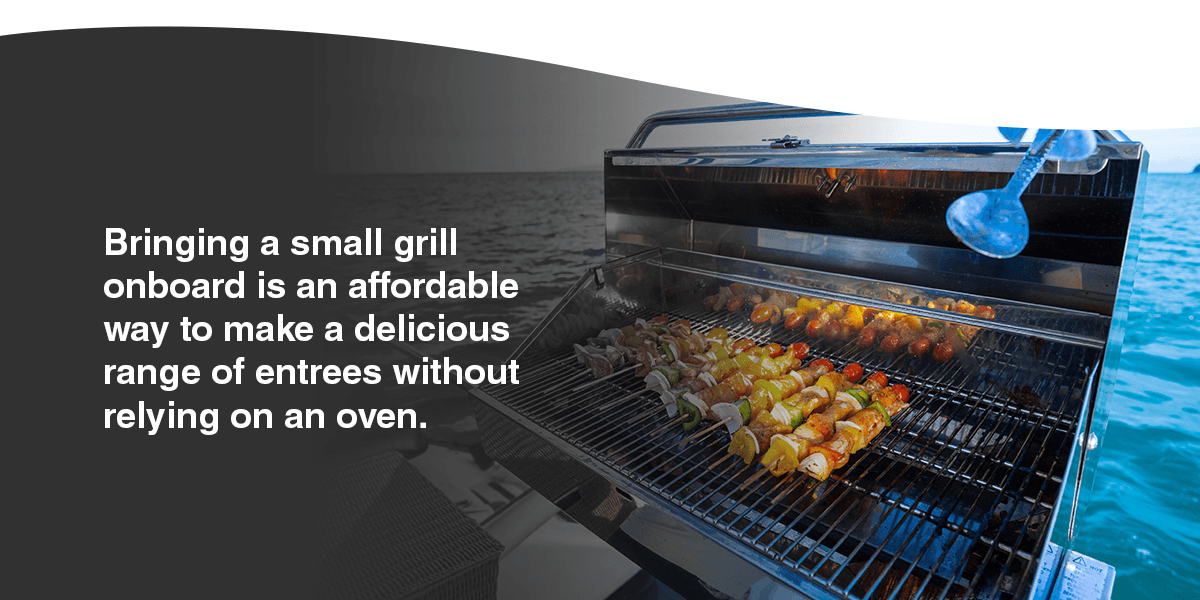 Barbeque: Grilling on the open deck is one of the most popular ways to enjoy your vessel. Bringing a small grill onboard is an affordable way to make a delicious range of entrees without relying on an oven. Skewers, burgers, hot dogs and corn on the cob are all great options that you can make for a bargain.
Fresh fruit and vegetables: Fresh produce simply tastes better on a boat. Whether it's the extra hydration and nutrients or their refreshing taste, fresh fruits and vegetables are always a great addition to a nautical menu. The best part is that you can just buy a pre-made fruit and veggie tray at your local grocery store — no effort or preparation required!
Finger food: Eliminate the need for utensils by coming prepared with finger food for your next boating adventure. Sandwiches, chips, breadsticks, meat and cheese trays, chicken fingers, meatballs, bruschetta and flatbreads are all examples of tasty finger food that requires minimal effort.
Salads: Since the prime boating season is between May and September, many boaters prefer foods that don't have to be heated. Pasta salad, potato salad, fruit salad, chicken salad and regular veggie salad are easy to make and store on board.
Don't Forget the Small Stuff
You don't want to be caught with tons of trash and extra food and no way to clean up. Several food-related things to take on a boat are often left out during the packing process. Here's our list of essentials for what to bring on a boat day trip:
Garbage bags
Zip-top sandwich bags
Paper plates
Napkins
Dressings and condiments
Cups or glasses
Utensils
Aluminum foil
Thermoses
Storage containers
Coolers filled with ice
Packing for a Family Boat Trip
When you have children of varying ages, it can be difficult to decide what to bring on a family boat trip to make everyone happy. These fun things to bring on a boat will help the balancing act of keeping the kids entertained and content so you can relax and enjoy your day on the water.
Games and activities: Consider bringing board games, a deck of playing cards, water toys and mini fishing poles.
For swimming: Swimming's more fun with inflatable armbands, floaties, snorkels, pool noodles and goggles. Don't forget to bring extra plastic bags to put the wet swimsuits in.
Accessories: You may also want towels, whistles, a kid-friendly playlist and a waterproof bag to hold everything in.
Going on a boat for the first time is always an exciting experience, so remember to practice patience as your kids wander the deck and ask questions. Since boat safety is the most important part of any boat ride, take this opportunity to teach your kids how to practice safe boating and swimming.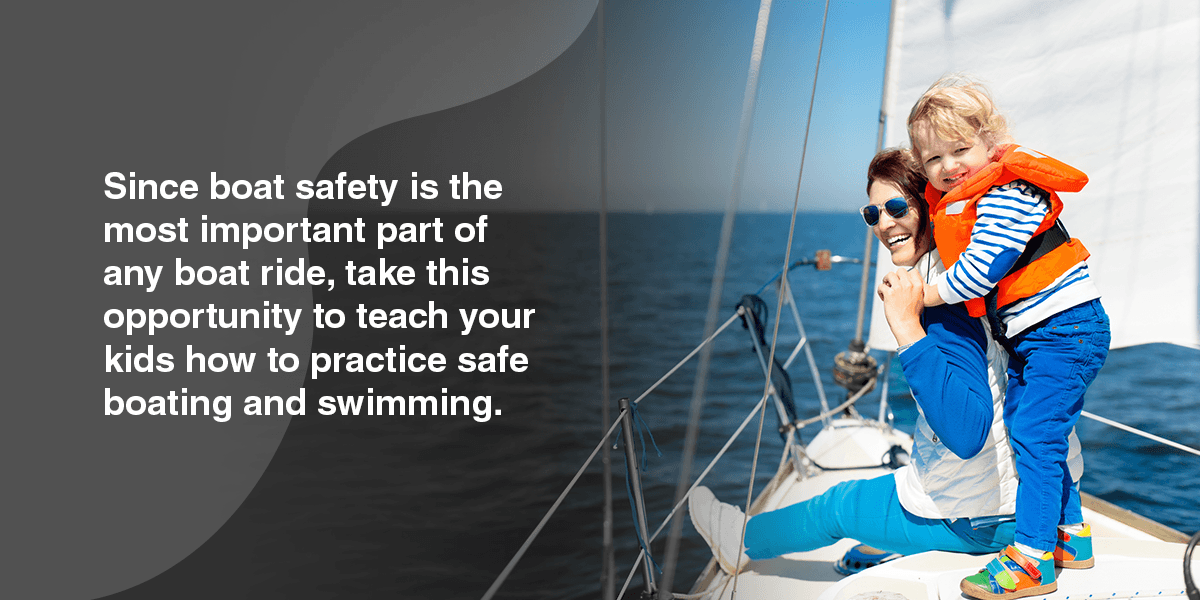 Additional Things to Bring on a Boat Ride
It may seem like we've covered everything for what to take on a boat ride, but you should still consider a few other details. While these items may not be necessary, they will almost certainly come in handy while you're surrounded by water.
Waterproof your venture: A waterproof phone case and a dry bag will keep your possessions safe, even if they get splashed or take a dive overboard.
Paperwork: Don't forget to bring your boat insurance and registration. Your fishing license or permit are also essential things to bring on a boat if you're going fishing for the day.
For comfort and convenience: Consider bringing a good beach book, headphones, Bluetooth speaker, a bottle opener or corkscrew, phone chargers or a portable charger and a drink koozie.
Toiletries: If this is your first boat ride of the season, or you aren't sure how much hand soap and toilet paper you have left, make sure you bring along a few toiletries to restock. A few hand towels, soap, paper towels and air fresheners are always good to have on hand.
Get the Boat You Want at a Price You Can Afford With My Financing USA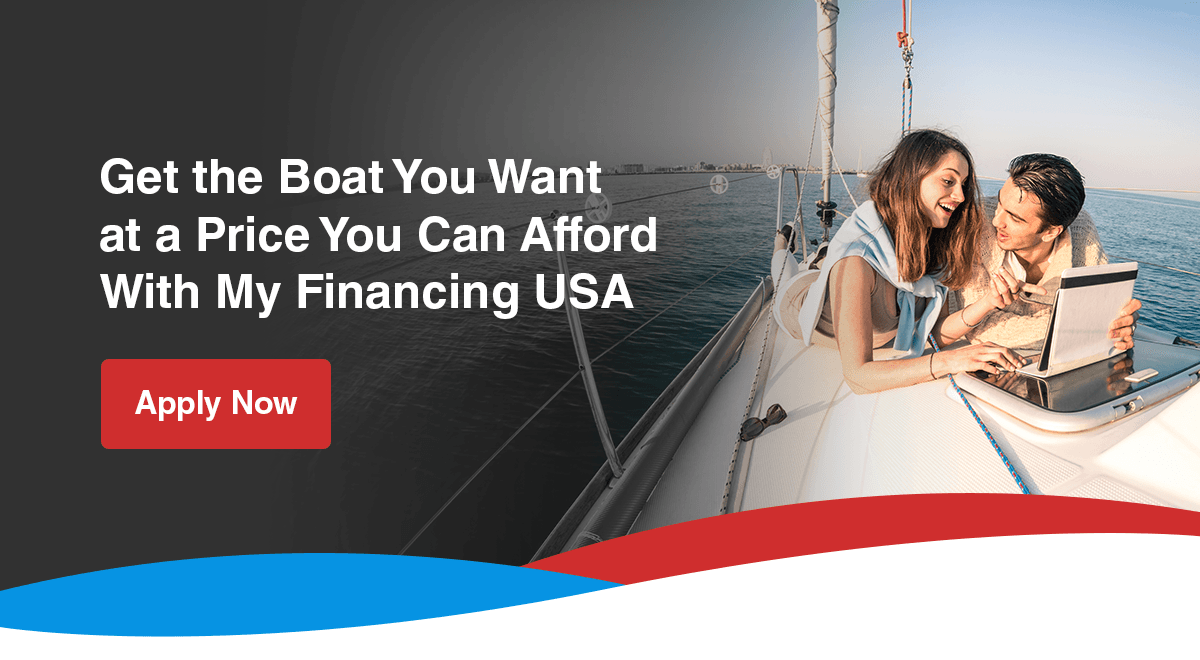 With My Financing USA, getting a boat loan has never been easier. There's no need to waste time searching the web or cold calling lenders when we will do the work for you! Whatever your credit score, we'll find you the best rates in the industry, with realistic standards that fit your lifestyle.
Learn more about our boat loan approach, or skip ahead by filling out our quick application. Within 72 hours, one of our loan professionals will reach out with personalized options just for you. Get the boat you want without the headache. Let My Financing USA take the helm and guide you in the right direction.
---
Additional Resources on Boating:
---