Roadside assistance for your motorhome is incredibly useful if you encounter an unexpected emergency. Whether you have run out of gas while traveling or you need an auto mechanic to make a speedy replacement, having a roadside assistance plan can make a difference in time and money when you're miles from home. Learn more about roadside assistance for motorhomes below!
What Kind of Roadside Assistance Plans for Motorhomes Are There?
Having a roadside assistance policy ensures you will have access to quick services if you experience a mechanical failure or breakdown excluded from your insurance coverage. A roadside assistance plan for a motorhome can be combined with the insurance policy, adding more comprehensive coverage.
The primary function of roadside assistance is to safely get your motorhome up and running again so you can return to the road. Plans are specialized for common issues motorhomes might experience. To use your policy, you would simply call the phone line and speak with a service provider, who can send professional help as needed.
Certain auto services would also be covered by your policy so you can avoid an out-of-pocket charge. If you get a flat tire, for example, the operator can contact a mechanic to help fix the problem, and your coverage pays for the motorhome's emergency tire change. If any auto work is needed to repair your motorhome, roadside assistance also covers towing services within the specified service limits.
What Does Motorhome Roadside Assistance Cover?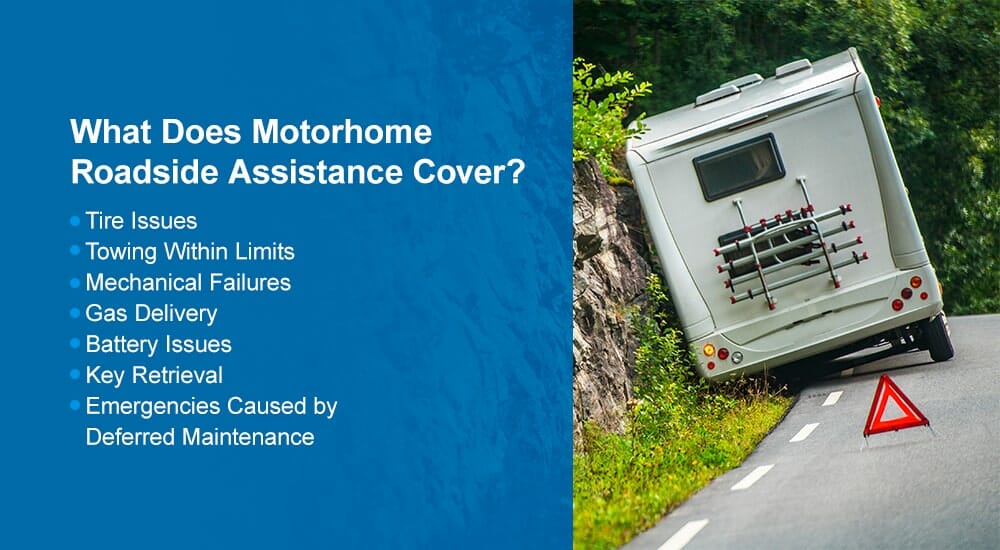 Motorhome roadside assistance policies provide reliable auto services if your RV is in an undrivable or unstable condition. Policies without roadside assistance usually only cover damages from collisions or accidents and might also help with issues caused by vandalism, falling objects, wildlife and natural disasters.
Some of the many situations your roadside assistance policy can help with are:
Tire Issues
Your motorhome can be more difficult to change a leaky or flat tire on than a passenger vehicle due to its large size and weight. With a roadside assistance policy, you can request a professional tire change, typically without being charged for the service outside of your policy premium.
Towing Within Limits
If your motorhome breaks down and needs to be towed from your campsite or the open road, your policy covers a certain amount of towing miles before you have to pay any fees. It's important to check your policy and find out whether you have anything from 10 miles to the nearest auto mechanic or 100 miles to a populated area.
Mechanical Failures
If you have difficulty getting your motorhome to start or another problem operating the vehicle, such as unreliable brakes, diagnosing the motorhome and finding an effective solution takes time and effort. It might also be unsafe to work on the problem by yourself. With roadside assistance, you can call for an auto technician who has the knowledge and experience to resolve the issue.
Gas Delivery
When you're unfamiliar with the roads ahead and have a long distance to cover, you might hit empty and have to stop short of the nearest gas station. You can then call roadside assistance for a fuel delivery and discuss directions with the local employee who brings the emergency gas. Help for an empty gas tank is one of the most popular services available with roadside assistance.
Battery Issues
A bad battery might need to be jumpstarted or replaced if you can't revive it. The safest way to proceed when your motorhome stalls is to call for professional help charging the battery, and if the mechanic discovers the battery is dead, your provider can have your motorhome towed to an auto shop that handles RVs.
Without a roadside assistance policy, you would have to hire a mechanic to diagnose the issue and then find the closest towing company you can find. This is an unappealing option, as the help you would get with a policy relieves you of the service charges and the hassle.
Key Retrieval
Accidentally locking your key inside your motorhome could result in an emergency situation if you end up outdoors in harsh weather conditions or without access to water, food and supplies. At the very least, locking your keys in your motorhome is an inconvenience. With a roadside assistance policy, you can call for a professional locksmith to easily resolve the mistake.
Roadside assistance plans typically cover key retrieval, and if you ever need a locksmith, it could take longer to find help without a policy.
Emergencies Caused by Deferred Maintenance
When your motorhome misses an oil change or annual checkup, you could experience auto problems as a result. Having a policy ensures you gain access to a quick fix before you are able to take the motorhome to a mechanic. For example, worn brake pads can make your motorhome unsafe to drive and should be replaced with new ones as part of the vehicle's maintenance. If your RV becomes unsafe to drive due to faulty brakes, roadside assistance can tow you to the nearest mechanic who can help.
Motorhome owners who go on lengthy excursions might need to get more frequent maintenance checks based on the number of miles they accumulate. A long vacation could easily lead to a scenario where you have to go in for an oil change while you're busy traveling. With a roadside assistance program on your side, you can find a technician in the area who can help take care of emergency maintenance.
Benefits of Having Motorhome Roadside Assistance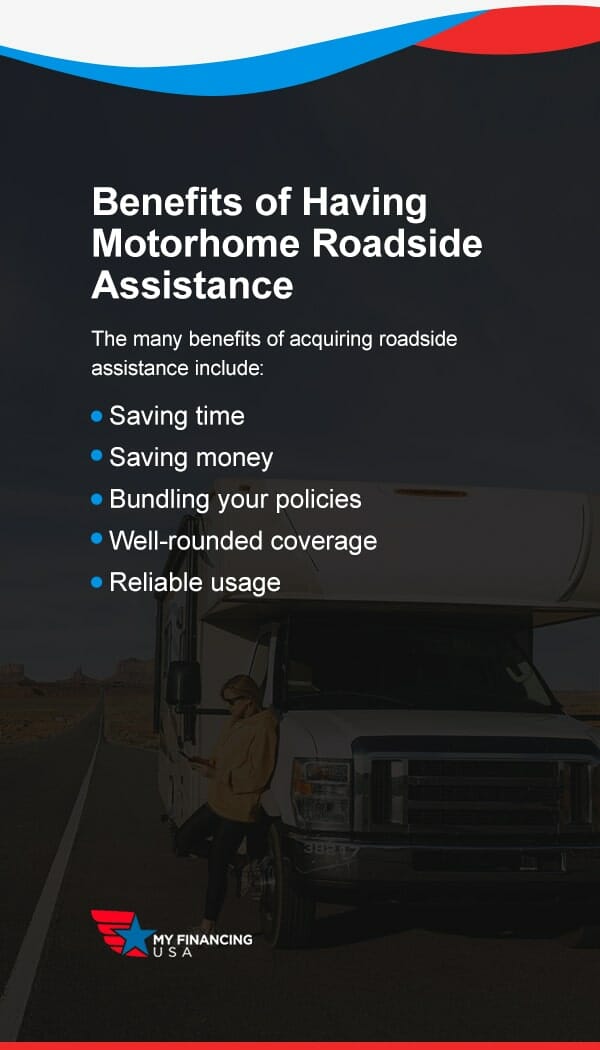 You might decide you want to travel infrequently, but you should still look into getting roadside assistance for your motorhome. Regardless of your own level of mechanical knowledge, it's hard to prepare for every possible problem on your own, and having a policy in case you get stranded is better for your peace of mind as an RVer. Whether you go on the occasional road trip or you plan to travel in your motorhome regularly, you might need assistance one day.
The many benefits of acquiring roadside assistance include:
Saving time: Calling roadside assistance makes finding a resolution for your motorhome's failure much simpler and quicker. If your motorhome breaks down in an unfamiliar or remote area, a timely response can mean improved safety.
Saving money: The services your policy covers make affording your motorhome reasonable. For example, the cost of towing a larger vehicle like a motorhome typically increases per hour without a policy, but making a claim for roadside assistance to tow your motorhome is usually covered for a certain number of miles, reducing your expenses.
Bundling your policies: You can combine a motorhome insurance policy with a suitable roadside assistance plan for maximum coverage.

Well-rounded coverage: Your insurance policy covers collisions and accidents, but some emergencies arise from mechanical failures, bad tires, human error or other issues.
Reliable usage: Your roadside assistance plan applies when you're at home trying to get your motorhome started or when you're in a remote area with limited access to mechanical services.
Who Has the Best Roadside Assistance for Motorhomes?
The best motorhome roadside assistance programs depend on your needs as a buyer. You want to start by looking for a plan specifically for your drivable RV. Plans primarily for passenger vehicles might offer fewer benefits tailored to suit a motorhome's most common on-the-road issues.
Other than that, if you're wondering what the best roadside assistance plan for a motorhome is, consider the following factors:
Your budget: Roadside assistance adds an additional rate to your motorhome's expenses. Find an affordable plan that makes sense for your needs.
Your buying options: If you can get a deal with the same company that sells loans or insurance for your motorhome, you will have fewer financial ties to worry about.
The coverage: Even the best motorhome insurance or roadside assistance programs have limits on their coverage, but it's important to check what benefits you're offered.
Limitations on Your Motorhome Roadside Assistance Plan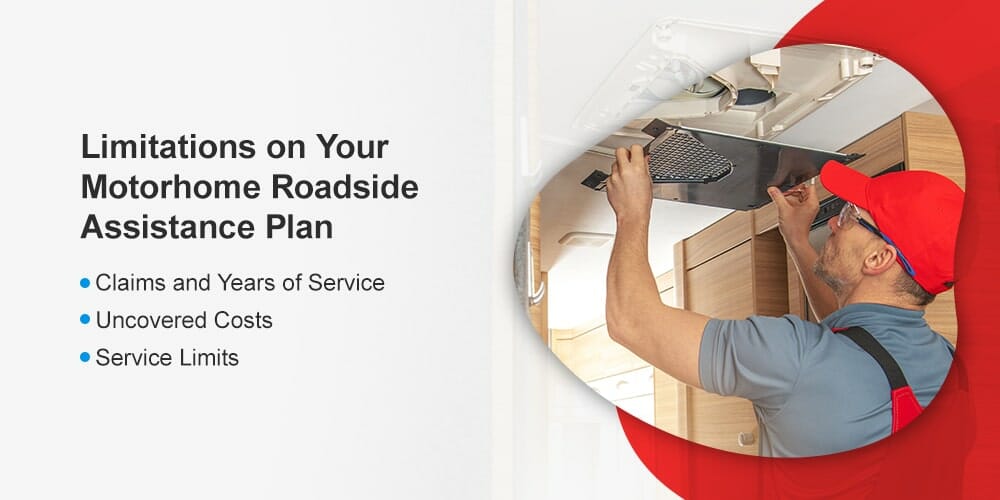 All roadside assistance plans come with some limitations, whether you're looking at a plan for automobiles or a plan specifically contracted for your motorhome. As you consider your options, remember that to enjoy all of the benefits your policy allows, it's ideal to know what your coverage includes and the limits, especially the following:
Claims and Years of Service
Your policy might have a limit on how many claims you can make, although making a claim for roadside assistance is different from making a motorhome insurance claim, and your insurance policy will be unaffected. After a certain number of assistance calls, you would have to self-pay for further repairs or seek assistance independently of your policy.
Knowing the specifics of your service limits is helpful for anticipating when you may need to exceed them. If your company declines coverage, it could be because they suspect the number of claims you have accumulated is due to the poor condition of your motorhome before you started traveling. Conduct regular RV maintenance to ensure you use your roadside assistance policy during unexpected emergencies rather than preventable ones.
Uncovered Costs
Roadside assistance is meant to get your motorhome back on the road and should be used when the situation is urgent. Your policy is unable to provide assistance for non-emergency circumstances or any uncovered costs. For example, taking your motorhome in for routine annual maintenance is considered an unrelated cost, as it is unlikely to be an emergency. But if you experience problems with your motorhome due to delayed maintenance, you can call roadside assistance to address an issue that makes the motorhome undrivable.
Other uncovered costs may relate to the type of service requested. If you need to get a tire changed but lack a spare, for example, you are usually the responsible party for purchasing the new tire. If your assistance representative calls an auto mechanic, you might also have to pay for repairs, but the service fee could be covered by your policy.
Despite these uncovered costs, roadside assistance helps you avoid being stuck in an emergency situation without accessible services.
Service Limits
Some companies will allow you to make unlimited calls for assistance, but this type of policy is unable to cover certain services. After roadside assistance gets your motorhome in a stable condition, you can pursue further repairs or address the maintenance issues that led to the failure on your own.
Other service limits are on numerous requests for the same service. For example, if your battery keeps failing, getting roadside assistance for this issue multiple times might eventually result in an additional fee.
The roadside service provider might start charging extra for multiple requests due to the cause of the problem going unaddressed. If the core issue is left neglected, other problems could arise. This is one reason that getting regular maintenance is important regardless of the services your roadside assistance policy covers.
Commonly Asked Questions About Motorhome Roadside Assistance
Below are frequently asked questions about roadside assistance for motorhomes:
Should I Buy Roadside Assistance Insurance for My RV Motorhome?
A roadside assistance policy is optional for motorhomes, meaning you are allowed to drive without one, though you are required to get an insurance policy in every state. But it is in your best interest to have roadside assistance. Many RVers who opt to travel without the protection of a policy regret their decision.
If you travel for any length of time without a roadside assistance policy, you could end up having to pay out-of-pocket expenses for a commonly requested service like an emergency tire change or a fuel delivery. You would also have to research what auto mechanics are available to help you in unfamiliar cities and obscure areas.
Does Roadside Assistance Cover My Motorhome's Appliances?
Roadside assistance is intended to help out with the auto components of your motorhome if you are unable to drive it. A leaking refrigerator is certainly inconvenient, but you can still operate the motorhome and visit a contractor or repair service to have your refrigerator or other appliances fixed.
If you recently purchased a new motorhome, check to see if you have an extended warranty that might cover any sudden issues with your appliances. Also, make sure you do maintenance checks of the motorhome. 
What Issues With My Motorhome Is Roadside Assistance Unable to Help With?
Roadside assistance is a great asset, but sometimes callers request help for issues that extend beyond the range of their policies. Below are some problems you can check with your motorhome insurance company about or pay for yourself:
Broken windows: Regardless of how the damage occurred, you can drive your motorhome with a broken window, and so you can seek repairs without roadside assistance.
Dents, scratches and damaged paint: Damages to the exterior of your motorhome rarely prevent it from starting, and your insurance will likely cover damages caused by an accident or vandalism.
Fire or water damage: Roadside assistance can tow the motorhome or address mechanical issues preventing the engine from running, but if the damages are severe, you should contact your insurance company.
Get Motorhome Maintenance and Other Services With My Financing USA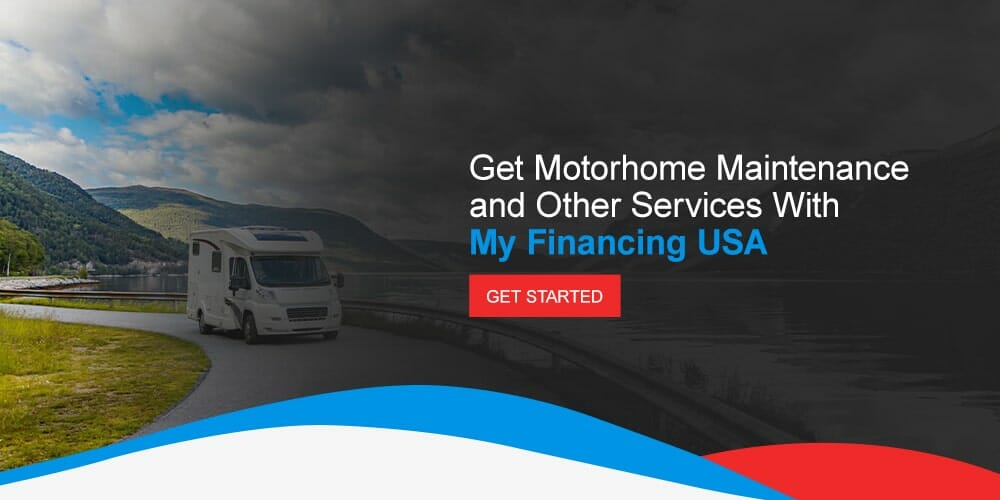 Want to protect your motorhome with comprehensive roadside assistance coverage? Contact us about our RV and motorhome maintenance services. We also offer service contracts and extended warranties.
If you're thinking about buying a motorhome, find a lender through My Financing USA. We can connect you with compatible lenders even if your credit score is low. If you're planning on buying a motorhome, learn more about our motorhome loans, or apply online for a motorhome loan.
---
Additional Resources on Motorhomes:
---