Quick Navigation:
When you purchase an RV, you already have to make monthly payments for your loan and insurance policy, so you might be wondering if it's worthwhile to add another expense by getting RV roadside assistance. While roadside assistance coverage might be optional, insurance brokers and RV representatives recommend adding a policy for maximum coverage. If you ever have to use roadside assistance, you'll be relieved that you have it.
Learn more about roadside assistance and the best roadside assistance plans for RVs below.
What Is Roadside Assistance?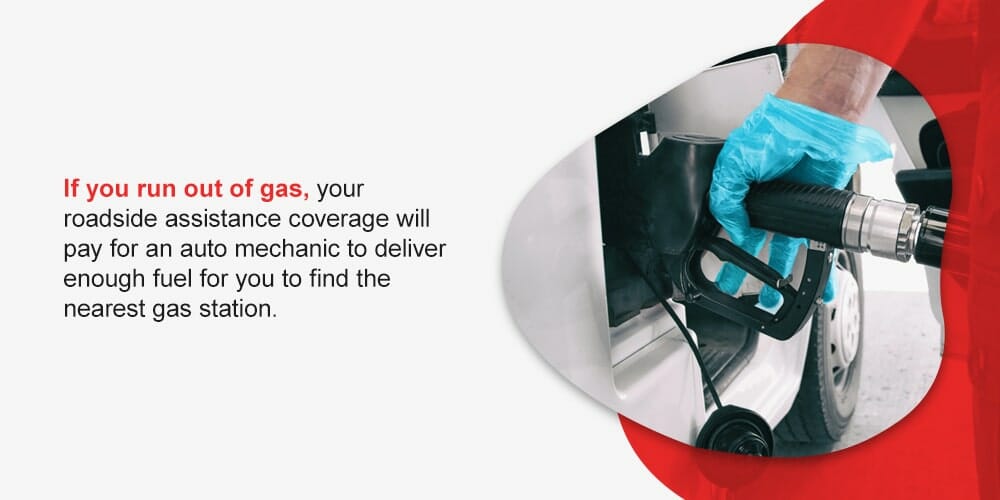 Also called breakdown coverage, roadside assistance is a valuable service that you can add to your insurance policy for emergencies. Its purpose is to get you back on the road quickly and safely. If you ever experience mechanical failure and need help, you can call the assistance line and talk to a service provider about your problem so you can get assistance.
If you run out of gas, your roadside assistance coverage will pay for an auto mechanic to deliver enough fuel for you to find the nearest gas station. If you have a slow tire leak, a mechanic can bring an air pump or help you change a tire. If your battery dies, a mechanic will try to jumpstart your vehicle. When the issue requires auto work, such as installing a replacement battery, the operator will contact a tow truck or a roadside contractor within service limits.
Altogether, roadside assistance ensures your RV trip isn't cut short.
What Does RV Roadside Assistance Help With?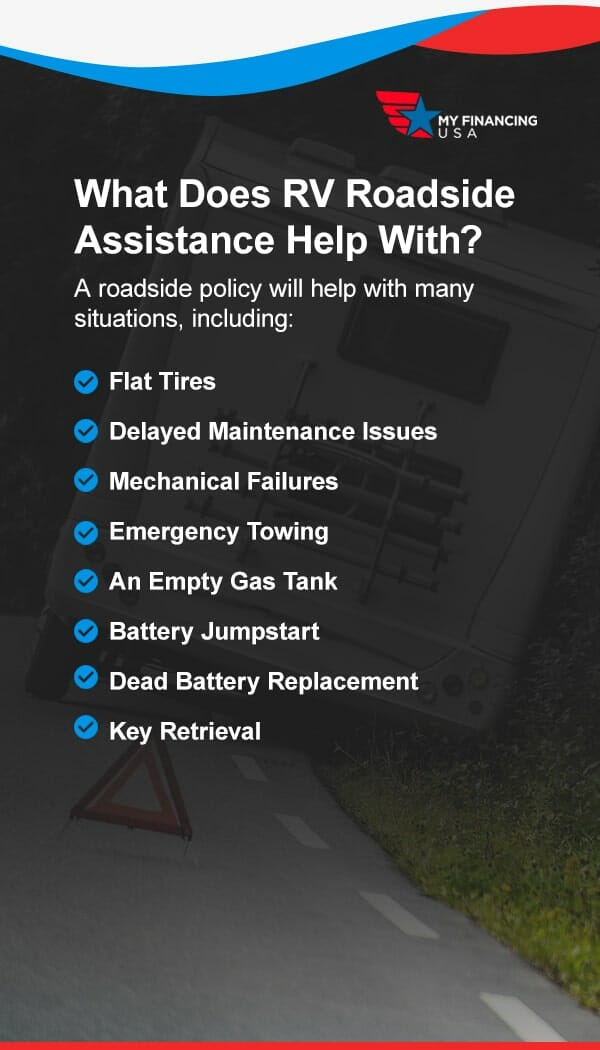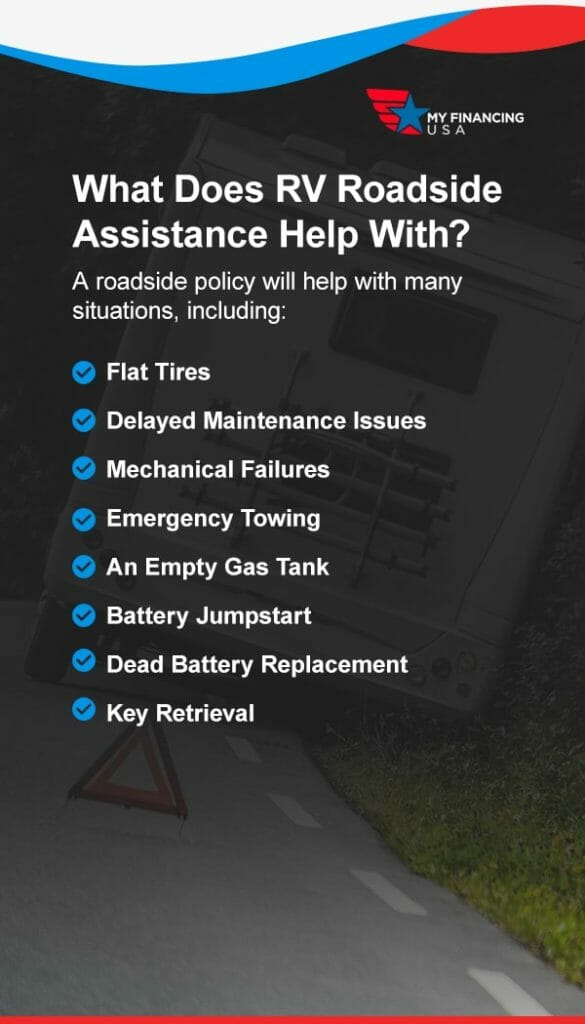 RV roadside assistance makes finding trustworthy help a more convenient process. A roadside policy will help with many situations, including:
Flat Tires
After putting enough miles on your RV, your tires will show for it. If you feel uncomfortable changing a flat tire, you aren't alone — around 60% of American drivers aren't completely confident in how to do so. Because flats are more likely to happen when you're navigating rough or unfamiliar roads, access to reliable assistance is vital.
Delayed Maintenance Issues
Sometimes, a delayed oil change or worn brake pads can lead to problems on the road. If you're taking your RV out for months at a time, you'll likely have to get maintenance done on the road. Using roadside assistance makes maintenance issues easy to address even after you've started experiencing difficulties.
Mechanical Failures
If your RV doesn't start, troubleshooting the issue on your own could take hours. Other mechanical problems, such a brake issues, will make the vehicle unsafe to drive, requiring immediate service. Leave the troubleshooting to the auto technicians, who will make a reliable diagnosis and recommend replacing the right parts.
Emergency Towing
When the problem requires more than a quick fix, you can easily have your RV towed in for routine labor. The roadside service provider will work with a towing company to ensure you receive reliable service. Many possible issues might require a trip to a mechanic or RV technician. This service is valuable even for RVers who do most of their own repairs.
An Empty Gas Tank
Running out of gas on the road happens more often than you might think, especially when you're taking the back roads. It can also be challenging to estimate when you'll need to stop for a fillup, whether you're on an unfamiliar highway or a rural route. If your gas ever hits E when you're on the road, you can call your roadside service provider for help.
Battery Jumpstart
If your RV stalls, your safest option would be to let a professional auto mechanic charge the battery. This will provide the quickest resolution — if you attempt to recharge the battery yourself, you might discover that it's completely dead. When your RV has a dead battery, your roadside assistance provider will have an auto technician to help you jumpstart it.
Dead Battery Replacement
If your battery dies, you need to get your RV to an auto shop. The combined expenses of hiring a towing company to take your RV in and paying for the replacement battery would cost more and result in a less convenient process without coverage. Fortunately, roadside assistance will help tow your RV to a facility where a mechanic can replace it.
Key Retrieval
One common reason to get roadside assistance is to have an action plan in case you accidentally lock your key in the RV while you're miles away from home. The safest strategy for getting your vehicle unlocked is hiring a professional. This simple mistake could result in an emergency situation if you've locked water, food or important camping equipment inside during extreme temperatures. An RV roadside assistance plan ensures you can have a professional come get the RV unlocked.
It's unlikely for your regular RV insurance to cover the above problems. These scenarios are mostly related to the failure of the vehicle's machinery. Many typical RV policies that exclude roadside assistance will only help with problems related to damages from vandalism, accidents, falling objects and natural disasters.
The Benefits of Having an RV Roadside Assistance Plan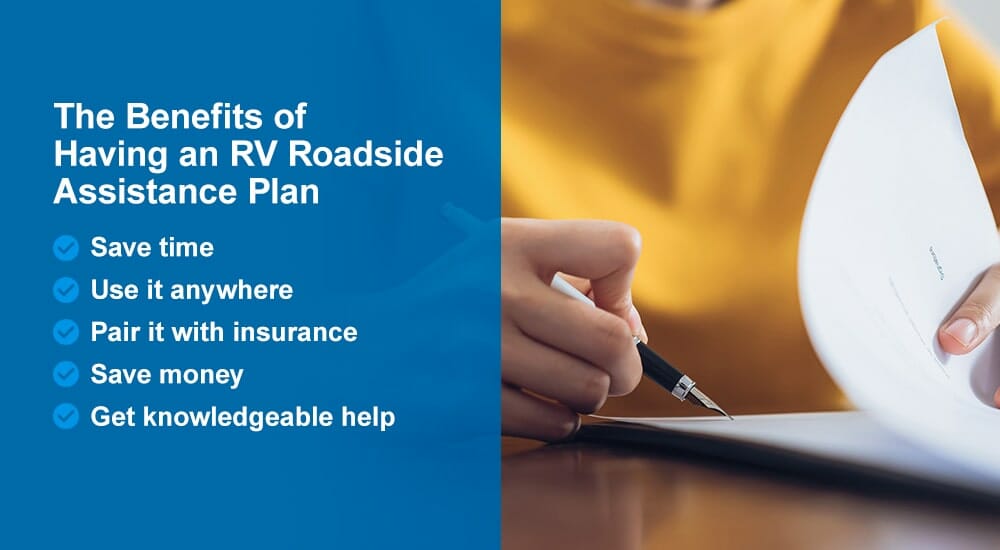 Below are some of the primary benefits of adding roadside assistance to your insurance plan:
Save time: When your vehicle fails to move on a busy or unfamiliar road, time becomes essential — and roadside assistance allows you to connect with help immediately.
Use it anywhere: Whether you're at home or on a road trip, you can use your roadside assistance plan.
Pair it with insurance: RV insurance covers accidents involving other vehicles, but only roadside assistance covers breakdowns. Having a roadside assistance plan will give you more well-rounded coverage for emergencies in conjunction with your insurance.
Save money: The cost of hiring a local auto mechanic yourself could be more than expected, especially if you're in a remote area. Having roadside assistance makes paying easier.
Get knowledgeable help: Without roadside assistance, you'd have to do research on your own about who to contact. Any unexpected mechanical failure or lockout could set you back in time. The representative on the other end of a roadside assistance hotline will know who to call based on your location.
Commonly Asked Questions About Roadside Assistance
Below is our Q&A about roadside assistance to help you answer your biggest questions about RV roadside assistance:
Will Roadside Assistance Tow My RV to My Home?
The short answer is that roadside assistance will usually agree to tow your RV to your residence unless they have a policy against it. For example, the provider might have made arrangements to tow your RV in for service with a specific auto company.
Most providers have service limits for how far they will tow an RV. Are you traveling far from home? Check the service limit in your policy to make sure your home is in range. Most roadside assistance services will tow at least 3 to 4 miles to the nearest service station, with an additional fee for added mileage.
If you would prefer for them to tow your RV back to your residence, spending a little more on a plan that will tow for up to 100 miles might be the better choice. Consider getting a plan that lacks a hard distance limit on towing service if you're traveling farther away. If you're more concerned with getting a ride home, there are plans that will reimburse you for emergency transportation.
Do I Need Roadside Assistance If I Have My Own Supplies and Skills?
Do you know how to change your own tires and travel with a spare in storage? Do you carry a jug of gasoline in case you start to run low? Maybe you even have your own set of jumper cables? Even if you are mechanically skilled and try to stay prepared for anything, having roadside assistance will ensure that you always have an outlet where you can ask for help if you need it.
Some situations could also require towing your RV to a garage for professional repairs. Even if you keep up with all routine maintenance, unexpected system failures could happen when you travel long distances. Exploring in an RV quickly places wear on a vehicle. To keep things simple and ensure you're always protected, a roadside assistance program is a smart idea for the even best and most capable mechanics.
Will My RV Insurance Go Up If I Use Roadside Assistance?
Note that roadside assistance is different from RV insurance, which covers damages made by other vehicles or to other vehicles. Calling for roadside assistance will not raise your monthly insurance premium because it's distinct from an insurance claim.
Therefore, you can use your roadside assistance policy without increasing your monthly payments, and you'll receive financial benefits for the service charges. Some services are fully covered by your roadside assistance policy.
When you add roadside assistance to an existing insurance policy, you will pay more for the additional services. The extra cost will be slightly more than what you're already paying for your insurance.
What Is the Best RV Roadside Assistance Plan?
In terms of which RV roadside assistance is the best, most services operate in the same capacity. When you need help, you call your provider and a representative will send provide the appropriate assistance. Because service areas will differ depending on your provider, it's important to look at towing limitations and the location of the provider's in-network auto mechanic facilities. The types of services offered might also vary, but most offer help for common problems.
Overall, the best RV roadside assistance will depend on your needs.
Do I Have to Get RV Insurance Through the Same Provider as Roadside Assistance?
Maybe you'd rather get your roadside assistance from a different provider than your insurance company. Some companies will bundle RV insurance with roadside assistance policies, but the two services are still different. Therefore, the answer is no — you can get roadside assistance from a completely different provider than your RV insurance company.
What Is the Best Travel Trailer Roadside Assistance?
For a travel trailer, look for coverage targeted at towable RVs. Most providers that offer roadside assistance for RVs will cover a travel trailer or another type of towable RV model. When restrictions apply, they're usually listed on the provider's website.
What Is the Best Camper Roadside Assistance Plan?
If you're looking for camper roadside assistance plans specifically, many providers that agree to cover an RV will cover B and C models. If you've converted a cargo van or a passenger van into a camper, however, you have to make sure to register the conversion as a recreational vehicle to receive RV roadside assistance coverage. Many providers also cover a vehicle that you take with you while using an RV, since many RV models are towable.
Who Has the Best Full-Time RV Roadside Assistance?
Do you expect to be on the road in your RV frequently? If you spend late nights traveling or would otherwise prefer the most comprehensive plan you can afford, look into providers that offer a 24-hour assistance line. It'll give you peace of mind knowing that you can reach out for roadside assistance at any hour, even after waking up early to reach a destination on time.
Is RV Roadside Assistance Worthwhile?
If you plan to travel frequently in your RV and want to cover long distances, roadside assistance is a worthy asset. When you're cruising through unfamiliar, remote locations, knowing you have the ability to connect with roadside services at a moment's notice will give you the peace of mind to travel freely.
Without roadside assistance, you'd have to research locksmiths, auto mechanics and contractors who live locally. Additionally, you'd also have to pay the full price for any services, with only regular insurance intended for accidents or damages.
Is roadside assistance for RV insurance worth it when you rarely travel? Everyone can benefit from signing up for roadside assistance — even if you only take your RV out for one week each year. Being prepared for an emergency is essential no matter how often you drive your RV.
Contact My Financing USA About RV Maintenance Services
If your dream is to buy an RV, My Financing USA will help you find a loan, even if your credit is low. Take a few moments to read more about our RV loans. When you're ready, apply online for an RV loan. My Financing USA is here to help you and your family get out on the open road, and we look forward to working with you!
---
Additional Resources on RVs:
---