Quick Navigation
Though winter is often best spent sipping hot chocolate while watching snowflakes float down outside your windows, why stay put indoors when you could explore new places? Going on a road trip by RV is probably the most comfortable way to take a vacation far away without flying. With the exception of holiday weekends, traffic tends to slow down as the months get colder. As a result, it's the perfect opportunity to get outdoors by exploring the best winter RV road trip ideas.
If you feel like going on an RV adventure, we've put together a comprehensive guide of the best places to go on a road trip during the winter in the United States.
Winter Road Trip Preparation Tips

It's important to put safety first when you're traveling, especially because winter weather can be unpredictable. Before you set out on the road, you should give your RV a maintenance check-up. Ensure the tires are in good condition and that you've recently had an oil change. When driving in cold conditions, it's ideal to have at least a half-tank of gas at all times. Additionally, be sure your vehicle's heater works properly.
Prepare for your excursion by stocking a winter survival kit. These items will help you in case of an emergency — or if you're feeling a bit colder when waking up one morning. Below is a detailed list of ways to prepare your RV before hitting the road:
Flashlight and extra batteries: Having a flashlight is helpful if you need to check your tires when it's dark. Check that the batteries are fresh, packing extras just in case.
Blankets: Keeping blankets in the vehicle will keep you cozy on cold mornings and nights — and are invaluable in an emergency. Consider foil heat blankets to stow in your first-aid kit.
Snacks: Stocking nonperishable high-protein snacks such as beef jerky and canned tuna provides convenience on a long winter road trip. Also, stock up on healthy bites like popcorn, dried fruit, nuts and trail mixes. As a result, you can keep yourself fueled during outdoor activities.
Water: To prevent your drinking water from freezing into blocks of ice, contain it in insulated jugs or wrap a row of bottled waters in towels to nest them. While your bottles should stay unfrozen because you're running the heat, you can never be too careful — and you never want to go without water.
Warm clothing: Rather than storing all of your bags in your trunk, you can load less bulky clothing items in your glove box, backseat or other easy-to-reach spots so you always have access to them. Storing extra gloves is always a good idea, as well.
Winter vehicle supplies: An ice scraper, road salt and chemical defrosting spray are ideal travel supplies for driving during the coldest time of the year. Additionally, a weather cover helps keep snow from accumulating on your windows, and tire chains will assist your vehicle through deep snow. These items are more commonly used in areas that receive higher snowfall than the national average, so always research your planned route before packing.
Emergency supplies: A first-aid kit is a crucial resource to have on any road trip. Aside from items like bandages and gauze, you might also want to keep jumper cables and road flares in your RV. A spare tire is another item you'll want to have ready to use at all times.
Best Winter Road Trips in the United States
Are you ready to start plotting out some destinations for your winter road trip? Check out the best winter road trip ideas below to get some inspiration. Whether you want to take your RV to the Northeast or stay out West, there are several stunning routes to consider.
Here are some favorite RV road trip routes for vacationers traveling during the winter:
1. Stowe, Vermont to Rochester, Vermont
As winter falls, Vermont Route 100 (VT-100) will carry you through the snow-capped Green Mountains, where the windows of small villages will light your way to Rochester. Stowe is a ski town that also happens to be home to several fine dining facilities, breweries, wineries and creameries. Once you reach Rochester, visit the Green Mountain National Forest to partake in the many winter recreational activities or view the scenery on a hike through the forest.
Distance: 48 miles
Time: About an hour
2. Las Vegas, Nevada to Arches National Park
Temperatures in Las Vegas during the winter are often mild, leading to smaller crowds. That makes winter the perfect time to visit Las Vegas. Start your trip by going to see the holiday displays at the Bellagio Conservatory & Botanical Gardens.
Taking I-15 N and I-70 E from Las Vegas to Moab will lead you on a scenic trip with viewing areas for the Ghost Rock and Dutchman Arch. The natural rock formations in Arches National Park are beautiful in every season — but in the winter, the early-setting sun gives the desert landscape a surreal appearance. The red sandstone arches occasionally collect a dusting of snow in their groves and shelves, making for some once-in-a-lifetime photography opportunities.
Distance: 457 miles
Time: About 6 hours and 30 minutes

3. Santa Fe, New Mexico to Taos Scenic Byway
Making a winter passage through the Sangre de Cristo Mountains will carry you past villages hidden behind evergreen trees like junipers and pinon pines. Tied to their Spanish roots, many of the dwellings were crafted from adobe clay.
Down in the valley is Chimayo, where you'll find the most famous church of the High Road, called el Santuario de Chimayo, an important holy site where pilgrimages take place from across the U.S. Once you reach Taos, make sure to try the Northern Mexican food and shopping at the Taos Plaza.
Distance: 56 miles
Time: About 6 hours
4. Gatlinburg, Tennessee to Asheville, North Carolina
Passing through Great Smoky National Park, you can stop to hike the trails or go skiing down the slopes at Ober Gatlinburg. The southern alpine wilderness appears magical when the tree branches are covered in snow. You can stop at viewing areas like Buzzard's Roost Overlook to appreciate the surrounding beauty as you head to Asheville.
At your destination, you'll find plenty of relaxing options for romantic hiking spots, spas and coffee shops. Enjoy a tour of the expansive Biltmore Estate while you're in the area so you can treat yourself to Biltmore's seasonal activities and special events like winter bird watches and guided nature hikes.
Distance: 82 miles
Time: About 2 hours
5. Green Bay, Wisconsin to Northern Door County
This stretch of road lies along Wisconsin's Green Bay, taking you on a coastal cruise past the Sturgeon Bay Canal and the many lakes neighboring Lake Michigan. The locally-owned shops and restaurants around Door County make for cozy escapes from the cold wind rolling off the water, and snow trails in the area are open in the winter for skiing.
Newport State Park is one of the best places for sledding and skiing when the snowfall is heavy in Door County. At night, you can stay in your RV at one of the local campgrounds and stargaze from around a bonfire.
Distance: 80 miles
Time: About 1 hour and 30 minutes
6. Rockville, Indiana to Parke County, Indiana
Parke County is called the Covered Bridge Capital of the World for its many red bridges. Stop at the infamous Sim Smith Bridge on your way and decide for yourself if it's haunted. The initial route is short whether you get there via Bridgeton, New Discovery or 550 East, but you can always double back on another road to extend your sightseeing opportunities.
Distance: 9.2 miles
Time: About 18 minutes
7. Nederland, Colorado to Estes Park, Colorado
Colorado is known for panoramic views, trails through the mountains and outdoor sports and recreation. The Peak to Peak Scenic Byway is open all year, making it a stunning way to explore the state in the winter. There are numerous places to stop while driving to get out and see the area. Stop for hiking and other detours at the Wild Basin area in Rocky Mountain National Park.
Distance: 55 miles
Time: About 2 hours

Best Winter Road Trips on the East Coast
If you want to keep your RV road trip confined to the East Coast, we've got you covered. Wintertime on the East Coast ranges from Florida's mild beach days to New England's snowy wonderlands. Whether you want to go skiing or watch a beach sunset, the East Coast is full of possibilities for winter road trip ideas.
Below is a list of road trip ideas for exploring the East Coast in the winter:
1. Key Largo, Florida to Key West, Florida
The Overseas Highway connects the Florida Keys archipelago, and driving over this scenic road feels much like floating over the ocean in a cruise ship. The water is pure blue, and even in the winter, you might see dolphins or whales splashing at the surface.
In Key West, you'll find that the holiday spirit is strong amid your ventures to coastal seafood restaurants and waterside recreation. After a day of parasailing and snorkeling near the shore, board the Old Town Trolley for the Holly Jolly Holiday tour, and see the downtown city's light display.
Distance: 113 miles
Time: About 4 hours
2. Waterford, New York to Whitehall, New York
The Lakes to Locks Passage running through this stretch is a National Scenic Byway. Visit Yonda Farm Environmental Educational Center to learn about the local wildlife and go hiking in the forest. While you're in Whitehall, check out a famous Victorian-style mansion called Skene Manor and get some photographs before you hit the area's trails for winter walking.
Distance: 69 miles
Time: About 1 hour and 20 minutes

3. Front Royal, Virginia Through Shenandoah National Park
Skyline Drive leads through Shenandoah National Park, which runs along the sprawling Blue Ridge Mountains. Stop at the overlooks like the Range View and Hogback stations to get a closer view of the surrounding flora. If you want to stretch your legs, hiking trails are open weather permitting. The park's most famous trail is the Appalachian National Scenic Trail, which is the longest hiking footpath in the world.
Distance: 105 miles
Time: About 3 hours
Best Winter Road Trips on the West Coast
The West Coast is an attractive vacation destination when the weather is hot — but winter brings just the right amount of breeze and sunshine, with a few snowy pockets in the northern parts of California. If you want to avoid winter storm warnings on your RV road trip, the West Coast is great for holiday festivities.
If you're interested in making stops, the West Coast is abundant with family-friendly parks such as Disneyland and the San Diego Zoo. Of course, you can also check out famous spots in cities like San Diego, Los Angeles and San Francisco. The oceanside settings alone are worth the journey!
Below is a list of scenic drives through the West Coast for fun winter road trip ideas:
1. Groveland, California to Yosemite National Park
Yosemite National Park is a natural winter wonderland where wildlife roams over snow-blanketed meadows and frozen lakes. Look for bighorn sheep and mountain goats climbing the slopes on your drive. Once you enter the park, keep a lookout for wolves, as sightings are becoming increasingly common.
For winter sports, Badger Pass Ski Area opens when Badger Pass Road is plowed. The park's steep slopes are exciting to glide down while being straightforward enough for beginners to traverse.
Distance: 24 miles
Time: About 30 minutes
2. South Lake Tahoe, California to Incline Village, Nevada
Begin at Heavenly Mountain Resort and make your way around Lake Tahoe, which is large enough that it never quite freezes. Riva Grill on the Lake is a good place to stop for a bite to eat if you get hungry. When you arrive in Incline Village, head to Diamond Peak Ski Resort, where you can go sledding, snowboarding or skiing down the family-friendly slopes.
Distance: 99 miles
Time: About 2 hours

3. Phoenix, Arizona to Grand Canyon National Park
Around the holidays, visitors make their way to Phoenix for the annual Tumbleweed Christmas Tree, tree lighting ceremony and Christmas parade. After you've spent time enjoying the festivities, travel to the south rim of the Grand Canyon, which will be open to visitors. The Grand Canyon is a peaceful place to travel in the winter, with lodging and public transportation available.
Distance: 230 miles
Time: About 4 hours
4. The Mojave Desert to Palm Springs, California
Located in Southern California, this is a popular area for RV trips at all times of the year. With vivid desert flora beside snow-dusted sand dunes and white mountaintops, the desert looks ethereal in the winter. Bundle up if you go for a hike, as the desert can get pretty cold.
While you're passing through, Joshua Tree National Park also has some lovely sights. In an RV, you can stop in the most remote reaches of the Mojave or camp at one of the open recreational areas. The mild weather in Palm Springs lets you skip the snow and take advantage of outdoor activities like golfing, hiking, horseback riding and fishing.
Distance: 152 miles
Time: About 3 hours
Road Trip Ideas for Winter Break
If you're noting down U.S. road trip ideas for winter break, here's a list of good winter break road trip ideas popular for both families and college students in need of some rest and recreation:
1. Myrtle Beach, South Carolina
The Atlantic Coast is a popular destination for college students during spring break and over summer vacation, but you can still enjoy the beach in the winter. While the water may be a bit too cold to go swimming, you can check out opportunities for fishing, kayaking, boating and more on the coast.

2. New Orleans, Louisiana
Rich with coastal culture and classic jazz music, New Orleans is a great destination for anyone, even if you don't want to experience the sights and sounds of Bourbon Street. There are plenty of opportunities to listen to local bands perform and try the Creole cuisine before Mardi Gras draws more traffic in February.
3. Key West, Florida
The Keys are known by visitors for having nice weather in the winter months, with temperatures that typically stay in the 70s. Many beaches remain open all year, and the water is just comfortable enough to wade in. There's also a variety of shopping and dining options to explore. Why not try some delicious key lime pie while you're there?
4. Galveston, Texas to the Gulf Coast
Just because it's winter doesn't mean you have to stay where it's cold.Galveston, Texas, is a good place to begin a beachy tour. Make a variety of culinary stops for Creole cuisine, seafood, southern BBQ and more.
5. Albuquerque, New Mexico to Santa Fe, New Mexico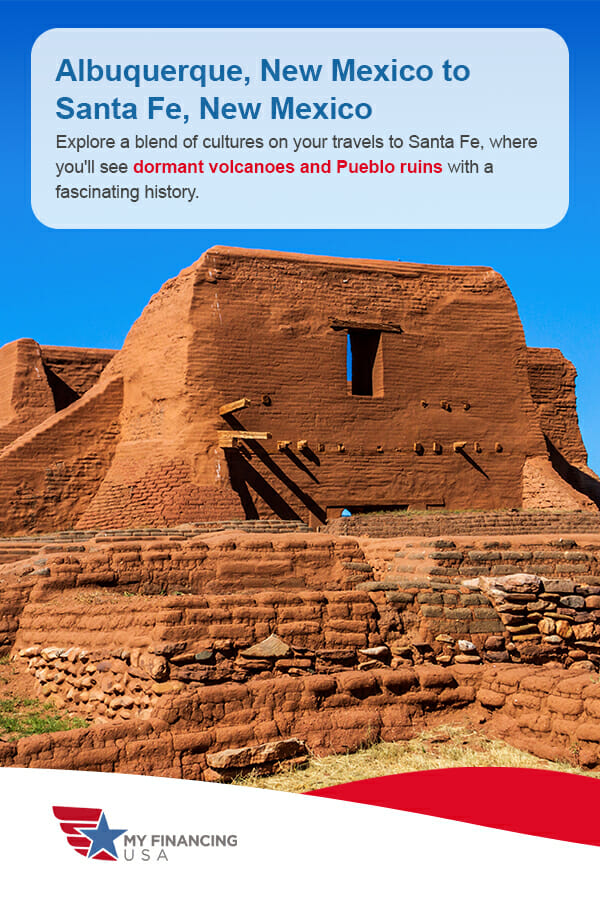 Explore a blend of cultures on your travels to Santa Fe, where you'll see dormant volcanoes and Pueblo ruins with a fascinating history. If you're interested in the stories of the Southwest, this is one of the best road trip ideas for winter. The open recreational sites in Santa Fe include the Black Canyon Campground, Santa Fe KOA Journey and Pendaries RV Park.
Winter Family Road Trip Ideas
Are you planning to go on a driving holiday with the kids? Check out these family-friendly destinations for a memorable time on the road:
1. Walt Disney World and Universal Studios
This collection of theme parks in Orlando, Florida, is right out of your kids' fondest dreams.A few of the most popular sites are the Wizarding World of Harry Potter and Toy Story Land. The comfortable temperatures during this time of year in Florida are perfect for wandering the parks.
Unlike several destinations in this guide, these two parks actually tend to be busier in the winter, so if you're looking for a place to bring your family with minimal crowding, try traveling here late in the season.
2. Breckenridge, Colorado
This is the place to travel for just about any kid-friendly winter recreational activity you can imagine. Breckenridge has easy skiing, sledding and snowboarding slopes for children — and so much more. If you stop by in January, let your little ones look around at the ice sculpture creations at the International Snow Sculpture Championships.

3. Mount Rainier National Park
This Washington destination is the perfect park to take your family for hikes through scenic mountain slopes. Here, you'll find numerous opportunities to ski, sled, hike, tube and more. Whether you're exploring Seattle or heading to Washington just to see the mountains, you and your family are sure to have the trip of a lifetime.
Get an RV Loan With My Financing USA

Purchasing your own RV will help your family feel at home on your winter road trip. Travel from coast to coast in a reliable vehicle with your own amenities, so you can spend more time exploring. To assist your investment, consider getting an RV loan with My Financing USA. At My Financing USA, we help customers with varying levels of credit find lenders.
Apply for an RV loan with My Financing USA, and go on the cross-country tour of your dreams this winter!
---
Additional Resources on Road Trips:
---