Quick Navigation:
With more than five million visitors each year, Zion National Park is one of America's most popular destinations. Its towering red cliffs, wide array of hiking trails and variety of wildlife make this Utah site an unforgettable travel destination. From camping and hiking to rock climbing, you can find many exciting adventures during your trip.
A road trip is one of the best ways to reach Zion National Park. You can travel to the park in the comforts of your vehicle and create a memorable journey. Read on for guidance on your Zion National Park road trip.
The Best Time to Visit Zion National Park
Zion National Park is open every day of the year, so you can arrive at any time. Many recommend visiting in the fall or spring months — that way, you can experience the park without facing extreme temperatures. This park is located partly in the Mojave Desert, so it gets very hot in the summer during the day and can be freezing in the winter at night.
March through November are the busiest months of the year in the park. However, you can have an enjoyable experience during all seasons in Zion:
Spring: During spring, temperatures rise and winter snow melts, allowing you to access more areas. You can also use shuttle buses to access the Zion Canyon Scenic Drive and other exciting destinations.
Summer: In summer, you'll experience the highest park temperatures, averaging around 100 degrees Fahrenheit. Summer is the busiest season, with many visitors and the longest operating hours available. While some travelers prefer busy seasons, others might want to avoid the crowds.
Fall: Autumn visitors will encounter beautiful scenic views and slightly smaller crowd sizes. Temperatures are slightly cooler and often vary from day to day. However, some of the operating hours are shorter than in summer.
Winter: Zion National Park's winters feature cold temperatures and frequent precipitation. Snow accumulation is common and often makes it challenging to hike or access all park roads. Some visitors prefer traveling to the park during winter for the solitude and colder atmosphere.

What to Bring to Zion National Park
It's important to plan for your road trip to Zion National Park. By packing helpful essentials, you can make your trip more enjoyable and practical. Here are some items to pack for your road trip:
Hiking boots: One of the most popular activities at Zion National Park is hiking. Sturdy hiking boots protect your feet during long treks and provide solid traction for all paths.
Backpack: A backpack can store your essentials no matter where your adventure takes you. You can pack snacks, extra clothing, emergency supplies or whatever else you need during your hikes.
Snacks: Snacks are crucial for your road trip and adventures in the park. You can find many options for snacks and meals on the go, from beef jerky to protein bars to sandwiches.
Water: It's always a good idea to keep a sufficient water supply in your vehicle and while you hike.
Layers: The park's temperatures can vary broadly from morning to night, making clothing layers extremely helpful. For instance, you could pack fleece layers or light jackets to add extra warmth in case temperatures fall.
Camera: Remember to pack a camera to keep a log of the beautiful park sights. You might use your phone to take pictures or bring a travel camera.
Sunscreen: Sunscreen is an important protective item year-round, especially when sun rays are strong. It's always a good idea to keep some on hand to protect your skin during your adventure.
Payment for entry fee: Every National Park requires an entry fee. The current entrance fee for Zion National Park for a private vehicle is $35 for seven days. However, you might consider the America the Beautiful Pass, which grants you entry to all National Parks for a one-time fee of $80 for one year. Utah is home to five National Parks, so you may want to grab the annual pass if you plan to extend your Zion road trip to other parks in the state!
What to Do at Zion National Park
You can find many exciting activities at Zion National Park once you arrive. Here are some popular activities in Zion National Park:
1. Backpacking
Zion is famous for its breathtaking canyons, vistas, bodies of water and sandstone cliffs. You can explore these unforgettable features up close and in-depth by backpacking through them.
The park features over 90 miles of trails and more than a dozen backpacking sites for overnight camping. Note that you need to obtain a backpacking permit before camping overnight in the park.
2. Camping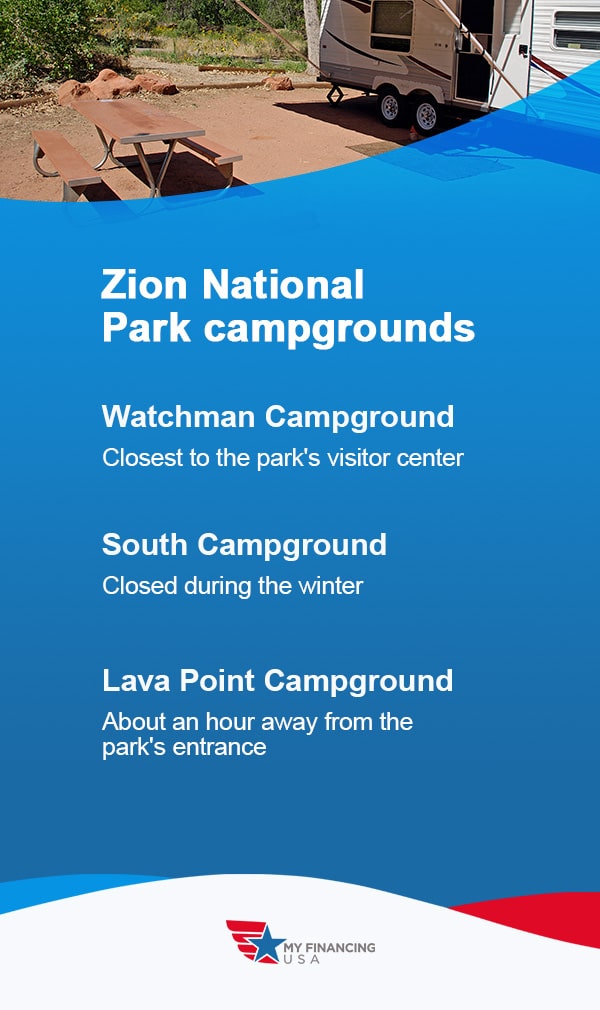 Camping allows you to immerse yourself in the park's beauty even when night falls. Zion National Park has three campgrounds you can access:
Watchman Campground: This is the closest campsite to the park's visitor center. It's the largest and busiest campsite throughout the year because of its many available sites and amenities.
South Campground: The South Campground is located on the park's river and is slightly smaller than the Watchman Campground. This site is closed during the winter.
Lava Point Campground: Lastly, the Lava Point Campground is the smallest site available and about an hour away from the park's entrance. This campground has limited cell service and no water access.
No matter the season, Zion's campgrounds are full almost every night. Be sure to reserve a campsite before your road trip if you plan to camp during your visit.
3. Canyoneering
You can also explore Zion's canyons by canyoneering. This activity combines hiking, swimming, climbing and other adventurous activities. Zion National Park has become a popular destination for canyoners across the country, with its endless expanses of canyons and different terrain types.
You must get a Wilderness Permit before embarking on a canyoneering trip. In addition, it's important to understand safety regulations and practices before you go.
4. Hiking
You can find many hiking trails throughout Zion National Park, varying by intensity and necessary skill level. Researching trail information and current conditions can help you prepare for your hiking endeavor.
5. Rock Climbing
Zion National Park offers many opportunities for rock climbing. The high cliffs and steep routes make the perfect locations for adventurous climbers.
Most routes are best suited for experienced climbers due to their challenging natures. In addition, seasonal closures or weather events might make climbing more difficult. It's best to research closures and weather conditions ahead of time to ensure your safety. In addition, read the park's climbing regulations.
6. Bird and Wildlife Watching
The park is home to many wildlife types. Over 290 bird species live within the park, making it the perfect opportunity for birding. You might spot a wide range of birds while you explore, from ravens to peregrine falcons to roadrunners.
You can also find many mammal types, such as coyotes, bats and mountain lions, due to the park's wide range of climates and habitats. You can look for animals while you hike or engage in other park activities — just be sure to remain a respectful distance for your and the animal's safety.
Top Zion National Park Itineraries
A crucial essential aspect of road trips is planning your route. You have many options to reach Zion.
Depending on your location, you might want to fly into a nearby airport first to shorten your driving distance. International airports are located nearby in Salt Lake City, Utah, and Las Vegas, Nevada. Alternatively, you can drive the entire way. Taking an RV is a great way to explore the park's beauty while maintaining comfort.
These are routes into Zion National Park from popular nearby landmark locations:
1. Las Vegas to Zion National Park
Las Vegas is a little over 160 miles away from Zion National Park. The city is a great stopping point if you've driven a long distance beforehand. It also serves as a great place to fly into if you live far from Zion and would prefer to shorten your road trip. You can take Interstate 15 North, then State Route 9 East to reach the park.
2. Salt Lake City to Zion National Park
Salt Lake City is 307 miles away from Zion National Park, which is about a four-hour drive. You can explore Utah's beautiful scenery as you travel south in the state.
Follow Interstate 15 South until Exit 27, then take State Route 17 South. Lastly, follow State Route 9 East until you reach the Zion National Park Visitors Center.
3. Grand Canyon National Park to Zion National Park
Another popular route connects two famous parks — Grand Canyon National Park and Zion National Park. You can create an unforgettable road trip experience by journeying from one park to the other.
The North Rim of the Grand Canyon is about 126 miles away from Zion National Park. You can take State Route 67 North, US Route 89A North and State Route 9 West to make the trek between the two beautiful parks.
Top Places to Visit on Your Way to Zion National Park

If time permits, you can explore nearby destinations during your road trip. Here are some famous attractions near Zion National Park:
1. Bryce Canyon
Bryce Canyon National Park is another stunning Utah destination. It's famous for its hoodoos, which are irregular columns of rock. It also features colorful rock spires, beautiful desert landscapes and many other geological wonders. Bryce Canyon National Park is about 70 miles from Zion National Park, making it possible to explore both sites in one day.
2. Lake Mead
Lake Mead is America's largest national recreation area, filled with a massive variety of natural features. Lake Mead is perfect for water-based adventures after your journey through Zion National Park.
You can explore the beautiful water by swimming, boating or waterskiing, or you can hike to explore the stunning ecosystem. The distance between the two sites is about 142 miles, so plan your trip accordingly.
3. Las Vegas
You could also take an exciting excursion to Las Vegas, located around 160 miles away. The city is famous for its casinos, nightlife and performances. You're sure to find activities that suit you and your travel mates. Whether you start your road trip in the city or visit it after seeing Zion National Park, it makes an excellent addition to your adventure.
Top Restaurants for Your Zion National Park Trip
No road trip is complete without food. A filling meal is often the best way to finish your long day of exploration, and great breakfast spots can prepare you for a fun-filled day. Luckily, the park has many delicious cuisine options both inside and outside the park.
1. Zion Brewery
Zion Brewery is located close to the park's visitor center, making it a great option for those just arriving. It's also extremely close to the Watchman Campground. This restaurant features hand-brewed ales, burgers, salads and a wide range of other entrée types. It's the perfect spot to fill up after a long day of adventuring in the park.
2. Switchback Grille Steakhouse
Switchback Grille Steakhouse offers high-end cuisine and drinks for visitors. The restaurant is famous for its seafood and prime steaks. It also provides an extensive drink menu and delectable dessert options. The beautiful dining room is adorned with cherrywood and features unforgettable panoramic views of the surrounding park.
3. Oscar's Café
Oscar's Café can suit nearly every food preference, no matter the consistency of your travel group. The restaurant's menu spans from breakfast burritos to specialty burgers and barbeque sandwiches. It has consistently high reviews and is an excellent stop no matter the time of day.
4. Zion Pizza and Noodle Co.
Zion Pizza and Noodle Company is the park's most well-known pizza option. It offers many pizza options, from vegan to meat-lovers. It's located in a picturesque building that used to be a church. You can order their delicious pizzas and brews to-go or enjoy them within the beautiful restaurant.
Plan Your Zion National Park Road Trip With My Financing USA

A road trip to Zion National Park is the perfect opportunity to make lasting memories. At My Financing USA, we understand the importance of high-quality and memorable adventures. We help customers finance their travel with our RV loans and boat loans. We also offer helpful services like:
Guaranteed Asset Protection (GAP): This vehicle loan add-on protects your investment in the event of a total RV loss. If your RV is declared a complete loss following an accident or theft, you won't be left to pay off the loan. You'll be responsible for paying the difference between your insurance company's settlement and your loan balance per the contract terms. GAP coverage will pay this difference after a complete loss.
RV Tire and Wheel Asset Protection: This protection offers coverage for tire and wheel damage from road hazards. It covers costs for repairs or replacements. In addition, you gain access to 24/7 roadside assistance.
Vehicle Service Contract: This service will cover the cost of repair or replacement of the engine, slide-out room system, air conditioning or other essential features if your RV breaks down.
To start your adventure with My Financing USA, take five minutes to fill out an application online today, or contact us to discuss our financing options.
---
Additional Resources on Road Trips:
---